Vanden Plas | Chronicles of the Immortals: Netherworld – Path 1
by Justin Gaines
– Senior Columnist/News Editor —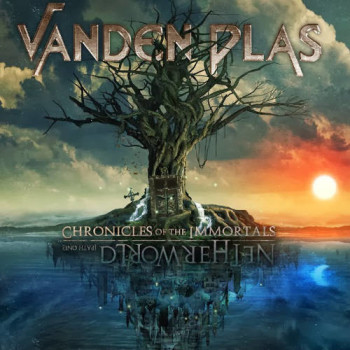 Long running German progressive metal band Vanden Plas is back with a new album, their seventh full-length release, titled Chronicles of the Immortals: Netherworld – Path 1. Once again the band, which has impressively maintained the same lineup for more than twenty years, took four years between albums, and once again the results are well worth the wait.
This time around, Vanden Plas is taking a fairly big risk. The band is best known for delivering high quality and highly accessible progressive metal. Their songs are typically just as catchy as they are technical. With Chronicles of the Immortals: Netherworld – Path 1 (we'll just shorten that to Netherworld from here on out), the band is delivering one half of a larger "rock opera" style piece that adapts a story by bestselling German fantasy novelist Wolfgang Hohlbein. Now obviously epic fantasy and heavy metal go way back, but this is Vanden Plas we're talking about, so it was never going to be a matter of simply adapting the lyrics to songs they'd have written anyway. The band, and specifically vocalist Andy Kuntz, have increasing ties to theatrical performances, and that is a major influence on Netherworld. It's more a theatrical production – or at least half of one – than a concept album.
High concept and theatrical execution are all well and good, but in the end they're not going to save the album if the songs aren't any good. Fortunately, Vanden Plas has never let us down in that department before and they don't break that streak here. It's true there aren't any obvious "singles," but there are still plenty of moments where you can either get lost in the instrumentation or even the overall atmosphere on Netherworld, just as there are more than a few places where you'll want to sing along to a melodic chorus. "The Black Knight" and "New Vampyre" come to mind, and "Godmaker" in particular is going to wow fans in terms of catchiness as well as a heaviness we haven't seen from Vanden Plas in quite some time. On the more theatrical side, "A Ghost's Requiem" and "Misery Affection" satisfy in a Seraphic Clockwork meets Abydos kind of way.
You can tell Vanden Plas put a lot of though, effort and energy into every aspect of this album, and while it may not be as instantly accessible as previous releases, Netherworld reveals something new and rewarding with each successive time you listen to it. It's by far their most ambitious album to date, and for the most part it really pays off. It's hard to evaluate it fully given that we're only getting half of the story and half the overall musical experience, but this should more than satisfy most Vanden Plas fans. It's already a contender for best progressive metal album of 2014, and proof once more why Vanden Plas is one of the most enduring names in the genre.
Genre: Progressive Metal
Band:
Torsten Reichert (b)
Andreas Lill (d)
Stephan Lill (g)
Gunter Werno (k)
Andy Kuntz (v)
Track Listing:
1. Vision 1ne
2. Vision 2wo – The Black Knight
3. Vision 3hree – Godmaker
4. Vision 4our – Misery Affection Prelude
5. Vision 5ive – A Ghost's Requiem
6. Vision 6ix – New Vampyre
7. Vision 7even – The King and the Children of Lost World
8. Vision 8ight – Misery Affection
9. Vision 9ine – Soul Alliance
10. Vision 10n – Inside
Label: Frontiers Records
Website: www.vandenplas.de
Hardrock Haven rating: 9/10