W.E.T. | One Live – In Stockholm
by Ron Higgins
– Columnist —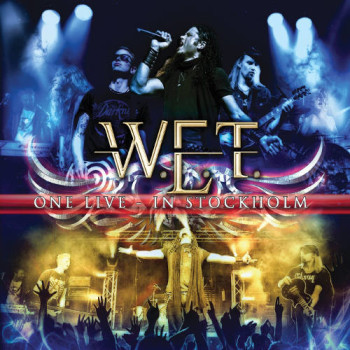 Although they have only released two studio albums, melodic rock supergroup W.E.T. have released an impressive live album that needs to be in the collection of every rocker who likes big hooks, big melodies and big choruses.
For the uninitiated, W.E.T. is the culmination of members from classic AOR acts Work of Art, Eclipse and Talisman. From Work of Art you've got keyboardist Robert Säll. From Eclipse you've got guitarist extraordinaire Erik Mårtensson. And from Talisman you've got one of the hardest working men in the business, vocalist Jeff Scott Soto, who has sung with everyone from Yngwie Malmsteen to Journey.
This live release is a recording of their show on Jan. 17, 2013 in Stockholm, Sweden at the Debaser Club. This show was for their die-hard fans as a celebration of the release of their second album, the magnificent Rise Up. It was a small intimate gathering by people well-versed with these artists. They also filmed a companion DVD but this review is based on only the CD.
The show and record kicks off with the lead track to their new album. The song, "Walk Away", begins with a nice piano/keyboard intro with sounds of a cheering crowd who are clearly anticipating an evening of kick-ass rock and roll. About a minute and a half later the guitars kick in, followed by a second guitar, thumping drums and finally the versatile voice of Soto. Along with the excellent vocals and crunchy hard-driving rhythm of the guitars, there are outstanding backing vocals and a nice lead guitar solo. This is melodic hard rock at its finest and a perfect example of what this supergroup is all about. It's a great opening track for their new studio album and an excellent way to kick of their show.
With 22 songs on offer, doing a track-by-track breakdown is pointless, especially given the band's pedigree. Basically, if you like this style of music, you're going to love this album. Even trying to identify album highlights proved futile when after listening to eight songs, eight songs were highlights. Two of the coolest songs though are "Learn to Live Again" and "If I Fall" because they both feature incredible dueling vocals by JSS and Erik Mårtensson.
The songs are great, but should you plop down your hard-earned money on this album? It is a live album after all and some people have a bias against live albums. The answer is an unequivocal, yes! First, live albums aren't necessarily a bad thing; after all, bands like KISS and Cheap Trick found great success with their Alive and Live at Budokan releases because they were finally able to capture the energy of their live shows on vinyl. And remember how Peter Frampton Came Alive. Just go listen to the studio version of "I Want You To Want Me" and you'll understand why live albums aren't necessarily bad things and this release is certainly one of the better ones.
If you're a fan of Work of Art, Eclipse or Talisman but you don't yet have either of the two W.E.T. releases, then you definitely need this album. Even if you're not familiar with these bands but just love good melodic hard rock, you need to buy this album. On two disks, it has six songs from their debut album and nine songs from the new album so it's a great introduction to the band for the unenlightened. But even if you already own the W.E.T. albums you still owe it to yourself to pick this up. Not only will you get to hear slightly different versions of the songs, but you get to hear Soto banter with the audience and reveal things like, "That's where it all started, you know. Everybody says it started in 1985 with Yngwie Malmsteen. As far as I'm concerned, it started with Talisman in 1990, and that's why we're here tonight." Additionally, there are several songs by the members' respective groups. There are two Talisman songs "I'll Be Waiting" and "Mysterious", an Eclipse song, the awesome up-tempo "Bleed & Scream" with Erik Mårtensson singing, and the Work of Art song "The Great Fall" featuring a guest appearance by Work of Art's vocalist Lars Säfsund. And if that's not enough, there are two immaculately-produced bonus studio tracks, "Poison (Numbing The Pain)" and "Bigger Than Both Of Us".
This album truly has something for everyone and is an absolute "Must Buy." A word of warning though, like many live rock shows, the F-bomb is dropped many times so it's probably not a good soundtrack for soccer mom's cranking up in the minivan while driving their kids to preschool.
Genre: Melodic Hard Rock
Band:
Jeff Scott Soto – Lead Vocals & Keyboards
Erik Mårtensson – Rhythm & Lead Guitar, Backing & Lead Vocals
Robert Säll – Keyboards, Guitar & Backing Vocals
Magnus Henriksson – Rhythm & Lead Guitar, Backing Vocals
Robban Bäck – Drums
Andreas Passmark – Bass
Track Listing:
CD 1:
Walk Away
Learn To Live Again
Invincible
I'll Be There
Love Heals
Rise Up
Bleed & Scream
Bad Boy
Still Unbroken
Broken Wings
I'll Be Waiting.
CD 2:
If I Fall
Shot
Comes Down Like Rain
The Great Fall
What You Want
Brothers In Arms
Mysterious
One Love
Poison (Numbing The Pain) (Bonus Studio Track)
Bigger Than Both Of Us (Bonus Studio Track).
Label: Frontiers Records
Website(s): https://www.facebook.com/TheBandWET/
Hardrock Haven Rating: 9/10