by Alexandra Mrozowska
– Columnist —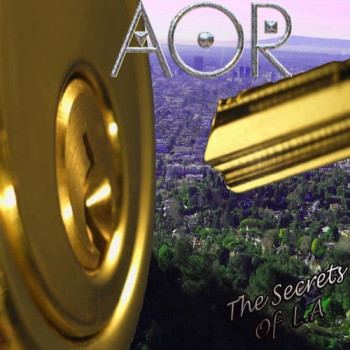 Think catchy melodies, fine songwriting, polished production, big hooks, massive keyboard sound and power-chord-heavy guitar riffs. Call it AOR, AOR/Westcoast, Melodic Rock or lite metal — whatever the name is, within this particular (and often underestimated) genre you can find some of the biggest voices as well as the most brilliant songwriters and producers in rock music. As for the latter, one of the most creative and versatile is Frédéric Slama, whose incredible star-studded project — named simply AOR — continues its journey through the world of guitar and keyboard driven pomp rock sounds one album after another. Another important step in this journey for Frédéric, this time collaborating again with a renowned guitarist/producer Tommy Denander, was his last year's release The Secrets of LA. Endorsed by much important names of the genre — Jeff Scott Soto, Bob Harris, Robin Beck or the late Fergie Fredriksen, among others — The Secrets Of LA is the twelfth AOR album, dubbed the best to date by its creators.
It starts with "Deep Whirlpool." Now, there's even more to this well-crafted arena rocker than it was just a few months ago, with the late, great Fergie Frederiksen (ex-Toto, ex-LeRoux, solo) handling lead vocals. Apart from being a great track music-wise, it's a real monument to Frederiksen's high pitched, crystal clear voice. It's followed up by "Stage Struck"; in this song, enriched with some groovy lead guitar work and a fiery solo, it's Jeff Scott Soto (ex-Yngwie Malmsteen, Talisman, Axel Rudi Pell, currently of W.E.T.) that takes over the microphone. Yet another singer who doesn't need neither recognition nor recommendation, does he?
In "Secrets In The Shadows," it's the massive but melodic keyboard sound which takes the lead — the vocals delivered by the Swede Jim Jidhed (Alien, solo). The next two are "Back To San Francisco" and "Out Of The Past", another tracks much in the same vein; these dynamic guitar/keyboard duels are enriched by voices of Bill Champlin (ex-Chicago) and Bob Harris (Axe), respectively.
A groovy track "The Name Of The Game" is a showcase to Robin Beck's powerful but sensual vocal performance — one of the best female voices of the genre still stands strong! "Web Of Lies", featuring Göran Edman, is a perfect balance between dynamism and melody, and its follow-up "Hollow Triumph" bears resemblance to the sound of the early '90s melodic rock acts (such as the German Casanova – with Mikael Erlandsson, of Last Autumn's Dream and Lover Under Cover, sounding a lot like Michael Voss).
"The Main Attraction," on the other hand, gravitates towards more contemporary AOR/pomp rock style, bands such as Brother Firetribe or Work Of Art. These characteristic vocals couldn't have possibly been delivered by anyone else but Bob Harris, right? It's Axe frontman behind the microphone again, his performance being of quite obvious quality. And as for the grand finale, a melancholic ballad "Voices In The Wind" is illustrated with the emotionally laden, sonorous voice of Tamara Champlin, an American singer/songwriter (and Bill's wife). It's another AOR/melodic rock gem among many on the star-studded, absolutely brilliant album.
With The Secrets Of LA, what Frédéric Slama and Tommy Denander actually unveil is the best kept secrets to perfection in music. They prove there are amazing talents and years of much valuable experience behind the greatest names in the genre, many of them contributing to this album in particular or having contributed to Slama's AOR project before. Being the twelfth release under the "AOR" moniker, The Secrets Of LA is a stepping stone between classic AOR sound many of the guest singers and musicians are associated with and the modern-day production and approach to the genre. And for the listeners, it remains a real trademark of quality in this kind of music; there are no fillers to this album, each and every track being worth attention. Highly recommended.
Genre: AOR, Melodic Hard Rock
Band:
Frédéric Slama: guitars and keyboards
Tommy Denander: all instruments
Fergie Frederiksen: lead and backing vocals
Jeff Scott Soto: lead and backing vocals
Bill Champlin: lead and backing vocals
Jim Jidhed: lead and backing vocals
Robin Beck: lead and backing vocals
Göran Edman: lead and backing vocals
Mikael Erlandsson: lead and backing vocals
Bob Harris: lead and backing vocals
Tamara Champlin: lead and backing vocals
Ken Sandin: backing vocals
Dane Donohue: backing vocals
Alessandro Del Vecchio: backing vocals
Colin Rodgers: guitars and bass
Pat Thern: drums
Track List:
1. Deep Whirlpool
2. Stage Struck
3. Secrets In The Shadows
4. Back To San Francisco
5. Out Of The Past
6. The Name Of The Game
7. Web Of Lies
8. Hollow Triumph
9. The Main Attraction
10. Voices In The Wind
Label: AOR Heaven, Rubicon Music (with bonus tracks)
Website: http://www.slama101.fr/
Hardrock Haven rating: 10/10