Captain Black Beard | Before Plastic
by Alexandra Mrozowska
– Columnist —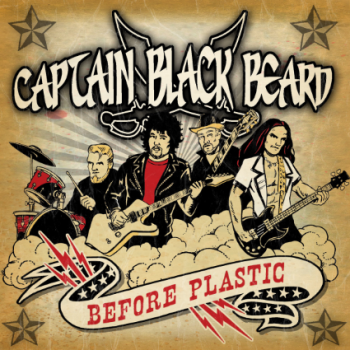 Captain Black Beard seems to "have it all," a fancy band name, a team of solid musicians, the renowned producers to work with, a critically acclaimed debut album … The only task they have to face now with their sophomore effort entitled Before Plastic is to prove their early success wasn't accidental. To prove all the rave reviews right, the Swedes gathered in the studio together with some impressive guests on board – Bruce Kulick (ex-KISS, Grand Funk Railroad, Union), Tommy Denander (Imperia, Radioactive) and Mats Karlsson (220 Volt, The Summit). The expectations are high – will they meet them?
The first few tracks the album starts with are well-crafted and pleasurable to listen, but something's missing there. Funnily enough, these are the tracks which two important big names of the genre contributed to; a dynamic modern-day rocker "Please Come Home" features Bruce Kulick playing a guitar solo in his trademark style, while in a melodic AOR-ish mid-tempo "Somebody," there's a guest appearance of Tommy Denander. There's an interesting riff that leads a fast-paced "New York City" and at times, "Bad Girl" may remind a listener of more mellow moments of the '80s-era KISS, especially in terms of vocals. Up to this point, the album sounds convincing, but it's far from the expected brilliance.
However, it's about the fifth track when things start to get really interesting. The great vocal harmonies and bluesy vibes of "Music Man" prove that the best is yet to come – as it seems, the first few tracks were only a warm-up in comparison to what comes next. "Aiming For Love" is one of the album's highlights with its combination of simple-yet-hooky guitar riff and infectious chorus. It's the type of an ultimate hit song you can find on Outloud or Reckless Love releases. "Keep On Drivin" is yet another bluesy track with dynamic rhythm section and a brilliant groovy guitar riff. As for the eight track "Shout" – an aggressive yet clichéd group chant ("Shout!") certainly reminds one of "something", and it doesn't take too long to figure out the title of classic glam metal anthem it's coming from… does it? The fast-paced track with machine-gun riffs is the heaviest on the album.
On Before Plastic, there is also a plenty of place for typical groovy rock anthems, such as "Life's What You Make It" and "Takin' You Out." The final track is "Listen Up" – the tempo of which varies from ballad-esque verses to powerful, straightforward choruses, so that in the end it turns out that there's more to what initially seemed to be just a clichéd rock ballad. Some equilibristic guitar parts towards the end of the track prove there is more to Captain Black Beard than meets the eye (or ear), too.
Although a couple of opening tracks on Before Plastic are "only" satisfactory, a few subsequent gems should convince even the most skeptical listeners that what Captain Black Beard delivered with their sophomore release overall is actually very good. Variety, catchiness and very solid performance of the majority of songs on the album are the strong assets to its entirety, the list of guest musicians being understandably impressive and their contribution to the album noticeable. And as for all the enthusiastic reviews of their first album – with its follow-up Captain Black Beard prove they're not a one-hit-wonder and they're not about to lower the tone altogether; they still have a lot of potential and they're still worth the attention of fans of melodic hard rock genre. Recommended.
Genre: Melodic Hard Rock
Band:
Sakaria Björklund – vocals/guitar
Victor Högberg – drums
Robert Majd – bass
Christian Ek – guitar
Tracklist:
1. Please Come Home
2. Somebody
3. New York City
4. Bad Girl
5. Music Man
6. Aiming For Love
7. Keep On Drivin'
8. Shout
9. Life's What You Make It
10. Takin' You Out
11. Listen Up
Label: Dead End Exit Records
Website: www.captainblackbeard.net
Hardrock Haven rating: 7.5/10