Iron Savior | Rise of the Hero
by Justin Gaines
– Senior Columnist/News Editor —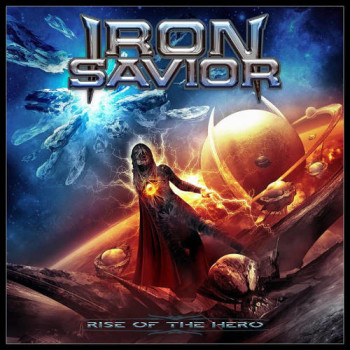 Long-running German power metal band Iron Savior is back after a three-year absence with Rise of the Hero, their eighth full-length album. The band released what may be their best album ever in 2011's The Landing, so the pressure is on to see if they can top that.
Iron Savior continues to step out of the Helloween/Gamma Ray shadows with this album, and they also continue to move away from the science fiction conceptual elements that trademarked their earlier releases. With Rise of the Hero, we're getting a very heavy yet still highly melodic brand of power metal with some blazing speed and headbanging intensity. It's actually quite reminiscent of the classic Somewhere Far Beyond/Imaginations From the Other Side Blind Guardian sound, which is not a bad thing at all. Part of that is Piet Sielck's vocals, which have some of the same gruffness that Hansi Kursch has.
While the whole album has a very consistent sound musically, the themes are pretty varied. Fantasy seems to trump sci-fi this time around, with songs like "Thunder From the Mountains," "Iron Warrior" and "Dragon King." There are also some old school metal anthems like "Burning Heart" and "Fistraiser" to get the blood pumping. There's even a song about the Kill Bill movies ("Revenge of the Bride"), which has to be the first Tarantino-themed power metal song ever. The album's standout track though is the melodic, soaring anthem "Last Hero," which you can tell instantly will be a staple of the band's live shows for years to come. The only odd moment is the band's rendition of the pop song "Dance With Somebody," which isn't bad, but even "metalled-up" just seems out of place.
Rise of the Hero is another first-rate album from a band that has more than earned a spot in the top ranks of the power metal genre. It's already a contender for best power metal album of 2014, and given the number of other high quality power metal albums released already this year, that's saying something. Obviously long time Iron Savior fans need to get their hands on this album right away, but Rise of the Hero should satisfy almost any fan of power and traditional heavy metal. "Raise your fist and set your spirit free!"
Edition Notes: The limited edition version of Rise of the Hero comes in a digipack and features a re-recorded version of "I've Been to Hell" as a bonus track.
Lineup
Thomas Nack (d) (v)
Jan-S Eckert (b) (v)
Joachim Kustner (g) (v)
Piet Sielck (v) (g)
Track Listing
1. Ascendance
2. Last Hero
3. Revenge of the Bride
4. From Far Beyond Time
5. Burning Heart
6. Thunder From the Mountains
7. Iron Warrior
8. Dragon King
9. Dance With Somebody (Mando Diao cover)
10. Firestorm
11. The Demon
12. Fistraiser
Website: www.iron-savior.com
Hardrock Haven Rating: 9.25/10