Bob Dee with Petro | Burning Rain
by Alexandra Mrozowska
– Columnist —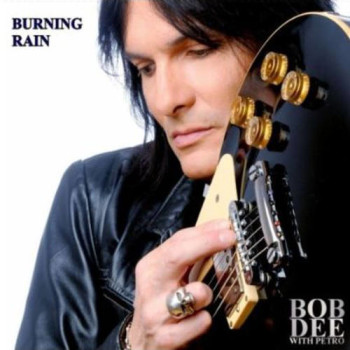 New York-based rock act Bob Dee with Petro – comprised of the singer/guitarist Bob Dee and his backing band – released their greatest hits compilation entitled Burning Rain just a while ago. Having chosen the large number of 17 tracks representative to the group's collective output from 2005 to 2013, they've enhanced the compilation with the three new songs, making it both a reminder (and a collector's item) for those already familiar with their works and a teaser for those who haven't heard about them yet. The three new songs – the opening "Obsession" and two final tracks "Breathe" and "In A World" – perfectly fit into the whole picture, so the conclusion is that Dee with Petro keep on treading the same ol' path as they did before rather than going for experiments.
Including as many as 20 tracks on one album is an obvious rarity even in the case of retrospective releases – and it's obvious from the start that the albums of such length must be comprised of killers and fillers (hopefully the former, not the latter, prevailing in such a case). That detailed insight into the band's works, on the other hand, can give a listener a good recognition of what their style and sound is like. With the first track "Obsession" – one of the previously unreleased three songs – Bob Dee with Petro introduce themselves having a soft spot for catchy hooks and well-crafted melodies, with the singer's emotionally laden, sensual but raspy vocals at times bearing a resemblance to the likes of Kane Roberts or Robert Tepper.
Even though the majority of the album is melodic hard rock, don't expect the band riding the '80s nostalgia wave. It's actually the other way round, since Burning Rain gets surprisingly modern in quite a few tracks. "Secret", "Wings To Fly" or "So Beautiful" are all straightforward contemporary rock, while "Outta My Face" and "Never Stands In Line" blend melodic rock and the feisty simplicity of The Ramones with flavors of the contemporary pop-punk bands.
Another highlights of the album are a groovy "Tell Me," "Up All Night" driven by the muscular, heavy riffs, or raw and rough "All American Boys." Deliberate or not, a psychedelia-infused riff to "I Just Wanna Be Your Star" sounds a bit like a modern rendition of Led Zeppelin's "Kashmir," whereas Leppard-esque "24" can remind listener either of Joe Eliott and the boys themselves or the contemporary Leppard-infused groups (such as Grand Design, for instance). As for the slow songs, there are plenty of them too, from a psychedelic ballad "Pride" enriched with a bluesy, eclectic opening riff to the soaring, melancholic "Lips That Heal," proving the band's ability to engage in more diverse songwriting than just a bunch of radio-friendly rockers.
Burning Rain, with its strong musicianship and interesting musical flavors – nevertheless embedded in melodic pop rock – is a very solid album altogether. However, with the total number of 20 tracks included, there are highlights and fillers – and a song or two this compilation would certainly do without. Plus, the listening experience would have been even more enjoyable if the album's length wasn't over 70 minutes. This said, pointing out to any severe flaws on Burning Rain remains still a hard task to perform – the vocal and instrumental performance throughout the entirety of 20 songs is very solid, and the majority of tracks on the album remains a testimony to the band's songwriting potential. If you're into contemporary melodic rock with poppy elements and catchy hooks, Bob Dee and his band Petro should certainly be kept on your radar. Recommended.
Genre: Melodic Rock, Pop Rock
Band:
Bob Dee – vocals, guitars
Brian Bauers – bass
TJ Jordan – guitars
Scott Campbell – drums
Track List:
1. Obsession
2. Mother Says
3. Outta My Face
4. Tell Me
5. Pride
6. Beautiful
7. Stars
8. Lips That Heal
9. Take My Hand
10. We Are Stars
11. Up All Night
12. 24
13. All American Boys
14. Wings to Fly
15. Wanna Be Your Star
16. Secret
17. Never Stand In Line
18. Robot
19. Breathe
20. In A World
Label: Melodic Revolution Records
Website: www.bobdeewithpetro.com/
Hardrock Haven rating: 7.5/10