Free Spirit | All the Shades of Darkened Light
by Justin Gaines
– Senior Columnist/News Editor —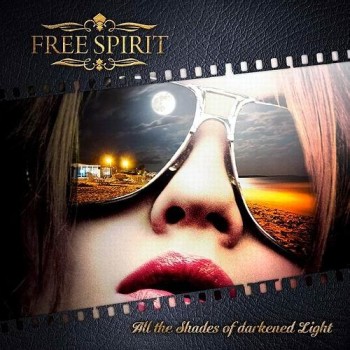 It's been five long years since Finnish melodic rock band Free Spirit released their unforgettable debut album Pale Sister of Light, but they're finally back with a follow-up album, titled All the Shades of Darkened Light. The band hasn't exactly been idle during those years, releasing their entire debut album for the popular Rock Band games. As fun as it is to play along to those songs, those of us who have kept Pale Sister of Light in steady rotation since 2009 were not going to be satisfied until we had a new Free Spirit album in our hands.
With All the Shades of Darkened Light, Free Spirit has shifted their sound ever so slightly. It's still very much the kind of irresistible melodic rock album Pale Sister of Light was, but this time around some of the more metallic elements from the debut have been dialed back in favor of a more purely melodic rock sound akin to Brother Firetribe or Outloud. This isn't a bad move at all, as they play this kind of melodic rock really well and the end result is eleven completely catchy songs. The keyboards are a bit more prominent with this album, complementing the wicked guitar hooks perfectly, and of course Sami Alho's unique vocals are a major highlight.
As with Pale Sister of Light, there really aren't any weak songs on All the Shades of Darkened Light, only songs you love right away and songs you'll love after a few more spins. Immediate standouts are the first single "Living Tattoo," "Hysteria" (not a Def Leppard cover, in case you were wondering), "Silence" and especially leadoff rocker "Nights of Paradise." Again, these are all great songs though. It won't take long before you're singing along to the whole album.
Between new releases by H.E.A.T, Brother Firetribe, Gotthard and Outloud, 2014 is already shaping up to be a stellar year for new melodic rock. With All the Shades of Darkened Light, Free Spirit has more than earned a place in those ranks. This is one of the best melodic rock albums of the year, and was absolutely worth the wait. If you're a fan of high quality European melodic rock, this is an album you do not want to miss.
Genre: Melodic Rock
Band:
Pasi Koivumaki (d)
Sami Hamalainen (b)
Marko Haapamaki (g)
Timo Alho (k)
Vesa Yli-Maenpaa (g) (v)
Sami Alho (v)
Track Listing:
1. Nights of Paradise
2. Living Tattoo
3. Hysteria
4. Ever Come True
5. The Dew of the Rose
6. Turn on the Night
7. Burning Love
8. Carry On
9. Fever
10. Silence
11. Storyline
Label: Self-released
Website: www.freespiritrock.com
Hardrock Haven rating: 9.25/10