Human Fortress | Raided Land
by Justin Gaines
– Senior Columnist/News Editor —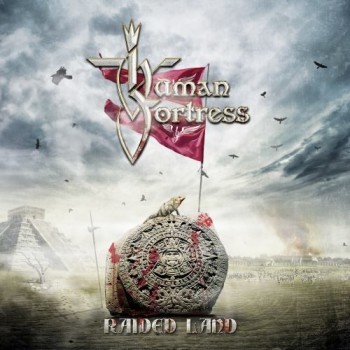 Released at the tail end of last year, Raided Land is the fourth album from Germany's Human Fortress, and the first to feature Gus Monsanto (ex-Adagio, ex-Revolution Renaissance) on vocals. Monsanto is the band's third singer in as many albums, and he's also one of the most underrated voices in power metal. Along with bringing in a new singer, Human Fortress has also (wisely) dropped the style change from 2008's disastrous Eternal Empire album and returned to their original power metal style, all but apologizing to their fans in the liner notes.
Raided Land really does seem like a new beginning for this band. They've come back after a five year absence with a new focus on their power metal roots, and have a singer with the perfect power and range to suit the kind of songs they write. Musically, Raided Land has the early Human Fortress sound down, though with perhaps a bit more of a nod to melodic metal bands like Masterplan and Silent Force. There's a good balance between all-out metal and some exquisite keyboard work and orchestration by Dirk Liehm. The album feels like a concept album, with an atmosphere and energy that runs throughout each song and a singular lyrical focus on warriors fighting the good fight and triumphing over adversity. Monsanto delivers a standout performance, as expected, sounding at times like Tony Martin in his prime. The backing vocals by none other than Michael Bormann (Silent Force, ex-Jaded Heart) are another nice touch.
The whole of Raided Land is satisfying, but the album does have some standout tracks. "Wasted Years" is an obvious highlight, as are "Dark Knight" and "Restless Souls," and "Guard the Blind" closes things down on a rousing, anthemic power metal note. Human Fortress isn't reinventing the genre here, but playing it safe is kind of the point, and the results are impressive.
If the main objective of Raided Land was to win back the fans who were disappointed by Eternal Empire, then mission accomplished. This is also an ideal starting point for newcomers to experience Human Fortress, since it's arguably their best effort to date. Fans of melodic power metal, from Rhapsody to Gamma Ray to Iron Savior to Masterplan, should find a lot to like about this one.
Genre: Power Metal
Lineup:
Gus Monsanto (v)
Dirk Liehm (k)
Todd Wolf (g)
Volker Trost (g)
Andre Hort (b)
Laki Zaios (d)
Track Listing:
1. Raided Land
2. Child of War
3. Wasted Years
4. The Chosen One
5. Shelter
6. The Gladiator of Rome (Part II)
7. Dark Knight
8. Prelude
9. Pray For Salvation
10. Evil Curse
11. Restless Souls
12. Under Siege
13. Guard the Blind
Label: AFM Records
Website: www.facebook.com/humanfortressofficial
Hardrock Haven Rating: 8/10