John Taglieri | Southern Paradise
by Mark Allen
– Senior Columnist —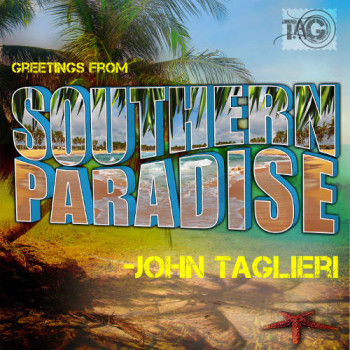 Put Springsteen, Mellencamp, and latter-day Bon Jovi into a musical blender and the result might sound very much like guitarist/singer/songwriter John Taglieri. If you must hang a tag on it, call it "all American working man rock 'n' roll." It's not designed for hard rockers and headbangers—mosh pits will not spontaneously erupt in response to Taglieri's tunes—but it does serve as a nice, solid, mellow rock soundtrack for those summer days sitting on your deck soaking up the sun while sipping Cold Cock Whiskey.
Taglieri is an independent spirit blessed with make-it-happen tenacity and Southern Paradise is a six-track EP full of warm, organic, blue collar rock that features some of the best songs of his long-running career. For example, "It's You" is an expertly crafted ballad, sweet and memorable and graced with that romantic, lighter-in-the-air quality of which all great ballads are made. Not that a hard rock website should advocate this, but … with just a smidgen more twang in the guitar, this song could be a smash hit on modern country radio.
So you can discern just a touch of country (not pure country; think more along the lines of Bon Jovi's Lost Highway for example), some blues, and some straight-up rock. All these elements intertwine under Taglieri's skilled tutelage to create an enjoyable, lighthearted, toe-tapping album. If you listen to these songs and wish they were heavier … you're completely missing the point.
While the big ballad may be the album's best track, there are other noteworthy songs. "What I Think About" sports a working man vibe centered around a simple but infectious hook. "Days of Night" is a cool mid-tempo rocker and probably the "heaviest" song on the EP (though use the term "heavy" lightly, if that makes sense). And the title track is a cozy, body-swaying soft rock tune with a tinkling piano to compliment the talented guitar work.
You've heard raging, murderous, nihilistic, kill-a-puppy-and-violate-its-corpse music? Yeah, this is the exact opposite of that. Let's put it this way—if you ever find yourself on a tropical island paradise where the water is crystal blue, the breeze is light, the girls are gorgeous, and the drinks come in coconuts, don't be surprised if this is the album playing in the background.
Genre: Rock
Band:
John Taglieri (vocals, guitar)
Track Listing
1. Southern Paradise
2. When I Think About
3. Down the Road
4. It's You
5. Days of Night
6. Turn Around
Label: Leap Dog Music
Webpage: www.facebook.com/JohnTaglieriMusic
Hardrock Haven rating: 7.5/10