Sleaze RoXxX | Dangerous Obsession
by Alexandra Mrozowska
– Columnist —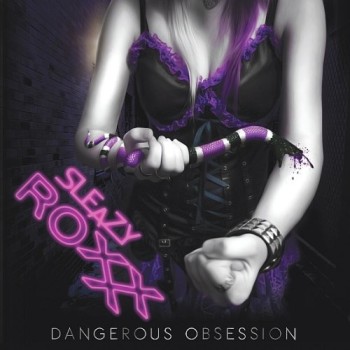 Riding a wave of '80s nostalgia might be a good idea these days. But no matter if you think about the new '80s-infused bands (such as Brother Firetribe, Outloud or White Widdow) or the reunited-and-back classic acts of the genre, the majority of them goes for the polished AOR/melodic rock sound rather than mixing glam, hard rock and punk into what is commonly dubbed 'sleaze rock'. The only notable exception to this tendency are the representatives of the so-called New Wave Of Swedish Sleaze Metal. Having the soft spot for combining punkish hairdos and bright stage make-up with loud guitars and non-sublime lyrics may soon stop being the sole domain of the Scandinavians. Although the term such as the New Wave Of Czech Glam/Sleaze Metal might have not been coined yet, bands such as Sweet Leopard or Sleazy RoXxX are supposedly on their way to ascend the throne previously occupied by Pretty Boy Floyd and Tigertailz. Or, at least that's what the four-piece Sleazy RoXxX attempt at with their first release Dangerous Obsession.
While the band's moniker suggested the initial explosion of sleazy riffs and rock'n'roll nursery rhymes for big kids, the album's opening track – the instrumental "Innocent Memories" sounds as sweet and delicate… and yes, as misleading as possible. With the second track, Sleazy RoXxX deliver what one could have expected from of them – "Porn To Be Wild" isn't a misspelled Steppenwolf "Born To Be Wild" cover (sigh of relief here). Instead, it's a track Steel Panther wouldn't be really ashamed of in terms of lyrics (you must've figured out that the triple 'x' in the band name must have been adequate to their motion picture preferences). The song sounds raw and slightly punk-ish, similarly to the rough style of the early Cräshdiet – and as for the vocals, Lee Glambert sounds here like a younger impersonator of Pretty Boy Floyd's Steve Summers.
"Draw The Lion" and "Lima Sierra Delta" are similar, but more melodic; one of the bands Sleazy RoXxX cite as their inspirations is Reckless Love, and there are some echoes of the Finnish heartthrobs' catchy hooks in their music indeed. That is, if to blend poppy Reckless together with more (and yet even more) of Pretty Boy Floyd.
Having already experienced the band's contrariness, it's no surprise to hear the country-ish acoustic guitar lick developing into a punchy, dynamic "Long Way To Mexico" with the aggressively chanted chorus similar to some of Foxy Roxx output (if anyone remembers this ridiculously tasteless mid-'90s glam group). "Sex Drugs & Ice Cream" (with a title borrowed possibly from a t-shirt in some clothing chain store for teenagers) is another piece of melodic sleaze metal.
However, the next few tracks turn out to be rather disappointing, starting from the ballad-esque but unbearably monotonous "Live Fast – Die Young," which brings to mind Swedish Loud 'N' Nasty (now disbanded). Half of the next track, "Bastard", sounds as if it was a creepy whisper effect of the low-budget horror movie and its follow-up "Girl From 80s," despite the promising Poison-infused verse, fails to surprise a listener with an expected well-crafted chorus. "Kentucky Highway" and "White Gold" are trite modern rock tracks without any particular hook. It's only the final bonus track "Under Magenta Sky" that keeps up with the few first songs on the album in terms of quality as again, Sleazy RoXxX combine clichéd lyrics, raw riffs and melodic chorus into a decent grand finale to the album.
Dangerous Obsession is a clear proof that sleaze rock is not dead also outside Scandinavia, the fact which should make quite a few fans of the genre (and the other dozen for whom listening to the likes of Pretty Boy Floyd and newer glam bands remains a guilty pleasure) happy. As for Sleazy RoXxX debut release itself, it portrays the band members as certainly diligent sleaze rock followers, knowing well what this genre's all about. The half of the album is promising, to say the least – this said, the other half somewhat fails to draw the listener's attention. And yes, the entire material is as clichéd as it could be. Still, there are more than a few bright spots on Dangerous Obsession, making the album and the Liberec-based band both worth being checked out – as long as your interest in music is related to "electric toyz," "making noise" and/or "setting the night on fire". Otherwise, the excess of both musical and lyrical clichés on this release would be hard to digest.
Genre: Sleaze, Glam Metal
Band:
Lee Glambert – Vocals
Steve St. James – Guitar
Jan Vandervell – Bass
George O'Lingerie – Drums
Track List:
1. Innocent Memories
2. Porn To Be Wild
3. Draw The Lion
4. Lima Sierra Delta
5. Long Way to Mexico
6. Sex Drugs & Ice Cream
7. Live Fast – Die Young
8. Bastard
9. Girl from 80s
10. Kentucky Highway
11. White Gold
12. Under Magenta Sky (2012 Bonus)
Label: City Of Lights Records
Website: https://www.facebook.com/pages/Sleazy-RoXxX/
Hardrock Haven rating: 6.5/10