by Justin Gaines
– Senior Columnist/News Editor —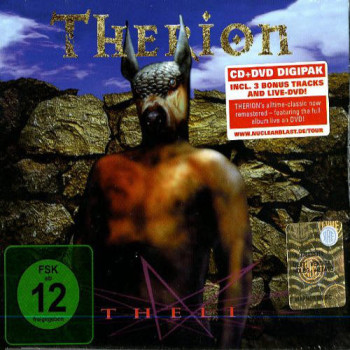 You wouldn't think that as late as 1996 a new metal album could come out and completely define an entire genre, but that's exactly what happened when Swedish metal band Therion released their fifth studio album, titled Theli. The band already had a few albums to its credit, and over the course of those albums you could see them evolving from a simpler death metal sound into something grander and more ambitious. With Theli, that transformation was complete, and Therion had (along with Finnish band Nightwish, whose debut wasn't far behind) set the standard for the new symphonic metal genre.
Therion mainman Christofer Johnsson clearly had a vision that brought heavy metal and classical music together in a way that had never been seen, and he made that vision a reality. Theli doesn't feature an actual orchestra backing the main band. Instead they used keyboards and sampling to mimic the classical instruments. They did bring in nearly a dozen male and female choral singers to deliver operatic vocals. Edge of Sanity vocalist Dan Swano also guested.
The various elements used here – the conceptual/opera-style composition, traditional heavy metal instruments and vocals, symphonic arrangements, and choirs – all came together brilliantly. This was the complete integration of heavy metal and classical music. It was epic and ambitious, yet still worked as a headbanging heavy metal album; and songs like "To Mega Therion," "Nightside of Eden" and "Invocation of Naamah" remain touchstones of the genre.
Therion made a powerful mark on the metal world with Theli, and influenced just about every band who decided to wade into symphonic metal waters. The best part is that the band would only get better from here. As amazing as Theli was (and it holds up remarkably well all these years later), later Therion releases like Vovin, Secret of the Runes and the double album Sirius B/Lemuria would show just what this band was capable of. Calling Theli a must have album for symphonic metal fans is an understatement. Without it, there may not have been a symphonic metal genre. There's no excuse for not owning a copy of Theli, especially now that it has been reissued.
Edition Notes: Nuclear Blast's deluxe reissue of Theli comes in a gatefold digipack with expanded liner notes. The main CD features the full Theli album plus three bonus tracks: "In Remembrance," the European Metal version of "Black Fairy" and a cover of The Scorpions song "Fly to the Rainbow," all of which originally appeared on the Japanese import version of Theli. Disc 2 is the real bonus, as it is a DVD featuring a live performance of Theli in its entirety. It's a fantastic reissue all around, and has more than enough extras to make it a worthwhile upgrade for most fans.
Genre: Symphonic Metal
Lineup:
Christofer Johnsson (v) (g) (k)
Piotr Wawrzeniuk (d) (v)
Lars Rosenberg (b)
Jonas Mellberg (g) (k)
Track Listing:
1. Preludium
2. To Mega Therion
3. Cults of the Shadow
4. In the Desert of Set
5. Interludium
6. Nightside of Eden
7. Opus Eclipse
8. Invocation of Naamah
9. The Siren of the Woods
10. Grand Finale/Postludium
11. In Remembrance
12. Black Fairy (European Metal version)
13. Fly to the Rainbow
Label: Nuclear Blast
Website: www.megatherion.com
Hardrock Haven Rating: 9/10