by Justing Gaines
– Senior Columnist/news Editor —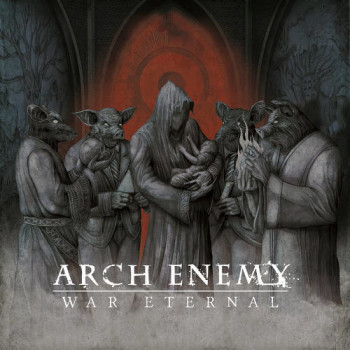 Well, Swedish melodic death metal mainstays Arch Enemy definitely got people talking in advance of their ninth full-length album, titled War Eternal. The departure of co-founding guitarist Christopher Amott would have been noteworthy all by itself, but it was vocalist Angela Gossow's surprise announcement that she was stepping down from the microphone that really took the metal world by storm. Gossow, of course, was one of the first women to front an extreme metal band, and Arch Enemy decided to continue that tradition by naming Alissa White-Gluz (formerly of The Agonist) as her replacement.
The stakes were high going into this album. War Eternal had to win over the band's existing fans, shut down the doubters, and show that Arch Enemy can march forward into a new era without missing a step. Fortunately Michael Amott's vision for the band has never wavered, and his songwriting is as sharp as ever. Former Arsis guitarist Nick Cordle, who replaced Christopher Amott, proves to be an asset in the songwriting department as well. On the vocal side, Gluz is no stranger to death metal growling, but her raspier style is not as deep and dominating as Gossow's. It's a difference that's noticeable, but not necessarily worse. The band opened themselves up to criticism by selecting another female vocalist (as in, this is our gimmick, and isn't she hawt?), but Gluz's performance should satisfy anyone who isn't simply determined to bitch and complain (and who probably hasn't bought an Arch Enemy album since Wages of Sin anyway).
War Eternal sounds like, well, an Arch Enemy album. Aside from the obvious difference in vocal styles, it's the same basic formula we heard on Khaos Legions and Rise of the Tyrant. It's got that signature blend of intensity and melody, with neck-snapping rhythms and wickedly catchy melodies. The songs continue to be anthemic in nature, serving as rousing calls to rebel against … well, they're a little vague on that part, so just rage against your boss/your ex/traffic/the machine as needed.
The title track is the first single from War Eternal, and it's such a monster song. Vintage Arch Enemy. "As the Pages Burn" and "Down to Nothing are also killer tracks that have that classic Gothenburg melodeath vibe. The synths in "Avalanche" add another dimension to the album as well. There really isn't a bad song here, though the instrumental intro and outro tracks are more or less disposable.
Arch Enemy isn't exactly shocking the system with War Eternal like they did over a decade ago with Wages of Sin, but they really didn't have to. They simply had to show their fans that the band could continue through some very significant lineup changes and still come out sounding like the Arch Enemy we all know and love. And at that they very much succeeded. War Eternal isn't an amazing album, but it's every bit as strong as the albums that preceded it, and does a very good job ushering in the Arch Enemy 3.0 era.
Edition Notes: The deluxe edition of War Eternal comes in a digipack and includes a cover of Mike Oldfield's "Shadow on the Wall" as a bonus track, as well as a patch and sticker.
Genre: Death Metal, Melodic Death Metal
Lineup:
Michael Amott (g)
Daniel Erlandsson (d)
Sharlee D'Angelo (b)
Nick Cordle (g)
Alissa White-Gluz (v)
Track Listing:
Tempore Nihil Sanat
Never Forgive, Never Forget
War Eternal
As the Pages Burn
No More Regrets
You Will Know My Name
Graveyard of Dreams
Stolen Life
Time is Black
On and On
Avalanche
Down To Nothing
Not Long For This World
Label: Century Media
Website: www.archenemy.net
Hardrock Haven Rating: 8.5/10