Foreigner, Styx, Don Felder 'Soundtrack of Summer' Tour
by Kim Shockley Ash
– Columnist —
June 8th, 2014 at Starlight Amphitheater in Kansas City, MO. —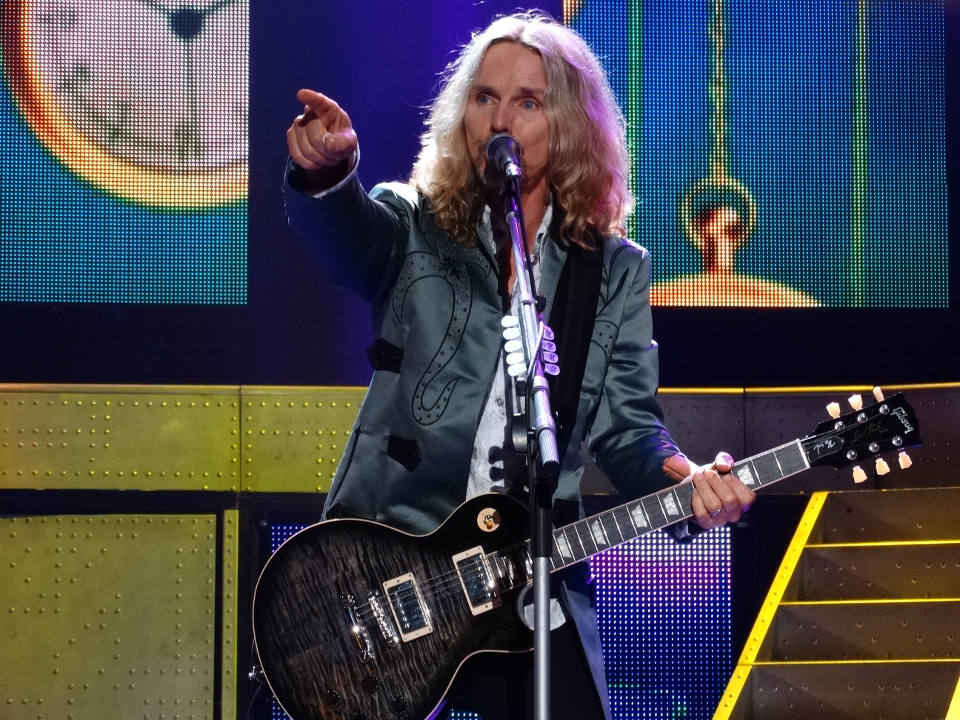 A gloomy rainy day turned into the perfect night for rock and roll in Kansas City. Don Felder, Foreigner, and Styx played to a near sell-out crowd at the beautiful Starlight Theatre. It was 4 hours of great classic rock and roll.
Don Felder and his band opened the show, playing many of the the most loved Eagles songs. The moment he went on stage the crowd was on their feet and you could hear the crowd singing along with nearly every song. Felder played a cut from his new album Road To Forever, "You Don't Have Me." The music and lyrics are relevant and it did not sound like a recycled Eagles tune. To the crowds delight, Tommy Shaw and Todd Sucherman joined Don on stage for "Hotel California." The only down side was that the set was too short.
Foreigner brought their high energy to the stage and again the crowd was on their feet. I've heard many people say that it's not Foreigner without Lou Gramm, but Kelly Hanson is a great singer and performer in his own right. It is still the music of Foreigner and they sounded great as always. The crowd was on their feet the entire set. A nice surprise was Carrolton Missouri High School choir joining them on stage for "I want to know what love is." You could see the joy on their faces as they sang the chorus.
The set list and stage set up made Styx performance a welcome change from the predictable set list of past KC shows. It was great to hear "Crystal Ball" on this show, a song missing from their last two Starlight shows. "SuperStars" from the Grand Illusion album was also performed for the first time in Kansas City according to JY. Styx is definitely at the top of their game and as long as they are touring, you can bet I'll be there.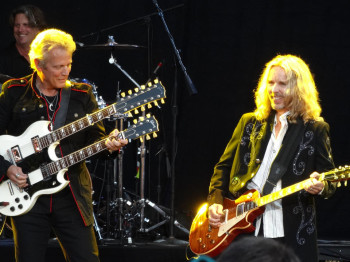 Don Felder set list:
Already Gone
One of These Nights
You Don't Have Me – New song
Those Shoes
Seven Bridges Road
Band Intro's
Witchy Woman
Heavy Metal
Heart Ache Tonight
Life in the Fast Lane
Hotel California – With Tommy Shaw and Todd Sucherman Todd Sucherman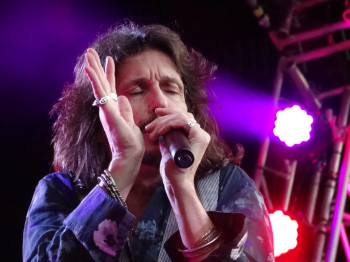 Foreigner set list:
Double Vision
Head Games
Cold as Ice
Waiting For A Girl Like You
Feels Like the First Time
Urgent
Star Rider
Jute Box Hero
I Want to Know What Love Is – Carrolton High School Choir
Hot Blooded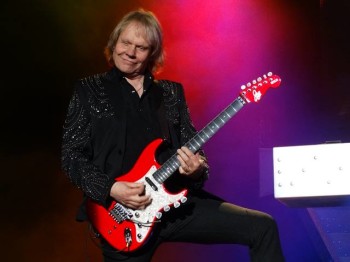 Styx set list:
Grand Illusion
Too Much Time on My Hands
Fooling Yourself – Angry Young Man
Lady
Light Up
Crystal Ball
SuperStars
Blue Collar Man
Classic Rock Melody
Come Sail Away
Paradise Theater
Renegade
Foreigner, Styx, Don Felder 'Soundtrack of Summer' Tour Concert Photo Gallery
Dates for The Soundtrack of Summer Tour are below (# denotes closing act — #F=Foreigner #S=Styx):
June 19 – Boston, MA (Bank Of America Pavilion) #F
June 20 – Bristow, VA (Jiffy Lube Live) #F
June 21 – Big Flats, NY (Summer Stage) #F
June 23 – Verona, NY (Turning Stone Casino) #S
June 27 – Mashantucket, CT (Foxwoods Resort Casino) #S
June 28 – Wantagh, NY (Nikon Jones Beach Theater) #F
July 4 – Scranton, PA (Toyota Pavilion) #F
July 5 – Bangor, ME (Darlings Waterfront) #S
July 6 – Gilford, NH (Bank of NH Pavilion) #S
July 9 – Canandaigua, NY (Marvin Sands Performing Arts Center) #F
July 10 -Detroit, MI (Freedom Hill Amphitheater) #F
July 17 – Minneapolis, MN (Target Center) #F
July 18 – Walker, MN (Moondance Jam) #S
July 22 – Denver, CO (Fiddler's Green Amphitheatre) #F
July 23 – Salt Lake City, UT (USANA Amphitheatre) #S
July 25 – Las Vegas, NV (Orleans Arena) #S
July 26 – Los Angeles, CA (Greek Theatre) #F
July 27 – Santa Barbara, CA (Santa Barbara Bowl) #F