Corruption | Devil's Share
by Alexandra Mrozowska
– Columnist —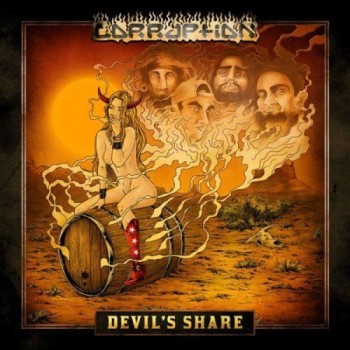 Corruption are no newbies to the Polish metal scene – founded in 1991, they've come a long way from their doom/death metal beginnings to their current stoner metal incarnation. Now, four years after the well-received Bourbon River Bank, they return with what's the seventh album in their catalog – Devil's Share. And if to cut a corner and judge the book (or the album, to be precise) by the cover first – things should get rough and rowdy down there. Do they…?
Although the Americana-infused banjo intro to "Hang'N'Over" may mislead you a bit, don't worry – it's not that someone swapped your Corruption album copy with Dolly Parton's most recent endeavor (with all due respect to the blonde-haired country legend). Seconds into the first track, you'll find it to be a fast-paced stoner metal piece (not deprived of melody, though). Further on, it gets even heavier with much distorted, muscular riffs and aggressive vocals of "This Is The Day" and "Story Of Things That Should Not Be." In "Traveller Blues," things gravitate a bit more towards blues indeed, with harmonica put against the background of ominous doom-infused guitar riffs and growling bass – but it's certain this darkling mid-tempo is no bluesy schmaltz for the broken hearted.
Next are gritty, feisty "Grime Whorehouse" and "Inspire," a dose of bone-crushing licks over gut-wrenching vocals; both separated by an acoustic two-minute interlude "Trespasstellers," again a wink and a nod to the traditional Americana style. "Regression" is no softer than the rest of the album, yet slower than its majority – its lumbering, heavy aura is somewhat Sabbath-esque (not a surprise, considering the huge influence of the trademark Black Sabbath sound exerted over the stoner metal scene).
"Born To Be Zakk Wylde" is the moment the toughest metalhead simply has to (at least) crack a smile – it's a Steppenwolf classic on steroids that halfway through morphs into Dio's "Holy Diver," sounding as if the eponymous Black Label Society frontman and his style of playing had a finger in this pie, too. This surprising but fantastic take on rock/metal staples that's been covered ad nauseam (by different artists and to different effects) has a certain tongue-in-cheek vibe to it… but objectively, it still sounds much better than many similar cover versions. Let there be more musical jokes like this! Next to last is stoner metal gallop "Betty Pyro", it's follow-up being guitar-laden "Moment Of Truth" driven by an interesting, slightly psychedelic riff. A goodie to finish a good album with.
Devil's Share is rough, gritty, straight-in-your-face stoner rock/metal album with slight touches of psychedelic and blatant references to Americana music (the naked chick on the album cover wears her star-embellished cowboy boots in the middle of the desert not without a reason!). This Polish quartet surely knows what metal is all about, and – experienced enough to go off the beaten track at times, as in harmonica-laden "Traveller Blues" – they rock hard throughout the subsequent 11 tracks of the album. If you're into this kind of thing, you'll love this piece of testosterone-fuelled stoner metal. Recommended.
Genre: Stoner Metal, Stoner Rock, Metal
Band:
Piotr Anioł Wącisz – bass, backing vocals
Daniel Dani Lechmański – guitar, vocals
Bartek Grabarz Gamracy – drums
Piotr Rutkoś Rutkowski – guitar, vocals
Track List:
1. Hang'n'Over
2. This is The Day
3. Story of Things That Should Not Be
4. Traveller Blues
5. Grime Whorehouse
6. Trespasstellers (acoustic)
7. Inspire
8. Regression
9. Born to be Zakk Wylde
10. Betty Pyro
11. Moment Of Truth
Label: Metal Mind Productions
Website: http://www.facebook.com/OfficialCorruption
Hardrock Haven rating: 8/10