Phil Vincent | Slave To Sin
by Joe Mis
– Senior Columnist —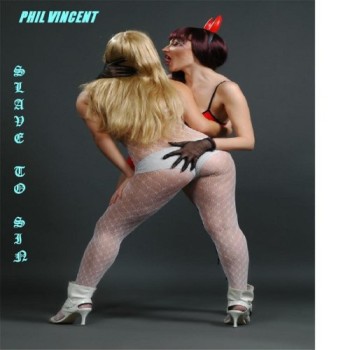 The busiest man in Rock and Roll strikes again. From the heavy metal hotbed of Rhode Island, vocalist-multi-instumetalist-songwriter Phil Vincent has recently released another solo album entitled Slave To Sin. A bit heavier and edgier than his last release, Slave To Sin proves that there is no bottom to the well of talent possessed by Mr. Vincent – it is another melodic hard mock / metal gem.
Not a one man effort as are some of his releases, on Slave To Sin Phil is joined by long time friend and band mate Vince O'Regan (who contributes some amazing lead guitar). Everything else on the album is Phil Vincent – lead and backing vocals, guitars, bass, drums, keys, songwriting, recording, production and engineering. Surprisingly, Phil has not grown stale through all of this, and he continues to grow and evolve musically. He never stray far from his bread and butter influences, heavily leaning towards the hair metal greats of the 80s and 90s – but not imitating them, rather modernizing them.
Phil turns it up to 11 right away on the in-your-face opener "Slave To Sin." Gritty, driving rhythms and rapid fire bass and drums show off his full metal chops. "Take Me Back" is a flowing mid-tempo melodic rocker influenced by Dokken. This track has a great drum line, showing Phil's continuing development as a rhythm guy, and the guitar solos are simply jaw dropping. "Mystery" blends in intense keyboards, but lives on the bass line. This 7-minute tune is one that might inspire some less-seasoned musicians to go a little crazy with fills and flairs, but Vincent's experience allows him to keep it all under control and deliver an intense and meaningful reflection on the mysteries of life and humanity. "Rise" is a gritty and grinding hard rocker rife with old-school hard rock chunks. The first four tracks are all stylistically different, yet Phil seems at home on all of them.
Phil radically shifts gears and delivers a heartfelt keyboard driven ballad "Illusions." 5 songs, 5 different styles – noticing a trend here? A little bit of punk influence finds its way into the rocking "Bad Girl," while one can pick up hints of Cheap Trick and The Beatles in the well-done slow rocker "Let Me Be The One." "Harmonic Destruction" is something new even for Phil – it is a 13-plus minute epic, broken into 4 distinct chunks (Regrets / Even Now / Suite Revenge / Gaia Storm). The sub-songs more from heavy and hard to precision hair metal with dynamic lead guitar to guitar hero riff rock to chugging blues-tinged rock.
As on his other solo efforts, Slave to Sin IS Phil Vincent. His broad talents on both sides of the mic and mixer allow him to make music that is uniquely his own, and the addition of guests to shore up things proves that these releases are not ego trips. If Phil has a weakness, it is as an art director. He seems to have a love for somewhat cheesy album covers that do not do the music inside proper justice.
Solid performances coupled with good songwriting make Slave To Sin a winner. Phil Vincent is making a creative statement, and making it well. Highly recommended for Phil Vincent fans, or anyone into modern melodic hard rock.
Genre: Melodic Hard Rock
Band:
Phil Vincent (vocals, guitar, bass, keyboards, drums)
Vince O'Regan (lead guitar)
Track Listing:
1. Slave To Sin
2. Take Me Back
3. Mystery
4. Rise
5. Illusion
6. Bad Girl
7. Let Me Be The One
8. Harmonic Destruction (physical CD bonus track)
Label: Phil Vincent Music
Website: http://www.philvincentbands.com/
Hardrock Haven rating: 8.5/10