Bon Jovi | New Jersey (Deluxe Edition)
by Mark Allen
– Senior Columnist —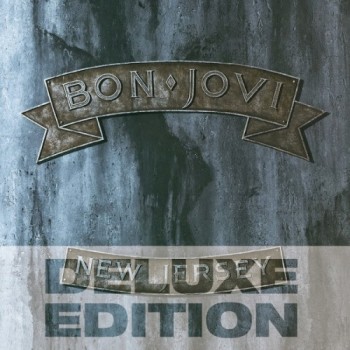 Many rock 'n' roll enthusiasts believe that Bon Jovi's albums strike the perfect synchronicity between rock and pop; others believe that the best thing to do with Bon Jovi albums is to pile them high, pour on some gasoline, and toss a match. But love 'em or hate 'em, it is indisputable that New Jersey has earned iconic status in rock 'n' roll history. In 1986, Slippery When Wet put Bon Jovi on the map; in 1988, New Jersey ensured they remained there.
Rehashing this album would be redundant. What could possibly be added to the bazillion words that have already been written about this '80s classic? Yes, classic. The album generated a string of hit singles that still enjoy radio play a quarter century later and there are precious few rockers out there who have never shouted along to "Bad Medicine," "Lay Your Hands On Me," or "Born To Be My Baby." Calling this a classic does not require you to like the album; merely give credit where credit is due.
To celebrate New Jersey's silver anniversary, it has been gussied up in a Deluxe Edition package that features the original album remastered with bonus tracks, including the awesome "Love Is War." How a song this good never made the final cut but throwaway filler like "Love For Sale" did will forever be a mystery, but all is forgiven now that it has been restored to its rightful place on the album proper.
But the bigger double-dip draw is the inclusion of a second disc, cheekily dubbed The Sons of Beaches Demos. For those unaware, New Jersey was originally designed as a double album and these demos were recorded before the studio stepped in and nixed the double album idea like a fundamentalist church nixing a lesbian pastor. And while most of these songs have been bootlegged and shared, they are now gathered together on one official release.
Before hitting play on these demos, bear in mind that they are, well … demos. Decent quality to be sure, but anyone expecting the bombastic studio polish upon which Bon Jovi built their reputation will be more disappointed than a Republican hoping to repeal Obamacare. This is not intended to be the definitive B.J. experience (yep, totally aware that sounds like a porn site advertisement); these demos are merely intended to provide insight into the evolution of an album, a glimpse under the hood at the internal mechanisms of the creative songwriting process.
Frankly, with many of the songs, you can understand why they were scrapped. But there are also some really good tunes, sonically rough around the edges, but blessed with sharp hooks and strong choruses. "Full Moon High" is one of those songs, very much in the Bon Jovi mold with lyrics about true love and disapproving parents. "Now and Forever" doesn't break any new ground, but makes a welcome addition to the band's impressive list of ballads. And "Growin' Up the Hard Way" sports enough "na-na-na's" to snag the ear and make you realize it would have been right at home on 7800 Fahrenheit.
This is a no-brainer pickup for any Bon Jovi fan. Crank the album up in all its remastered glory and enjoy it for the superb slice of '80s commercial rock that it is. Bon Jovi once sang they had seen a million faces and rocked them all. This Deluxe Edition is the perfect excuse to get your face rocked all over again.
Genre: Commercial Rock
Band:
Jon Bon Jovi (lead vocals, backing vocals)
Richie Sambora (guitars, backing vocals)
Alec John Such (bass, backing vocals)
Tico Torres (drums, backing vocals)
Track Listing
Disc 1: Original Album
1. Lay Your Hands On Me
2. Bad Medicine
3. Born To Be My Baby
4. Living In Sin
5. Blood On Blood
6. Homebound Train
7. Wild Is The Wind
8. Ride Cowboy Ride
9. Stick To Your Guns
10. I'll Be There For You
11. 99 In The Shade
12. Love For Sale
13. The Boys Are Back In Town (bonus track)
14. Love Is War (bonus track)
15. Born To Be My Baby (acoustic / bonus track)
Disc 2: The Sons of Beaches Demos
1. Homebound Train
2. Judgment Day
3. Full Moon High
4. Growin' Up The Hard Way
5. Let's Make It Baby
6. Love Hurts
7. Backdoor To Heaven
8. Now And Forever
9. Wild Is The Wind
10. Stick To Your Guns
11. House Of Fire
12. Does Anybody Really Fall In Love Anymore?
13. Diamond Ring
Label: Mercury Records
Webpage: www.bonjovi.com
Hardrock Haven rating: 8.5/10