by Justin Gaines
– Senior Columnist/News Editor —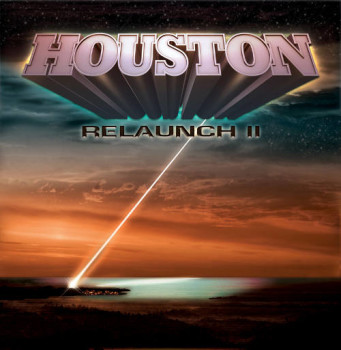 Back in 2011, Swedish AOR sensation Houston followed up their acclaimed self-titled debut with a collection of covers (and a few extras), titled Relaunch. Now with two full-length albums out, Houston is going back to that idea with Relaunch II, a 10-song collection of cover songs and new original material.
On Relaunch, Houston paid tribute to some really deep cuts of classic AOR artists, including Michael Bolton, Airrace, Touch and New England. With Relaunch II, Houston takes … a different approach. Sure they give us covers of vintage John Farnham, John O'Banion and Rick Springfield songs, but they also try their hand at covering more recent pop and country hits by One Republic, Lady Gaga and (shudder) Florida Georgia Line. You have to give them credit for taking a chance, but it doesn't always pay off. Their version of "Counting Stars" isn't bad, but it feels like a karaoke version, not something with Houston's own style. The cover of Lady Gaga's "Do What You Want" is a duet with Lizette Von Panajott, and while you hear Houston's sound coming through, the dance peppiness is jarring alongside all that polished Swedish AOR. Their version of "Cruise" will likely be the worst thing you hear all year, but it's such a painfully "Wal-Mart country" song in the first place there was really no hope for it.
Relaunch II's saving grace – aside from the more traditional AOR covers, which are done quite well – is the four brand new Houston songs. They're in keeping with the style we fell in love with on Houston and Houston II, and if they're a hint to what we might expect from the band's third full-length, we don't have anything to worry about.
Needless to say, Relaunch II is a mixed bag. Even with a couple of awkward (or downright terrible) songs, there is still a lot to love here. "Downtown" and "Our Love" are worth the price of admission by themselves, and Rick Springfield's "Souls" sounds like it was written specifically for Houston. If you're already a fan of the band, you need to pick up a copy of Relaunch II. If you're new to the band but are a fan of Toto-style AOR with a modern touch (think Work of Art or Lionville), you definitely want to check out Houston. Just start with one of their proper full-length albums before giving Relaunch II a go.
Genre: Melodic Rock, AOR
Lineup:
Hank Erix (v)
Ricky Delin (k) (v)
Soufian Ma'Aoui (b)
Calle Hammar (g) (v)
Victor Lundberg (k) (v)
Oscar Lundstrom (d)
Track Listing:
Justice For One (John Farnham cover)
Love Is Blind (John O'Banion cover)
Counting Stars (One Republic cover)
Souls (Rick Springfield cover)
Don't Look Back
Cruise (Florida Georgia Line cover)
Do What You Want (Lady Gaga cover)
Our Love
Downtown
Standing On the Moon
Label: Cargo
Website: www.houstonsweden.com
Hardrock Haven rating: 7/10