Machinae Supremacy | Phantom Shadow
by Jenn Carbaugh
– Columnist —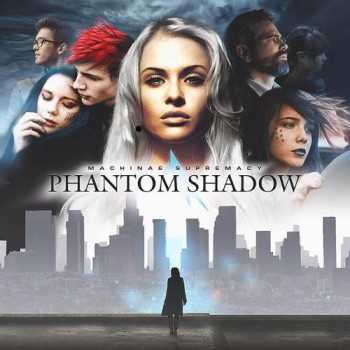 Fifteen years and six albums later, Machinae Supremacy is back with their combination of power metal and pop, which results in odd but catchy grooves and sounds. This Swedish five-some formed at the turn of the century and became a well known online act. They did so much advertising by word-of-mouth, and here they are. After lineup changes and sound tweaking, they have cultivated a signature sound coupled with good songwriting.
Interesting is the first word that comes to mind with their sound. There metal riffs with pop beats. There is also game music that makes childhood seem like yesterday. Machinae Supremacy seems to have a lot of anthem type songs that initiate a fighting attitude. This album tends to have some actual variety though. There are somber songs like "Europa" as well as tracks that are just a haunting voice or tune like "Meanwhile in the Hall of Shadows."
What this band does well, which is showcased in Phantom Shadow, is have serious lyrics united with a light-hearted melody. It's eerie, but the nature of the songs that rally internal conflict stick with you. This album is anything but forgetful. It is quite strange and certainly unique. The guitar playing has a bright sound to it, and the drums create an odd but steady atmosphere. "Renegades" is a track that is a great example of what the band does well. There is a story within the lyrics, and the band may be playing the protagonist. The storytelling devices that Machinae Supremacy uses definitely help to convey their messages.
This album is one that needs to be heard. It is so bizarre that it works. Video games from the eighties and nineties help to inspire these creative 16 tracks. If you are just listening to this band for the first time, this is a good album to start being a fan.
Genre: Alternative Metal
Band:
Robert Stjärnström – vocals
Jonas Rörling – lead guitar, vocals
Andreas Gerdin – bass
Niklas Karvonen – drums
Tomi Luoma – rhythm guitar
Track Listing:
01. I Wasn't Made for the World I left Behind
02. The Villain of this Story
03. Perfect Dark
04. Europa
05. Throne of Games
06. Meanwhile in the Hall of Shadows
07. Phantom Battle
08. Captured (Sara's Theme)
09. Renegades
10. Beyond Good and Evil
11. The Second One
12. Redemption Was Never Really My Thing
13. The Bigger They Are the Harder They Fall
14. Versus
15. Mortal Wound (Skye's Requlem)
16. Hubnester Rising
Label: Spinefarm Records
Website: www.machinaesupremacy.com
Hardrock Haven Rating: 7/10