Addictive | Kick 'Em Hard (Rebooted Edition)
by Justin Gaines
– Senior Columnist/News Editor —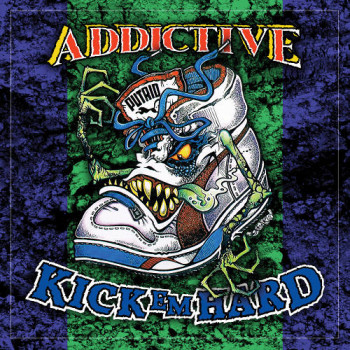 Most people, if they think of the Australian thrash metal scene in the late '80s at all, will most likely name Mortal Sin as the standout band. The scene boasted another impressive talent in Addictive, a Sydney-based band that actually shared a couple of members with Mortal Sin. The band issued a pair of noteworthy albums – 1989's Pity of Man and the Bob Daisley-produced 1993 release Kick 'Em Hard – before suffering the fate of so many other thrash bands in the mid '90s.
Addictive's sound draws heavily on a pair of early thrash legends, namely Megadeth and early Metallica. Part of that is Greg Smith's snarling, almost barked vocal approach, but the riffs and staccato rhythms also have a Megadeth feel. On Pity of Man there's a harsher, more Kreator meets Testament raw energy, which works very well. By the time Kick 'Em Hard was released, musical trends had shifted, but you'd never know it from that album, which was still full-on thrash metal but had a more polished sound. Either album would have been right at home in the Bay Area thrash scene.
After way too many years out of print, the Divebomb label has reissued both Addictive albums in one deluxe set. The new 2-disc collection, titled Kick 'Em Hard: Rebooted Edition, is essentially a full Addictive anthology. Disc 1 features the full Kick 'Em Hard album plus the "Crazy Train" single and a pair of bonus demo tracks. Disc 2 features the full Pity of Man album plus the complete 1988 Ward 74 demo as bonus tracks. All songs have been newly remastered by Jamie King, and sound incredible. It also features a hefty booklet that's loaded with vintage photos and a new band interview.
If you're into classic thrash metal, particularly the early Metallica, Megadeth, Testament and Kreator sounds (even better if you already know Mortal Sin), Addictive is a band that's well worth discovering, even all these years later. And since you can hear all the available Addictive material in one killer collection, what are you waiting for?
Genre: Thrash Metal
Lineup:
Joe Buttigieg (g)
Mick Sultana (g)
Greg Smith (v) (b)
Steve Moore (d, disc 1)
Matt Coffey (d, disc 2)
Track Listing:
Disc 1
1. Distemper
2. Waiting For Yesterday
3. Kick 'Em Hard
4. You're Perfect
5. Towards Extinction
6. Wacked
7. You Never Know
8. Man Made Act of God
9. Serves You Right
10. Bitch
11. Crazy Train
12. Sniper (demo)
13. Look Before You Leap (demo)
Disc 2
1. Get Out of My Life
2. Come Before the Storm
3. Boiling Point
4. Sonder Kommando
5. The Forge
6. What Ward RU In?
7. Echoes of the Mind
8. Addictive Friend
9. My Foe
10. Pity of Man
11. Addictive Friend (demo)
12. Sonder Commando (demo)
13. What Ward Are You In? (demo)
14. Pity of Man (demo)
15. Come Before the Storm (demo)
Label: Divebomb Records
Hardrock Haven Rating: 8.5/10