Red Zone Rider | Red Zone Rider
by Joe Mis
– Senior Columnist —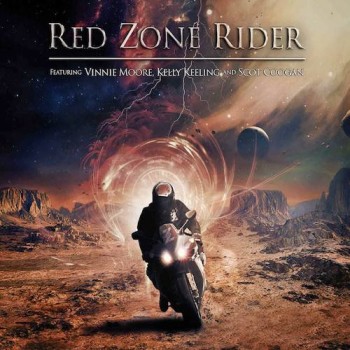 If you check out the cover of Red Zone Rider's self-titled release and see the sci-fi-ish artwork – a motorcycle rider in the desert with a space-scene behind – the last thing you'd probably expect is a thick, juicy slab of heavy old-school blues rock, but that is precisely what you get.
For those not familiar with the Red Zone Rider project, it is as close to a super-group as you can get. Well know producer Mike Varney and Magna Carta records have gathered guitar wizard Vinnie Moore (solo artist, Alice Cooper, UFO), well respected singer/bass/fretless bass/keyboard player Kelly Keeling (Baton Rouge, MSG, Trans-Siberian Orchestra, George Lynch), and veteran drummer Scot Coogan (Lita Ford, Ace Frehley, Brides Of Destruction) and created a heavy rock monster. This power trio churns out fresh tunes that could compete with the best of Deep Purple, Mountain, Free, Bad Company, or any of the pioneer rockers of the late '70s or early '80s.
The trio work very well together, proving their veteran status and maturity. There seem to be no big egos here as each is a key part of each track. Moore's guitar work is superb and emotive, as always. He sticks to the blues rock riffs that he does so well, and the listener can occasionally pick up hints of his shred / neo-classical style as well. The gritty, biting voice of Kelly Keeling is perfect for the heavy blues / rock style, very reminiscent of Glenn Hughes or Ian Gillan – and it turns out that he is a superb bassist and keyboard player as well. Coogan's drum work complements the music perfectly – he's flashy enough to drive the music forward, but in control enough that he does not dominate or distract. All in all, these three sound like they've been playing together for years.
"Hell No" sets the bar high as a tune just dripping with intense bluesy riffs and great vocals. Moore's lead break is nothing short of awesome. "By The Rainbow's End" is all about groove – Keeling's bass and vocals push the song into heavy blues heaven, and Coogan's wildly intricate drumming quickly becomes the high point. "House Of Light" slows things down just a bit, and shows the first glimmering of Moore's classical guitar experience during the intro and solo. This track comes across with a strong Bad Company vibe, with vocals, bass and drums working well together over a light keyboard line. "Cloud Of Dreams" is a passionate blues ballad with well done keyboards, a great drum line, gut-wrenching vocals – Keeling at times seems to be channeling David Coverdale. "Save It" is a high energy, funky track driven by organ, guitar, and drums – Moore's guitars are at their best here.
Fans of slide guitar will love Moore's work on the heavy, groove-laden "Never Trust A Woman." His blistering riffs flow smoothly over bass and drums on this Deep Purple tinted track. Moore pulls out some Rainbow / UFO inspired riffs on the flowing rocker "Obvious." Keeling's vocals are fantastic, and his bass work even better. A bouncy drum line and big guitar riffs are the story of "The Hand That Feeds You," while thick, funky guitars and great vocals make the spirited "Hit The Road" a treat. Deep Purple influences are back on the smokey "There's A Knowing." RZR wraps in style with the up-tempo "Count's 77," a track that seems to find everyone at their best.
Red Zone Rider's debut will has broad appeal to fans of hard rock, classic rock or blues rock. Warmly engineered, Red Zone Rider will be a trip down memory lane for some, and perhaps a new experience for others – but no matter what side of the fence you are from, this album rocks! It is vintage rock inspired by the greats of the blues rock era done with a modern flair! If we are lucky RZR will be more than just a one off project – highly recommended!
Genre: Classic Hard Rock
Band:
Vinnie Moore (guitars)
Kelly Keeling (vocals, bass, keyboards)
Scot Coogan (drums, backing vocals)
Track Listing:
1. Hell No
2. By The Rainbow's End
3. House Of Light
4. Cloud Of Dreams
5. Save It
6. Never Trust A Woman
7. Obvious
8. The Hand That Feeds You
9. Hit The Road
10. There's A Knowing
11. Count's 77
Label: Magna Carta
Website: http://magnacarta.net/redzonerider/index.html
Hardrock Haven rating: 9.5/10