Alberto Rigoni | Overloaded
by Joe Mis
– Senior Columnist —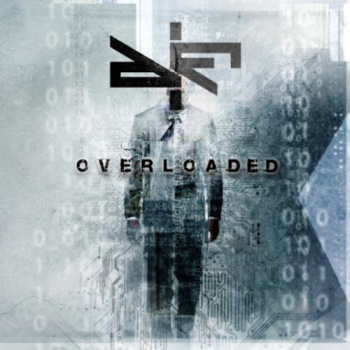 Overloaded is the latest release by Italian bass master Alberto Rigoni. In a departure from his older releases, Rigoni has moved his music in a much more progressive and heavier direction without neglecting the core melodies that have always filled his works. As usual, Rigoni's bass work proves the versatility of the instrument in talented hands – his bass screams, sings, cries, and rumbles, while delivering a musical experience that will please both fans of bass guitar and progressive metal.
Unlike its predecessor Three Wise Monkeys, Overloaded is an instrumental only release (except for a brief spoken word passage in the opening track). Despite not recruiting vocalists, Alberto has put together a veritable "who's who" of top notch Italian musicians. Joining Rigoni (Twinspirits, Lady and the Bass, Kim Bingham) in the core group are keyboard player/producer/songwriter Federico Solazzo and dynamic drummer Denis Novello. Guitars are handled by Simone Mularoni (DGM, Empyrios), Marco Sfogli (James LaBrie, Creation's End), and Fabrizio Leo.
Highlights of Overloaded include: the very progressive stylings of the title track, "Overloaded," a tune filled with interesting tempo changes, a cool bass line, well done guitars and spiraling keyboards; Denis Novello's wild drum line on the moody and appropriately named "Chron;" Rigoni's fluid bass on "Floating Capsule," which contrasts wildly with the rollicking "Corruption" – easily the standout track on the CD; Simone Mularoni's amazing guitar work on "Ubick;" the wildly genre blending "Liberation;" and the wonderfully relaxing flow of the closing track "Glory Of Life."
Rigoni wrote and produced all tracks, while mixing was handled by Mularoni and Solazzo. Musically this album spans many genres, from progressive metal to jazz to rock to ambient and atmospheric. The bass is the defining instrument of the album, tying the diverse tunes into a cohesive whole. Thanks to a deft touch, Alberto manages to keep the bass at the center, but does not allow it to dominate the contributions of the other fine musicians he's gathered. Much like all of Rigoni's solo albums, Overloaded is not a bass player's ego-trip; rather it is a musically solid CD built around melody, flow, and strong songwriting. Catchy riffs and enthusiastic performances stand ready to introduce the listener to all the capability, complexity, and vast musical range of the bass guitar.
Anyone who plays bass owes it to themselves to check out Alberto Rigoni. Not many bassists can match his broad range of influences and styles, and his technical yet passionate performances prove him to be a complete musician. As a songwriter he never loses sight of the melody. Overloaded is wonderful evolutionary step for Alberto, and is a solid progressive metal/rock release that will please fans of the genre. Very highly recommended!
Genre: Progressive Metal, Rock
Band:
Alberto Rigoni (bass)
Federico Solazzo (keyboards)
Denis Novello (drums)
Simone Mularoni (guitars on tracks 5 & 6)
Marco Sfogli (guitars on track 2)
Fabrizio Leo (guitas on track 8)
Bill Lee (spoken word on track 1)
Track Listing:
1. What's On Your Mind
2. Overloaded
3. Chron
4. Floating Capsule
5. Corruption
6. Ubick
7. Multitasking
8. Liberation
9. Glory Of Life (Bonus Track)
Label: Any And All Records
Website: www.albertorigoni.net
Hardrock Haven rating: 9/10