American Mafia | Rock n' Roll Hit Machine
by Derric Miller
– Managing Editor —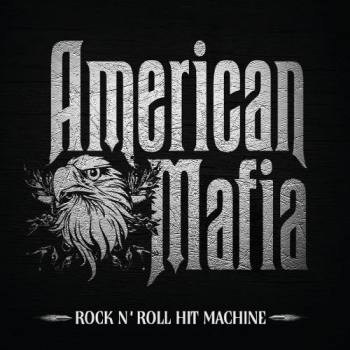 Making the best of a tragic situation is oftentimes impossible; why even bother reliving the moments of utter darkness when you can just walk away and hopefully put it behind you? That was the question guitarist Tom Jude and bassist Freddy Villano had to answer when they were working on their band Holy Water's new studio album and lead singer and friend David Knight committed suicide. Think about the ramifications … did they really want to have another voice on the songs they wrote with Knight, and with Knight's voice in mind?
Instead of letting that darkness win, the gents enlisted a who's who of current Rock vocalists, changed the name of the band to American Mafia, and created a stellar slice of Classic Rock that feels both familiar and refreshingly new.
Right out of the gates is "Obsession," with vocalist Ed Terry (Rondinelli/Rage & Beyond) at the helm. It's a slammin', groovy Rock composition, harkening back to heavier end of the '70s. Villano's bass talent is obvious and powerfully intricate, and makes you want to move. It's a cool intro to American Mafia.
Those of you who know John West from his bands like Artension and Royal Hunt are going to be surprised at his "Your Good Lovin'" vocals. It's so … Lou Gramm meets Paul Rodgers. This is one of the highlights of Rock 'n' Roll Hit Machine. Who knew West had such a bluesy, Classic Rock ability? As Hardrock Haven has noted before in their Holy Water review (to paraphrase), that although this is the first time you are hearing the song it sounds like you've been singing along to it for 20 years, still applies here.
Don Chaffin (Vox/Red Lamb) sings on a couple tracks here, and he's inspiring on perhaps the best overall written composition, "Friendly Fire." This song isn't just "good;" the groove, a crossbreed of Zeppelin and Deep Purple, the manic crescendo to the chorus, those soaring vocals on the bridge—this is the "holy shit" moment on the release. These guys are on to something, and it's awesome …
"If I Knew" had to be one of those haunting songs for the guys, because David Knight co-wrote it, but his vocals did not end up on the recorded version. Ed Terry handles the vocals, and he sounds like a bluesy version of Eric Martin. The bottom end of this song just makes you want to bounce, and drink, maybe both at the same time. It's a celebration.
David Knight doesn't show up vocally until track eight, a cover of Stevie Wonder's "Living for the City." If you haven't heard him sing before, he has a crystal clear, effortless delivery, an envious range and what you really need to pull this off … a hell of a lot of soul. While many times covers are a throw away on an album, this is clearly not the case here.
Mike DiMeo, who plays keys on many of the tracks, does double-duty on "Let Me Go," both keys and lead vocals. He pulls a John West as well—if you know DiMeo from just Riot and Masterplan, you'll be surprised. Of course, if you dig his lesser known project The Lizards, it makes sense. This is one of the safer tracks on Rock 'n' Roll Hit Machine; it seems ready to unleash itself at various times, but then pulls itself back. The guitar solo, followed by the keyboard solo, play off each other in a masterful way.
"All I Need," with Knight on vocals again, was originally recorded and released on Holy Water's The Collected Sessions in 2009. This is the one song on the album approaching the term "ballad," but it's more so a mid-tempo acoustic-led slow rocker. It's the one track that makes you wonder too much and too hard, "what could have been … what should have been." But just embrace it for what it is—a great Rock song featuring a great Rock singer.
The album ends on the poignant "Resurrection," a brief, somewhat ominous bass-heavy instrumental whose title says it all.
American Mafia's Rock 'n' Roll Hit Machine is better than it should be. How do you take so many different singers, so many songwriting teams, and a couple songs written for someone else's voice and make it one cohesive, naturally flowing release from start to finish? That seems daunting at best, a fool's errand at worse. Good thing Villano and Jude didn't listen to the voices of doubt; they accomplished it, and you should really hear it …
Genre: Classic rock
Band:
Tom Jude—guitar
Freddy Villano—bass
Bobby Marks—drums
Singers—John West, Jimmy Kunes, Don Chaffin, Mike DiMeo, Ed Terry and David Knight
Track Listing:
01. OBSESSION
02. EVERY TIME
03. YOUR GOOD LOVIN'
04. DEATH & SATISFACTION
05. FRIENDLY FIRE
06. IF I KNEW
07. MAN ON THE FLYING TRAPEZE
08. LIVING FOR THE CITY
09. THE SKY IS FALLING
10. LET ME GO
11. ALL I NEED
12. RESURRECTION
Label: Grooveyard Records
Website: www.grooveyardrecords.com
Hardrock Haven rating: 8.4/10