by Alexandra Mrozowska
– Senior Columnist —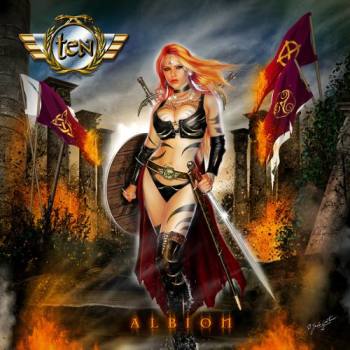 It has to be clearly stated that there's one slight hitch in exploring the musical spheres of what the reviewers usually dub Melodic Hard Rock. As there's been many before those who carry the torch within this genre now, and perhaps twice as many yet to come – it gets awfully easy to go bland, dull or repetitive and keep on re-introducing the well-known patterns from the past (talking to you, the newbies!). Or even worse, keep on re-recording your 1985 minor radio hit over and over again up to 2014, as it often happens with the classic bands of the genre … still, if you think all things have been already said and done within the realms of melodic rock, you couldn't have possibly heard about the singer/songwriter named Gary Hughes. From his AOR-ish beginnings to the Rock Opera centered around the myths on King Arthur, Hughes keeps on moving forward, adding one chapter after another to what is one of the most diverse catalogs in rock music these days. One of his most engaging activities is the band Ten he formed in 1996 – and now, eighteen years later, another release under the moniker of Ten is to see the light of day. While the band couldn't have avoided neither longer hiatuses nor personal line-up changes, the quality of their music doesn't ever change and Albion, the new effort of theirs, is a clear proof of this fact.
"Alone In The Dark Tonight" opens the album in the best post-'80s melodic rock tradition, a well-crafted melodic rock mid-tempo enriched with the twin guitar attack that is perhaps less popular among the AOR acts than it is in classic heavy/power metal sphere. Hence, the wall-of-sound kind of impression, with the renewed band being at the clear peak of their powers. "Battlefield" continues in an equally moderate tempo before a handful of wicked synthesizer/computer-based sound effects are to be heard, opening the third track "It's Alive". This synthesizer-versus-guitars duel precedes "Albion Born" that – strangely enough for the Melodic Rock genre, but not for the versatile mind of Ten's mastermind Hughes – has some folk-ish, 'medieval' flavors to it, both in the aspects of majestic background choirs and the track's overall structure. If it could have been possible for the medieval armies to warm up before the crucial battles with some rock-ish tunes, the fourth track on Albion would be perhaps one of their finest choices.
"Sometimes Love Takes The Long Way Home" develops into a slow, monumental tune of ballad-esque nature, with epic, wailing guitar solo against Hughes' majestic vocals. Next is a groovy track "A Smugglers' Tale" with what is perhaps the best chorus on the entire album, and "Die For Me," a track which could have easily ended up on Whitesnake's Slip Of A Tongue – even Hughes' sensual vocal manner here is somewhat Coverdale-ish. "It Ends That Day" gravitates towards more meaty, guitar-laden contemporary rock sound, heavily contrasted with its follow-up on the album that is the piano-based, grandiose power ballad "Gioco D'Amore." Albion finishes with "Wild Horses", again a nod and a wink towards what one could call the contemporary incarnation of melodic rock – and a well-crafted track on its own.
Another musical chapter in Ten's rich history, the one entitled Albion, turns out to be a worthy follow-up to what is now considered "classic" in their catalog, albums such as 1996's X or 2000's Babylon. It portrays the band's frontman Hughes in the ever-impressive form and introduces the listeners to the multitude of different ideas and choices the band goes for music-wise. While not abandoning their melodic rock roots, Ten still doesn't get predictable or banal and that is perhaps the biggest asset to Albion. The others are, of course, the first-league production and brilliant performance, both a trademark of Ten since the band's formation. If you're a band's staunch fan, you certainly won't be disappointed, but if not – give it a try and find out why Gary Hughes remains one of the most important names in the British melodic rock. Recommended.
Genre: Melodic Hard Rock
Band:
Gary Hughes– vocals, backing vocals, programming
Dann Rosingana – guitars
Steve Grocott – guitars
John Halliwell – guitars
Steve Mckenna – bass guitar
Darrel Treece-Birch – keyboards
Max Yates – drums and percussion
Track List:
1. Alone In The Dark Tonight
2. Battlefield
3. It's Alive
4. Albion Born
5. Sometimes Love Takes A Long Way Home
6. A Smugglers' Tale
7. Die For Me
8. It Ends That Day
9. Gioco D'Amore
10. Wild Horses
Label: Rocktopia, Cargo Records
Website: http://www.tenofficial.com/
Hardrock Haven rating: 8/10