by John Kindred
– Publisher —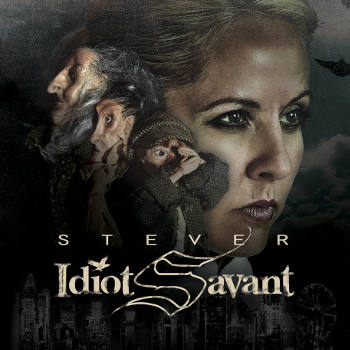 Stever's latest studio album Idiot Savant finally has seen the light of day. The 12-track studio album is a concept record that tells the story of 9-year-old Ian, an "idiot savant," who has a special bond with animals. Set in the 1930s, a time when those with handicaps suffered because science was limited in understanding the mind. Ian's story is one of limitation in which the world sees him as an idiot and cannot see his brilliance. It parallels the trials and tribulations of many people, even in this day and age of technological advancement, yet truly understanding the complete workings of the mind continues to elude us.
Stever takes aim at launching a movement to regain our passions and hopes for us to stop the suffering of our children to our hopeless lives. In her own words, Stever describes her thoughts on the subject, "… it's dark, it's ugly with glimmers of hope … the message is that no child should be defeated by our system, have their dreams become their nightmare … My hope with Idiot Savant is to inspire others to THRIVE. My hope is not to have some trendy viral event, but a solid life-changing experience where we reunite with who we really are and get back to the things we are passionate about."
The entire conceptual idea came from the lyrics from the classic rock group Supertramp. Driven by Rodger Hudson's poignant lyrics, Stever draws forth the parallels of our daily lives compared to the lyrics, as we are programmed to follow society's life script of the common man:
"Logical Song"
When I was young, it seemed that life was so wonderful,
a miracle, oh it was beautiful, magical.
And all the birds in the trees, well they'd be singing so happily,
joyfully, playfully watching me.
But then they send me away to teach me how to be sensible,
logical, responsible, practical.
And they showed me a world where I could be so dependable,
clinical, intellectual, cynical.
There are times when all the world's asleep,
the questions run too deep
for such a simple man.
Won't you please, please tell me what we've learned
I know it sounds absurd
but please tell me who I am.
Now watch what you say or they'll be calling you a radical,
liberal, fanatical, criminal.
Won't you sign up your name, we'd like to feel you're
acceptable, respectable, presentable, a vegetable!
At night, when all the world's asleep,
the questions run so deep
for such a simple man.
Won't you please, please tell me what we've learned
I know it sounds absurd
but please tell me who I am
Idiot Savant was written and co-produced by Stever and Frank Gryner, known for his work on Rob Zombie's Sinister Urge and Hellbilly Deluxe studio albums. Musically, the album is a theatric opus that recalls albums like Bigelf's Cheat the Gallow, Sixx A.M.'s Heroin Diaries or Gary Hughes' Once and Future King Part 1 and 2. The music is bold, dramatic and provides plenty of dynamic interplay between the instruments, while telling the story through Stever's poetic prose.
Stever offers listeners an emotional vocal performance. While the music is mainly Hard Rock, the influence of the '30s is stamped on the songs. It's also present within the vocal melodies. Stever's voice is mature, strong and commanding; it's difficult to compare her to anyone else. She shines throughout the album, but her performance on "Juggernaut," "Green" and the closer "Crushing Copper" are highlights on the CD.
Sonically, Idiot Savant offers a lavish production, complete with the standard bass, drums, guitars and layered with string arrangements and piano melodies. Stever and Gryner bring a bombastic explosion of instrumentation into the fray. Gryner's production skills are a huge asset to the overall presentation of the music, which is crisp and clear. The gang-choir layered vocals also are audible and easily discernible in the mix. The production and mix create well-balanced, room-filling sound for your listening pleasure.
The concept goes beyond the musical realm, as Stever also is penning the book Idiot Savant, which is where the album's track list follows specific moments that correlate to chapters within the pages of the novel. The videos for "Green" and "Juggernaut" also showcase the creative endeavors of Stever and company, as the visuals are unique and stylistically reinforce the imagery for Idiot Savant.
The psycho-social movement Stever employs us all to return to with Idiot Savant is a state of play, in the spirit of childhood innocence. She is not telling us to abandon our responsibilities, but rather recapture our passions, live in the moment and pass that tradition to our children.
Genre: Orchestral, Hard Rock, Theatric Rock
Band:
Karen Stever – vocals, string arrangement
Frank Gryner – guitars, bass
Track Listing:
1. Green
2. Scatterbrain
3. Idiot Savant
4. Serinetta
5. Juggernaut
6. Poking Holes
7. Blackguard
8. Jacquerie
9. Full Length Mirror
10. Wee Bonnie Parker
11. Virtuoso
12. Crushing Copper
Label: Independent
Website: http://www.karenstever.com/
Hardrock Haven rating: 9/10