Elements Of Frictions | Fragile
by Alexandra Mrozowska
– Senior Columnist —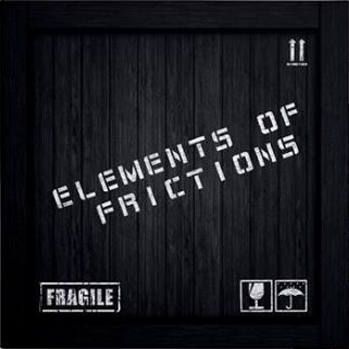 With Voices Of Rock, Wolfpakk or Frederic Slama's AOR around and releasing one album after another, a studio-based project comprised of numerous big names of the scene is hardly a novelty in melodic rock. However, an idea behind Elements Of Frictions album, conceived by the newly founded Denmark-based melodic rock label Lions Pride Music, was slightly different. The album is a compilation of selected fourteen songs performed by Melodic Rock artists whose names surely ring a bell for anyone who's into the genre but whom we haven't heard from since quite a while – at least some of them! Something new and melodic rock-oriented from the likes Marcello/Vestry, Matti Alfonzetti, Pete Loran or Paul Laine sounds thus exciting enough to give it a try and find out what the Fragile album is all about.
Marcello/Vestry go first, their song "When You Grow Up" being not too far sound-wise from their 2008 debut. It's a fine slice of AOR/pomp rock much in the late '80s style, embroidered with a slick lead guitar work and high-pitched melodic vocals. Slightly heavier, yet still melodic to the utmost, the track number two is entitled "Little One" and performed by a project comprised of musicians known from the likes of Talisman, Thunder, Bad Habit or Treat. It's a Swedish singer Matti Alfonzetti (Jagged Edge, Skintrade, solo) who delivers a very convincing performance against the background of blistering guitars. With "Love Don't Live Here Anymore", one is to enter a territory of polished female-fronted AOR as it's a female singer Emma Varg who wields the microphone in this keyboard-laden, neat mid-tempo. The song should have become an favorite for those who have a soft spot for the likes of Saraya, Chrissy Steele or Annica.
In comparison with its predecessors, "Don't Leave Me Lonely" may appear to be a bit too mellow for a rock-oriented listener's tastes, but there are some certain assets to it, too – a fine guitar solo as well as Matti Alfonzetti behind the mic again. It's followed by "Make You Mine" featuring ex-Red Dawn's Larry Baud on vocals, his performance being convincing enough to make you look for your long-forgotten and worn-out copy of Never Say Surrender album only to give it a spin once again, out of pure sentiment. This love-themed AOR piece precedes a track that gravitates towards a bit different sphere sound-wise – especially the song's intro laden with the gritty sound of the distorted guitars seems to testify about its more up-to-date and perhaps heavier sound. However, "Don't Walk Away" is not too drastic a detachment from the style of the album and not deprived of the catchy, melodic, clearly '80s vibe to it. And there is something entirely genuine about Oliver Fehr's soaring, emotionally laden vocal performance even though the Swiss outfit Transit he fronted faded into obscurity a long time ago (does anyone remember a brothel-themed "Need My Number" video from 1991…?)
Even though a thunderous drum intro suggests a heavier song that is going to follow, "Without Your Love" is surprisingly mellow and, what has to be admitted, quite forgettable a delivery from the Scandi hard rock act Snakes In Paradise. "Only My Heart" that follows could have been a lost track from any Bon Jovi album – because of the radio-friendly pop rock vibe to it as well as certain vocal manner of Mats Leven (Treat, Swedish Erotica, Yngwie Malmsteen, Lion's Share, Dogface). And speaking of New Jersey natives, "To The Limit" features Trixter's Pete Loran on vocals as well as Steve Brown on guitar, a worthy representation of the Garden State. The four-minute song screams the late '80s hard rock style all along the way – and the chorus, embroidered with some nice vocal harmonies delivered against the groovy but simple guitar riff is purely bombastic. There is no doubt about it being one of the album's particularly strong points, "Give It To Me Good" and "One In A Million" rockers being among those who stood the test of time and still are able to rock and roll.
Do you remember the tremendous Stick It In Your Ear, a 1990 release by Paul Laine? If you do, the mere fact of his participation on Elements Of Friction has a potential to make your hair stand on end. Unfortunately, "Another Me" is a catchy but noisy piece that somehow corresponds more with late '90s pop punk than AOR/melodic rock music-wise, the background vocals being squeaky and simply awful. Therefore, there's nothing spectacular about the contribution of the former Danger Danger singer. Another misconceived track of the compilation is "Somebody Up There" performed by 21 Guns/LRS voice Tommy La Verdi, even though the lead guitar work alone – with the certain modern vibe to it – is outstanding throughout the entire song.
Having started their journey into the Elements Of Frictions album with keyboard-backed and guitar-driven anthems, and being largely disappointed by the numbers ten and eleven, a tormented listener doesn't get his share of feisty melodic rock also with the song that follows. "All About You," sung by Stephan Kaemmerer, is a typical, sugary AOR-ish ballad hardly a soul finds rousing. "Let Me Down Easy" with Rich Cox of Sic Vikki taking over the mic, still has a poppy feel to it in verses and choruses, but its rootsy blues-tinted guitar solo is simply fantastic. The final track is "Pieces Of The Action" with the funky groove to it that's reminiscent of the Electric Boys. Laden with feisty vocals and nifty guitar work, this piece of rock excellence could have easily been conceived in the glorious era sometime between 1987 and 1992 and it's this period indeed that's been most successful for its performers, Reggie Wu and Mark Evans of Heaven's Edge. It's a fantastic finish for a rugged patchwork album that has its faults, but also its grand moments.
If you ever wondered how would it sound if sometime back in 1990 a bunch of important names in Melodic Hard Rock/AOR would have decided it's fun to share the recording studio together and that Heaven's Edge sounds better if accompanied by Trixter and Red Dawn – Fragile by Elements Of Frictions may hold the answer. However, the album is not a mother lode of fantastic ideas and music gems, not all a "greatest hits" compilation from some vaguely remembered '80s MTV darlings. The "patchwork" quality to it results in Fragile being hardly a cohesive album and putting classy, perfectly crafted AOR anthems next to the bland third-league pieces that would have better stayed undeveloped from their demo forms. There are some really impressive moments on this record, though, with songs such as "When You Grow Up, "To The Limit" or the final "Pieces Of The Action" proving the Lions Pride's idea wasn't all that bad. This having been said, it's hardly believable that anyone who wasn't into melodic rock before will go for Fragile and convert themselves to the staunch follower of the genre. Still, Melodic Rock/AOR aficionados may certainly give it a try as a "skip" button is to be used only once in a while anyway.
Genre: Melodic Hard Rock
Band:
Marcello/Vestry – all instruments (track 1)
Matti Alfonzetti – vocals (tracks 2, 4)
Sven Cimski – guitars (track 2)
Micke Hoglund – bass (track 2)
Jamie Borger – drums (track2)
Pasi Oxman – keyboards (track 2)
Emma Varg – vocals (track 3)
Larry Baud – vocals (track 5)
Oliver Fehr – vocals (track 6)
Snakes In Paradise – all instruments (track 7)
Mats Leven – vocals (track 8)
Pete Loran – vocals (track 9)
Steve Brown – guitar (track 9)
Paul Laine – vocals (track 10)
Tommy La Verdi – vocals (track 11)
Stephan Kammerer – vocals (track 12)
Rich Cox – vocals (track 13)
Mark Evans – vocals (track 14)
Reggie Wu – guitar (track 14)
Track List:
1. When You Grow Up.
2. Little One
3. Love Don't Live Here Anymore
4. Don't Leave Me Lonely
5. Make You Mine
6. Don't Walk Away
7. Without Your Love
8. Only My Heart
9. To The Limit
10. Another Me
11. Somebody Up There
12. All About You
13. Let Me Down Easy
14. Pieces Of The Action
Label: Lions Pride Music
Website: http://www.lionspridemusic.com/ – https://www.facebook.com/lionspridemusic
Hardrock Haven rating: 6/10