by Justin Gaines
– Senior Columnist/News Editor —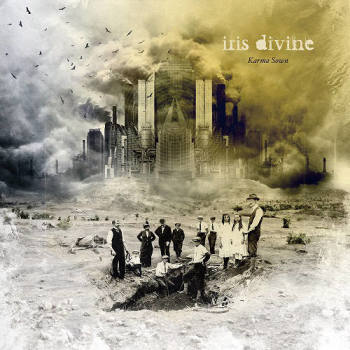 Virginia-based progressive metal trio Iris Divine returned late in 2014 with a new full-length album, their second to date, title Karma Sown. Iris Divine is one of a select few American progressive metal bands (The Deadstation and The Great Gamble are two others) that when you hear them you're simply stunned that they're not signed to a major label and making a huge impact on the scene. They're immensely talented, not content to stay within the genre lines, and have released an album that can go head to head with any of the "name" prog metal albums this year.
You can't really put a band like Iris Divine in a box, but for the sake of comparison think Evergrey plus a less self-indulgent Symphony X with just a hint of Enchant. This is dark progressive metal that's as heavy sonically as it is lyrically (you're going to want to spend some time digesting vocalist/guitsrist Navid Rashid's lyrics). Rashid's vocals are very strong and reminiscent of Russell Allen's at times. The musicianship is technical – that much at least is a requirement in this genre – but not in a way that breaks up the flow of the songs or the intense and emotional atmosphere this album has. They do cut loose on the instrumental "In Spirals" though, and that one will have jaws dropping.
Karma Sown is a very cohesive overall experience, so calling out specific songs doesn't make much sense. There are eight songs on the album and they're all incredible. Still, if you're looking for that one song that captures the spirit of Iris Divine, "Apathy Rains" is the one to sample. Karma Sown is an album that works best taken as a whole, preferably when you can listen to it without distractions and really take everything in.
With luck, Karma Sown will be the album that brings Iris Divine to the attention of the larger progressive metal audience (and perhaps the right people at InsideOut or a similar label). It's one of the absolute best progressive metal albums 2014 has to offer, and is highly recommended to any fan of the genre.
PS – If you live in the DC metro area and have the chance to catch Iris Divine live, do not pass it by. They are every bit as intense and impressive on stage as they are on the album.
Genre: Progressive Metal
Lineup:
Navid Rashid (v) (g)
Brian Dobbs (b)
Kris Combs (d) (k)
Track Listing:
1. The Everlasting Sea
2. Fire of the Unknown
3. A Suicide Aware
4. Mother's Prayer
5. Prisms
6. In Spirals
7. Apathy Rains
8. In the Wake of Martyrs
Label: Self-released
Website: www.facebook.com/irisdivine
Hardrock Haven Rating: 9/10