by Alissa Ordabai
– Senior Columnist —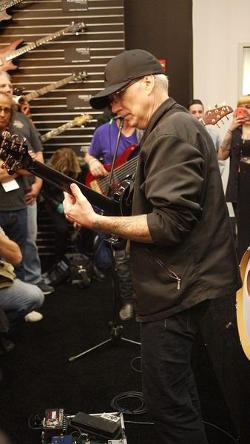 According to the National Association of Music Merchants, NAMM, The 2015 Winter NAMM Show was the largest event in its 114-year history. The number of this year's participating exhib-itors reached a record-setting 1,621, which is a 6 percent increase from 2014. An 11 percent increase in international exhibitor registration and a 2 percent increase in buyers also made NAMM more diverse than last year.
Artist clinics and demonstrations are the easiest way to attract attention to new products at such a large trade show. This year, Schecter Guitar Research and ESP stood out by engaging some of the best players in the industry. Chris Poland — a former Megadeth guitarist, who, over the years, migrated from Metal to sophisticated Jazz Fusion — demoed his new signature guitar during Day 1, attracting a room full of media.
Poland's Poltergeist Solo-6 is an elegant Schecter Custom Shop instrument, featuring a Floyd Rose 1500 series bridge, Grover tuners, Schecter USA Pasadena Plus set, mahogany body with flamed maple top and a three-piece mahogany set neck with ultra access. Poland emphasized the versatility of the guitar by playing a varied set of his own Fusion pieces, which were imaginative, note-perfect gems full of tonal nuance, as well as a raucous rendition of "Crossroads," in which the guitar sang across the range from meaty, lower register to sharply pronounced high notes.
Sin Quirin's demo of his signature guitar became another Schecter booth attraction. His signature guitar is a tough and sturdy Heavy Metal axe, differing from Poland's guitar. The distinct Mother of Pearl "Sin symbol" stands out against the ebony fretboard, and the black-and-white goat scull graphics across the satin black V-shaped mahogany body enhance the strikingly minimalist look. The three-piece maple neck offers ultra access, and other features include a GRAPH TEC nut, Seymour Duncan blackouts, Tonepros bridge and Schecter locking tuners.
Fellow Ministry player Tommy Victor also has a signature Schecter guitar this year. Visually, it appears more modest, but it has a higher street price ($899 USD compared to Quirin's $749 USD). It features a Floyd Rose 1500 series bridge, Grover tuners, EMG 81/85 set, three-piece mahogany neck with ultra access and a mahogany body. A Mother of Pearl Prong symbol inlay on the ebony fingerboard completes the guitar's slick look.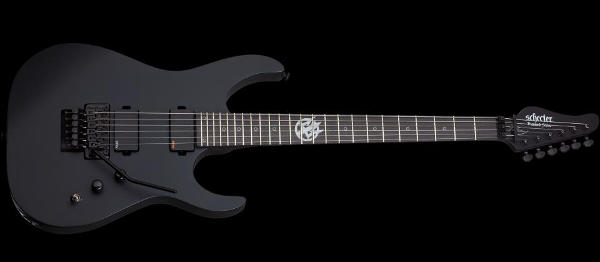 Quirin and Victor, both, did signings and demos at NAMM this year and were pleasant and congenial, as opposed to their Ministry band leader, Al Jourgensen, who, at this year's NAMM, gave new meanings to the words "obnoxious" and "erratic." It's unclear what, exactly, was amiss with Jourgensen, but his behavior had rumor mills spinning.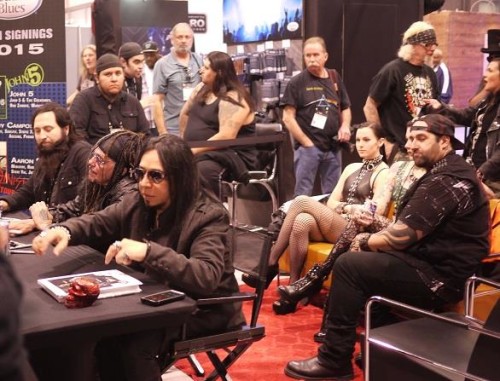 Back at the Schecter booth, the new Banshee Elite series (which come in 6, 7, and 8-string op-tions) drew attention with a no-frills, stripped-down look of swamp ash body with a flamed maple top and a 9-piece maple/walnut neck with ebony fingerboard. Neck-thru construction with ultra access allows easy reach to the higher frets. The guitars come with Schecter's own hand-made SuperCharger pickups.
While Banshee Elite has a robustly rugged look about it and is "designed for the most agile and hostile player," Schecter's Platinum series looks sleeker and edgier. Designed for, both, versatility and aggressiveness and marketed to appeal to, both, Classic Rock players and Metalheads, the Platinum series offer 24 X-jumbo frets on an ebony fingerboard and comes loaded with active EMG 57/66 pickups, which, according to Schecter, "offer a more organic tone than the standard active pickups." The three-piece set maple neck has ultra access for "seamless playability" and easy access to higher frets.

ESP celebrates its 40th anniversary this year, and the company drew praise at NAMM from such phenomenal players as George Lynch and Alex Skolnick, both of whom demoed at the ESP booth. Lynch drew an enormous crowd of fans and played with ferocious flair, showing off his massive tone with, perhaps, the fattest, fullest mid-range in the business. His ESP M-1Tiger guitar has a maple body, neck and fingerboard, bolt-on neck, Gotoh tuners, Floyd Rose Original bridge, Arcane Mr. Scary bridge PU and passive electronics.
Lynch graciously posed for pictures after his performance on Day 1.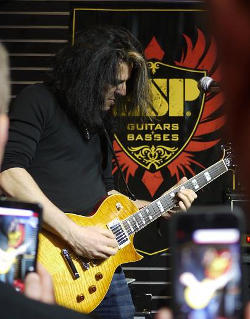 Alex Skolnick, on the other hand, not only played, but he talked about music theory and his evolution from playing Metal with Testament to going on to study Jazz at the New School in New York. It was educational to learn how chestnuts of Jazz have found their way into Rock and Metal and how both genres have inspired Skolnick; however, his favorite remains world music, which he proved by playing excepts from his newest record Planetary Coalition, which is described by critics as "sounds of world cultures." His signature ESP AS-1FM LB seemed perfect for, both, demonstrating Jazz licks and playing his barn-burner Heavy Metal solo from "Practice What You Preach."
Apart from instantly attracting attention by great artists performing at its booth, the ESP Custom Shop display grabbed you at the entrance: "Vampire Angel," "Metal Angel," and "Archangel" guitars ($75,000 USD each) are not only eye-wateringly expensive instruments, but they are real works of art in their own right.
To continue to reading the article click the link below: