by Joe Mis
– Senior Columnist —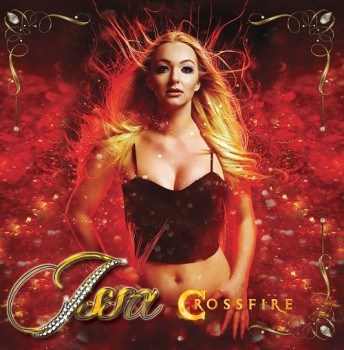 Fans of female fronted Melodic/AOR Rock rejoice! Norwegian singer Issa is back with her latest studio release entitled Crossfire, and it is packed with enough energy to please even the most jaded listener, and surprise even her most devoted fans. Cut from the same basic cloth as her earlier releases, Issa's Crossfire blends radio friendly Melodic Metal with tinges of '80s hair metal and wraps it in a nicely produced, pleasant to hear package.
This is Issa's fourth studio release, and she is joined by long time collaborators James Martin (keyboards) and Tom Martin (bass, guitars), ably backed by drummer Michael Cruise. Although Issa has built a very strong band around her voice, one of the true highlights of Crossfire is the duet she performs with FM's Steve Overland on "Raintown." A number of other veteran guests appear on the album, indicating the support Issa has earned not only from Frontiers Records, but from the entire European rock community as well. Through it all one constant remains – the listener can tell that Issa loves to sing, and that sense of joy is obvious throughout the album.
"Crossfire" is an incurably upbeat pop-rocker with a strong vocal line and solid performances from the entire band. The energy level is set high, and the balance of the album delivers. "New Horizon" is a highly polished and smooth modern rocker with a great guitar solo. "Raintown" is truly an amazing duet ballad – Issa goes toe-to-toe with the near-legendary Steve Overland and both leave everything on the table in a too-close-to-call contest. "Long Time Coming" is more synth heavy tune with big riffs and a solid bass line. It keeps Issa at the top end of her vocal range both in tone and power, and at times she sounds a bit like the always powerful Robin Beck.
The power gets turned way down on the keyboard driven ballad "Fight Fire With Rain," but Issa is able to display her full range and emotional depth – a true vocal expo. "Heartbeat" is a driving up tempo rocker with some slick guitar work and a massive chorus. "Electric Lights" has a very modern sound with nicely done layers of vocals over a strong keyboard line – a somewhat different sound from the balance of the album, but very effective. "Ghost Inside My Heart" has a real late-80s vibe to it, albeit with many modern flourishes. One could easily imagine it being done by Vixen or Heart note for note.
Strong keys, bouncy bass, and kicky guitars make "Red Lights" a sticky sweet pop-rocker with a surprisingly edgy guitar solo. "We Rise" is another '80s-style piece with a fluid vocal line and nicely performed guitars and drums. The backing vocals on this track are extremely well done, producing a very full sound to the bridge and chorus. The crisp and simple "Only You" closes the album in fine style. A lively vocal line tiptoes over clockwork drums and pointy keyboards, and a very "metal" guitar bridge and solo changes it up just enough that it become one of the more memorable songs on the CD.
Overall, Issa's Crossfire is probably her strongest effort to date. Issa has matured significantly as both a singer and a songwriter since her debut, but she has lost none of her fire and enthusiasm. Fans of melodic metal, AOR, or female fronted rock will definitely enjoy this one. Upbeat, up tempo, and even uplifting, Crossfire is a nicely packaged, radio friendly release. Strong vocals, good songwriting, excellent musicianship, and good production combine to make this a fine album that should have broad appeal. Issa's Crossfire is highly recommended!
Song samples and an Issa interview:
Genre: Melodic Rock
Band:
Issa (vocals)
James Martin (keyboards)
Tom Martin (bass, guitars)
Michael Cruise (drums)
Guest musicians: Steve Overland (duet vocals on "Raintown"), solos: Daniel Palmqvist (XOrigin), Alessandro Del Vecchio (Hardline), Steve Newman (Newman), Robert Sall (Work of Art), Daniel Johansson (Degreed), and Stephen Chesney. Backing vocals: Pete Newdeck (Tainted Nation), Matt Black (Fahran) and Michael Kew (Vega).
Track Listing:
1. Crossfire
2. New Horizon
3. Raintown
4. Long Time Coming
5. Fight Fire With Rain
6. Heartbeat
7. Electric Lights
8. Ghost
9. Inside My Heart
10. Red Lights
11. We Rise
12. Only You
Label: Frontiers Records
Website: https://www.facebook.com/issasite
Hardrock Haven rating: 8.5/10