House Of Lords | Indestructible
by Alexandra Mrozowska
– Senior Columnist —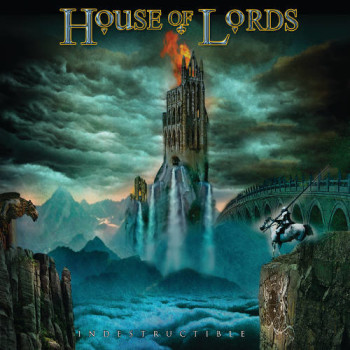 We Rock/Metal listeners are people who perceive the world in simplistic categories, it seems. In accordance with this fact, new and coming bands are given every right to make drastic changes style- and sound-wise, either to define their own musical "brand" or to breathe new life into otherwise fossilized genres. Whenever a band we consider "classic" to the particular genre does the same, we're skeptical at best. Still looking forward to the former – each of them being a chance for the long-awaited revival of the Rock/Metal scene – we simultaneously count on the predictable-yet-solid performance of the latter that works in accordance with whatever is perceived as their trademark, recognizable style. James Christian-fronted quartet House Of Lords is on every Melodic Hard Rock fan's radar since the late '80s and every time their new album hits the shelves, one can't help it but count on it to be as good and coherent as 1992's classic Demons Down. Or at least – as good and coherent as anything from 2006's World Upside Down onwards. This year brings no change to this status quo as another House Of Lords album Indestructible is due to be released in June via Frontiers Records.
Although an intro to the opening track "Go To Hell" has the odd Gregorian chant taste to it, it doesn't mean House Of Lords abandoned their Melodic Hard Rock roots and now go Power And The Myth all the (wrong) way again. Claimed to be a continuation of the group's 2014 album Precious Metal, Indestructible picks up where its predecessor went off indeed. "Go To Hell" is thus no wandering off the beaten track in terms of music – melodic guitar-laden background, nice uptempo vibe to it, and a bombastic chorus. Next goes the title track driven with the bounding pulse of the drums and thumping bass followed by the melodic mid-tempo "Pillar Of Salt." Regardless of the title, "100 Mph" is more about melody than pace, a well-crafted track nevertheless, while "Call My Bluff" that goes next is unashamedly '80s hook embedded in modern Melodic Rock song structure.
It was easy to predict Indestructible has to feature at least one power ballad carrying the torch for the nostalgia-driven fans of "Remember My Name" and "What's Forever For." "We Will Always Be One" is therefore no novelty music-wise, but a neat slowdown moment before another catchy rocker much in manner of the previous tracks, entitled "Die To Tell." With their sugary, somewhat Leppard-esque choruses, "Another Dawn" and "Eye Of The Storm" have almost a poppy feel to them – sounding almost as polished as if Mutt Lange had his nifty fingers in this proverbial pie! As for "Ain't Suicidal," it would have been all about the infectious hook again if it wasn't for the particularly rich guitar work throughout the song, the final track "Stand And Deliver" being even feistier, yet still incredibly melodic.
An album being released just a while after its predecessor is often nothing more but a handful of badly polished outtakes from the previous album, but this is certainly not the case with Indestructible. Although it's been only a year since Precious Metal saw the light of day, the band's new effort proves them to be like fine wine – getting more intense, more catchy and simply better with time. More than quarter a century into the band's history and 10 years after the current line-up was established, James Christian certainly knows which paths to tread music-wise. His seasoned voice not about to give him any restraint along the way, he's also wise enough to remain surrounded with a team of gifted musicians and songwriters in one. All this results in an album that's perhaps predictable and surely no oddity among the releases the band has already had under their belt… but in the case of House Of Lords, revolution rarely works as well as rock-solid stability and a flash of nostalgia do. Luckily, it's the fact this band seems to be perfectly aware of now. That's why their recent few releases are simply a string of Melodic Hard Rock treats all highly recommended to any aficionado of the genre – the 2015 addition to their discography being no exception to this.
Genre: Melodic Hard Rock
Band:
James Christian – vocals
Jimi Bell – guitars
Chris McCarvill – bass guitars
BJ Zampa – drums
Track List:
1. Go To Hell
2. Indestructible
3. Pillar Of Salt
4. 100 Mph
5. Call My Bluff
6. We Will Always Be One
7. Die To Tell
8. Another Dawn
9. Eye Of The Storm
10. Ain't Suicidal
11. Stand And Deliver
Label: Frontiers Records
Website: https://www.facebook.com/houseoflordsofficial
Hardrock Haven rating: 8/10