by Alexandra Mrozowska
– Senior Columnist —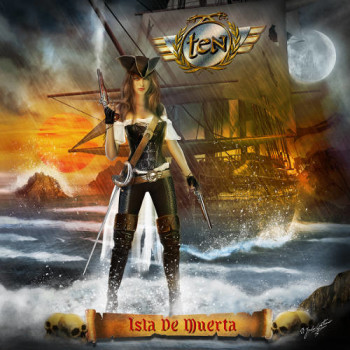 Piratical stories… The spellbinding mystery oozing from them, freedom of sailing the seven seas unrestrained. All of us remember reading these gripping tales which fed our wildest dreams in the early days of ours. Those were the tales of adventure, liberty and romance, of debauch and greed – all written down on yellowish maps and resounding between the walls of crowded dock taverns. Now, those stories seem like a guilty pleasure for most of us – 'serious' adults, that is – but on the other hand, huge popularity of the Pirates Of the Caribbean series in recent years wasn't accidental. The compelling charm of piratical themes adds color to the music, too – think bands such as Running Wild or Alestorm. What about the British Melodic Rock act Ten? Are they pirates at heart too? After Celtic-themed Albion, now it seems Gary Hughes and his crew sailed forward under the pirate flag indeed as one's looking upon their new album's cover… Entitled Isla De Muerta, it's out in May 2015 via Rocktopia Records and has already spawned a single "Tell Me What To Do."
Panache, mystery and cinematic, picturesque feel to it are what one would have expected from a pirate-themed album. Isla De Muerta seems to have it all as the first track starts. It's the elaborate instrumental opening "Buccaneers" that smoothly morphs into an atmospheric piece "Dead Men Tell No Tales," an opening that's very promising as for the sea voyage under the Ten flag. However, further on the 'piratical' themes are utilized mostly in terms of lyrics. Whoever expected from Gary Hughes and his crew to abandon their trademark Melodic Rock sound in favor of epic, expanded suites in line with adventure movie scores – may be thus a bit disappointed. The flavor is still here (the keyboard opening to "Aquiesce," for example), but the overall feeling is that the music content of the album is simply no different to the group's usual style. Is it a fault then? Definitely not, as we sail toward our destination – the titular Isla De Muerta – accompanied by a handful of excellent, well-crafted songs that are performed adequately well.
Isla De Muerta is mostly catchy pieces embroidered with groovy, melodic bridges and choruses, all illustrated with imaginative, storytelling lyrics. Speaking shortly, all things Ten, starting from "Tell Me What To Do" and "Acquiesce" through the full-bodied hook of "The Dragon And Saint George" to the-next-to-last "The Last Pretender." An early '90s AOR vibe to the record is what a neat melodic mid-tempo entitled "Intensify" brings, whereas the slow, grandiose ballad "This Love" enchants with wistful, wailing guitar sounds against the piano-based background. Another ballad-esque emotional out pour, much in the same manner music-wise is "We Can Be As One," the European bonus track. The instrumental, shred-laden piece entitled "Karnak" (an opening to the "side B" or the second part of the album, if to introduce such a division) precedes "The Valley Of The Kings" which juxtaposes modern-sounding verses with grandiose choruses. Also a couple of latter tracks – "Revolution" and "Angel Of Darkness" – have a distinct modern vibe to them, being driven by the pulsating, throbbing groove in contemporary Melodic Rock aesthetics but also insidiously melodic.
Isla De Muerta's mentioned cover artwork may serve as a suggestion for the album to be a Melodic Rock answer to Running Wild's Under Jolly Roger or Port Royal. Somewhat sadly, it has to be admitted the idea for the pirate/nautical-themed album could have been developed much more than it is here. Hence, its creative, cinematographic potential some of us could have hoped for gets partially wasted. Ten's newest effort is nevertheless up to standards in every possible aspect – songwriting, performance and certain genre-adequate catchiness to every single song on it. With Isla De Muerta, Gary Hughes and his band deliver what's not only the rightful successor to the critically acclaimed Albion, but also a perfectly-crafted Melodic Hard Rock album on its own. Highly recommended.
Genre: Melodic Hard Rock
Band:
Gary Hughes – Vocals
Dann Rosingana – Guitars
Steve Grocott – Guitars
John Halliwell – Guitars
Steve Mckenna – Bass
Darrel Treece-Birch – Keyboards
Max Yates – Drums
Track List:
01. (i) Buccaneers (Instrumental) (ii) Dead Men Tell No Tales
02. Tell Me What To Do
03. Acquiesce
04. This Love
05. The Dragon And Saint George
06. Intensify
07. (i) Karnak (Instrumental) (ii) The Valley Of The Kings
08. Revolution
09. Angel Of Darkness
10. The Last Pretender
11. We Can Be As One (European Bonus Track)
Label: Rocktopia Records
Website: http://www.tenofficial.com/ – https://www.facebook.com/TenOfficial
Hardrock Haven rating: 9/10