AmpliTube MESA/Boogie Adds Amp Collection to its Custom Shop
by John Kindred
– Publisher —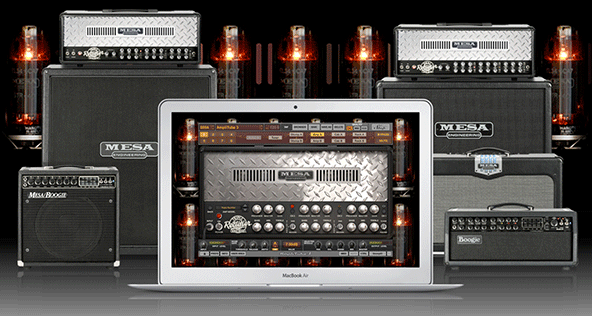 AmpliTube, a guitar and bass amp and effects modeling software, offers guitarists and bassists virtual guitar amps and cabinets that create and customize their sound on PCs or MACs.
AmpliTube can be downloaded and installed for free and features a few free amps, cabinets and effects for newbies to sample and create custom sounds. While this is cool for a test run, the collection of freebies doesn't scratch the surface of AmpliTube true power. This is evident with the multitude of Custom Shop virtual amps that can be purchased from brands like Fender and Orange to the classic sounds of Hendrix. AmpliTube opens up a world of customizable tonal possibilities for guitar and bass players.
The latest bundled plugin is a joint venture from IK Multimedia and MESA/Boogie. The two companies joined forces and released AmpliTube Custom Shop's MESA/Boogie virtual guitar amps and cabinets for your PC and MAC.
The collaboration between IK Multimedia and the R&D Team at Mesa Engineering offers five models of MESA/Boogie classic amps: the MARK III and MARK IV, the Dual Rectifier and Triple Rectifier and the TransAtlantic TA-30. Right out of the box, the MESA/Boogie collection features more than 100 factory and artists presets.
Features:
• Standalone and plug-in software for Mac/PC
• Five of the most influential guitar amps of all time
• Five original matching cabinets
• Incredible tonal flexibility: Mix-and-match amps, cabinets, mics and more
• Sound-certified and approved by MESA/Boogie®
• Five separate modules: Tuner, configurable Stomp pedal board, Amp head, Cabinet+Mic and Rack Effects
• Two fully configurable rigs with up to 32 simultaneous effects
• Expandable with more gear models via Custom Shop
The software download of AmpliTube also installs the Custom Shop (manage software purchased and buy new products) and Authorization Manager, which allows you to enter the MESA/Boogie serial number and download/install your new software. Utilizing your user account area on IK Multimedia website, you can track your serial numbers and authorizations and download software.
Demoed with:
Audio Interface: Roland Quad Capture
DAW: Cubase 5
Guitar: Rick Hanes custom
Speaker: JBL Control 1
Headphones: KRK 8400
Right out of the gate, when you plug your guitar cable into the audio interface, your guitar produces a dry signal that is a lame, if not bland, unpowered clean electric-acoustic sound.
Launching AmpliTube is an instant improvement to beefing up the guitar audio output signal. At this point, you should take a few moments to play with the free Amplitude guitar rigs to sample the home grown "freebie" amps.
Moving on to the collection section and choosing MESA/Boogie, you have six choices of presets, including artists' Robin Finck and Terrance Hobbs presets collections. The MARK III, MARK IV, Dual Rectifier, Triple Rectifier and the TransAtlantic TA-30 also have their own grouping of presets. As you scroll through and select various preset amp settings, some are setup with effects, mics or cabinets that you haven't purchased. No worries there, as in most cases, you can substitute the default "free" mics, effects and cabinets and still have a very good sounding amplifier. In fact, the "freebie" overdrive pedal adds a nice boost to the MESA/Boogie amplifiers.
How about the MESA/Boogie amps? Well, playing through the different models and their presets offers a large variety of sounds. The quality is amazing; these amps are built to be used in the recording environment and even in the live setting. Whether running AmpliTube in its standalone DAW or in Cubase, Pro Tools, Cakewalk, etc., the audio experience is the same. So if you are lacking effects in the standalone DAW, using your recording DAW and its effects is a way to greatly enhance your guitar's tonality.
While all the amps are exactly as advertised, the MESA/Boogie TransAtlantic TA-30, particularly, is a great sounding amp and is very versatile when creating bluesy to heavy sounds. All the MESA/Boogie amps really offer users creative functionality and versatility for creating dynamic sounds. It's easy to produce screaming leads with pinch harmonics and extremely crunchy-metallic rhythms. The package of amps is of such a superior quality that it easily can replace outboard gear for recording the guitar, making it easier for musicians to take their recording gear anywhere.
For the price of a $150 USD, longtime MESA/Boogie enthusiasts now can own these legendary amps and cabinets for a fraction of the cost.
The IK Multimedia website offers a breakdown of the AmpliTube MESA/Boogie amplifiers:
AmpliTube MESA/Boogie includes officially certified models of:
Amplifiers
Mark III™ Combo
Mark IV™ Combo
Dual Rectifier® Head
Triple Rectifier® Head
TransAtlantic® TA-30 Combo
Cabinets
1×12″ Mark III™ Combo
1×12″ Mark IV™ Combo
2×12″ Rectifier® Horizontal
4×12″ Recto® Traditional Slant
1×12″ TransAtlantic® TA-30 Combo
MESA/Boogie Dual and Triple Rectifier: THE standard for modern high-gain heavy guitar tone. The Rectifier amps are aggressive amplifiers for aggressive players. Effectively two different power section versions of the same amp introduced in 1989, these amps deliver maximum tone flexibility and serious Rock attitude. Both have played a major role in defining the sound of Grunge, Metal and countless other forms of hard and heavy music. Each amp offers three-channel, eight-mode operation and varying levels of tube saturation, plus a switchable virtual tube/solid state rectifier section. Soul, personality and feel: The Rectifiers provide a tremendous range of sounds that can be everything from crushingly percussive to liquid and elastic. These amps provide a high-gain response that can't be found anywhere else.
MESA/Boogie Mark III: This amp from 1984 is the first original three-channel "Tri-Modal Amplifier" design. It features an amazing set of sonic sculpting tools via its original three-channel setup: Rhythm, a distinct midrange "Crunch" Rhythm and a Lead channel with independent gain and master volume controls. And, just like on the hardware amp for which it's based, it features a full spread of tone controls as well as the vitally important Boogie five-band Graphic EQ section. When combined, it provides for a huge range of additional tone tweaking options that make it easy for players to re-create the sounds they hear in their heads.
MESA/Boogie Mark IV: An improvement on a classic, this amp from 1990 takes everything that made the Mark III the standard for Boogie tone in that era and makes it even better. Three big sounds with individual controls define the tone palette for this powerhouse of a unit. Its three channels allow it to deliver an incredibly wide sonic array that stretches from sparkling clean tones to ultra high-gain lead sounds that are rich with harmonics and sustain. It's the very definition of MESA/Boogie's signature high-gain sound.
MESA/Boogie TransAtlantic TA-30: A decidedly British MESA/Boogie tribute, this model captures the essence of what, for MESA, was an exercise in simplicity of operation and comprehensive tonal control. It features two-channel operation and five distinct "Mode" voicing choices that reference several classic British and American circuits. Throw in the Gain Boost feature and two high-gain options (HI 1 and HI 2 in Channel 2), and this model covers everything from classic '60s to crushing contemporary. Each channel also features the flexibility of three levels of output power, which allows for a full range of power response and character that adds yet another level of accuracy and authenticity to its preamp sounds. This amp may be the most versatile yet simple-to-use MESA amplifier ever made, and it covers anything and everything the other models might miss due to their higher power ranges and gain structures.
For more information, please visit: www.amplitube.com/mesaboogie