Joel Hoekstra's 13 | Dying To Live
by Alexandra Mrozowska
– Senior Columnist —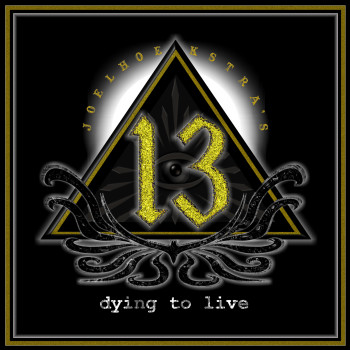 Few things in this world are as predictable as line-up changes within Whitesnake. Last year's brought the news of Doug Aldrich leaving the group only to be replaced by Joel Hoekstra (formerly of Night Ranger and Trans-Siberian Orchestra – and more). A player versatile and nifty enough to rise to the challenge, Hoekstra embraced the new gig. He also continued to work on what was going to morph into his fourth solo effort. The release turned out to be one of the most anticipated in 2015, excitement fueled by the big names featured on the album – from singers Russell Allen (Symphony X, Allen-Lande, Adrenaline Mob etc.) and Jeff Scott Soto (Yngwie Malmsteen, Talisman, Takara, Eyes, Axel Rudi Pell etc.) sharing the microphone to top instrumental players Tony Franklin (The Firm, Blue Murder etc.) Vinny Appice (Dio, Black Sabbath etc.) and Derek Sherinian (Dream Theater). The final result is Dying To Live – Hoekstra's bold take on Melodic Hard Rock genre, set to be released in mid-October 2015 via Frontiers Music SRL.
"Say Goodbye To The Sun" is a strong opener to Dying To Live. The track's firmly embedded in Melodic Hard Rock aesthetics as far as the genre's concerned, but gravitating towards the heavier side of things with its aggressive riff, blistering guitar solo and powerhouse chorus. Clearly modern vibe to it doesn't preclude subtle Dio-esque undertones, making it a fine blend of the classic and the contemporary. "Anymore" is driven with Russell Allen's expressive vocals similarly to its predecessor and also not drastically different from it music-wise, albeit more catchy.
In "Until I Left You" the microphone's turned over to another vocal giant on board – Jeff Scott Soto. Because of this fact and the track's neat AOR-ish flavor, the track itself doesn't fall far from Soto's earlier recordings done with Talisman, Takara or Eyes. It also shows a different dimension to Hoekstra's guitar playing, capturing his well-developed sense of melody. "Long For The Days" follows with its charming vocal harmonies only to precede "Scream" which is gritty and powerful. The keyboard parts have certain classic vibe to them, almost Purple-ish, countervailed by heavy, modern guitar sound – panache of '70s Rock transformed into the musical realms of the 21st century.
"Never Say Never" is next, opened with a ten-second acoustic short that could have possibly been a throwback to Joel Hoekstra's previous solo album 13 Acoustic Songs. The track itself, however, is nothing ballad-ish or mellow; a solid guitar-and-keyboard driven piece built around a well-crafted, catchy chorus. "Changes" is pure AOR much in vein of classic '80s and early '90s bands – from Foreigner to Bad English – complemented with a melodic solo.
A bit more funky than its predecessors, "The Only Way To Go" blends its heavy groove with a certain dose of catchiness, whereas the title track juxtaposes heavy, lumbering and Sabbath-esque guitar tones with a handful of Modern Rock borrowings. "Start Again" is a different musical tale again, told in a light-hearted vein but also embroidered with neat acoustic parts and some real keyboard wizardry. "What We Believe" closes the album on a contemplative note, a soaring ballad-ish duo between Soto and an impressive singer Chloe Lowery (Trans-Siberian Orchestra).
In spite of Joel Hoekstra's 13 being built around a musician who's primarily identified as a guitar player, Dying To Live is certainly not a guitar-oriented album. Differently from Joel Hoekstra's previous solo efforts, it shows many dimensions to his artistry, putting an emphasis on his adeptness in the craft of songwriting and song arrangements rather than just shredding. And although embroidered with a certain amount of tasteful guitar licks, the record's not laden with them. With such a balanced attitude and rich experience under his belt – and a line-up one couldn't have gone wrong with – Joel Hoekstra went as far as to demystify the dreaded number chosen as his band moniker. It's because from now on, 13 – as in Joel Hoekstra's 13 – is Melodic Rock at its finest rather than bad luck coming one's way.
Edition notes: The Japanese version of the album includes the bonus track "Never Want" featuring Jeff Scott Soto, whereas the digital version includes also "Kill Or Be Killed" featuring Russell Allen.
Genre: Melodic Hard Rock
Band:
Joel Hoekstra (Whitesnake) – guitars, backing vocals
Jeff Scott Soto (Journey/Yngwie Malmsteen) – lead vocals (track 3, 5, 8, 10, 11), backing vocals
Russell Allen (Adrenaline Mob/Symphony X) – lead vocals (track 1, 2, 4, 6, 7, 9), backing vocals
Vinny Appice (Black Sabbath/Dio) – drums
Tony Franklin (The Firm/Blue Murder) – bass
Guest Musicians:
Derek Sherinian (Dream Theater/Black Country Communion) – keyboards
Chloe Lowery (Trans Siberian Orchestra) – vocals
Toby Hitchcock (Pride of Lions) – additional backing vocals
Charlie Zeleny (Joe Lynn Turner) – percussion
Dave Eggar (Amy Lee/Coldplay) – cello
Track List:
1. Say Goodbye To The Sun
2. Anymore
3. Until I Left You
4. Long For The Days
5. Scream
6. Never Say Never
7. Changes
8. The Only Way To Go
9. Dying To Live
10. Start Again
11. What We Believe
Label: Frontiers Music SRL
Website: http://www.joelhoekstra.com – https://www.facebook.com/JoelHoekstra13
Hardrock Haven rating: 8.5/10