by Joe Mis
– Sr. Columnist —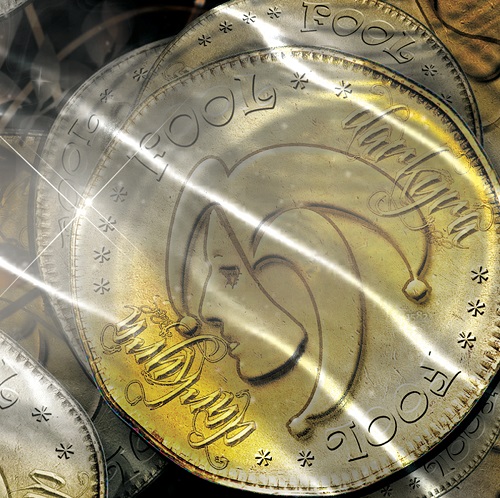 Fool is the second full length studio release from the Australian symphonic rock singer known as Darkyra Black. Like its predecessor Dragon Tears, Fool is a powerful, full story concept album that features fine musical performances by the band and the amazing vocals of songstress Darkyra Black (a.k.a. Gina Bafile). The story presented by the music is a tale of the lives, desires, and obsessions of people visiting a wishing well originally built for royalty.
Darkyra continues her successful collaboration with producer George Boussounis, guitarist Betovani Dinelli (Achillea, Joe Lynn Turner), drummer Garry King (Jeff Beck, Joe Lynn Turner, Mike Lepond), and keyboard man Fab Jablonski Banda Inox, Achillea). She is joined by a number of guest musicians (including bassist Tony Dolan of Venom), a string and woodwind section, and a choir. Fool continues in Darkyra's musical style – melding elements of Symphonic and Gothic metal with Progressive Rock and sweeping, soaring vocals resulting in music that would be as much at home in a Broadway theater as it would be in a rock club.
The album opens with a moody, Middle Eastern sounding instrumental passage that leads into an intense Progressive Metal track entitled "Behind Closed Doors." Darkyra's vocals are crisp, and the band backs her ably, shifting from one tempo to another without a hitch. A true highlight of this track, and a strong plus for the album overall, is the use of acoustic and ancient instruments rather than modern synthetic imitations. The following songs add nicely done keyboards and spoken word passages, varying the sound and tempo of the songs without changing the overall tone or atmosphere of the release. "Truth Or Dare" is arguably the best track on the album as the band is firing on all cylinders – fine vocals, razor sharp drumming, booming bass, and slick guitars highlight the true talent of all the performers and songwriters. The epic "Of Fools And Gold," a strong melodic rocker, is also a strong track that highlights Darkyra's superb song writing skills and emphasizes her theatrical side.
"Where Will I Be" is another strong modern rocker. Darkyra spends more time at the edges of her range, pushing her limits without exceeding them. This particular song also features some nice acoustic and electric guitar work. The pianos and keyboards on "It Takes All Kinds Of Fools" are simply amazing. The balance of the track run the gamut from intense Gothic style metal to slow tempo rockers to theatrical symphonic events – all handled equally well. The closing rocker "Fountain Of Frozen Dreams" ties up the album and the story well, leading into a reprise of "Behind Closed Doors." The engineering and mixing are very well done, handling the complex nature of the music and wide range of styles on a track by track basis, keeping each tune in the audio sweet spot. The backup vocals on all tracks are handled very well, as is the balance between electric and acoustic instruments.
Fans of Gothic Metal or Female Fronted Metal will definitely appreciate Darkyra Black's Fool. Strong vocals not only by Darkyra herself, but by the entire ensemble are the highlight, and the instrumental performances are equally as tight and enjoyable. The strong mix, theatrical production values, and warm engineering make it a pleasure to hear. If there is a flaw, it is simply the same one that hits most story/concept albums – you need to invest the time to appreciate the album as a whole rather than on a song by song basis.
Darkyra has decided to move her project out of the studio-only mode, and has recruited a full touring band from her native Australia. Only time will tell if this is a good thing or not, but for the present Darkyra Black's Fool is a gem – highly recommended for fans of concept Rock albums, Female Fronted Rock, and Gothic/Symphonic Metal.
Genre: Symphonic Rock, Metal
Band:
Gina Bafile (vocals)
Garry King (drums)
Betovani Dinelli (guitar)
Additional Musicians:
Fab Jablonski (keyboards), Tony Dolan (bass), Kostas Vichos (bass), Ilias Sdoukos (viola), Laertis Kokolanis (violin), Michael Porfyris (cello), Tigran Sargysan (duduk – an Armenian oboe), Evanthia Katsourou (soprano), Antonis Batsakis (tenor), Emmanouel Papadopoulos (baritone), George Ammos Ginis (spoken word)
Track Listing:
1. Part 2. Behind Closed Doors
2. Who Are They To Judge You?
3. Truth Or Dare
4. Of Fools And Gold
5. Where Will I Be?
6. Bleed
7. The Wish Never Fades
8. Desperation
9. Flawless
10. It Takes All Kinds Of Fools
11. Fountain Of Frozen Dreams
12. Part 1. Behind Closed Doors
Label: Darkyra Black, Cargo Records
Website: www.darkyra.com
Hardrock Haven rating: 8/10