by Justin Gaines
– Sr. Columnist —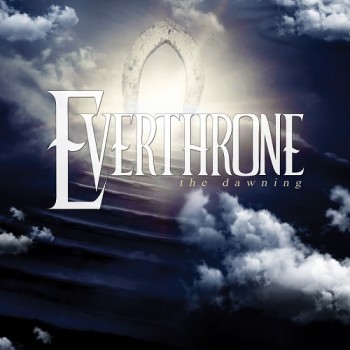 After wowing fans and critics (including this one) with last year's Evil Tongues EP, South Carolina-based Progressive Metal band Everthrone is back with a new album, their first proper full-length release, titled The Dawning.
Everthrone maintains their unique approach to Progressive Metal on The Dawning. The genre has long been dominated by bands who simply worked from the Dream Theater template, so it's very refreshing to hear a band that can successfully inject elements of Gothic Metal and even synth-driven, almost 1980's New Wave pop sounds. The mix of catchy melodies and gothic atmosphere brings to mind the underrated early 2000's Amorphis albums and (equally underrated) late 1990's Paradise Lost releases, while the overall musicianship recalls Evergrey and Redemption. You're going to think of a lot of different bands during the course of this album, but the end result is something uniquely Everthrone.
Chris Carland's keyboards are very prominent on this album, and that's part of what makes The Dawning's atmosphere so powerful. Russell Plyler's sonorous and emotional vocal delivery also help define the album and the Everthrone sound in general. The two play off each other very well, especially on the leadoff track "This Great Expanse." Other highlights on The Dawning include "Children of a Dying Sun," which is as catchy as it is heavy, and the melancholy "Loss," which features some beautiful acoustic guitar passages. And closing number "All Things Manifest" is grand and symphonic enough to pass for a Kamelot song.
It says a lot that one of the year's best Progressive Metal albums is coming from an independent band, and an American one at that. With The Dawning, Everthrone once again establishes themselves as one of the best new bands in Progressive Metal. They're also a band that will appeal to a wider array of metal fans, so if you don't normally get into bands like Evergrey and Dream Theater, but enjoy bands like Sentenced, Amorphis and Paradise Lost, you'd do well to give The Dawning a listen. Hopefully Everthrone won't stay Metal's best kept secret for much longer.
Genre: Progressive Metal
Band:
Jeremy McKeown (d)
Nevin McKeown (g)
Chris Carland (k)
Russell Plyler (v)
Daniel Carner (b)
Track Listing:
1. This Great Expanse
2. Consciousness
3. Children of a Dying Sun
4. Under a Burning Sky
5. Crimson Gold
6. The Anarchist
7. Loss
8. Masquerade
9. Word of the Oracle
10. All Things Manifest
Label: Divebomb Records
Website: www.facebook.com/Everthrone
Hardrock Haven rating: 9.25/10