Thunderhead | Thunderhead 2010
by John Kindred
– Publisher —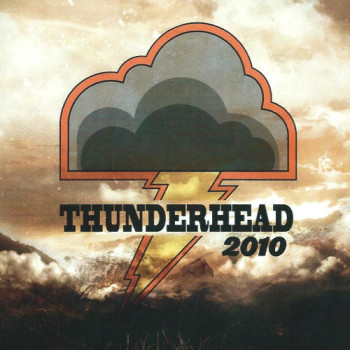 Thunderhead follows up its 2013 release of '75 with Thunderhead 2010. The new album is a compilation of music originally written in the '70s, some new songs and four songs recorded live at the Rock 'n' Bowl in New Orleans July 31, 2010.
Original band members, Mike Dagger and Bobby T Torello, continue to keep the spirit of the '70s alive with their nostalgic vision of Southern Blues Rock-inspired hot-rodded music. Alongside guitarists Chris Bickley and Jeremy Barrett and bassist Dominick De Monico, the group churns out an inspired set of Rock 'n' Roll tunes.
Thunderhead 2010 offers fans three new songs, "Alive Again," "Liar" and "Last Straw." All fit within the confines of the band's Southern Blues Rock style. Guitarist Bickley and Barrett, both, stretch their legs and provide ample Blues-infused licks and riffs that mesh well with Mike Dagger's vocals and his lyrical word play. The rhythm section, comprised of Monico and Torello, hold the music together with plenty of low-end rumbling and thunderous drumming.
"L.A. Shuffle" and "Road Dogs," songs that originally were written and arranged by Ronnie Dobbs, O.T. Ware, Mike Dagger, Pat Rush and Bobby T Torello in the '70s, make their first appearance on a Thunderhead album. "Breaux Bridge Rag," written by David Craig and originally released on Thunderhead's 1975 debut self-titled studio album, is revisited by the band as well.
The live tracks showcase a reinvigorated Thunderhead that knocks out four of its classic songs to an enthusiastic crowd. The music seems alive, roaring with energy, and it expands and fills out the sonic landscape with a wall of sound. The instruments are all distinguishable within the confines of the "live" mix. While the vocals provide plenty of harmony that adds to the band's dynamic live presentation of the music.
Genre: Classic Rock, Southern Rock
Band:
Mike Dagger (v)
Bobby T Torello (d)
Chris Bickley (g)
Jeremy Barrett (g)
Dominick De Monico (b)
Track Listing:
1. Alive Again
2. Liar
3. Road Dogs
4. L.A. Shuffle
5. Last Straw
6. Breaux Bridge Rag
7. Hit and Run Driver (Live)
8. Make Your Own Good News (Live)
9. Stop the Madness (Live)
10. Busted in Georgia (Live)
Label: Independent
Web: https://www.facebook.com/Thunderhead-129962973316/
Hardrock Haven rating: 7.5/10