Amber Waves | Amber Waves
by John Kindred
– Publisher —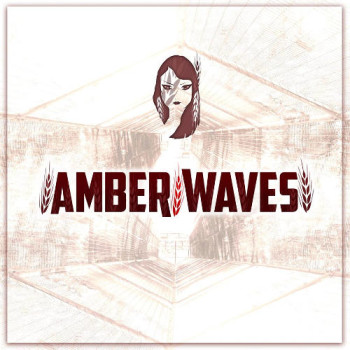 Michael Abdow has been quite busy as of late. He released his sophomore solo instrumental studio album, Life Symbolic, in 2013, worked with the Progressive Metal outfit Frozen on 2015's 3 studio album and had been continuously touring with Fates Warning. His latest endeavor is with the band Amber Waves.
Abdow, together with vocalist Kenny "Blaze" Benda (Great Winner, Frozen), bassist Joe Rogers (Sakara) and drummer Mike Lamagna, fuel the self-titled debut studio album of Progressive Hard Rock metallic compositions.
Amber Waves features 10 songs. The music was written and produced Abdow and Benda, engineered by Abdow and Rogers and mixed by Abdow. With the quartet's combined experience of touring, writing and producing, Amber Waves take an ambitious stab at creating a unique musical experience for listeners.
As with Abdow's Life Symbolic, the instrumentation is mixed with such precision that all instruments are audible to the listener. This musical soundbed builds the canvas for Benda to paint with his colorful, soulful voice.
Amber Waves features a couple heavy tracks, "Impulse Logic" and "Sorcery." Surprisingly, throughout the majority of the CD, there is a laid-back vibe, with plenty of melodic and emotive performances from the band. Benda has grit to his voice when he wants to apply it. Mostly though, he sings with a clean melodic delivery. There are two instrumental tracks on the CD; the first is the piano composition "Sally," and the second, "Pathfinder," which is the kind of tune you would find on an Abdow instrumental solo album.
Abdow's uniquely diverse guitar style offers listeners a refreshing experience when it comes to his compositional skills. The arrangements are far from the standard fare found in the typical formula most Rock music falls within. The listening experience was vastly improved when switching from standard computer speakers to headphones. The music and vocals really jump out at you, and the atmospheric vibe created by the band is intensified greatly.
While the music falls into the Progressive realm, it's not so technical or complex that it's hard to listen to. Amber Waves offers an experience that leans on the talent of musicians who have spent many years honing their craft.
Genre: Progressive Hard Rock
Band:
Kenny "Blaze" Benda – vocals
Michael Abdow – guitars and keys
Joe Rogers – bass
Mike Lamagna – drums
Track Listing:
1. Impulse Logic
2. Sorcery
3. Kingdom
4. Responsive
5. Build to an End
6. Desert Run
7. Original Sin
8. Sally
9. Pathfinder
10. Too Much
Label: Independent
Web: https://www.facebook.com/amberwavesworldwide/ – http://www.amberwavesworldwide.com/
Hardrock Haven rating: 8/10