Paradise Lost | Paradise Lost (Deluxe Edition)
by Justin Gaines
– Sr. Columnist —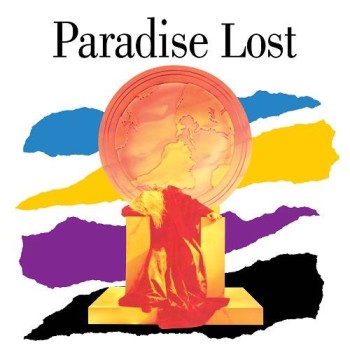 First thing's first, just in case you're looking at that cover and thinking "this seems awfully light for a Paradise Lost album cover;" this is not the UK Gothic/Doom Metal band Paradise Lost. Way back in the mid 1980s, there was a band out of Nashville called Paradise Lost that released a self-titled album in 1989 on MCA's Gold Dust imprint.
This Paradise Lost is about as far removed from Gothic Doom Metal as it gets. The band played a very interesting mix of Progressive Rock with Pop and New Wave. Think World Trade's 1989 debut, but if Billy Sherwood went on a huge Echo & The Bunnymen fan before writing it. There are also traces of Trevor Rabin-era Yes, Echolyn, Saga and even Southern Death Cult here. It's an eclectic mix, but it works surprisingly well, pairing more complex progressive arrangements with Pop melodies and a British New Wave atmosphere (which is particularly impressive coming from a band based in Nashville). "Dark Horse," "Light the Dark Sky" and "Ashes & Gold" are highlights here, and "Light the Dark Sky" in particular could have been a college radio mainstay had MCA done anything to properly promote the album.
This one seems like a departure from the kind of Metal the Divebomb label typically reissues, but this is definitely an album that deserves new attention. If you're a fan of the Neo-progressive sound of bands like World Trade, Enchant and Echolyn or just Melodic Progressive Rock in general, the Paradise Lost debut is well worth checking out, especially now that it has been reissued.
Edition Notes: After being out of print for 25 years, Divebomb's Paradise Lost Deluxe Edition reissue not only breathes new life into this overlooked album, it also includes a treasure trove of previously unreleased extras. The two disc set features the full 1989 Paradise Lost album, plus several demos spanning 1986-1988 as well as live tracks from 1987-1988, all of which have been newly remastered. It also includes liner notes loaded with lyrics, a new band interview and vintage photos. It's a great looking and great sounding upgrade for fans that already owned the Paradise Lost debut, and makes a fantastic introduction for newcomers as well.
Genre: Progressive Rock, Neo-Progressive Rock, Pop
Band:
Dave Privett (v)
Mark Seely (k) (v)
David Howard (d)
Dale Howard (g)
Track Listing:
Disc 1
1. Schemer of Things
2. Shelter
3. Dark Horse
4. Light the Dark Sky
5. Someday
6. Dream of Love
7. Ashes & Gold
8. Cities in the Night
9. On My Way Back Home
10. Riding Elevators
11. In the End (Paradise Regained)
12. Cities in the Night (demo)
13. Tonight (demo)
14. Light the Dark Sky (demo)
15. This Love's Our Own (demo)
16. Light the Dark Sky (live)
17. On My Way Back Home (live)
18. Choice of Love
Disc 2
19. Decorations (demo)
20. Hard Emotions (demo)
21. Magic (demo)
22. So Long (demo)
23. Did You Forget? (live)
24. Hope of Love (live)
25. Rumors (live)
26. Heartache (demo)
27. To You (demo)
28. Rainfall on a Sunny Day (demo)
29. Hollywood (demo)
30. Sand in My Shadow (demo)
31. Out of the Ashes (demo)
32. World Fair (demo)
33. Gentle Pain (demo)
Label: Divebomb Records
Website: www.facebook.com/ParadiseRegainedParadiseLost
Hardrock Haven rating: 8/10