Queen | A Night At The Odeon – Hammersmith 1975
by John Kindred
– Publisher —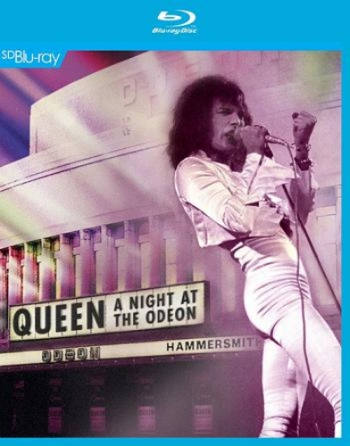 With the release of Queen's A Night At The Odeon – Hammersmith 1975, the band celebrates its 40th anniversary of the group's first-ever TV appearance that, for years, has been available as a bootleg. The concert at London's Hammersmith Odeon Theater was held Dec. 24, 1975, originally airing live on BBC TV. The concert was the final show of Queen's successful tour from the U.K., U.S. to Japan.
Released on CD, DVD, SD Blu-Ray, two LP vinyl, super deluxe box set and digitally via Virgin EMI, the video presentation features 17 songs, while the audio releases contain the full concert set list of 19. Great care has been taken to restore the audio and video and transfer to digital media formats. The result is a new audio mix in stereo and 5.1 surround-sound and state-of-the-art restoration of the video.
At the time Queen's "Bohemian Rhapsody" from the album A Night of the Opera was No. 1 on the U.K. charts. The concert culled music from the group's first four albums: Queen, Queen II, Sheer Heart Attack and A Night At The Opera.
Queen's A Night At The Odeon – Hammersmith 1975 finds the band bursting at the seams with raw, passionate energy. The band is on fire, not only showcasing its musical abilities but also delivering a stellar visual performance. Performing the band's classic songs live, Queen proves that it's not a studio-gimmick band. Mercury's voice is flawless; May's guitar soars, while Taylor and Deacon produced the low-end sonic thunder that holds the music together.
The different formats include special bonus features. The super deluxe box set includes a never-before-heard recording from the pre-show sound check. The DVD and SD Blu-Ray versions feature: 'Looking Back At The Odeon,' a brand new 22-minute documentary, featuring a previously unseen interview with Brian May and Roger Taylor; and the rare Live At The Budokan – Japan 1975 footage, featuring three songs "Now I'm Here," "Killer Queen" and "In The Lap Of The Gods… Revisited."
Genre: Rock, Classic Rock, Rock Opera
Band:
Freddie Mercury
Brian May
Roger Taylor
John Deacon
Track Listing:
1. Now I'm Here
2. Ogre Battle
3. White Queen (As It Began)
4. Bohemian Rhapsody
5. Killer Queen
6. The March Of The Black Queen
7. Bohemian Rhapsody (Reprise)
8. Bring Back That Leroy Brown
9. Brighton Rock
10. Guitar Solo
11. Son And Daughter
12. Keep Yourself Alive
13. Liar
14. In The Lap Of The Gods… Revisited
15. Big Spender
16. Jailhouse Rock Medley
17. Seven Seas Of Rhye
18. See What A Fool I've Been
19. God Save The Queen
*DVD and SD Blu-ray formats do not include Seven Seas Of Rhye or See What A Fool I've Been.
Label: Eagle Rock Entertainment