by John Kindred
– Publisher —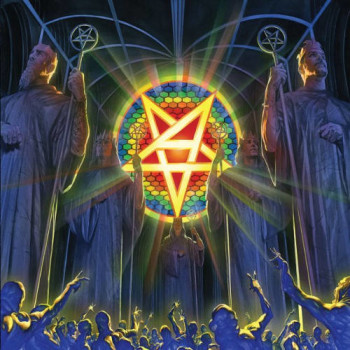 Riding high on the success of 2011's Worship Music, Anthrax returns with its new studio album, For All Kings.
The band, surging with new energy with the return of Joey Belladonna, continues to build upon its storied career releasing its 11th album to date. Containing 13 new songs, For All Kings offers up Anthrax's no-holds-barred approach to Thrash Metal, maintaining the same aggressive, groove-driven formula that has garnered the band a coalition of die-hard Metal fans since the group's inception.
With Ian, Benante and Bello holing up in an isolated room, they produced the material that Belladonna eventually put his stamp on, molding the lyrics and vocal melodies of each song into the final product. Jonathon Donais makes his debut following Rob Caggiano's departure from the band.
Moody, dark and heavy are appropriate terms for this new collection of songs by Anthrax. Skull-crushing is another good one. "You Gotta Believe" opens with a 1.5-minute intro that is totally "Game of Thrones-esque." This creates the allusion to an Epic movie-like soundtrack. But this changes gears when the band moves into the metallic 6-minute face-melting musical barrage encapsulating various dynamic musical shifts throughout the second wave of the song.
Belladonna's voice sounds amazing, and is a perfect match to the music. He has a powerful set of pipes that show no sign of weakening.
The production is top-notch. Bass and drums are clearly audible; guitars and vocals are mixed with enough separation to hear them without straining. Shredding guitars careen against the thunderous bombardment of bass and drums; the vocals standout as your guide, directing you across the aggressive, musical landscape of each composition.
There are a lot of great tunes here. From the opener to "Blood Eagle Wings" and "Breathing Lightning," to the title track then progressing into heavier territory with songs like "Suzerain" and "Defend/Avenge," there is no let up to the band's intensity.
For All Kings finds Anthrax merging its past with the present, creating music that breathes fire into tomorrow. For All Kings is heavy features plenty of arrangements that are not a one-trick pony; there are plenty of dynamic changes that bring life to the music and keep all the songs interesting and engaging.
Genre: Thrash Metal
Band:
Joey Belladonna
Jonathan Donais
Frank Bello
Charlie Benante
Scott Ian
Track Listing:
1. You Gotta Believe Intro
2. You Gotta Believe
3. Monster At The End
4. Zero Tolerance
5. Breathing Lightning
6. Blood Eagle Wings
7. All Of Them Thieves
8. For All Kings
9. Suzerain
10. This Battle Chose Us
11. Voice of the People
12. Defend/Avenge
13. Evil Twin
Label: Nuclear Blast
Web: http://anthrax.com/
Hardrock Haven rating: 9/10