Voyag3r | Are You Synthetic?
by John Kindred
– Publisher —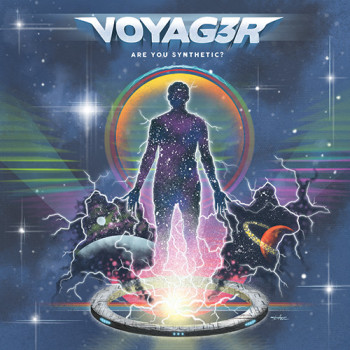 For those who have yet to experience the instrumental sci-fi explorations of Voyag3r, the time is at hand. The group returns with its follow-up to last year's release of Doom Fortress, this time asking the question Are You Synthetic?
Paraphrasing a bit from the Doom Fortress review, the band continues to explore soundtrack-style music from the '70s and '80s, with heavy influence from sci-fi, horror and action movies of that time. The synthesizers create that atmospheric vibe, notable from some of your favorite Cult movies.
Are You Synthetic? also expands upon the previous listening experience of Doom Fortress by more than doubling the number of songs. With this caveat, Voyag3r is, again, releasing multiple formats: vinyl LP from Bellyache Records and CD/Cassette/Digital from Battle Chamber Music.
The group continues its musical explorations, maintaining its footing in the analog world. Recording and mastering the album on a Custom Harrison 3232 console onto 2-inch tape. While the music is dominated heavily by the synthesizer, guitars are prominent within Voyag3r's music. The dynamic interplay between the two yields a unique listening experience.
Are You Synthetic? is described as exploring instrumental "…themes of metaphysics and the origin and destiny of humanity, with the occasional theme fit for a horrifically vengeful space battle."
Voyag3r is a throwback to another time. Those long Saturdays of your youth, when the afternoon TV programming featured "Planet of the Apes," "Logan's Run" or maybe your Friday evening offered up late night horror. Maybe the music is best listened to in isolation, with headphones on, not earbuds, and eyes closed. Or maybe your eyes are wide open, reading a book on inner galactic struggles in a yet, far away and unknown universe.
From the pulsating hum of the bass keys or eerily haunting melodies of space tweaked synth sounds to the driving percussion and the heavy, crushing power chords of the electric guitar, Voyag3r is, itself, an epic musical opus, a journey to another world and an escape to another time.
It's Pink Floyd without vocals – ambient, moody, spacey … trippy. It's like the synths on Steve Miller's Greatest hits 1974-78.
Are You Synthetic? is a journey best experienced alone, without outside influences. It's best shared with those open to new experiences that are visions of the future but from the way it was seen in the past.
Genre: Synth Space Prog, Synthesizer Rock, Space Rock, Soundtrack, Minimal Synth, Experimental
Band:
Steve Greene – Synthesizers, piano
Greg Mastin – Acoustic and electronic drums
Aaron Greene – Guitars
Track Listing:
SIDE 1
1) Deep Space Saga
2) Are You Synthetic
3) Anima Trasgressione (Seq 1)
4) Sinister Creation
SIDE 2
5) Raise Your Shields
6) Theoretical Megastructure Found
SIDE 3
7) Running Out Of Air
8) A Plan For Retaliation
9) Anima Trasgressione (Seq 2)
10) Scramble All Fighters
SIDE 4
11) Anima Trasgressione (Seq 3)
12) Final Transfer (Ora Mortale)
13) Deep Space Saga (Reprise)
Label: Battle Chamber Music, Bellyache Records
Web:
http://www.voyag3r.com
http://www.facebook.com/voyag3r
Hardrock Haven rating: 9/10
.