by Justin Gaines
– Sr. Columnist —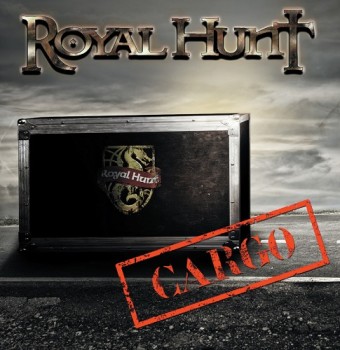 Danish Melodic/Progressive Metal band Royal Hunt has spent a fair amount of time on the road lately, and they served up live albums in 1996 and 2006, so seeing another live release from them isn't exactly a surprise. Their latest live offering, titled Cargo, is a 2-disc set, and is the band's fourth live album (and third with vocalist DC Cooper). The material on Cargo was recorded at various festivals, including last year's ProgPower USA festival, where Royal Hunt performed their classic Paradox album in its entirety.
There's a lot to like on Cargo, even if there's a bit of a "been there, done that" vibe to it. For one thing, the band sounds fantastic and the new lineup has some real chemistry that comes through in these songs. It's also cool to hear a full live Paradox set, even if they did one back on 1998 with Closing the Chapter. These songs never get old, and hearing DC Cooper sing them still has the power to send chills down your spine. It's also cool to hear some of their newer material live.
What's odd, and yes disappointing, about Cargo is how it is structured. It's a 2-disc set that only runs 12 songs/85 minutes. That's roughly an hour of wasted space. They also have the Paradox material start midway through the first disc and cross into the second. Having a full Paradox disc and a second disc full of additional songs would have made so much more sense. And we get a version of the John West-era track "The Mission" but nothing from Moving Target?
Again, the material on Cargo is very strong and it's a lot of fun to hear it. But with so much empty space and the weird track listing, Cargo just seems like a missed opportunity. This could have been a really epic live release (and a DVD would have made it that much more special). Instead it feels like just another live set.
If you're a die-hard Royal Hunt fan, or you caught their ProgPower USA set and want to relive that experience, Cargo is worth picking up. It's hard to get really excited about it though.
Genre: Progressive Metal, Melodic Metal
Band:
DC Cooper (v)
Andre Anderssen (k)
Andreas Passmark (b)
Jonas Larsen (g)
Andreas Johansson (d)
Track Listing:
Disc 1
1. The Mission
2. Half Past Loneliness
3. The Awakening
4. River of Pain
5. Tearing Down the World
6. Message to God
7. Long Way Home
8. Time Will Tell
9. Silent Scream
10. It's Over
11. May You Never (Walk Alone)
12. A Life To Die For
Label: Frontiers Records
Website: www.royalhunt.com
Hardrock Haven rating: 7/10