OVERKILL – Reveal New Music Video For "Goddamn Trouble"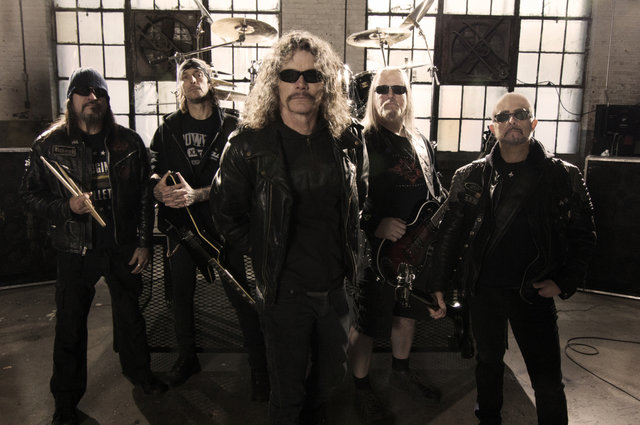 Legendary New Jersey thrashers, OVERKILL, have unveiled a new video for the track "Goddamn Trouble" today.
Watch the clip here:

Bobby Blitz states:
"We hooked up again with Kevin Custer, the director behind the videos, 'Armorist', 'Bitter Pill', 'Rattlesnake', and 'Bring Me The Night'. It was an 'all-day' event in the great state of New Jersey and Kevin shot two vids for us on that cold January day, 'Goddamn Trouble' & 'Shine On'. A long day but well worth it as he captured the metal-chaos and energy. So hit "Play" and get some 'Trouble'."
The video was edited by Denise Korycki at Wild Wind Productions (CANNIBAL CORPSE, KILLSWITCH ENGAGE).
Director: Kevin Custer
Producer: Jeremy Batchelor
Editor: Denise Korycki
DP: Jon Fordham
"Goddamn Trouble" song comes from the band's 18th studio album, The Grinding Wheel, which will be out on February 10th, 2017 through Nuclear Blast Records.
Pre-order The Grinding Wheel now: http://nblast.de/OverkillGrindingWheel
Pre-order The Grinding Wheel digitally and receive "Goddamn Trouble", "Mean, Green, Killing Machine" and "Our Finest Hour" instantly: http://nblast.de/OverkillDownloads
The Grinding Wheel was produced by the band and mixed by Andy Sneap (MEGADETH, ACCEPT, EXODUS). The artwork was created again by Travis Smith (NEVERMORE, OPETH, SOILWORK, DEATH…).
Below is the track listing for The Grinding Wheel:
1. Mean Green Killing Machine
2. Goddamn Trouble
3. Our Finest Hour
4. Shine On
5. The Long Road
6. Let's All Go To Hades
7. Come Heavy
8. Red White And Blue
9. The Wheel
10. The Grinding Wheel
More on The Grinding Wheel:
"Our Finest Hour" Lyric Video:

"Green, Killing Machine" Lyric Video:

Track-by-track #1: http://www.youtube.com/watch?v=ye9sq74ttiE&feature=youtu.be
Track-by-track #2: http://youtu.be/5XuMrEp9d6w
Track-by-track #3: https://www.youtube.com/watch?v=ETB2f-aBfmY
Trailer #1: http://www.youtube.com/watch?v=ieuZx-wffsQ
Trailer #2: http://www.youtube.com/watch?v=B65O3asbMj8#
Trailer #3: https://www.youtube.com/watch?v=PzxRR5-i6j0
Trailer #4: https://youtu.be/BHWf27VTpDs
Trailer #5: https://www.youtube.com/watch?v=KdebklniwJE
Visit OVERKILL online: http://wreckingcrew.com/Ironbound/