The Dollyrots | Whiplash Splash
by Derric Miller
— Managing Editor —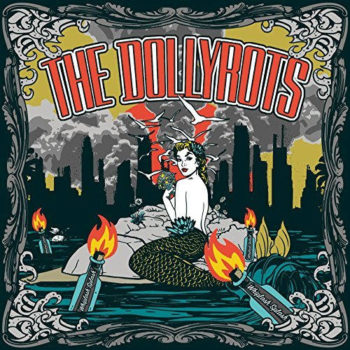 On their sixth studio album Whiplash Splash, The Dollyrots come full circle and find the perfect mix of Pop, Punk, Rock, snark, neato-ness and everything else that makes The Dollyrots so golly gee great. Just listen to Kelly sing "whoo!" at the start of song one, "I Do," then jump to the last song, their perfect cover of the Katrina and the Waves hit "Walking on Sunshine," where the first word out of her mouth is again that almost exact same "whoo!" They are just as excited saying HI! as they are saying SEE YA SOON! and that sonic excitement is just one reason why Whiplash Splash is a smash.
If you've followed their evolution, they started out fairly raw, and when the song that put them on the map "Because I'm Awesome" started knocking down walls, their later releases featured more mature songwriting and singing, on tracks like "Satellite," "Pour Tous Jours" or "After 2012." Then, they went old school again on albums like Barefoot and Pregnant, where the speed was fast and the melody went by the wayside at times.
It's all come together on Whiplash Splash.
The aforementioned "I Do" is a punchy anthem, simple and repetitive and bouncy as hell. Kelly sometimes sings like she has a secret secret—like she's hiding something harmless but hilarious—and you can just feel it on her delivery during the verses.
"Mermaid" begins with a smooth guitar intro from Luis, and then blasts into the hyper-melodic chorus. "You say, we've got something in common. I say, let's not live to ignore it," Kelly croons breathily, and it's the calm before the stormy chorus. This type of composition is what the band has always excelled at.
If you like the band for songs like "Pretty on the Inside" or "Big Mouth," you are going to chomp down on "Just Because I'm Blond." Perchance Kelly has heard a blond joke 12 times too many, or it just sounded like a fun idea, but when you hear the lyrics, "It only takes one of me to screw in a freakin' light bulb," there's gotta be something there, right? It culminates in the line, "Don't be dumb, dumb like a brunette! Just kidding?" Fun with fun!
While there are party songs like "Dance Like a Maniac" and "Saturday Morning," The Dollyrots thankfully showed another facet to their musicianship with "Jump Start This Heart." It sounds like an '80s pop hit, and if you are a fan of Foreigner, you'll hear some of those nuances in the keys. The longing and sorrow are palpable in Kelly's vocals, and it's a style everyone needs to hear more of from The Dollyrots.
At the end of the day, though, The Dollyrots want you to be joyous, full of verve and dancing (safely) on the rooftops, celebrating life. They are known to do a cover here, there and everywhere, with "Da Doo Ron Ron/I Wanna Be Sedated" on their last album, and here it's "Walking On Sunshine." They stay true to the original, as they typically do with a The Dollyrots take on it, and this is one of their best covers and why end the album any other way?
Whiplash Splash is the band's sixth attempt at being awesome, and they haven't failed yet.
Genre: Punk, Pop, Rock
Band:
Kelly Ogden—lead vocals, bass
Luis Cabezas—vocals, guitar
Track Listing:
1. I Do
2. Babbling Idiot
3. Mermaid
4. Just Because I'm Blonde
5. Squeeze Me
6. This Addiction
7. Dance Like a Maniac
8. City Of Angels
9. Saturday Morning
10. Jump Start This Heart
11. Pack Of Smokes
12. Other Trucker
13. Walking on Sunshine
Label: Independent
Website: www.dollyrots.com
Hardrock Haven rating:
(8.7 / 10)