The Survival Code | Broken Strings
by Cynthia Jo
– Columnist —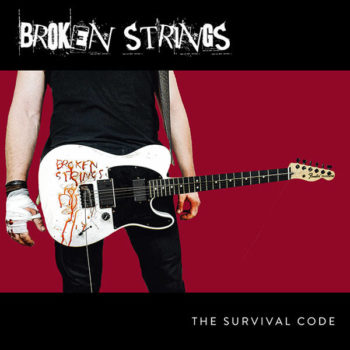 If you're looking for new music to go with that New Year's resolution workout, there's a trio hailing from London that just might help that adrenaline pump more iron. The Survival Code released Broken Strings, a three-track EP last November, which follows 2015's debut, MMXV. The band's sound is reminiscent of Queens of the Stone Age meets Coheed and Cambria but unique enough to be memorable, especially with this EP.
The first track, "One," sets off the Hard Rock and Grunge attitude right off the bat. At first listen, it has the formula for a typical Rock anthem, but the guitar riff is sure to be unforgettable. The raw and gritty vocals provided by vocalist and guitarist Gary McGuinness definitely hook you in.
The subtle-titled track proceeds with the same foundation, but even the video makes you want to hit the track running. However, it might be too generic to some, as the band has been compared to the Foo Fighters in the past, but most mainstream Rock fans will thrive with this effort.
McGuinness offers pretty of clean vocals on the final track, "Lost Cause." It serves as a tight and passionate ending to a short and sweet EP.
Broken Strings is a concise attempt to keep these Londoners on the mainstream Rock map. Modern Rock fans will appreciate the three-track effort. The songs are catchy and have enough power to keep you entertained for more than a minute — definitely worth adding to your workout playlist.
Genre: Rock
Band:
Gary McGuinness – Guitars, Vocals
Tom Cook – Drums
Chema Zurita – Bass
Track Listing:
1. One
2. Broken Strings
3. Lost Cause
Label: IRL
Website: www.thesurvivalcode.co.uk
Hardrock Haven rating:
(8 / 10)