by Alexandra Mrozowska
– Sr. Columnist —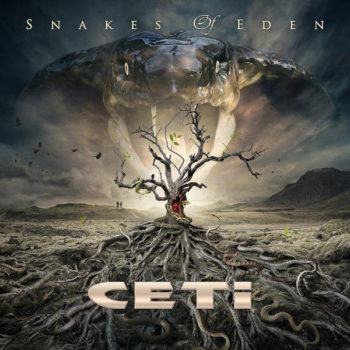 Alongside breakthrough albums and larger-than-life concert tours, history of Rock music is a history of people behind it – a sinusoid of camaraderie and conflict, heartbreaking splits, spectacular reunions and personal changes. Inevitable as they all are, they can lead the band towards utter demise – something we've witnessed more than once – or make it even stronger. Either way, they make a turning point in every music career. It's something the Polish quintet CETI experienced more than once, having been founded in 1989 and continuing ever since with only two original members on board (the lead singer Grzegorz Kupczyk and keyboard player and backing singer Maria "Marihuana" Wietrzykowska). Their 2014 album Brutus Syndrome portrayed the group in another important moment in their twenty-five-plus-years history, given the influx of new blood embodied by the addition of bassist Tomasz Targosz to the line-up. Also, after the release of symphonically tinged (…)perfecto mundo(…) (2008) and fairly heavy and modern Ghost Of The Universe – Behind The Black Curtain it was when CETI returned to its classic Heavy Metal roots. It's no surprise then that the follow-up to 2014's Brutus Syndrome, entitled Snakes Of Eden, continues the same stylistic venture. The band couldn't have possibly gone backwards after all. What may be surprising for some, however, is that the new album is almost entirely written by the youngest member of the band, only four years apart of CETI's line-up – Tomasz Targosz. Risky? Maybe. But as Snakes Of Eden proves, it was worth the risk.
Snakes Of Eden has basically all the assets of its predecessor, a particularly strong track being chosen as the opener in both cases. However, while there's nothing to be criticized about Brutus Syndrome's "Fight To Kill", the sound of "Edge Of Madness" is more refined, the impression even strengthened by tasteful keyboard passages. "2027" is similar to it with its monumental vocals and heavy, lumbering groove, fortified with the lyrical oneiric vision of apocalypse. Over six minutes of "Empire Of Loss" could be best described as "epic" as the track builds up from slow, low-key verses into a guitar-fueled crescendo. Another elaborate track on the album is the title one which again juxtaposes slow-ish verses against soaring choruses and majestic keyboard-driven theme.
Much can be said about the intensity of sound on Snakes…. From the very first to the very last note, "Fire & Ice" delivers a generous dose of six-string wizardry against tight rhythm section, whereas bass-driven "Midnight Rider" makes it easy for a listener to imagine themselves the eponymous character with its juicy, pulsating groove and fast pace. And speaking of speed-driven, Heavy Metal gallops, treats for fans of such aesthetics come also in the form of "Break Down The Rules" or a bonus addition to the album, feisty "Rock'n'Roll Doctor."
There's also plenty of moments on Snakes Of Eden when the band swaps the Maiden-esque grandiosity with more straightforward Hard Rock sound. "Notes Of Freedom" is such an instance, its '80s-tinted, powerful chorus being complemented with some guitar and keyboard wizardry which unmistakably brings back the early CETI sound to mind. A bit Whitesnake-ish in style, the track has certain hit potential to it. However, it still pales in comparison with "Wild & Free". The latter's shamelessly '80s flavor, melodic guitar and infectious groove make it the catchiest moment ever in CETI's recording history – or at least, since their 1990's "Holidays In Agrigento". A bonus track "Fire & Tears" obviously corresponds with the same aesthetics, as it's, in fact, an early CETI song ("Ogien i lzy") written and recorded in 1989 for their debut album, now re-recorded in English language version and with a current line-up.
Drawbacks…? The lack of a proper ballad. The only slow-ish moment on Snakes Of Eden is an atmospheric piece number seven, entitled "Lady From The Dark". However, after a balladesque first verse, the track morphs into a gallop as fiery as its predecessors. A proper ballad could have possibly contributed to the variety of CETI's new material, especially that the band's overall potential in this field has been confirmed many times (the latest addition to their vast catalog of balladry being 2014's "Somethin' More").
Although expectations after the enthusiastically reviewed Brutus Syndrome were high – to say the least – Snakes Of Eden turns out to be even better than its predecessor. From majestic, keyboard-tinted mid-tempos to outbursts of blazing guitar-driven fury, the sound on the album is marked by richness and intensity. It's a perfect compromise between the classic and the new, the individuality and the unity, the energy and the experience. Not only does the album give exposure to Targosz's songwriting talents, but also it portrays the rest of the band in an excellent shape, something many of their counterparts may only hope for. Particularly Grzegorz Kupczyk's performance on the album leaves a listener with an impression the singer's never sounded better – which, more than thirty years into one's singing career, is hardly a norm. And this fact alone is encouraging enough not only to check out Snakes Of Eden but also – to reach back into the band's discography for more exceptional discoveries.
(Editor's note: The vinyl edition of the album does not include "Empire Of Loss" and "Break Down The Rules" as well as bonus tracks.)
Genre: Heavy Metal
Band:
Grzegorz Kupczyk – vocals
Maria "Marihuana" Wietrzykowska – keyboards
Tomasz Targosz – bass guitar
Bartosz Sadura – guitar
Marcin Krystek "Mucek" – drums
Track List:
1. Edge Of Madness
2. Notes Of Freedom
3. 2027
4. Wild & Free
5. Empire Of Loss
6. Fire & Ice
7. Lady From The Dark
8. Midnight Rider
9. Snakes Of Eden
10. Break Down The Rules
11. Fire & Tears (bonus track)
12. Rock'N'Roll Doctor (bonus track)
Label: Metal Mind Productions
Website: ceti-gk.com/en
Hardrock Haven rating: [usr9.5 size=20]