by Derric Miller
Staff Writer
Singer/songwriter/multi-instrumentalist Phil Vincent checked in with Hardrock Haven to talk about the brand new D'Ercole release The Art of Self Destruction; specific tracks on the new album like "The Last Time" and "Face to Face;" musical influences in D'Ercole and vocal influences in general; the possibility of an upcoming tour; and how Vincent ended up writing the Hardrock Haven theme song!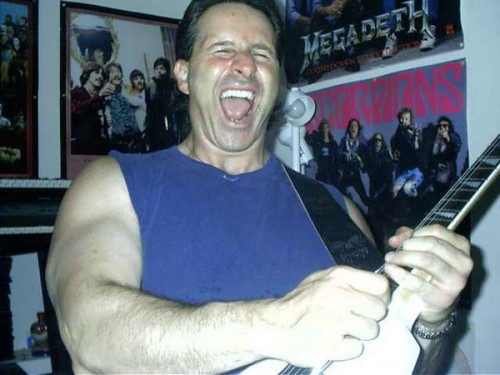 Vincent is a multi-faceted musician and has been a Hardrock Haven favorite for years. Tune in now to get to know Vincent and D'Ercole, and pick up The Art of Self Destruction immediately thereafter!
(If the embedded player doesn't populate, click here to stream the interview in a stand alone player.)
by Derric Miller
Staff Writer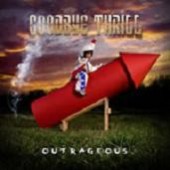 Singer/songwriter/guitarist Marco Ferreira, the extremely prolific mind behind Goodbye Thrill, is back at it again. His solo album Working Overtime and then the recent release of the band that bears his name (Ferreira's Better Run) didn't keep him busy enough to stop him from writing an entire album worth of material for the new Goodbye Thrill. Music pours out of Ferreira — it's like he can't help himself — and his separate projects don't bear a lot in common sonically with each other. Goodbye Thrill is the Danger Danger or Bon Jovi-influenced, more radio-friendly Hard Rock version of Ferreira's writing that creates one anthem after another, with "Outrageous" being one of the best songs recorded this year.
A thumping groove slams into you on track one, "Black Book," and lyrically, this track is acidic. It's an anti-love song, with Ferreira singing, "It's not the love I miss the most, but all the time I wasted with you!" Although guitarist Dean Kramer (Funny Money) wasn't part of the band this time around, newcomer Chuck Beckman shines in his rhythmic role as Ferreira handles most of the solos and leads. It's literally a funny song, because you know it had to be penned with someone in mind.
If you like Enuff Z' Nuff, then "Bride to Be" will catch your ear. Polished, flowing and immeasurably melodic, Ferreira just has his finger on the pulse of hit making. You start to get a common theme as "Bride to Be" is once again a song about love gone rotten, especially with the strong lyric of "She never knew she was just for rent." It gets even bleaker at the end of the song as Ferreira croons, "With a little less hope, she'll see she's still got her future in her hands." That's a pretty biting dissection of the human condition, all wrapped around a poppy Rock song!
"Scumbag" is when the gloves come off a bit more aurally, a faster, heavier song that Goodbye Thrill can play just as expertly as the slower songs. While one of the best songs musically, the lyrics go off into a nonsensical arena with lines like, "Chewing another sugar free gum until I'm ready to make a move." It sounds better when you hear it, though. Ferreira's solo almost become bluesy, a bit more gritty and determined then his earlier solos, giving this already potent song a little more venom.
The first mid-tempo, near ballad is "Talk About It." Dario Seixas on bass pulls the softer segments of the song along, playing with a sensual gallop, and the backing vocals on the chorus are immense. Like a Def Leppard multi-harmony chorus, that's what you get here on "Talk About it."
When the track "Outrageous" begins, you can hear the talented Alex Ferreira take the reigns on drums and add his machinelike flare to the unit. "Outrageous" is the fastest and heaviest track on the album, and it burns. While on some songs the music is there, but the lyrics are a bit off, or vice versa, this composition is damn near perfect. The chunky rhythms and bass turn the song nearly violent, and Ferreira's powerful and soaring vocals on the chorus are his highlight on the entire album. They were right to name the album thusly.
Outrageous closes with "You're My Cure," and the song was written by Seixas, who also handles lead vocals on the track. Seixas definitely knows exactly the kind of music Goodbye Thrill should record, and his vocal style is comparable to Ferreira, although he doesn't seem to flaunt the same vocal range. It's a strong contribution to the draw of Outrageous, and you can see the band starting to mesh overall.
Like all Kivel Records releases, the artwork is creative and attention to detail is job one. The cover features a young Evil Knievel-like stunt child sitting atop an outlandishly large piece of dynamite, like the kid is riding a rocket. When you open the CD liner, black smoke, orange and golden-edge flames greet you as the stunt kid is making a hand motion akin to "my work is done here." Even the band members are partially aflame, like their "fuses" have been lit. Along with the production efforts by Ferreira himself, there's nothing to not love about Outrageous.
Online: http://www.myspace.com/goodbyethrill
Band:
Marco Ferreira (vocals, guitars)
Chuck Beckman (guitar, vocals)
Dario Seixas (bass, vocals)
Alex Ferreira (drums, vocals)
Track listing:
1. Black Book
2. Bride To Be
3. Scumbag
4. Talk About It
5. Disposable
6. Don't Want To Miss A Thing
7. Outrageous
8. Case Of Mondays
9. So Unpredictable
10. Work It Out
11. You're My Cure
Genre: Melodic Rock
Hardrock Haven Rating: 8/10
by Trevor Portz
Staff Writer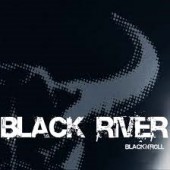 In the last 15 years or so, Poland has become a source of extreme metal bar-setting. Vader, Decapitated, Behemoth, and newcomers Saratan—all have left an indelible mark on the metal world. Well, now it seems that the next generation of Polish music dominance is upon us, and heavy rockers Black River are signaling the oncoming flood with their new album, Black'n'Roll. A brutal combination of stoner rock, '90s alternative, punk, and metal, the members of Black River have produced a record ready to make waves the world over (ok, no more water puns from here on out…)
Before delving into individual tracks, it should be noted that part of what makes Black River so great is the aforementioned mix of rock (and metal) styles. By bringing together various stylistic nuances that make each genre derivation strong, they've created something that may not be earth shatteringly unique, but certainly packs a memorable punch. Driving everything, however, is an mountain of great riffs, a necessary cornerstone for any great rock band.
"Barf Bag" opens the record in fine style, boasting heavy, old-school rock riffing, screaming solos, and vocals that blend rock singing with metal grunting. That may seem odd at first, but vocalist Taff puts just enough singing into his growls to make them brutal, yet still melodic. This is a masterstroke, and also a perfect addition to the accompanying music.
"Lucky in Hell" has a killer, sludgy groove, and though the title may scare off American radio listeners, it's a great choice for a single. This is followed immediately by the title track, "Black'n'Roll," a fast, punk-fueled track that isn't a far cry from Graves-era Misfits. The gang-vocal call-and-response bit also shows how well Taff adapts his vocals to different styles.
"Morphine" is a quieter track (that builds into a full-blown rocker), which works surprisingly well with the harsh vocals. Oftentimes, mellow songs with gruff vocals become laughable and almost feel like self-parody, but in this case the vocals only add to the song's charm.
Closing track "Young'n'Drunk" seems to draw heavily on the '90s alt rock/grunge scene, feeling almost like a long-lost Alice in Chains classic. It is both relaxed and epic, and is an excellent wrap-up to an excellent album. There is a bonus track—"Free Man," from Black River's self-titled debut—but it seems strangely out of place here, as it is a rather derivative, generic modern metal track. If anything, it serves to illustrate how much better the band have become since their debut release, as well as how they've grown to create their own sound.
It is a relief to know that great rock and roll bands aren't a thing of the past. Granted, the Hellacopters and Chelsea Smiles, among others, should have quelled many fears regarding rock's disappearance, but as both have split-up, there is plenty of room for new blood. If all goes well, Black River will soon see a rapid (sorry…) rise to rock and roll glory.
Genre: Stoner Rock/Metal
Band:
Taff (v)
Art (g)
Kay (g)
Daray (d)
Orion (b)
Track Listing:
1. Barf Bag
2. Isabel
3. Lucky in Hell
4. Black'n'Roll
5. Breaking the Wall
6. Too Far Away
7. Loaded Weapon
8. Morphine
9. Like a Bitch
10. Young'n'Drunk
11. Free Man
Label: Armoury Records/Mystic Production
Website: http://www.myspace.com/blackriverpl
Hardrock Haven rating: 9.2/10
by Joe Mis
Staff Writer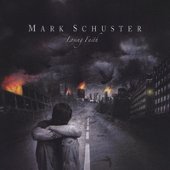 Losing Faith is the latest release from guitar master and multi-instrumentalist Mark B. Schuster. Schuster is a complete package – he sings, play every instrument on the album (with the exception of 3 guitar solos), writes all his music and lyrics, and even engineers and mixes. Another Renaissance man…
Starting his musical career as a drummer and moving on to the guitar, Schuster quickly became a complete musician and dabbled in almost every genre from classical to metal, finally setting his sights on good old fashioned hard rock. Mark released a solo instrumental CD called Monster Me in 2005, and now adds vocals to his arsenal on 2010's Losing Faith.
There is no doubt that Mark is a talented artist. As a guitarist he is excellent, particularly as a rhythm player. Losing Faith is filled with great big hooks and chugging rhythm lines running the gamut from soft and melodic acoustic riffs to ultra heavy super distorted power chords. His solos and fills are nicely done as well, and the three lead breaks contributed by Jim Reindel blend in seamlessly with Schuster's work. Sometimes calm and sometime aggressive, Schuster has a deft touch and allows his music to perfectly match the tone of his lyrics. As a bassist, he is also skilled. Big booming and aggressive bass riffs play nicely off the rhythm lines and drive the music forward without dominating. Schuster is also a very capable drummer, doing everything from simple cymbal fills to rapid fire bass. He also throws in a few keyboard notes here and there, but keeps such esoterica to a bare minimum.
If there is a weakness to Schuster's abilities, it is as a vocalist. Do not misinterpret – he is a decent singer – not bad in any sense, but his vocal talents pale in comparison to his instrumental abilities. Mark's voice is a bit rough and dry at times, and his range is somewhat limited – but he seems to be aware of these limits and stays nicely in his comfort zone. He manages to make the most of his vocal abilities and for the most part does a fine job. He is almost always clear and understandable, and only on rare occasions does the listener really need to focus to make out exactly what he is saying. Whatever his vocal shortcomings, his enthusiasm and blatant desire to express himself make it easy to overlook any shortfalls.
Schuster also did a nice job with his own engineering. All the instruments are balanced and clear, and there are only a few rough spots which add some warmth and realism to the album. He did a good job mixing his vocals – making plenty of overdubs and allowing some self-harmonizing, without overdoing it.
Oddly, the opening and title track "Losing Faith" is the weakest song on the album with some inconsistent and strained sounding vocals, although it features a great guitar solo. "Did What I Did" has a great acoustic opening and settles into a grinding bass-driven blues tinged groove – reminiscent of some old Gilby Clarke or GNR. "Until I See Your Eyes" carries the same groove and displays Schuster's ability to write very hooky music. "Bitter Man" is literally a bitter commentary on modern life and broken relationships with lots of layered vocal tricks and a much heavier groove. "Nothing Without You" opens with a smooth acoustic passage and heavy bass and then becomes a big booming blues-tinged rocker with a great guitar solo.
"The Monster Inside"is quite probably the strongest track on the album, as well as the heaviest. It features a dark and moody tone, great lyrics, a big booming bass and drum line and a blistering guitar solo courtesy of Jim Reindel. Schuster switches gears and puts out a much lower key but lyrically biting track called "Believing In You." "Static" has a distinct orchestral metal feel to it and really allows Schuster's fine bass and guitar sense to shine. "Lies" wraps the CD with a deep jazz-funk-rock groove that would make Alice In Chains proud.
If you want to listen to a complete and enthusiastic musician, pick up Losing Faith. Mark Schuster definitely lives and breathes his music, and that fire and desire permeates the entire album. He decided to explore that darker sides of life on this album, and honestly a track or two with a lighter or more upbeat tone or subject matter would make the album more commercially acceptable and a better listen. However any hard rock fan will enjoy this release. Definitely recommended.
Genre: Hard Rock
Band:
Mark B. Schuster (all vocals, all instruments)
Jim Reindel (guitar solos on tracks 1, 3 and 6)
Track Listing:
1. Losing Faith
2. Did What I Did
3. Until I See Your Eyes
4. Bitter Man
5. Nothing Without You
6. The Monster Inside
7. Believing In You
8. Static
9. Lies
Label: Indie
Website: http://www.markbschuster.com/
Hardrock Haven rating: 8/10
by Derric Miller
Staff Writer
Ritual singer/founder Billy Farley checked in with Hardrock Haven to discuss their brand new release The Ancient Tome; the background his band which has been making music for well over 20 years; the studio/recording process as compared to the '80s and sneaking into the Saturday Night Live studio to record some tracks; how Ritual ended up being part of Heaven and Hell Records' Lost Relics series; and a whole lot more.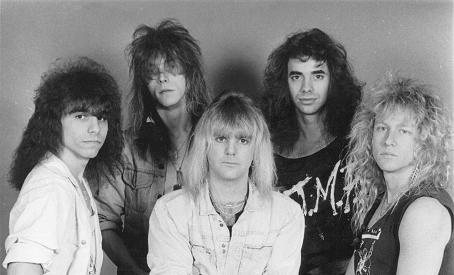 Ritual was one of those bands from the '80s who were on the cusp of stardom but like thousands of other bands, they didn't quite get there. Ritual is still making music today; head to http://www.heavenandhellrecords.com and get your hands on a copy of The Ancient Tome today.
(If the embedded player doesn't populate, click here to stream the interview in a stand-alone player.)
by Alissa Ordabai
Staff Writer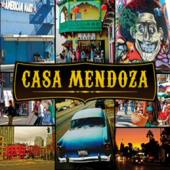 Rock, jazz, funk, hip-hop and even flirtations with world music are introducing Marco Mendoza's debut solo album as a fascinating carnival of textures and traditions, starting right from the opener "Living for the City". It is a spirited, vibrant interpretation of Stevie Wonder's hit which works perfectly despite (or probably because) of the variety of genres it combines. With a fluid, light touch the band coheres its influences into one whole creating an elegant, swinging mood which reflects these musicians' perfect understanding not only of the genres they engage in, but – crucially – of each other.
The rest of the record will struggle to recreate this inspired, uplifting vibe with variable success. "Trouble", which follows, is more of a retro '70′s funk throwback – more studied than spontaneous – but still fresh and vivid, invigorated by impressionistic jazz piano doodles and edgy, angular guitar.
Further down the line the band's interpretation of "Suzy Q" turns the classic into a psychedelic slow-burner, while standout "Circle of Life" brings the proceedings back into swing with a hypnotic groove. Here the stark earthbound guitar, the dreamy fretless bass, and lush keyboard solos are all supported by brilliantly detailed, pulsating drums to create a superbly balanced jazz-rock atmosphere which is at once enigmatic and entertaining. This is what the band really excels at – thoughtful juxtapositions and combinations of different points of reference to create a lively, sparkling atmosphere full of heartfelt warmth, yet stimulating enough to keep you interested.
Mendoza's penchant for slow, pensive ballads reveals itself more as the album carries on, and is probably a less enticing feature of this record. Allowing the album to sag towards the end, after a while those melancholy tunes turn somewhat overwrought, making you hope for more experiment and less for tried-and-tested formulas.
Avoiding huge displays of temperament, the band manages to deliver a congenial record, proving themselves to be a quartet of accomplished, dignified musicians with a vision which when given the necessary edge and a bigger incentive to experiment could soon become an indelible voice on the jazz-meets-rock circuit.
Band:
Marco Mendoza – vocals, bass
Rafael Moreira – guitar
Steve Weingart – keyboards
Joey Heredia – drums
Track listing:
1. Living for the City
2. Trouble
3. Suzy Q
4. You
5. Circle of Life
6. Kingdom of Paradise
7. Are You There
8. Betty Joe
9. Faith (Interlude)
10. Crying Out
11. Get Ready
12. You Got a Friend
13. Bonus Track "TU"
Online: http://www.myspace.com/marcomendozamusic ; www.marcomendoza.com
Label: Mascot Records
Hardrock Haven rating: 7/10
August 17, 2010 at Wolf Den, Mohegan Sun Casino, Uncasville, CT.
by Deb Rao
Staff Writer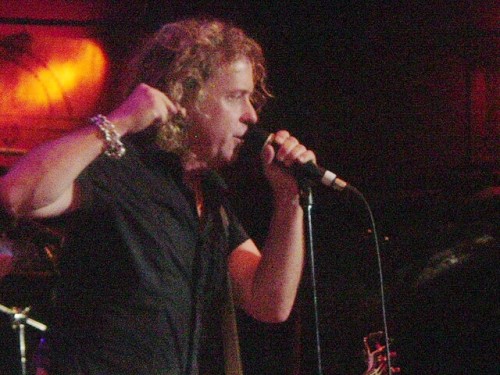 The end of summer kicked into high gear, as one of the top bands from the '80s made a special appearance at the Wolf Den at the Mohegan Sun Casino on August 17. Fans had the opportunity to take a walk down memory lane, as Night Ranger cranked out many of the hit songs of their heyday.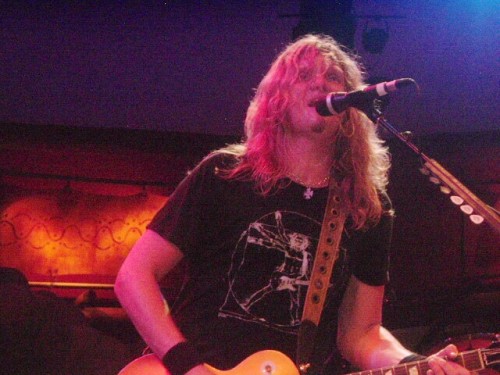 Night Ranger features Jack Blades on bass and vocals, Kelly Keagy on drums on vocals and drums, Brad Gillis on guitar and vocals, Joel Hoekstra on guitar, and keyboard player Christian Cullen. Night Ranger hit the stage at 8 P.M. and performed a 90-minute energetic set that did not let up. The '80s were a time that inspired great lyrics and catchy melodies. Tonight, Night Ranger relived the glory days as they performed such hits as "Four In The Morning," "Sentimental Street" and "Don't Tell Me You Love Me."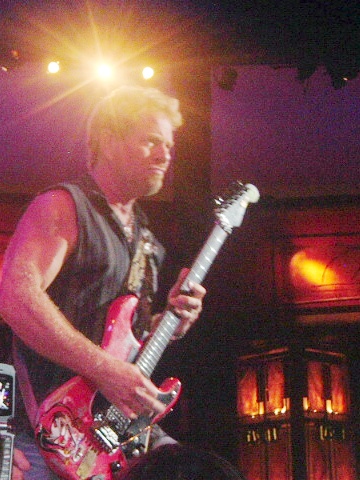 Singer Jack Blades reminisced with the audience commenting, "The band got together in 1980, and released their first album in 1982." Highlights of their career many music sound tracks including the Michael J. Fox hit, "Secret Of My Success." It is great coming back to The Wolf Den, it is like we are playing in your living room."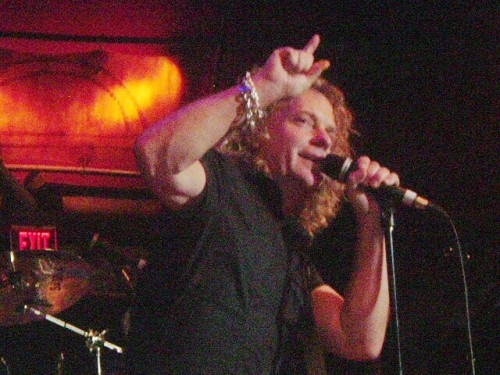 Guitar solos ruled the night, as guitarist Brad Gillis took center stage unleashing the powerful solos that ruled the charts in the '80s. New guitarist Joel Hoekstra from Rock Of Ages also did a great job.
The evening prompted many sing alongs. The set list was outstanding. Jack Blades even through in a Damn Yankees song, "High Enough." Brad relived his Ozzy days, as the band slammed into "Crazy Train." I had the opportunity to talk with Brad after the show. He told me, "The band is having a great time onstage these days. I think Night Ranger has the best line-up these days. Joel is a great addition. We played some shows with Alice Cooper this year. Last year we toured with Journey."
Night Ranger performed as if they were playing in an arena setting. Strong and energized. The future looks promising for this '80′s rock band. Be sure to catch Night Ranger on tour this summer.
Set List:
1. This Boy Needs To Rock (Highway Star)
2. Sing Me Away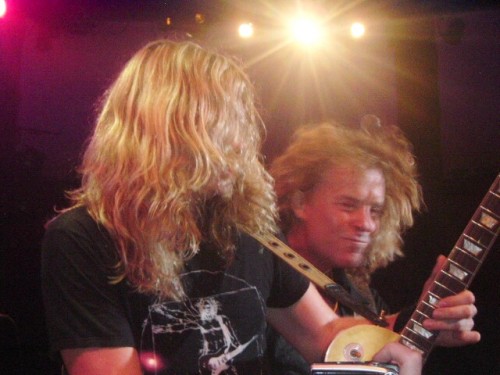 3. Rumors In The Air
4. Coming Of Age
5. Crazy Train
6. The Secret of My Success
7. Sentimental Street
8. High Enough
9. Eddie's Coming Out Tonight
10. Four In The Morning
11. When You Close Your Eyes
12. Don't Tell Me You Love Me
Encore:
Sister Christian
You Can Still Rock In America
Web: www.myspace.com/nightranger
Photos courtesy of Deb Rao
by Derric Miller
Staff Writer
Line of Fire guitarist Nikki Dimage checked in with Hardrock Haven to talk about their brand new studio album Momentum; how he's doing after beating cancer; the behind the scenes vidoes they made to depict the "making of" Momentum; why they covered Dokken's "Breaking the Chains" and the arrangement of the cover; upcoming tour plans; and a whole lot more.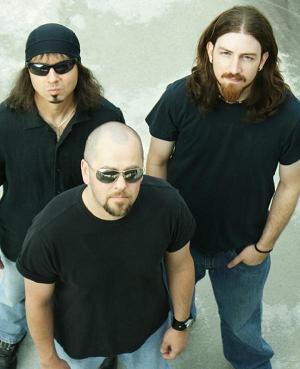 After hearing Line of Fire, you'll hear that Europe isn't the only continent that can churn out world-class Melodic Rock — this is as good as it gets! Tune in now to get to know Dimage and Line of Fire, and pick up Momentum immediately!
Online: On MySpace
(If the embedded player doesn't populate, click here to stream the interview in a stand alone player.)
by Justin Gaines
Staff Writer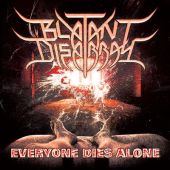 Is there any doubt that thrash metal is making a major comeback? Between "The Big Four" performances, strong recent material from veteran bands (Testament and Overkill, in particular), retro bands like Toxic Holocaust and Municipal Waste, and exciting modern bands like Skeletonwitch and Warbringer, the thrash revival is inescapable. One of the more promising of the new breed of thrash metal bands is Raleigh, NC-based Blatant Disarray. The band, which features members of black metal band Dreamscapes of the Perverse, plays old school thrash metal with a thoroughly modern energy and classic production.
Everyone Dies Alone is the band's long-awaited first full-length album, and it's an absolute feast for thrash metal devotees, especially those who revere – as Blatant Disarray obviously does – classic bands like Testament, Metallica, Megadeth and to some extent Slayer. Wicked fast riffs are paired with intricate guitar solos, and Mike Schaefer's vocals bring to mind Chuck Billy and James Hetfield's more aggressive days. There's also a technical element to these songs. Not necessarily progressive, but technical nonetheless. Production was handled by John Custer who produced several classic Corrosion of Conformity albums, and you do get that Blind/Deliverance vibe at times listening to this album.
Highlights of Everyone Dies Alone include "Down and Out," "Eye Fortune" and especially the title track, but the whole album is guaranteed to induce headbanging.
If thrash is your thing, Everyone Dies Alone is a must-have album. There aren't a lot of bands that can pull off such a classic sound without sounding trite or gimmicky, but Blatant Disarray does it, and quite well. It's not hard to imagine this promising band becoming the standard bearers for the new wave of thrash metal.
Edition Notes: The CD version of Everyone Dies Alone features three previously unreleased bonus tracks – "Nine Days Wonder," "Number One Disaster" and "Manipulation" – that were originally intended for an EP release that never materialized. These songs are not available in MP3 format, which makes the CD version the better purchase – a rarity in this age of digital music.
Genre: Thrash Metal
Band:
Mike Schaefer (v) (g)
Ryan Johnson (g)
Tim Worrell (d)
Adam Peterson (b)
Track Listing:
1. Undetermined
2. Down and Out
3. Question
4. End
5. Faithless
6. Pathetic
7. A Righteous Rant
8. Eye Fortune
9. Hourglass
10. Everyone Dies Alone
11. Nine Days Wonder (bonus)
12. Number One Disaster (bonus)
13. Manipulation (bonus)
Label: Tribunal
Website: www.blatantdisarray.com
Hardrock Haven rating: 8/10
by Trevor Portz
Staff Writer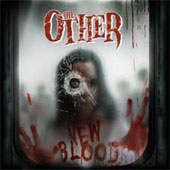 Reviewing The Other is a somewhat difficult task, as it's hard to separate the band from the influences they so clearly draw from. Similar to groups like Rhino Bucket and Naglfar (who essentially copied AC/DC and Dissection, respectively), The Other are so clearly a Misfits clone—both in look and sound—that it's almost impossible to judge them as a unique entity. Sure, vocalist Rod Usher doesn't sound exactly like Glenn Danzig or Michale Graves (in fact, he's more closely a reincarnated Peter Steele), but the dissimilarities virtually end there. With that said, though, let's attempt to look at New Blood as its own beast and see what it may look like to someone who has a basic knowledge of the horror punk (or rock—call it what you will) genre, but has avoided the Misfits, old A.F.I., and a number of other related bands and for whom The Other are more like "the Original."
Opening in a splendid horror punk fashion, the title track "New Blood" kicks off the album with a brief piece plucked straight from any classic horror film, and it creates an eerie, albeit punk-free, overview of the album. Things are kicked into high gear on "Back to the Cemetery," which features all of the classic horror punk trademarks—"whoa oh oh" chants and horror-kitsch lyrics, but mixes in some very metal double-bass drumming to give it a more original twist.
Beginning with "Transylvania," everything falls much more in line with traditional horror punk—simple, dark, power chord riffing, crooned vocals, gang shouts of "go!" and '50s horror-schlock lyrics. "Heir Kommt Die Dunkelheit" ["Here Comes the Darkness"], sung entirely in their native tongue, really adds to the scary vibe, as it's virtually impossible for anything to sound less than terrifying in German. "The Burial" is a high-speed punk romp, and again brings in the classic "whoa oh oh" (of which another appearance is made in "Blood Runs Cold," for those keeping track).
"Castle Rock" is a fairly standard number, but the chorus, "see the real nature of man," may lead Colorado-based fans to question whether the real nature of man is, in fact, bargain shopping. [For those not from the Centennial State, Castle Rock is a town south of Denver known for its outlet shopping center.]
Other tracks of note include "The Lovesick Mind," which almost comes off as a disco-influenced Type O Negative outtake, and "Howling at the Moon," which resurrects a bit of the heavier, goth-side of '80s new wave, with vocals strangely reminiscent of David Bowie.
As a whole, New Blood is a strong record, with well-written tunes, dark-yet-cheesy lyrics, and the generally fun "graveyard party" atmosphere more akin to the Addams Family than Saw's Jigsaw Killer. Taken as a singular entity, it's pretty damn great. However, as stated earlier, The Other are far from original, and the majority of the tracks sound like long-lost outtakes on the bridge from the '90s Misfits' American Psycho to Famous Monsters. Seeing as it's unlikely we will ever see that [underrated] Misfits lineup together ever again, it's even more unlikely that Glenn and Jerry will ever make amends, and that A.F.I. have somehow become a throwaway Hot Topic band, it's good to know someone is still trying to scare the kids.
Genre: Horror Punk
Band:
Rod Usher (v)
Dr. Caligari (d)
Migore Drake (b)
Sarge von Rock (g)
Track Listing:
1. New Blood
2. Back to the Cemetery
3. Transylvania
4. Ghost Ride to Hell
5. Hier Kommt Die Dunkelheit
6. The Burial
7. Castle Rock
8. The Lovesick Mind
9. Talk To The Dead
10. Blood Runs Cold
11. In League With The Devil
12. Demons Walk The Earth
13. Howling At The Moon
14. We All Bleed Red
Label: SPV Records
Website: www.myspace.com/theother
Hardrock Haven rating: 7.7/10
August 4, 2010 at Mohegan Sun Arena, Uncasville, CT.
by Deb Rao
Staff Writer
The Carnival of Madness Tour made a special stop at the Mohegan Sun Arena on August 4th performing to a packed house of fans coming from as far as Massachusetts to see the show. Tonight's performance included Shinedown, Puddle of Mudd, Sevendust, and 10 Years. Chevelle wasn't on the bill for the Mohegan Sun show.
10 Years opened the show at 6 P.M. with a strong 25-minute set. Having first seen the band before a few years ago before they got signed at The Middle East in Cambridge, it was great to see them progress to the arena setting.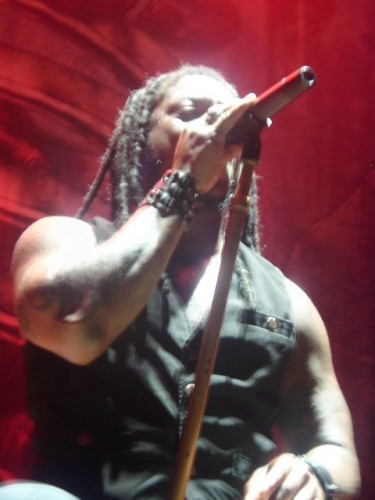 Next up Sevendust hit the stage with a vengeance. Opening with "Splinter" from their latest release Cold Day Memory it didn't take long for the mosh pits to begin. Singer Lajon Witherspoon took full control of the young audience. Sevendust only slowed things down for a moment with the song "Angels Son" and the frenzy began again with "Unraveling" the first single off of the new album that was very well received. The return of Clint Lowery has made a great impact with the overall sound.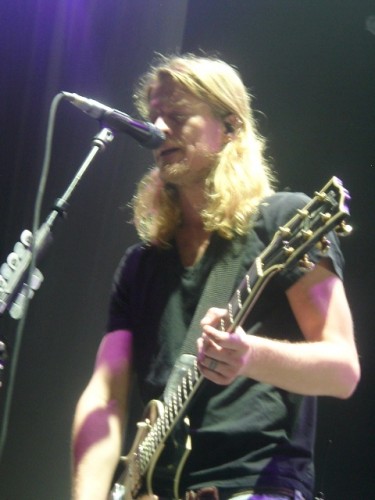 Puddle of Mudd took Chevelle's spot in this evening lineup. and opened with the song "Control." The band performed their hits and had fans singing along to songs like "Spaceship," Psycho," and "She Hates Me." Lead singer Wes Scantlin was very entertaining thanking the audience for coming out for the show. Guitarist Paul Phillips shined in an arena setting. Paul has made a great impact with his return showcasing the strength of the band with his songwriting skills on their current release Volume 4: Songs In The Key Of Love And Hate. Bassist Damien Starkey, replacing Doug Ardito, was very energetic onstage. One major highlight of the bands set was the sing along to the song "Blurry."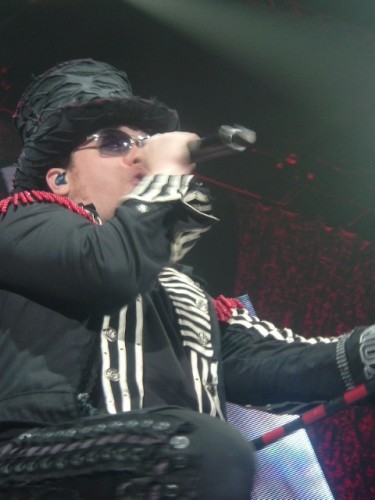 The evening went relatively fast and it was time for Florida rock band Shinedown to take the stage at 9 P.M. for an hour and 45 minute set. Singer Brent Smith sporting a Black top hat, cane, and striped shirt played ringleader to a sea of 5000 fans opening with "Sound Of Madness." Brent's voice was captivating and the focus of the entire set. His vocal range went from melodic to hard rock adapting to every song in a flawless performance. Brent also dedicated "If You Only Knew" to all the women in the audience. He spoke with much enthusiasm announcing "Diamond Eyes" the song that can be heard in the upcoming Sylvester Stallone movie The Expendables.
Highlight of the set was the compelling, "The Crow and the Butterfly." Singer Brent Smith proclaimed the Carnival of Madness Tour as the event of the summer. It is always a pleasure to watch a band develop into an arena act and hear their hit songs on radio. Reminiscing about seeing Shinedown for the first time on the Sno-Core Tour a few years back in Worcester at the Palladium, I had a feeling then that Shinedown would be huge musical act.
Shinedown came to play, with their set on the music, the band poured their heart into the evening's performance.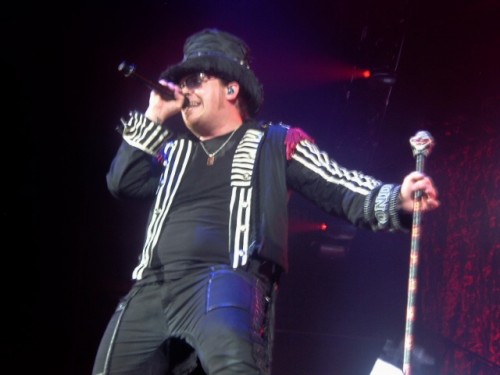 Every band gave 100 percent. This was the perfect way to spend a summer evening listening to the bands making an impact today.
A Special thank you goes out to Julie Lichtenstein and Amanda Cagan, and Morgan Rose of Sevendust for making this review possible.
Check out our Interview with Morgan Rose of Sevendust right here at Hardrock Haven.
Be sure to catch Carnival Of Madness Tour this summer!
Puddle Of Mudd Set List:
Control
Livin' on Borrowed Time
Spaceship
Stoned
Blurry
T.N.T.
Psycho
She Hates Me
Sevendust Set List:
Splinter
Praise
Denial
Angel's Son
Black
Driven
Unraveling
Pieces
Face To Face
Shinedown Set List:
Sound Of Madness
Devour
I Dare You
Cyanide Sweet Tooth Suicide
If You Only Knew
Diamond Eyes
.45
Call Me
Heroes
The Crow and The Butterfly
Her Name is Alice
Save Me
Son of Sam
Left Out
Encore:
Simple Man
Fly From The Inside
Second Chance
Photos courtesy of Deb Rao
by Alissa Ordabai
Staff Writer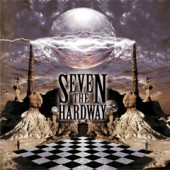 Songwrtiting simplified to a minimum serves as a stark frame for the real jewels of this release – Tony MacAlpine's phenomenal guitar leads. Going against the old truism which says that great solos are impossible without equally great songs, the band's debut shows that there are times when modest songwriting can serve as a platform for guitar extrapolations nothing short of exceptional.
Drummer Virgil Donati who played with MacAlpine in Planet X and Devil's Slingshot, together with singer Mark Boals (Uli Jon Roth, Royal Hunt, Yngwie Malmsteen) seem to have had a perfect meeting of the minds on how to create a prog-tingled borderline stoner vibe with assorted heavy leanings. The latter range from thrash-inspired thump of "All I Had" to hip-hop strut on "Guilt", and provide a much-needed ballast for tracks such as "Blame" whose prog atmospherics need something to anchor them to the ground. But there is a unified, solid, unwavering undercurrent to the entire release which serves as a perfect launching pad for MacAlpine's phenomenal leads.
The guitarmeister's terrific technique coupled with prodigious imagination takes those songs beyond the familiar and the commonplace. His solos are at once polished and utterly otherworldly, floating above the stern harmonic landscape with a sense of purpose that goes beyond genres, ego, and various pretensions rock so often can't resist.
This contrast between simplicity of the songs and breathtaking allure of the guitar work is not the only juxtaposition explored on this record. There is also a dichotomy between the dark, brooding vibe of the overcast harmonic progressions, the arduous vocals, and liberated ease with which the guitar is setting off to explore the boundaries between the ordinary and the sublime. A conflicted album, and the one which takes a few listens to get into, this debut still has what it takes to provide both an a atmosphere and a sense of intrigue – something which MacAlpine knows how to balance and bring together both to provoke thought and to entertain.
Band:
Tony MacAlpine – guitar
Virgil Donati – drums
Mark Boals – vocals
Doug Shreever – bass
Stefania Daniel – guitar
Track Listing:
1. Liar
2. Guilt
3. Solitary Man
4. Where I'm Going
5. All I Had
6. Blame
7. The Wall
8. Good and Evil
9. Happy Ending
10. The Cage
Online: www.seventhehardway.net
Label: Mascot Records
Hardrock Haven rating: 7/10
by Justin Gaines
Staff Writer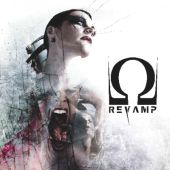 Revamp is the highly anticipated new project from former After Forever siren Floor Jansen. After more than a decade with the band, Jansen started Revamp with the help of former bandmate Joost van den Broek and Waldemar Sorychta (of Grip, Inc.), who collaborated with her in the writing and recording of this self-titled debut album.
Revamp is, unsurprisingly, not too far removed from Jansen's work in After Forever, though the band has managed to move beyond the confines and structures you'd typically associate with that kind of music. For one thing, it's metal as hell. Not metal in a delicate flower kind of way either. These songs have some blistering riffs and pounding rhythms that all but guarantee headbanging. To be sure, there are symphonic and gothic elements (choirs, keys, strings, etc.), and the songs have a great sense of melody, but heavy freaking metal is definitely the order of the day. As for Jansen, she's all over the place here, demonstrating a range that goes from delicate whispers to anguished (or is that triumphant) almost screaming. She's a wonder to behold, and this may be her finest performance to date.
As if Jansen's powerful voice wasn't incentive enough, the Revamp debut also features a trio of guest vocal appearances. Russell Allen (of Symphony X) performs a duet with Jansen on the haunting "Sweet Curse," Soilwork's Bjorn "Speed" Strid delivers a short, sharp shock on "In Sickness: Till Death Do Us Part – Disdain," and George Oosthoek (of Orphanage) growls on "Here's My Hell."
Revamp is obviously going to be a must-have for fans of Jansen's prior work in After Forever. It should also appeal to fans of female-fronted gothic/symphonic metal in general, especially those who might have grown bored with the overcrowded genre's less adventurous bands. Revamp is rewriting the book on this kind of metal.
Genre: Symphonic Metal
Band:
Floor Jansen (v)
Matthias Landes (d)
Jaap Melman (b)
Jord Otto (g)
Arjan Rijnen (g)
Ruben Wijga (k)
Track Listing:
1. Here's My Hell
2. Head Up High
3. Sweet Curse
4. Million
5. In Sickness: Till Death Do Us Part – All Goodbyes are Said
6. Break
7. In Sickness: Till Death Do Us Part – Disdain
8. In Sickness: Till Death Do Us Part – Disgraced
9. Kill Me With Silence
10. Fast Forward
11. The Trial of Monsters
12. Under My Skin
13. I Lost Myself
Label: Nuclear Blast
Website: www.revampmusic.com
Hardrock Haven rating: 8/10
by John Kindred
Staff Writer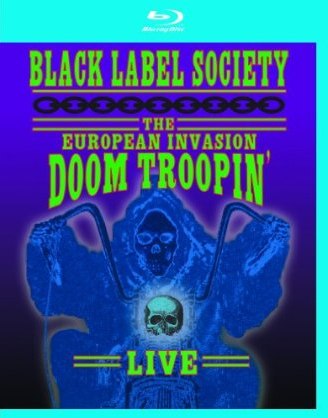 Often dubbed "Prince of Darkness," the Godfather of metal Mr. Ozzy Osborne has launched the careers of some of the finest axe slingers to grace vinyl and the digital landscape. Rhoads, Lee, Gillis and of all those Zakk Wylde has built the strongest post-Ozzy career and still finds himself in good graces with Ozzy. Enough so that he has rejoined Ozzy band all the while still fronting his own band, Black Label Society.
Preceding the release of Black Label Society's latest studio effort Shot To Hell, Eagle Vision released the 2-disk DVD release of Black Label Society's The European Invasion Doom Troopin'. Now in 2010 the DVD gets it's release on the Blueray format.
Filmed during Black Label Society's European tour the band is captured live at the Elysee Montmarte in Paris and the Astoria in London. Intense, brutal and aggressive, The European Invasion Doom Troopin' is Black Label Society on the war path and taking no prisoners. Wylde, is shall we say, simply "Wild!" If you haven't kept up with Zakk Wylde career then you wouldn't know that he is truly a survivor of the fall of metal in the early '90s.
Having forged on, performing his brand of music, with a take-no-prisoners attitude all the while shifting his image from a clean cut axe slinger to the biker persona that he exudes within the confines of his band, Black Label Society. Through all the changes of mainstream music, Wylde still holds true to being a guitarist first and continues to be a fore runner as an influence on the electric "twanger" for a multitude of fans, young and graciously aging alike.
This attitude is captured on film as Black Label Society performs a set of blistering rock n' roll. Inspired by Wylde's influences from Hendrix, Rhoads, Van Halen to his apparent love for Southern Rock. A true shred-a-holic, the leather clad madman pummels his instrument with a genius that is more inspiring than the uneventful ramblings of today's nu metal foundlings.
The DVD is chalk full of bonus features including: a 50-minute on the road documentary, three promo videos taken from Black Label Society's '05s studio release MAFIA, as well as the making-of documentary for the promo video for "Suicide Messiah." Fans will surely want this DVD.
Genre: Heavy Metal
Track listing:
Paris Chapter
1. Stoned and Drunk
2. Destruction Overdrive
3. Been a Long Time
4. Funeral Bell
5. Suffering Overdue
6. In this River
7. Suicide Messiah
8. Demise of Sanity
9. Spread Your Wings
10. Solo Acoustic Jam
11. Spoke in the Wheel
12. Fire it Up
13. Stillborn
14. Genocide Junkies
Backstage Pass (50 minute featurette)
Music Videos
1. Suicide Messiah
2. Making of Suiciede Messiah
3. In This River
4. Fire It Up
London Chapter
1. Been a Long Time
2. Suicide Messiah
3. Stillborn
4. Genocide Junkies
Label: Eagle Vision
HRH Rating: 7.8/10
by Derric Miller
Staff Writer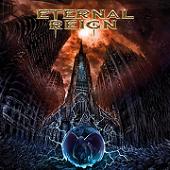 Hailing from Germany, the Power Metal gents of Eternal Reign have just released their third studio album, called The Dawn of Reckoning. Unlike some other Power Metal bands from Germany, Eternal Reign is measurably more "Metal" than bands they may find themselves compared to in that genre, and they also go extremely light on the cheese-factor. In fact, there's isn't one — Eternal Reign is a multi-faceted and polished unit that is closer to Steel Attack than Hammerfall, and everything you like about the genre comes to light on The Dawn of Reckoning.
Many bands of this ilk open with an instrumental, and thankfully, "Drowned" isn't one of them. Instead, it's an ominous and flowing keyboard-led composition with vocals, and lead singer Dirk Stühmer can sing with emotion and melody, as is clear on every note he masterfully croons on "Drowned." But this jets into the second song, "Beyond the Black," and out comes the galloping, Maidenesque guitar leads from Michael Sebastian and Torsten Funfhaus and intense drumming from Lennart Medebach. The sheer heaviness of song is offset by Bjorn Meyer's expert keyboards, sort of circulating in the background. Stühmer owns that sort of throaty and powerful voice you expect from this type of music, and he has range to spare. With tempo changes, breakdowns and emotive guitar leads, Eternal Reign impresses from the get-go.
"Shadows of the Past" is one of the fastest songs on The Dawn of Reckoning, and Jörg Hassel's deft bass playing is off the charts. You don't always notice a bassist when there is keys, two guitarists, drums and vocals joining the cacophony, but Hassel stands out here. Eternal Reign, for a Power Metal band, composes darker and heavier songs than their brethren, and it's a welcome departure.
"Emptiness Devours" begins like a ballad, an atmospheric song with swirling keys, echoing vocals and again, Stühmer shines. But not even two minutes into it, cutting riffs take the song to an entirely new landscape. Triumphant and complex, "Emptiness Devours" is a strong example of Eternal Reign's abilities.
If you like drums, well, listen to the inhuman sounds created by Medebach on "The Beast Within." The drum blasts are both chaotic and precise, and the speed is machinelike. The best part about this song is the seemingly out of place guitar leads that accompany the verses; just because they are innovative doesn't mean they don't fit. Eternal Reign doesn't write obviously straightforward songs—there's a lot there to digest if you listen close enough.
Although this style of music isn't typically a hit-making machine, "Devil and Daughter" is their best chance at writing a hit. The draw of this song is the catchy chorus and Stühmer reaching the near-limits of his range effortlessly on the bridge. His voice soars before the chorus, and the simple yet hypnotic chorus, "Devil and daughter, pleasure and pain … is this the end," is the most memorable chorus on the entire release. (Update: Eternal Reign notified Hardrock Haven this is a cover from Black Sabbath's The Headless Cross album.)
Eternal Reign comes full circle on the closing track, "Still Remains." Just as The Dawn of Reckoning began with a soft, keyboard composition, so does it end. The clarity of the entire album is stellar, but to hear the pristine production efforts on "Still Remains" should make the biggest audiophile applaud.
The Dawn of Reckoning is, from start to finish, a grand album. If you have not yet caught on to Eternal Reign, this would be an excellent place to start. Not all Power Metal has to overloaded you with happiness and pomp; Eternal Reign goes to a somewhat darker side on this album, and this makes them stand out from the glut of Power Metal being recorded today.
Band:
Dirk Stühmer – vocals
Michael Sebastian – guitar
Torsten Fünfhaus – guitar
Jörg Hassel – bass
Björn Meyer – keys
Lennart Medebach – drums
Track listing:
1. Drowned
2. Beyond the Black
3. Lords of Chaos
4. Shadows of the Past
5. Emptiness Devours
6. Lost Clouds
7. Forgotten Sunrise
8. The Beast Within
9. Devil and Daughter
10. Gone Too Far
11. Still Remains
Online: www.myspace.com/eternalreignband
Label: Pure Steel Records
Hardrock Haven rating: 8/10
by Derric Miller
Staff Writer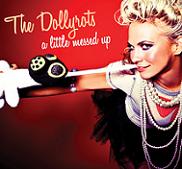 The coolest t-shirt you should be able to purchase soon will read "Kissy Kissy Stabby Stabby!" and that's all thanks to the song "Big Mouth" from The Dollyrots third studio album, A Little Messed Up. This Hard Rock/Pop Punk trio, who found fame with their uber-catchy hit "Because I'm Awesome," worked with outside songwriters and producers on this go-round, including Matt Wallace (Replacements, Faith No More), Evan Frankfort (The Distillers, The Bangles), Fred Archambault (Avenged Sevenfold), and Sylvia Massy (Red Hot Chili Peppers, Tool). The result is an album that delivers a tad more grit at times, and is both heavier and mellower than anything they've created before. It's also really damn good.
"This is not rock and roll, it's rock control!" sings Kelly Ogden, as the first track opens with the song's chorus. "Rock Control" is quirky, and chugs with a heavy duty bottom end. Simple, hooky, catchy as all get out and propelled by Ogden's quasi-innocent vocal style, this is one of the biggest anthems on A Little Messed Up, and it's only song one.
"Some Girls" features what The Dollyrots do best, and that's write choruses that are etched into your brain, never to be erased. "Some girls will, some girls wanna, some girls might, but some girls are gonna … but I don't wanna know what your kisses taste like!" Now, it's not the most macho song you will ever sing along with, but The Dollyrots aren't Danzig (although they should totally cover a Danzig song next time around).
Slowing things down just a bit, the song "Rollercoaster" is Ogden truly singing. Not that she isn't "singing" truly every other song, but it's a little more complicated, airy and softer than you are used to hearing from her … and she nails it. While a heavier, straight ahead song is what you expect them to release as a single, this one oozes potential.
In an interview with Hardrock Haven, Ogden said the band picked the song "A Little Messed Up" as the title track because it is symbolic of the band's newfound attitude—namely, yeah, it's OK to be different, to be considered strange, and to own it. It's a great title, but not one of the best tracks on the album.
So what IS the best song? That's "Big Mouth," and it's not even close. Played at a breakneck speed, with burning rhythms and snarky vocals, when Ogden sings, "Kissy kissy to my face, stabby stabby on the case, that girl's got a big mouth!" you will literally be banging your damn head. If they can write a song as catchy as "Because I'm Awesome," they did it here. The breakdown after the guitar solo, the wild groaning shout during the guitar solo, the sheer energy just peaks your anger and forces you to yell along with the band. As noted earlier, it also makes for the best t-shirt since "I'm like a chocoholic, but for booze."
The band certainly took chances this time around. Check out the shriek at the opening of "Coming After You." It's unexpected, and perfect. Albeit somewhat goofy during the chorus, with lines like "let's go boom boom in the bedroom," it owns a noisy credibility that is far less antiseptic than what you've heard from the band before. Meaning, it's dirty, in a great way.
If you remember the song "Dumb" from the California Beach Boy EP, it sounds an awful lot like "Just Like Chocolate" musically. In fact, more than a lot. And keeping on that whole "yummy" vibe, the album ends with "Om Nom Nom," another ode to loving or craving someone so much you could "just eat them."
The Dollyrots also add two incredible bonus tracks if you pick up the right edition. Their cover of "Happy Together" is strong, but holy macaroni do you need to hear "Dream Lover." In fact, although they clearly have eight or so other songs that could be a hit, it's wild to imagine how big this cover could become for the band. The song, in its origin, is played innocently, but there's a palpable sultriness to the way Ogden croons this version.
Some might fear that a band playing this style of music and being a three-piece has less potential for growth. Those fears can be now be set aflame and buried. A Little Messed Up proves The Dollyrots are evolving musically, while staying true to their roots. They are improving as songwriters, musicians, and clearly, Ogden's vocals are superior to where they were five years ago. Overall, The Dollyrots have the potential to be one of America's next big Rock bands … now let's see if they can live up to that potential.
Band:
Kelly Ogden—lead vocals, bass
Luis Cabezas—guitar, backing vocals
Chris Black—drums
Track listing:
1. Rock Control
2. Some Girls
3. California Beach Boy
4. Rollercoaster
5. My Heart Explodes
6. A Little Messed Up
7. Pour Tous Jours
8. Big Mouth
9. California
10. Coming After You
11. Let's Be In Love
12. Just Like Chocolate
13. Om Nom Nom
Bonus tracks:
14. Happy Together
15. Dream Lover
Genre: Rock
Online: www.myspace.com/thedollyrots
Hardrock Haven rating: 8.3/10
by Joe Mis
Staff Writer
If sleaze rock is your thing, you might want to check out Axident Avenue's new release entitled Shaken And Disturbed. In the true spirit of sleaze, little of this release is cultured, classy or thought-provoking – it is a straight up tribute to the sex, drugs and rock-and-roll trilogy.
Formed in 2006, Axident Avenue features the standard four-piece lineup. Vocalist Stazii Violet fronts the band and has a decent voice for the genre, but his range is extremely limited and he occasionally washes out as he pushes the top end. His voice is relatively thin and the mix of the album makes him sound a bit whiny and unenthusiastic. Ricky Holmes plays the guitar well. He lays down some nice hooks and catchy rhythm lines, and handles the heavier stuff with a capable hand. Soloing is not his strength although he does occasionally display some real flashes of brilliance, but as a result most of his breaks are short and to the point. Drummer Lucky DeVille and bassist Valentine are a very solid bottom end, and display a great deal of teamwork while providing the true backbone of the music.
"Intro" sets the stage for the disc and is a bit misleading. It starts with some simple guitar patterns which annoyingly fade in and out and more from left channel to right, and then some very classical metal guitars click in and the piece seems like it will go orchestral but never does. It nosedives right into the sleaze/glam with "Don't Fall In Love" — which isn't a bad song, but the mix of the album pushes the bottom end and the vocals seem lost in the wall of sound. Holmes' guitar solo is very sweet and lays nicely over the sleaze groove. "Dirty With You" has a great GNR feel to it, plenty of guitars, lots of energy and sleazy sex-drenched lyrics. "Cheap Shot" has a great pounding rhythm line that is unfortunately marred by the overly crude lyrics. "Holiday" has a good straight up rock beat and good lyrics – undoubtedly the best track on the disc by far. It is one of the few times where the whole band seems to be on the same page and all seem to be interested in what the are doing.
"Alley Cat" has a good chugging guitar line and what seems to be a great vocal line save for the fact that is buried under the booming bass and drums. The overly sexual lyrics of the track seem to be carefully written with an extremely predictable rhyme scheme, as if the band was trying to be deliberately trashy. "It's My Life" is a total waste of a track – it sounds like the band is way out of their comfort zone and everyone would prefer to be playing something else. "2nd 2.0" opens heavy and stays that way, allowing Holmes to lay down the best guitar licks on the CD and everyone seems at their best here. This track is the second bright spot on the album, and it all seems to come together nicely. If the rest of the album matched this quality it would be a winner, but sadly that is not true.
"Sleep When Your Dead" is another forced sounding party track, although it has a very kicky rhythm line and some fine, intricate drum work. "Runaway" – yes, these guys seem to like borrowing song titles from other bands – is another track that has potential with a great rhythm line and some nice complex layered vocals, but once again the vocals seem to be buried by the drums and bass so the effect is lost. At long last "Axident Avenue" wraps the disc. At least they go out on a high — this is a gritty, crunchy track with some excellent bass work, good drums, decent guitar work and energetic vocals.
As noted earlier, the engineering and production are not the best. The vocals seem to be mixed in as if they are secondary instruments – or the bottom end is mixed way to high. Violet has a thin and reedy voice to begin with, and it often seems to get beaten by the bass and drums. Even the requisite gang vocals don't seem powerful or enthusiastic. Granted most of the negatives may simply be a result of the engineering, but the overall impact on the album is devastating.
While fully attempting to embody the spirit of the sleaze/glam genre, Axident Avenue's album falls short in execution. The music seems too polished and precise to be true sleaze, and much of this sleaziness comes across as cold and calculated. It seems like the crude lyrics and overall style is forced and unnatural – almost as if some of the songs were written to allow the band to live on pure shock value rather than musical talent. This is unfortunate since the members of the band all have genuine musical talent, and in this case the whole is not equal to the sum of the parts. They are at their strongest when they are doing pure rock, but the sleazier they are the weaker they are…
Sleaze and glam should be crude, and must be spontaneous – real party music, but Shaken And Disturbed feels manufactured and doesn't seem to come from the heart.
Avoid this release unless you are seriously into sleaze.
Genre: Sleaze Rock
Band:
Stazii Violet (vocals)
Lucky DeVille (drums)
Valentine (bass)
Ricky Holmes (guitar)
Track Listing:
1. Intro
2. Don't Fall In Love
3. Dirty With You
4. Cheap Shot
5. Holiday
6. Alley Cat
7. It's My Life
8. 2ND 2.0
9. Sleep When Your Dead
10. Runaway
11. Axident Avenue
Label: Demon Doll Records
Website: http://www.myspace.com/axidentavenue
Hardrock Haven rating: 5/10
July 29, 2010 at Susquehanna Bank Center, Columbus, Ohio
by Chris A.
Staff Writer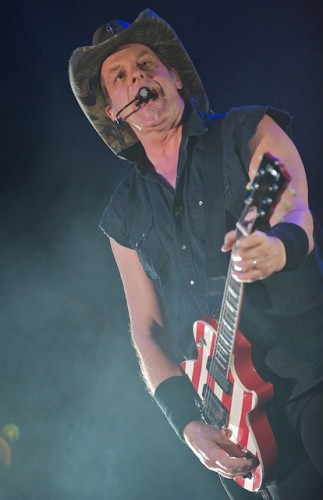 Ted Nugent continues to add shows to his incredible 6000+ performance count, bringing his traveling arsenal of democracy to the capital city of Ohio, Columbus. The sold out show was just another for Nugent who hasn't slowed down since his days as an Amboy Duke. If there is a fountain of youth in the world of rock 'n' roll Nugent seems to have found it. Bouncing onto the stage with seemingly boundless energy "The Motor City Madman" broke into his version of America's national anthem, the Star Spangled Banner. Bright smile on his face, eyes as wild and alive as ever Ted Nugent has never had a problem connecting with his audience and tonight was no different.
Opening the show with "Free For All," Nugent was wielding his Gibson Custom Shop Les Paul standard bearing the 9/11 U.S. flag paint job. In his now trademark stage stacked with Peavey Amps and military ordnance including grenades, machine guns, M-16s and other assorted ordnance props, Nugent worked the crowd as only he can. The audience was filled with long-time Nugent fans, folks who have seen Ted multiple times and feel like he's an old friend.
On the "Trample the Weak and Hurdle The Dead" tour, Nugent continues never-ending verbal assault on those he feels are dismembering America from within. Its patriotism gone Gonzo and Nugent is one of the very few conservatives who'll actually tell people what he really thinks. Nugent doesn't subscribe to political correctness and for years his live performances have given him a platform for extolling the virtues of America, its armed forces, cops, and the rights afforded by second amendment to the US Constitution. Make no mistake, when it comes to Obama, Clinton and that on the left, Nugent is merciless. From offering "Free Machine Guns" to his anti-Clinton rally cry tune "Kiss My Ass," Ted Nugent has gone from outrageous rock star of the 1970s to mainstream America.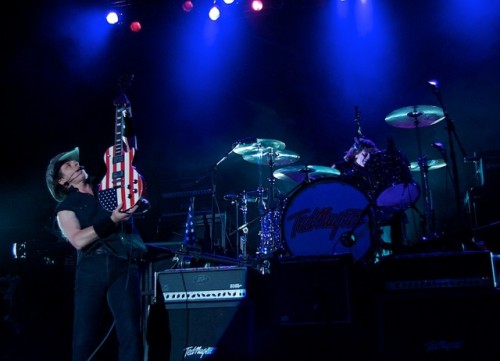 Ted's show has evolved over the years but today and as he has done for decades, he gives his fans what they crave; massive doses of bombastic, in-your-face, middle finger swinging, big-grinning rock 'n' roll from just a dumb kid from Milford, Mich. Ted's show is basic, stripped down but lots of fun. He's also playing some of his best guitar in years. Cutting lose, playing Hendrix licks, and cranking out blues riffs that demonstrated that there's far more to Nugent the guitarist than "Wango Tango."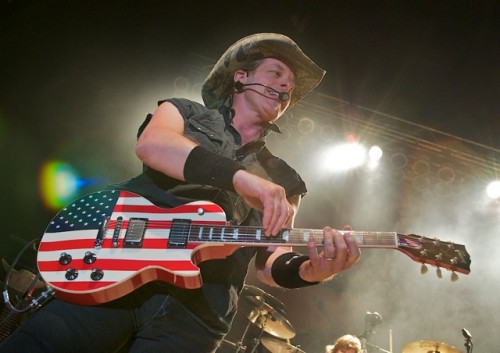 Ted Nugent is currently on tour in the U.S. of A. For more information on Ted Nugent visit www.tednugent.com.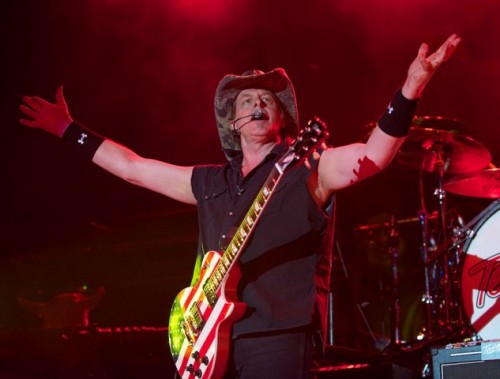 Photos courtesy of Chris A.
by Trevor Portz
Staff Writer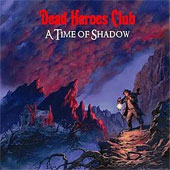 According to their Web site, Irish progsters Dead Heroes Club are "on a mission to reinvent and rejuvenate prog-rock in a contemporary context." This very bold mission statement places a lot of pressure on the band to deliver not only a great prog record, but something modern and unique. While A Time of Shadow is a respectable piece of prog rock-lite, it unfortunately falls a bit short in terms of reinventing or rejuvenating the scene.
Funnily enough, for those unaware that it is a recent recording, A Time of Shadow could easily be passed off as a long-lost '70s prog record. It features almost all of the trademarks of the style—long songs, thoughtful lyrics, plenty of keyboards, and general mastery of each instrument used. What Dead Heroes Club haven't adopted, however, is the combination of complexity and variance that practically defines the genre. There is nary a complex time signature, neo-classical movement, or even multilayered harmony. Instead, the extended track lengths come more from endless repetition and musical rambling than innovation and experimentation. Because of this, A Time of Shadow is more likely to lose listeners' attention than aid in their rebirth as prog fans.
Another odd thing about Dead Heroes Club is the use of the prog rock banner. The music contained on A Time of Shadow is extremely mellow and laid back, many times more closely resembling adult contemporary than rock, even of the softer variety. "The Centre Cannot Hold" is about the most rocking track of the six, acting as an energetic break to the overall monotony. This is not to say that good music has to be hard driving—Norah Jones is a testament to this—but even on the lighter side of prog rock, most groups inject a bit more energy into what they do.
That said, the songs contained here are not bad, per se, and as stated before, the band are technically proficient (within the context of what they do). Unfortunately, instead of exercising their creative or technical muscles, the band members seem more keen on kicking back and playing the same thing over and over again. At least the play it well, though.
So what do we have here? A prog rock band that is neither very progressive or very rocking. Maybe this mislabeling has unfairly doomed the band to criticism. But even looking at the album as nothing more than an album of uncategorized music, the final analysis is still that A Time of Shadow is little more than a drawn-out study in repetition and musical ennui. Of course, if this was the true goal of the band, they have excelled brilliantly.
Now, the initial idea was to end this review by commenting on the many dead prog rock heroes that need to join the Dead Heroes Club to truly "liven" things up, but as it turns out (fortunately as it were), it seems all of the big players in the prog scene (outside of the brilliantly insane Syd Barrett) are still kickin'. Apparently prog rockers live as long as the songs they write. Let's hope the same can't be said for punks …
Genre: Progressive Rock
Band:
Liam Campbell (v,g)
Mickey Gallagher (d)
Wilson Graham (b,v)
Gerry Mc Gerigal (g,v)
Chris Norby (k)
Track Listing:
1. Theatre of the Absurd
2. Stranger in the Looking Glass
3. The Centre Cannot Hold
4. A Gathering of Crows
5. The Sleepers Are Waking
6. A Time of Shadow
Label: ProgRock Records
Website: http://www.myspace.com/thedeadheroesclub
Hardrock Haven rating: 4.8/10
by Justin Gaines
Staff Writer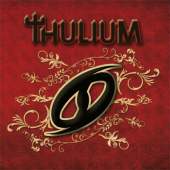 69 is the debut EP by London-based rockers Thulium. The band, which features members from France, England, Hungary and Canada, sounds like a more polished and melodic version of the mainstream radio rock bands we hear in the US (Nickelback, Creed and the like). Normally citing Nickelback as an influence would have a negative connotation, but Thulium manages to make it work. They sound like Nickelback minus the frat boy mentality. No wait, that's Creed. How about a European Foo Fighters? That may be closer.
Of course, with just a 3-song EP it's hard to get a good feel for the band's talents and sound, but the three songs on 69 are a good preview of what Thulium has to offer. The EP kicks off with "Craving," a mid-tempo rocker reminiscent of the '90s alternative sound. After that comes "Running," which speeds things up a bit and rocks out a bit more. It's a catchy song, and one that gets you nodding along. It would make a pretty effective single. The slower, more melancholy "90 Days of Sorrow" closes the EP. It's a decent song with some pretty keyboard work, but it's a bit of a buzzkill after the rocking "Running."
As mainstream rock bands go, Thulium is pretty impressive. They're a band that would fit in perfectly on mainstream rock radio (and class up the place in the process), but will probably never get the chance to do so. If you're looking for some good, new modern rock, give 69 a spin.
Genre: Rock
Band:
Boubou (v) (g)
Chris (b) (v)
Vik (g)
Rob (d)
Track Listing:
1. Craving
2. Running
3. 90 Days of Sorrow
Label: none
Website: www.myspace.com/thulium69
Hardrock Haven rating: 6.5/10
by Alissa Ordabai
Staff Writer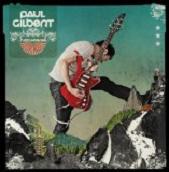 It seems that finding the right balance between accessibility and intrigue has been Gilbert's main goal on what now becomes his third instrumental record. "Fuzz Universe" – the title track of the album – is an exercise in bringing together snappy riffs, elegant melodies, catchy hooks and Gilbert's idiosyncratic approach to guitar. This establishes the mood for the rest of the album, which is at once eclectic and focussed, attempting to unite rigour of purpose, laconism, and Gilbert's constant desire to experiment.
The result sets the album miles apart from Gilbert's previous more impressionistic instrumental material. Catchy, sweetly composed songs from his previous record released in collaboration with singer Freddy Nelson must have prepared him for this transformation. But Fuzz Universe is by no means tame, combining songlike clarity with inventive guitar ideas.
On standout "The Count Juan Chutrifo" Gilbert shows how simplicity can benefit an instrumental track, but "Plastic Dracula" takes the notion further. Its vocal phrasing and straightforward song format make it instantly memorable, a kind of tune that you have to hear once to remember forever.
References to guitar heroes of the days of yore are slipped in with elegance and imagination on tracks such as the Hendrix-inspired "Don't Rain on my Firewood", and "Olympic". The latter answers both Jimmy Page's "The Song Remains the Same" and Pete Townsend's "I Can't Explain" with breezy panache before extrapolating the light, bristly vibe into a post-modern guitar experiment.
But it's "Blowtorch" that is the real highlight of this record, a hypnotic, luminous track where Gilbert proves yet again that there is a certain mood that only phenomenal chops can create. Here his virtuoso technique is not a decoration or a fancy extra, but an integral part of the piece, making it float, aglow with mystical radiance of a milliard of shimmering notes.
To sum up, Gilbert is relaxed, sharp, and on the ball in his search for new ways to connect with his audience. It's not just his amazing chops that make this record worth buying, or the tunes that have been so lovingly composed, but the sheer experimental spirit of this release which combines familiarity with a feel of a real adventure – exactly what rock music has always been about, and what Gilbert delivers here with such heart.
Track Listing:
1. Fuzz Universe
2. Olympic
3. The Count Juan Chutrifo
4. Bach Partita in DM
5. Blue Orpheus
6. Will My Screen Door Stop Neptune
7. Propeller
8. Don't Rain on My Firewood
9. Plastic Dracula
10. Blowtorch
11. Mantra the Lawn
12. Batter Up
Label: Mascot Records
Online: www.paulgilbert.com
Hardrock Haven rating: 8/10
by Deb Rao
Staff Writer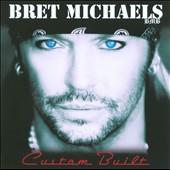 Poison frontman Bret Michaels returns to the music scene with a solo effort Custom Built that captures the softer side of the Rock Of Love star. It is no secret that the Poison frontman has been through hell and back again this past spring surviving a brain hemorrhage that almost claimed his life. All the trials and tribulations of the rock star shed a new personal light of being on the road on Custom Built that make this release a must have album for all the die-hard fans, new and old.
Opening track "Riding Against The Wind" reflects the stress of being on the road. A lot of people think that being a rock star is a glamorous life. This song takes on the difficult setting of being away from loved ones while on tour. Bret Michael's returns to his country roots with the hit single "Nothing To Lose" featuring Miley Cyrus. This is a great love gone wrong ballad. The heartache doesn't end here. "Wasted Time" is probably the most personal song on this album as Bret sings," Lately, I haven't been feeling myself. There is a time to hurt and a time to feel." All the party images of Poison and the rock star life fade showcasing a singer that has grown through life's difficult experiences proving the singer is a true rock and roll warrior and a survivor of the greatest odds.
During Bret's stint on Rock Of Love, the singer garnered a huge new audience of young fans. Some of the newer fans are not familiar with the Poison hits, and Custom Built features a new re-remake of the Poison ballad, "Every Rose Has Its Thorn." This song fits in well with the country vibe.
The two songs that were played on Rock Of Love and Bret's solo effort "Rock My World" including "Go That Far", and "Driven" appear on the CD as remix dance hits. The two new disco versions don't seem to go with the flow of the country theme; it would have been great to hear more original country tunes in place of these two recent hits.
Bret covers Sublime hit "What I Got" and this song rocks. Bret showcases his funky bluesy side. Bret takes on the subject of teenagers growing up and moving to the big city on "Open Road." It is kind of a new take of the girl in "Fallen Angel" questing for fame but with a country twist.
The last song "I'd Die For You" is a fun song about life on the road. Custom Built is a great album to relax to and features Bret Michaels in country mode; a strong songwriter with songs that are written from the heart living through life's experiences. The album features Bret as a little bit country, a little bit rock and roll, and a performer who gives 100 percent onstage every night proving that music has great healing powers.
Regarding the album, Bret told Hardrock Haven, "The album has a lot of country tunes and every song contains a piece my heart."
Genre: Country and rock
Members:
Bret Michaels – Guitar and vocals
Pete Evick – Guitar
Keyboards – Robi Wylde
Drums – Lucky Chucky
Bass – Dirty Ray
Custom Built – Track Listing
"Riding Against The Wind"
"Lie To Me"
"Nothing To Lose" (featuring Miley Cyrus)
"Wasted Time"
"What I Got"
"Every Rose Has Its Thorn" (country version featuring Brad Arnold of 3 Doors Down, Chris Cagle, Mark Wills)
"Go That Far" (Club Mix by Jason Miller of Godhead)
"Driven" (Rock Mix)
"Open Road"
"Rock N My Country"
"Nothing To Lose" (Bret-only demo)
"I'd Die For You"
Label: Poor Boy
www.myspace.com/bretmichaelsofpoison  
Hardrock Haven Rating 8/10
by Justin Gaines
Staff Writer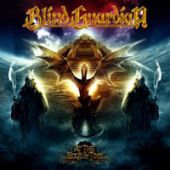 German power metal masters Blind Guardian is a band that believes in taking the time to get it right. After making fans wait an almost unbearable four years between A Night at the Opera and their 2006 follow-up A Twist in the Myth, Blind Guardian took another four years to prepare their tenth studio album, titled At the Edge of Time. At this point in the band's career, every new album has become a highly anticipated event.
With At the Edge of Time, Blind Guardian has managed to strike a balance between the heavily orchestrated approach of A Night at the Opera and the more straightforward power metal sound of A Twist in the Myth. "Valkyries" and "Wheel of Time" are two of the more orchestrated songs, with progressive time changes and huge layered vocals similar to the band's epic "And Then There Was Silence." The album's first single "A Voice in the Dark" is more reminiscent of the old Imaginations From the Other Side days, with a heavy, thrashing guitar sound and more classic power metal structure. "Tanelorn (Into the Void)" has a similar feel, revisiting concepts explored on the classic Somewhere Far Beyond album. The album seems split along those lines, which should please fans of both eras of Blind Guardian. There are also some interesting folk elements used on "Curse My Name" that really ought to be used more often, as they complement Blind Guardian's unique style.
As is Blind Guardian's norm, all of the songs on At the Edge of Time are based on fantasy literature, from John Milton's Paradise Lost ("Control the Divine") to Robert Jordan's Wheel of Time ("Wheel of Time"), including a pair of songs ("A Voice in the Dark" and "War of Thrones") based on George R.R. Martin's A Song of Ice and Fire. These fantasy themes are a huge component of Blind Guardian's sound, and clearly inspire Hansi Kursch to great heights as a songwriter.
As far as the musical performances go, At the Edge of Time more lives up to the high Blind Guardian standard. These guys are by far the best band in the power metal genre, and they've pretty much perfected their craft. Andre Olbrich in particular shines on this album, delivering thrashing riffs and intricate solos with equal flair. The rhythm section is also incredible, though you have to wonder why they haven't made bassist Oliver Holzwarth a full-time member yet. And then there's Hansi, who has one of the most unique and recognizable voices in metal. He turns in an amazing performance here, and actually seems to be getting better with age.
At the Edge of Time is easily one of the best power metal albums of 2010 (and the past five years, for that matter). It might not represent a big step forward for the band, but it is an extremely good power metal album that is more than worthy of the name Blind Guardian.
(Edition Notes: There is a limited, 2-disc version of At the Edge of Time that includes demos, alternate versions and a video clip. This review is for the main album, as we have not heard any of the bonus material.)
Genre: Power Metal
Band:
Hansi Kursch (v)
Andre Olbrich (g)
Marcus Siepen (g)
Frederick Ehmke (d)
Track Listing:
1. Sacred Worlds
2. Tanelorn (Into the Void)
3. Road of No Release
4. Ride Into Obsession
5. Curse My Name
6. Valkyries
7. Control the Divine
8. War of Thrones (piano version)
9. A Voice in the Dark
10. Wheel of Time
Label: Nuclear Blast
Website: www.blind-guardian.com
Hardrock Haven rating: 8.5/10
by Joe Mis
Staff Writer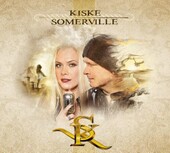 Voices, you hear voices … fortunately they are very good voices, unlike the other ones so many seem to hear. Kiske/Somerville is the upcoming self-titled release by the band fronted by former Helloween lead vocalist Michael Kiske and American singer and vocal coach Amada Somerville. This album is a melodic metal masterpiece and a true showcase for two incredible vocal talents.
While not technically a "super-group", all the members of Kiske/Somerville are music veterans. Inspired by a duet that Michael Kiske did with the band Indigo Dying and conceived by Frontiers Records president Serafino Perugino, Kiske/Somerville became a reality. Michael Kiske (Helloween) is joined by the Michigan native singer-songwriter-vocal coach Amanda Somerville in front of the microphone. Bassist Mat Sinner (Primal Fear, Sinner) shared most of the songwriting duties with band mate and guitarist Magnus Karlsson (Primal Fear, Starbreaker). Sinner also did the bulk of the engineering and producing. Somerville also teamed up with guitarist Sander Gommans (After Forever) to write a few tracks, and keyboard player Jimmy Kresic (Voodoo Circle) contributed as well. Drums were played by Rami Ali (Evidence One, Frontline) and Martin Schmidt (Leaves' Eyes).
The album opens with the high energy rocker "Nothing Left To Say" which gives the non-singers in the band a chance to show their chops. It features a nice aggressive but not overwhelming rhythm line, a neat and tidy guitar solo and some fine drum work. Kiske and Somerville do a fine job on the duet vocals. "Silence" opens with a nice mellow keyboard riff, and becomes almost orchestral in tone. This track is a vocal back-and-forth between Kiske and Somerville with some shared chorus work. Both singers do a fine job, but at times Michael Kiske seems be forcing a "vibrato" which does not seem natural and certainly doesn't fit in with normally straight-up and smooth delivery. Great drums and choppy guitars drive "If I Had A Wish" – Kiske sounds his most "Helloweenish" here. Powerful guitars and a great heavy groove drive "Arise", and Kiske & Somerville trade verses and harmonize like they've been singing together for years.
"End Of The Road" is a soft keyboard track with very mellow and expressive vocals and lyrics and a big orchestral backing during the chorus. "Don't Walk Away" is very upbeat almost pop-metal track with a catchy beat and a real sing-along chorus, while "A Thousand Suns" displays a glimmer of electronica and some fine acoustic guitar work and gives Amanda Somerville the best chance to display her amazing range and power. "Rain" is a great simple rock tune with some fine guitar lines and excellent vocals by Kiske, although that odd quiver reappears in his voice throughout the song.
"One Night Burning" is well done, but it is the stereotypical sad and sappy duet and one of the only disappointing tracks on the album. "Devil In Her Heart" is a very slick modern rock track with multiple layers of vocal contributed by both Kiske and Somerville. While a bit over the top vocal-wise it is a great display of the talents and ranges of both. "Second Chance" is another well done but fairly routine rock duet, but "Set A Fire" is a very heavy and intense track that wraps up the album in fine progressive/power metal fashion.
Kiske/Somerville will be released on September 24th in Europe and October 12th in the USA, and some will be packaged with a bonus DVD that will include two videos and a "making-of" documentary.
This is a fine recording not only for metal fans, but anyone who enjoys good vocal performances. The music is smooth and energetic without being overly maudlin or syrupy – as is the sad case with way too many male/female duet songs. The performances across the board are tight and precise, and the engineering brings real warmth of the vocalists to the front. Kiske & Somerville are undoubtedly two of the best vocalists in the rock scene today and this album gives them a chance to prove it to the world. More accessible to the general listener than the older Helloween material, this release should earn many more fans for Michael Kiske, and if you haven't heard of Amanda Somerville yet this disc proves that you will. She is a voice for the ages.
Very highly recommended!
Genre: Melodic Metal
Band:
Michael Kiske, Amanda Somerville (vocals)
Martin Schmidt, Rami Ali (drums)
Mat Sinner (bass)
Magnus Karlsson, Sander Gommans (guitar)
Jimmy Kresic (keyboards)
Track Listing:
1. Nothing Left To Say
2. Silence
3. If I Had A Wish
4. Arise
5. End Of The Road
6. Don't Walk Away
7. A Thousand Suns
8. Rain
9. One Night Burning
10. Devil In Her Heart
11. Second Chance
12. Set A Fire (Bonus Track)
Label: Frontiers Records
Website: http://www.frontiers.it/album/4746/
Hardrock Haven rating: 8.5/10