by Mark Allen
Staff Writer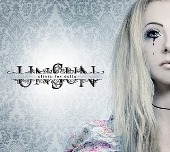 Note to all the metal guitarists of the world: just because your wife is pretty as an angel does not mean she can actually sing like one. It's a note that Polish axe-slinger Maurycy "Mauser" Stefanowicz needs to be sent ASAP, before his wife Aya's banal vocals butcher another batch of otherwise solid songs.
For the uninitiated, Mauser scorched the strings for a time with Polish death metal mavericks Vader before parting company with them to form Unsun with his wife, Aya. Rather than the extreme metal from which he had emerged, Mauser and Aya steered their conjoined careers in the gothic/symphonic metal direction. Their debut was a rather lackluster affair marred by muddy production values, but now they have returned with their sophomore album, Clinic for Dolls, and while it is a major step up in the production department, it still suffers from one glaring flaw: Aya's vocals.
It's not that the Polish beauty sings badly, it's more that her voice is far too weak and fragile for the beefy metal backing her. She seems to be striving for the epic approach of Amy Lee (Evanescence) but lacks the power to reach such euphoric heights. Her husband unleashes thundering riffs, the drums double-kick like a miffed mule, and polished heaviness abounds, but at the forefront are these rather heavily-accented vocals that possess all the strength of a cobweb. It's a jarring mismatch, one that all the slamming power chords, sonic bombast, and slick atmospherics cannot overcome. Sure, she's easy to look at—most women chosen to front rock/metal bands are—but music is about the ears, not the eyes, and it is preferable to listen to a pug-ugly girl sing well than listen to a pretty girl sing poorly. Unfortunately for Unsun, Aya falls into the latter category.
That said, the music itself is actually pretty good. Mauser knows how to play, and while his skills here are more about hard rocking riffs than technical showboating, those riffs are delivered with above-average talent. The solos don't exactly melt the flesh from your face, but they're more than serviceable, and work well within the somewhat narrow confines of the goth-metal genre. The bass booms prominently, maintaining a thick bottom end that the production caters to, a common trend in today's metal scene. The drums pack a punch, the pounding rhythms impacting with a plethora of power.
The tracks themselves range from terrible ("Clinic for Dolls") to decent ("Mocker") and everything in between. In terms of song structure, the band fails to find good chorus hooks most of the time, and that, combined with the weak vocals, seriously hamstring the enjoyment factor of this album. About the only demographic that may be satisfied is the youthful and typically less-discerning Hot Topic crowd who believe that anything goth is automatically cool. The lyrics certainly cater to them, with lines like "What can I say when I'm out of breath / Unable to find the key to cheat death" and "Hell was too cold / Love's gone away / Ultimately slain." If dark and brooding is your lyrical tone of choice, then Unsun has you covered like a bandage over a freshly-sliced wrist.
In the end, what you have here is some pretty cool music and superb production sullied by weak singing and boring choruses. If Mauser dusts off this band for a third outing, perhaps he should consider making it an instrumental album, because when you hear Aya's overwrought, lackluster vocals, you'll wish that Unsun was unsung.
Genre: Gothic/symphonic metal
Band:
Aya (vocals)
Mauser (guitars, samples)
Heinrich (bass)
Vaaver (drums)
Track Listing
1. The Lost Way
2. Clinic For Dolls
3. Time
4. Mockers
5. Not Enough
6. The Last Tear
7. Home
8. I Ceased
9. A Single Touch
10. Why
Label: Armoury Records/Mystic Production
Hardrock Haven rating: 5.4/10
Twenty Years Ago: In Memory of Steve Clark
by Alex Barbieri
Staff Writer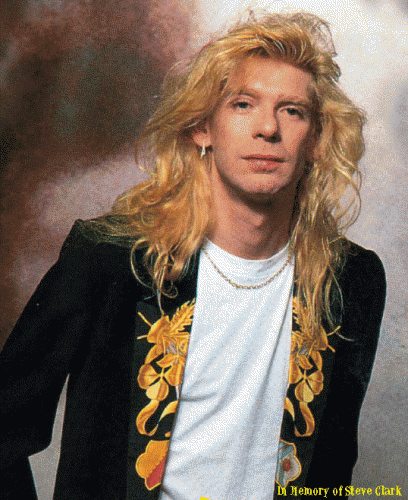 January 8, 2011 marks 20 years since the premature passing of Def Leppard guitarist, Steve Clark. This holiday season, raise a pint in honor of "Steamin' Steve" and the musical legacy he left behind.
To Def Leppard, Clark was family; a mate who they practiced with in a garage in Sheffield, England, and went on to conquer the world with. To Clark's girlfriend Lorelei Shellist, he was the love of her life. In her memoir, "Runway Runaway," Shellist describes Clark as a brilliant musician and songwriter tortured by insecurity, alcoholism and the suppressed need for his father's approval. If only Clark knew how much he was and still is loved. Read more
by Franco Cerchiari
Staff Writer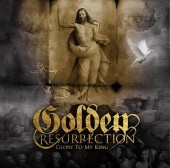 If you have heard the magnificent ReinXeed release, Majestic, then you should have great anticipation to take hold of ReinXeed guitarist/vocalist Tommy Johansson's side project Golden Resurrection also featuring vocalist Christian Lijigren (Narnia, DivineFire.) Showcasing neo-classical/shredding guitar work by Johansson that could rightly be placed alongside of Yngwie Malmsteen, Jason Becker, Rusty Cooley or even the brilliant Michael Angelo Batio, Glory to My King does indeed have some major strong points. With of course each song about a belief in Christ, His teachings, His life and His death on the cross, the tracks are melodic, riff filled, rich and complete with some guitar work that is incredible.
Sometimes it becomes a bit much hearing a "sermon" and in moments the overall message and lyrics becomes a tad much, but one should know, by a title such as Glory to My King what it is they are in for.
Track 6 "Proud To Wear the Holy Cross," does seem to repeat many of the lyrics time and again throughout this track's playing time. However the fluctuation of the vocal lines during the chorus was redeeming.
The keyboards and guitar come across strong, both giving a layer of music under the vocals, and heard together are wonderful. And of course the beyond good guitars of Johansson do make this a CD that followers of neoclassic shredding need to hear. On the flip side, a strong, more prominent bass line would have brought a stronger "thunder" as it seemed on many tracks that the bass guitar was barely audible at best.
Lijigren is an admirable vocalist but his style seems to be better suited for hard rock (at times reminiscent of Russell Allen,) rather than the melodic power metal that is heard here. What made Majestic such a standout (along with the guitar work) was the melodic metal voice of Johansson. The vocals here on Glory to My King, while in many moments are harmonious, seem to be stuck in a sort of "flux" that instead of these huge, soaring, to the heavens voice that melodic power metal is so known for, they seem to remain at the middle range. During certain tracks ("God's Grand Hotel," "The Final Day,") his voice reached higher but even in moments he seemed to be out of his comfort zone.
But what must be given notice are the harmonies of "Never Look Back," the astounding, seemingly never ending guitar solos of "The Final Day," the keyboards of Olav Andersson (Grand Stand/Audiovision) on "Golden Flames" are beyond good. Superbly mixed by Eric Martensson (W.E.T./Eclipse,) overall the sound was excellent, the production strong, and each musical note clear and easy to be heard.
Sadly not a CD that stands out (again like Majestic did,) but in its own way here is a CD rich in melody with some amazing musicians at the helm. Johansson is indeed a powerfully talented guitarist whose work alone makes this a CD guitarists the world over need to hear.
Genre – Melodic Power Metal
Musicians:
Christian Lijigren – lead vocals
Tommy Johansson – guitars, keyboards, vocals
Olav Andersson – keyboards, vocals
Rickard Gustafsson – drums
Stefan Kack – bass
Track Listing:
See My Commands
Best For Me
Glory to My King
Never Look Back
The Final Day
Proud to Wear the Holy Cross
Golden Flames
God's Grand Hotel
My Creation
Label: Rivel/Lijigren Records
Hardrock Haven Rating: 8/10
by Joe Mis
Staff Writer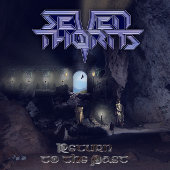 Denmark's Seven Thorns is ready to unleash a new assault on the power metal world with their upcoming album Return To The Past. The band has taken great pains to purify their music and make it the epitome of the genre, and have succeeded remarkably well. Filled with hooky riffs, booming drums and solid vocals, this album will please any power metal fan.
Lyrically powerful and musically solid, Seven Thorns' roots reach back to 1998, but the band really solidified when drummer Lars Borup joined forces with vocalist and songwriter Mik Holm. Numerous internal issues plagued the band and their first album was recorded but never released. Finally the group finally managed to stabilize and focus on their music.
"Liberty" opens the album with big sweeping guitars and a powerful drum line. The theme of fighting one's own battles and not folding to outside pressures recur throughout the album. Guest guitarist Olaf Lank lays down a remarkable solo that highlights both his own talent and that of regular guitarists Gabriel Tuxen and Christian Strojer. "End Of The Road"gives keyboard player Asger Nielsen a moment in the sun, and the passionate voice of Erik Blomkvist blends nicely with the classically tinged guitar work of Tuxen and Strojer. "Through The Mirror" turns the speed down from 11 to 10 and gives drummer Borup and bass player Nicolaj Marker a chance to stretch their legs. This track have a very classical feel and could have easily appeared on one of Yngiwie's albums. Nielsen's keyboard work is quite slick here as well, making this easily the best track on the CD. Superb vocals and great teamwork highlight the galloping "Freedom Call," along with some excellent guitar solos.
"Countdown" gallops along at high speed and allows Blomkvist to push the top of his vocal range. The opening of "Forest Majesty" is the only real break in the album's intensity, but the double bass attack begins anew almost immediately. "Spread Your Wings" has a great opening riff – very much a conventional metal groove, but as before the rapid fire drums and bass return in earnest. "Fire And Storms" and the finale "Return To The Past" compete the aural assault.
Having refined their music to such a pure extreme makes Return To The Past a power metal showcase, but the album is so pure it is like drinking distilled water – sooner or later you need something with a different flavor. Almost all of the tracks have the same underlying tempo and the drum attack seldom seems to vary in speed or intensity. There is some variation in vocal timing and tempo, but at times it seems that different lyrics are the only way to tell one song from another. Non power metal fans will probably like each track on its own, but the relentless pounding across the CD will quickly wear them out. This aside, Return To The Past is slickly produced and well engineered. Everything is crisp and clear, as power metal should be.
Fans of power metal will love this album, but Seven Thorns will probably not bring new fans into the genre due to the unrelenting intensity and lack of easy differentiation between the songs. The band is definitely pure traditional power metal, and play their music with fire and passion. Immensely talented, Seven Thorns will only get better as they grow and begin to vary their sound and add some real originality to their tracks. If you like pure power metal with a hint of classical inspiration, don't miss it.
Return To The Past drops on 14 January 2011.
Genre: Power Metal
Band:
Erik "EZ" Blomkvist (vocals)
Lars "Laske" Borup (drums, backing vocals)
Nicolaj Marker (bass, backing vocals)
Gabriel Tuxen (guitar, backing vocals)
Christian B. Strojer (guitar, backing vocals)
Asger W. Nielsen (keyboard, backing vocals)
Mik Holm (backing vocals, composer)
Guests: Mikkel Henderson (keyboards), Olaf Lenk (guitar solo on "Liberty" & "Return to the Past")
Track Listing:
1. Liberty
2. End of the Road
3. Through the Mirror
4. Freedom Call
5. Countdown
6. Forest Majesty
7. Spread Your Wings
8. Fires and Storms
9. Return to the Past
Label: Nightmare Records
Website: www.myspace.com/seventhorns , www.seventhorns.com
Hardrock Haven rating: 7.5/10
by Alissa Ordabai
Staff Writer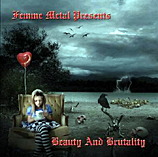 A two-disk compilation of female-fronted metal and rock released to support Cancer Research UK features 31 tracks of material ranging from operatic pomp-metal to punky pop-rock. It is, however, the former style which dominates this release, as if to convince that a female voice in metal goes best with gothic atmospherics, lavish theatricality, and mock-operatic delivery.
This idea, apparently, has taken root within contemporary metal so well that the pattern repeats itself track after track: ambitious string arrangements, commonplace vocal temperaments set over big orchestral pretensions, conservatoire-trained (or pretending to be such) smarmy voices, racing metal riffs supporting sweet pop melodies, and spooky, eerie atmospherics. Anyone who hasn't been following female talents in metal closely within the past 10 years will find that this model has now been brought so such sleek perfection that finding true vocal individuality here is less likely than in the context of Broadway musicals.
It is perhaps against this streamlined approach that true individuality really stands out on this release. Reactive Black with their unashamedly decadent delivery and Iggy Pop-meets-Pet Shop Boys-meets early Metallica eclecticism show that there is still scope for a female voice in metal – beyond unctuous pseudo-gothic atmospherics and opera-scale diva pretensions. DEADMANSWAKE and Vanity Link demonstrate that you don't have to have a big voice to be a true rock vocalist and to be able to deliver a poignant message, both offering welcome breathers for such an intense record jam packed with apocalyptic visions.
But spectacular displays of authentic vocal talent, true drama and wonderful melodic imagination still find place on this compilation. "Absence of Light" by Dimlight is one such track where finely wrought atmospheric soundscape accentuates the numinous voice delivering an inventive, protean melody. Here you start of believe that good taste, imagination, and an ability to create a unique atmosphere can still co-exist when women are represented in metal. Moreover, this track is a proof that a female rock singer can have choices beyond portraying lovers, mourners, or angels of destruction.
True self-expression has always come easier to women in jazz than in rock, maybe because jazz never tried to objectify women the way that rock has traditionally done. But metal is a relatively young genre – too young for succumbing to rigid models, yet mature enough for more women to start exploring ways in which it can resonate with their inner selves, as opposed to blindly following clichés and fulfilling expectations of the male-dominated industry.
Track Listing:
CD1
1. ReVamp – "Head up High"
2. Exilia – "No Tears for You"
3. DAMA – "Rainy Roads"
4. Magion – "War of Hearts"
5. Soulmaker – "A Vide"
6. The Mary Major – "Morning Sickness"
7. Disdained – "Longing for Serenity"
8. Asrai – "Stay with Me"
9. Crownless – "Lost Inside"
10. re-Vision – "Shapeless"
11. Infinite Tales – "Running Away"
12. One Without – "Withered Serenade"
13. Aperioin – "Shine"
14. Reactive Black – "Thoughts"
15. Appartition – "Elysium"
16. Triaxis – "Gates of Damnation"
CD2
1. Epica – "Unleashed"
2. DEADMANSWAKE – "Back to Blood"
3. Vanity Ink – "Smell the Party"
4. Seven Kingdoms – "Somewhere Far Away"
5. Diva Suicide – "Crystals"
6. Exoterik – "Butterfly in Your Hand"
7. Özge Özkan – "My Cold One"
8. Kivimetsän Druidi – "Jäässä Varttunut"
9. VIRUS IV – "Frightening Lanes"
10. Solsikk – "Volatile Territory"
11. Dimlight – "Absence of Light"
12. Raven Tide – "Doom Reveil"
13. A New Dawn – "Masque of the Red Death"
14. Velvet Seal – "Inner Guillotine"
15. Ex Libris – "Destined"
Label: Femme Metal
Online: www.femmemetal.net
Hardrock Haven rating: 6/10
by Trevor Portz
Staff Writer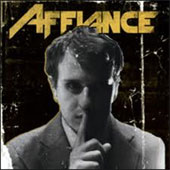 For those unfortunate enough to see the film Multiplicity, you may recall that when Michael Keaton cloned himself, each successive clone turned out more and more…well…stupid. As with any metal subgenre that emerges and catches on, it becomes inevitable that millions of clone bands will start to appear, and in a similar fashion, the clones often become more generic, less interesting, and, frankly, stupid. Metalcore has suffered this fate on a global scale due to the seemingly endless number of bands cropping up with the urge to sound (and look) like any number of others, and distinguishing between bands can be virtually impossible. Cleveland's Affiance is a band that more or less fits this description, yet somehow has managed to create an album that is not only listenable, but actually reasonably good. While it doesn't break any ground, No Secret Revealed is of high-enough quality to at least keep itself from being a total throwaway.
The songs that make up No Secret Revealed are generally high-energy metal romps, with a fair bit of groove thrown in (not entirely unreminiscent of later period Sepultura, groove-wise). What the band absolutely excels at, however, is writing with the mindset that one riff/tempo/groove is not enough to create an interesting song. The tracks feature plenty of tempo and riff changes, which help keep everything moving along and this, in turn, saves the album from being a boring blur.
Technically speaking, No Secret Revealed is tight and well performed. It may not be Dream Theater in terms of over-the-top technicality, but the band members are extremely proficient at what they play, which is far from two-note nu-metal. Now, to be fair, many bands are made to sound great via a few clicks of a mouse and some Pro Tools wizardry, but to stay optimistic, we'll assume that the fixing was minimal.
On the less positive side, vocalist Dennis Tvrdik, while technically a talented singer (who relies almost entirely on clean vocals, a rarity in metalcore), has a whine that takes away from the overall intensity of the album. The songs race along, packed with vitality and anger, yet the vocals always seem two seconds away from becoming little more than a cowering figure wailing out "please don't hurt me."
Lyrically, things are also a bit silly, with "Der Fuhrer" leading the pack. Other than Mel Gibson, the world knows—and still feels the pain–of the atrocities committed by Hitler and the Nazis; of that there is no question. The statements made here, however, provide no new insight, and instead feel like little more than a mid-grade history report on World War II. They come across as a forced effort to sound intelligent or political (as do many songs here), and ultimately come off as juvenile.
Now, whiney vocals aside, No Secret Revealed, on the whole, is a decent enough record. It would be ridiculous to call it a masterwork of metal genius, as it does fit a little too perfectly into the sea of metalcore banality. However, the members of Affiance and just good enough at what they do—both writing and playing—that with a little creativity, they could break away from the scene and become something more memorable. Perhaps on their next album, secrets will be revealed, the first of which will be that they have more to offer than many of their peers.
Genre: Metalcore
Band:
Dennis Tvrdik (v)
Brett Wondrak (g)
Dominic Dickinson (g)
Erik Kemme (b)
Bradley Newshutz (d)
Track Listing:
Mad As Hell
Call To The Warrior
Nostra Culpa
For Power
A Monster Fed
The Hive
A Reading From The Book Of…
Der Fuhrer
Dissent!
Calculate and Control
Label: Bullet Tooth
Website: http://www.myspace.com/affiancemusic
Hardrock Haven rating: 4.8/10
by Joe Mis
Staff Writer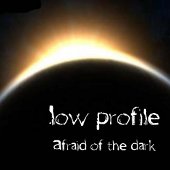 Hailing from Florida's sunny Palm Coast area, Low Profile is trying to prove themselves to be more than a cover band by releasing a CD of all original music entitled Afraid Of The Dark. Despite the entire lineup being Florida transplants from the northeast or mid-Atlantic states none of them are senior citizens – go figure. This trio delivers some decent new hard rock while tipping their hats to some of the greats of the 1980s.
The members of Low Profile aren't kids. They've been kicking around the Florida music scene for a number of years, and that experience shows in their music. Low Profile writes well focused and well structured songs, and their level of musicianship is very good. Their roots go back to the classic hard rockers of the early to middle 1980s, but they deliver their catchy hooks and riffs with solid teamwork and a modern touch. Their "veteran" experience shows throughout the album, particularly their fine use of backing vocals.
Lead vocalist / guitarist (and New York native) Reg Monsanto has a gruff and somewhat dry voice, well suited to the hard rock genre. His range is a bit limited, but he stays within it and delivers the goods. Monsanto is a good guitarist as well, laying down some thick and juicy hooks and nice solos. Fellow New Yorker Fred Peterson brings a big and crunchy bass to the band, and can play quietly in the background or step to the front. Drummer and D.C. native Ralph Abraham is a solid drummer and displays solid teamwork, working nicely with both bass and guitar.
"Afraid of the Dark" opens with a nice Dokken-esqe acoustic guitar and bass passage and features some great harmony vocals, chugging guitars, bubbling bass and strong lyrics. "Wandering" is a simple and soft rock track with some fine acoustic work, a great bass line and a fine lead break. Big drums and a touch of sleaze rock infect "I Like It", but this track is one of the weaker on the album – it seems a bit forced, although the guitar solo is fantastic. The band switches toke totally and goes ultra heavy in "A Punk Like Me" and fills the song with grinding guitars, energetic drums and great bass. Good lyrics and solid harmony vocals brighten the upbeat rocker "Rain," while a big bass groove and "Alice In Chains" style vocals drive "Going Down Again."
"Let It Go" and "Waiting" have more of a pop rock feel to them thanks to simple and bouncy bass and drum lines. The band does not seem to be in their comfort zone on these tracks – some of the "pop" elements seem forced as if they really wanted to do something harder but held back a bit. "Call Of The Wild" opens with some tribal drums and intense bass, but becomes the band's vocal showpiece with nicely layered harmonies over some powerful riffs. The band manages to set a truly dark and creepy mood in the somewhat spooky "Neverland," while "Sleeping With The Enemy" takes its energy from a great drum line. "Black Widow" wraps the album with some great acoustic guitars that lead to a big arena-rock track with a solid sing-along chorus.
The only persistent negative on "Afraid Of The Dark" is the engineering. All the tracks have a bit of a muddy sound, but fortunately it is consistent so it is easy to balance out with equalizer settings. Low Profile makes simple, basic and direct rock, and the roughness of the recording in a way almost adds to the atmosphere.
Low Profile is a decent band and deserves more than just a cover band reputation. There is real talent here, both in terms of musical ability and songwriting talent. Despite a few rough spots on the CD, Afraid Of The Dark will appeal to almost any fan of hard rock or commercial rock. The band's enthusiasm and raw talent easily overcome the flaws, so the good here far outweighs the bad. They are a young band and need to settle on a preferred style. They seem at their best at the opposite ends of the spectrum – playing hard and heavy stuff or soft ballads. They wash out a bit when holding the middle ground or reaching for a "pop" sound. While it may not be the proverbial "diamond in the rough," Afraid Of The Dark is certainly is worth a listen.
Genre: Hard Rock
Band:
Reg Monsanto (lead vocals, guitars)
Ralph Abraham (drums, backing vocals)
Fred Peterson (bass, backing vocals)
Track Listing:
1. Afraid Of The Dark
2. Wandering
3. I Like It
4. A Punk Like Me
5. Rain
6. Going Down Again
7. Let It Go
8. Waiting
9. Call Of The Wild
10. Neverland
11. Sleeping With The Enemy
12. Black Widow
Label: LP Records (Indie)
Website: http://www.myspace.com/lowprofilepalmcoast , www.lowprofile-theband.com
Hardrock Haven rating: 8/10
by Alex Barbieri
Staff Writer
Last year, Swedish band ColdSpell's album, Infinite Stargaze, topped many hard rock "Best of 2009" lists. The band has been quiet — at least for American fans — so Hardrock Haven thought it was time to venture north to the land of the midnight sun where guitarist and songwriter Michael Larsson reveals what ColdSpell is conjuring up next—along with the title of the new album due in February!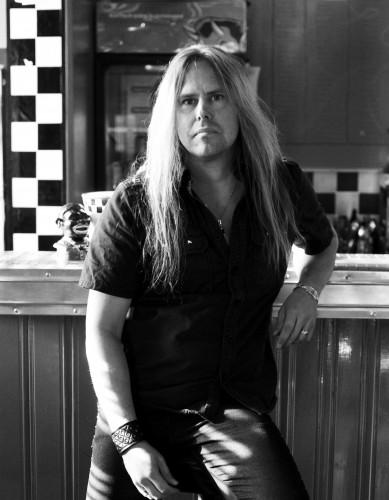 HRH: Michael, thank you for sending me a copy of Infinite Stargaze. Athough I'm a year late, it is on heavy rotation in my car, and it will likely be my favorite album of the year. What has ColdSpell been up to, and can we look forward to a new album soon?
MICHAEL LARSON: Hi Alex and thanks for those kind words. I'm glad to hear the combination of driving your car and listening to ColdSpell works out fine, haha! What have we been up to … well, I must admit that time flies away. It's hard to believe that it is almost two years since the Infinite Stargaze was released.
I have been promoting the album and have done lots of emailing and interviews, and we have done some shows here and there. We have some changes in the line-up for this new album and it finally feels like we are one solid unit that's ready to rock.
HRH: The last album sounded sonically amazing. Are you recording in the same studio with the new lineup? Please let your vocalist, Niclas Swedentorp, know that I think he is one of the best in the business.
ML: Ha ha, yes I will let him know that! He is a "one of a kind" singer and great to work with, too. It's important to have the chemistry going and we do have that for sure!
This new album is recorded in the same studio and is mixed by the same outstanding Tommy Hansen from Denmark. As I said, we have a new lineup, a new drummer and bass player due to the fact that they did not have the time to do this. But we are still best friends. The new guys are both good old friends of mine from the time I used to live in the south of Sweden. The drummer is Perra Johansson (Crawley, Lost Souls) and the bass player is Anders "Kebbe" Lindmark ( RAW, Dalton). They are the nicest guys and both have a huge backpack of experience.
HRH: As a founding member and main songwriter of ColdSpell, are the new songs similar or different to those on Stargaze? Can you tell us what the new album is called, and share any song titles yet?
ML: Yes, the new album will be in the same vein as Infinite Stargaze. It's the same songwriter but with two new members that will take us up to the next level! It's maybe a little heavier sounding, but still ColdSpell.
Alex, you will be the first to know the new album title, so feel honored ha ha – Out From the Cold is the title for the new ColdSpell album.
HRH: Thank you Michael for that Hardrock Haven exclusive! You read it here first, rockers: Out from the Cold will be the title of the new ColdSpell album.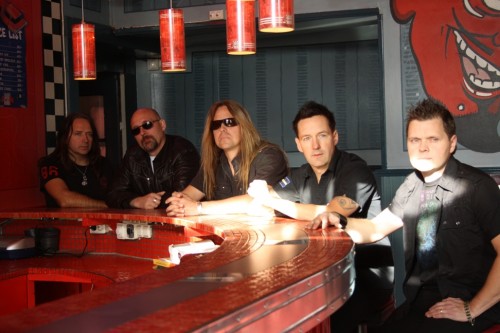 HRH: There are some obvious American '80s hard rock influences on Infinite Stargaze, such as Dokken, Queensryche and Dream Theater. Was American metal big in Sweden back in the day? Were albums easy or difficult to find and buy?
ML: I'm glad to hear that and, of course, bands like those you mentioned had a big influence on me, but also bands like Deep Purple, Whitesnake, Sabbath, Rainbow, Badlands … those American metal bands were huge in Scandinavia / Europe at that time and I think that Dream Theater still is! It was no problem getting those albums at that time.
HRH: Looking back at the last year supporting Infinite Stargaze, what are some of your favorite shows and memories? Any crazy stories you can share?
ML: The crazy stories I will let you know when we meet and have a couple of beers. We have done some amazing shows but I think that we have the best ones ahead of us, all those amazing reviews and top album lists are memories worth keeping.
HRH: Does the band have any plans to tour following the release of the new album? Will U.S. fans get a chance to see ColdSpell live?
ML: I sure do hope so and I feel in my gut that the U.S. is not that far away. We have been talking about doing Europe and we will see about U.S. dates after the release of the new album.
HRH: What adult beverages would be found in ColdSpell's studio?
ML: Just pure spring water. And course maybe one or two beers. And red wine from Robertson Winery. And maybe some well deserved single malt whiskey, haha!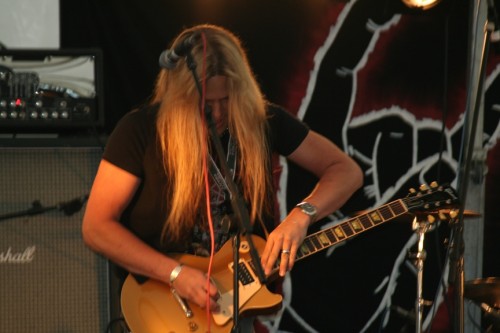 HRH: What type of guitar and effects do you play? Do you have any endorsements you'd like to talk about?
ML: Still trying everything that comes my way, I had some offers but I guess it's important that it feels right.
I play an ESP Eclipse, Gibson Les Paul and Peavey Wolfgang. I don't use that many effects, but I can't live without my Jimi Hendrix wha wha. Otherwise it's delay, tube screamer and maybe a chorus from time to time. Plain and simple.
HRH: Take us through a day in the life of Micke Larsson. Tell us something we don't know about you.
ML: A day inside the head of Mr. Larsson, haha! I guess it's not that exciting. I will just disappoint you. I spend some quality time with my family and my dog, get some new song ideas that makes me look even more confused. And as it is now, I spend more time with the computer than playing guitar and that is not so good.
What you don't know is that this weekend I'm going to our cabin out in the woods and relax, have a sauna, drive my snowmobile and get inspired! Haha.
HRH: Give us your first thought that comes to mind on the following names and words:
HRH: Guitar.
ML: My love of life.
HRH: Metal.
ML: Judas Priest.
HRH: Idols.
ML: Ronnie James Dio.
HRH: Fans.
ML: Dedication.
HRH: The Music Business.
ML: Biiiig and strange.
HRH: Beer.
ML: Mythos.
HRH: What bands and albums are you currently listening to, and who are your favorites of all time?
ML: At this moment, I'm listening to this new amazing Firewind album and checkin' out a new live DVD from Kings X.
That's a tricky question—there´s so many favorites, but if I mention a few: King´s X Dogman, Lynch Mob Wicked Sensation, Dream Theater Images and Words, Rainbow Rising, Whitesnake 1987, the first Badlands, Montrose Rock the Nation. All are a piece of hard rock history.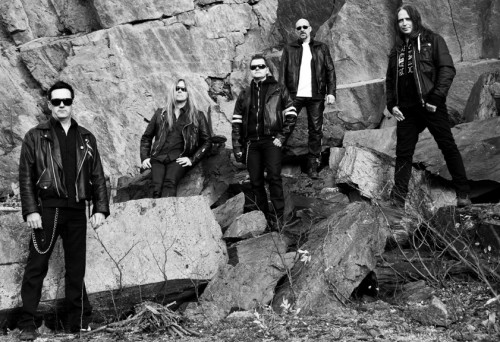 HRH: What are your musical goals for ColdSpell over the next few years, and how do you define success in music and life?
ML: Success is to get to do what you are meant to do … to enjoy it and share it with others, family, friends and everyone else! When it comes to ColdSpell, we like to do high quality hard rock albums that hopefully will get us over to the U.S. in 2011.
And of course make sure to enjoy every minute and second of it! We will release this new album in February and have a new video ready for the release, so we will take one thing at a time!
HRH: Do you have any thoughts on the passing of Ronnie James Dio? Any memories you would like to share?
ML: Yes I do. He meant a lot to me for sure. He was the one that was supposed to be around as long as hard rock exists and unite us all. He will be remembered and not forgotten that's for sure! He has a special place in my heart! We have a song on the new album "The King" that is dedicated to him, but can be referred to other special people in our lives—someone near that we lost. That lyric and song felt so right at the time he passed away so I decided to have it on this new album.
HRH: Is there anything else you would like to say to your fans and the Hardrock Haven audience?
ML: Like that old Scorpion song, "Can't live without you." That's what it's all about! Lookin' forward to this coming 2011 and finally, hopefully get to meet you all over there on the other side of the Atlantic!
HRH: Michael, thank you for your time and openness. You are one of the nicest and most talented people I know in hard rock and metal. All the best to you and ColdSpell, and please keep us informed about the new album any U.S. shows!
ML: Oh my god, that is the nicest thing I've heard in a long time. Many thanks! Thanks for doing this interview with me and all the best to you Alex and everyone else at Hardrock Haven. Cheers from Sweden!
Watch the video for "Night Falls" on YouTube: http://www.youtube.com/watch?v=1lo6CryCgfY
Friend Coldspell on Facebook at www.facebook.com/pages/ColdSpell/164708699316 and on MySpace at www.myspace.com/coldspellsweden
December 11, 2010 at Feelgood's in Las Vegas, NV
by Deb Rao
Staff Writer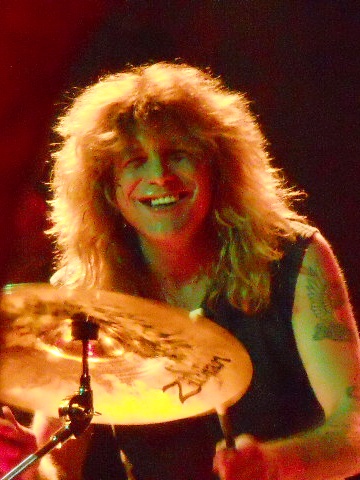 It has been a whirlwind of a year for former Guns N' Roses drummer Steven Adler. His band Adler's Appetite has been touring nonstop in the U.S. and abroad. On Dec.11, Adler's Appetite performed their final show for 2010 in Las Vegas at Feelgood's.
If you never been to the newly Feelgood's on West Sahara in Vegas, you are in for a treat. This is what a Rock N' Roll Bar should be all about: friendly staff, nice rock decor, good sound system and the venue is open to 4 a.m. featuring some of the '80s top bands. Let the party begin!
Adler's Appetite hit the stage at midnight for a 90-minute set of pure Guns N' Roses hits performed at their best loud and proud with a new rock n' roll twist. The band features Steven Adler on drums, Alex Grossi on guitar, Michael Thomas on guitar, Chip Z'nuff on bass, and new singer Rick Stitch.
From the opening catchy chords of "Night Train" to the final encore of "Welcome To The Jungle," is was clear to see what an impact that Guns N' Roses music has made on the metal community. Steven and Company were at the top of their game. Cranking out the GNR hits as if they were playing in an arena to new fans and all the die hards.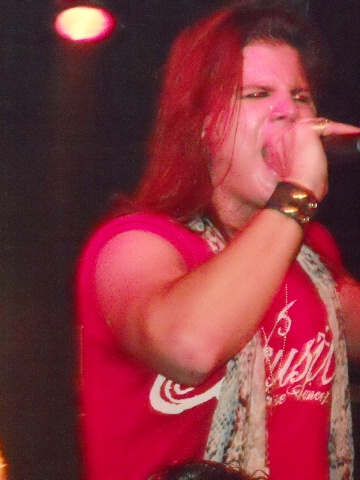 This line-up features Adler's Appetite at their strongest. Guitarist Alex Grossi is really making a name for himself in the music business. Alex has performed with some of the greatest names in '80s metal including Dizzy Reed, Beautiful Creatures, Quiet Riot past and present. Alex has a musical style all his own cultivated by his penchant for '80s music. He breathes new life into the GNR hits. Highlight of the set was "Sweet Child Of Mine'' which featured a melodically passionate guitar solo from Alex and driving drum solo from Steve Adler. Check out Alex Grossi's website at www.alexgrossimusic.com.
New Vocalist Rick Stitch has a style the is reminiscent of a young Joe Leste meets Buckcherry. The band has just released their single "Alive" available on i-tunes from their upcoming CD slated to be released in 2011. Singer Rick Stitch informed us, "The upcoming CD sounds like a more modern version of Guns N' Roses. It definitely has everyone's signature roots and influences on it. I am really looking forward to the European tour. We are currently working with producer Cinderella drummer Fred Coury on pre-production of our upcoming album."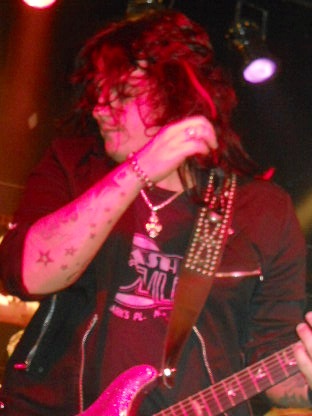 Adler's Appetite slammed through such GNR hits as "Mr. Brownstone", "Knockin On Heaven's Door," and "My Michelle."
It appears that third time is the charm for Adler's Appetite as Steven Adler commented that this was the band's third time performing in Vegas this year and coincidently the bands' final show for 2010. Steve commented, "Vegas reminds me of the jungle," as the band wrapped up the set with the final encore, "Welcome To The Jungle," with fists in the air.
Everyone at Feelgood's had a great time listening to these timeless hits that has spanned a generation of fans. It was exhilarating watching Steven perform again. Don't forget to pick up a copy of his book, My Appetite For Destruction: Sex And Drugs And Guns N' Roses. Adler's Appetite hit the road again in January.
For tour dates visit www.myspace.com/stevenadlersite
by Mark Allen
Staff Writer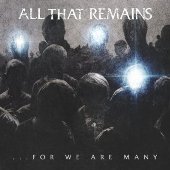 Following the ultra-melodic sensibilities of this group's previous release (2008's Overcome), many fans wondered if all that remained of All That Remains was a has-been band more interested in pleasing the modern hard rock crowd than continuing to lead the New Wave of American Heavy Metal charge. Sure, the commercial crowd had enthusiastically embraced the band–or at least, their hit singles–but could All That Remains reclaim the fickle fallen-away fans who demanded brutal heaviness while simultaneously keeping the mainstream hard rockers happy? For We Are Many, the band's fifth studio album, answers that question, and the answer is a resounding yes.
For We Are Many immediately caters to the we-want-it-heavy component of their fan base with the thunderous intro "Now Let Them Tremble" which is all death-metal growls and powerful thrash rhythms custom-designed to prove that they can still slam out the savagery when they so choose. This brief opener quickly segues into the title track, showcasing a relentlessly aggressive pace and Philip Labonte in full-blown screaming mode with nary a clean vocal in sight.
"But what about those clean vocals?" you ask. "I like the band better in melodic mode." Well, fear not, because once All That Remains finishes their heavy-handed silencing of their critics, they immediately start incorporating the melodic hooks and clean vocals that helped them gain crossover success. This is a pattern the band will carry throughout the album, expertly merging the thrashing metalcore of their genesis days with the commercial catchiness that has defined their more recent output. Nearly every chorus is crafted around a killer hook and sung cleanly to appeal to the melodic fans, but often with screaming and/or growling background vocals to remind everyone that this is, indeed, a heavy metal band. As formulas go, this one works surprisingly well.
Adam Dutkiewicz (guitarist for Killswitch Engage) returned to produce this project (he also produced the band's breakout album The Fall of Ideals) and the sonic quality is absolutely impeccable. If the band paid a million bucks for this production job, it sounds like they got every penny's worth. If they didn't pay a million bucks, well, it certainly sounds as if they did. Dutkiewicz is a maestro knob twiddler, knowing with unerring instinct when to bring the heavy factors to the forefront and when to let the hooky melodies surface through the metal maelstrom.
The members give it their all and their energy comes through loud and clear. Labonte has been accused of being a better screamer than a singer, and it is an accusation that is, quite frankly, sustained, but that should not be interpreted to mean that his clean vocals are drab, for they are not. Labonte can sing perfectly fine; it's just that his screams pack a little more power and emotion. Speaking of emotion, guitarist Oli Herbert lays it all on the line with his playing, his technical wizardry ably matched by his string-scorching passion. The raging riffs and rumbling rhythms intertwine with some relentlessly-powerful drumming, the sum of all the parts meshing together to form one massive melodic metalcore monster.
All That Remains have, against all odds, found a way to please their older fans while maintaining their hold on the newer ones. The metalcore market should eagerly devour this album like a hungry wolf feasting on the flesh of its fallen prey.
Genre: Melodic metalcore
Band:
Philip Labonte (vocals)
Oli Herbert (lead guitar)
Mike Martin (guitar)
Jeanne Segan (bass)
Jason Costa (drums)
Track Listing
1. Now Let Them Tremble
2. For We Are Many
3. The Last Time
4. Some of the People All of the Time
5. Won't Go Quietly
6. Aggressive Opposition
7. From the Outside
8. Dead Wrong
9. Faithless
10. Hold On
11. Keepers of Fellow Man
12. The Waiting One
Razor & Tie/Prosthetic Records
Hardrock Haven rating: 9/10
by John Kindred
Staff Writer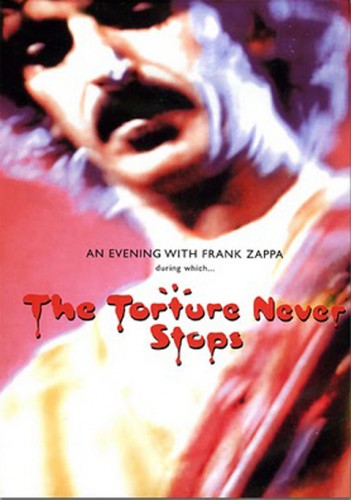 The legacy of composer Frank Zappa spans more than 30 years. Eagle Rock Entertainment returns to the video vaults to revive, in its entirety, Zappa's '81 Halloween concert, which originally aired on MTV. Evening With Frank Zappa During Which … The Torture Never Stops DVD features 24 songs that originally are found on the albums Tinseltown Rebellion and You Are What You Is, also released in '81.
Recorded in New York at The Palladium, Zappa performs and directs his band through these eclectic songs. Zappa's band included the best musicians available; Ray White, Tommy Mars, Scott Thunes, Chad Ackerman, Ed Mann, Bobby Martin and Steve Vai.
Zappa's music highlights diverse explorations into a multitude of genres. His experimentation focuses on utilizing many types of instruments. Unfortunately, music fans must be a fan of the less-than-serious lyrics that float over the top of the complicated music. The quirkiness of the lyrics' whimsical banter is better suited to fans of Weird Al Yankovich than serious rock fans.
The spotlight really shines on the musicians as they express their talent guided by Zappa's baton from the opening track to the finale. Many know of the talents of Steve Vai, but the lesser-known musicians stand equally with Vai and Zappa. Bonus features include two additional live songs, "Teen-Age Prostitute" and "City Of Tiny Lites," a videography, discography and a photo gallery.
Considered a musical genius among his peers and fans, Frank Zappa recorded and produced more than 60 albums during his career. As a modern composer, his lavish and unique musical landscapes brought inspiration to aspiring musicians. Although his music isn't for everybody, you can't dismiss his contributions to the world of music. Releases like Evening With Frank Zappa During Which … The Torture Never Stops provide a historical time stamp for current and future fans to enjoy indefinitely.
Label: Eagle Rock Entertainment
Line-up:
Frank Zappa (guitar, vocal)
Ray White (vocal, guitar)
Tommy Mars (keyboards, vocal)
Scott Thunes (bass, vocal)
Chad Wackerman (drums)
Ed Mann (percussion, vocal)
Bobby Martin (keyboard, sax, vocal)
Steve Vai (guitar, vocal)
Track Listing:
1. "Black Napkins"
2. "Montana"
3. "Easy Meat"
4. "Beauty Knows No Pain"
5. "Charlie's Enormous Mouth"
6. "Fine Girl"
7. "Teen-Age Wind"
8. "Harder Than Your Husband"
9. "Bamboozled By Love"
10. "We're Turning Again"
11. "Alien Orifice"
12. "Flakes"
13. "Broken Hearts Are for Assholes"
14. "You Are What You Is"
15. "Mudd Club"
16. "The Meek Shall Inherit Nothing"
17. "Dumb All Over"
18. "Heavenly Bank Account"
19. "Suicide Chump"
20. "Jumbo Go Away"
21. "Stevie's Spanking"
22. "The Torture Never Stops"
23. "Strictly Genteel"
24. "The Illinois Enema Bandit"
Features:
Region 0
Note: Additional performances from the concert and one short:
1) Teen-Age Prostitute (live)
2) City Of Tiny Lites (live)
3) You Are What You Is
Discography
DVDography
Liner Notes
Photo Gallery
Dual Layer
Full Frame -
1.33
Audio:
Dolby Digital 2.0 Stereo – English
Hardrock Haven rating: n/a
by Jonathan
Guest Staff Writer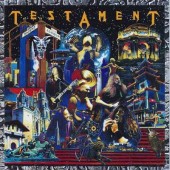 You're going back in time, the year is 1995 and a sold out audience is assembling outside the Fillmore in the San Francisco bay area. This is the legendary Fillmore where Pink Floyd, The Doors and many other music icons have graced the stage. But is any of that really important to those now filing into the venue? No, it's quite incidental. What is important is who's about to take the stage, and that is Testament, one of thrash metal's most underrated yet most influential bands. Having formed in the early 80′s, Testament set musical standards that others had to follow and many have fallen short trying.
Always maintaining an upper; even superior standard of musicianship they don't fall victim, like so many; to the great musical depression of the 90′s. The year is 1995 and a new less educated, and much less skilled form of music called alternative / grunge has dominated the airwaves. This is music without guitar solos, musicians without image wearing flannel; so strung out on drugs that they can only play their instruments at an elementary level at best. Testament and their fans however, aren't slaves to radio so they're not affected by this backwards way of thinking; which becomes evident on this very night.
What follows is an entire show that clearly illustrates how it's to be done, musicianship at its finest. From "The Preacher" to "Dog Faced Gods," the night takes you on a ride throughout Testament's historical years up to 1995. Each song serves up like a greatest hits with an equally great performance.
Fast forward now, back to the present. A re-release of the out of print, Testament Live At The Fillmore is being brought back to the fans; and with the three additional acoustic studio songs at the end of the CD. Paul Stanley from KISS once stated around the time of their acoustic release, "If it's a great song then it should sound great acoustically as well." Testament proves that Paul couldn't be more right. "Return To Serenity," "The Legacy" and "Trail Of Tears" all sound just as good if not better than the original versions. Testament also show that a thrash metal band can be multidimensional.
Testament Live At The Fillmore is an example of metal excellence!
Band:
Chuck Billy: Vocals
Eric Peterson: Rhythm/Lead/Acoustic Guitar
James Murphy: Lead/Rhythm/Acoustic Guitar
Greg Christian: Bass
Jon Dette: Drums
Star Nayea: Backup Female Vocals [Tracks 15 and 17]
Track Listing:
1. "The Preacher" – 4:20
2. "Alone in the Dark" – 4:37
3. "Burnt Offerings" – 5:15
4. "A Dirge" – 2:04
5. "Eerie Inhabitants" – 3:51
6. "The New Order" – 4:32
7. "Low" – 3:13
8. "Urotsukidoji" – 3:48
9. "Into the Pit" – 2:55
10. "Souls of Black" – 3:39
11. "Practice What You Preach" – 5:00
12. "Apocalyptic City" – 5:58
13. "Hail Mary" – 3:45
14. "Dog Faced Gods" – 4:47
15. "Return to Serenity" – 5:56
16. "The Legacy" – 5:17
17. "Trail of Tears" – 6:17
Rating: 10/10
by Alex Barbieri
Staff Writer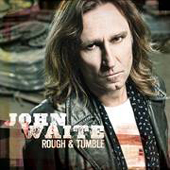 Ask any rock fan who grew up in the '80s about John Waite, and they'll probably smile and agree that he has one of the most signature voices of the era. Well, Waite is back to rough of us a bit with a delightfully inspired album of Nashville-tinged rock 'n roll.
Rough & Tumble is Waite's first studio album of original material since 2007's Downtown: Journey of a Heart and long-time fans will not be disappointed. The album features some of the best melodic moments of his career but—to Waite's creative credit—it is not a safe retread of a proven pop formula.
Rough & Tumble has a stripped down, organic rawness to it. Gone are the huge multi-layered vocals and keyboards in favor of guitar/bass/drums purity. At first a little disconcerting, you'll soon realize the more straightforward sound is the perfect showcase for Waite's clear emotive vocals, and also sounds just downright cool.
Credit for this new direction must go in part to Matchbox Twenty guitarist Kyle Cook, who was Waite's songwriting partner for the past year and a half. The combination of Waite's rich, dignified vocals and Cook's Southern honkytonk Strat is both sexy and stunning.
On the Tom Pettyesque "Evil," Waite sings, "Start to feel the rush of the 4/4 time / Moonlight's kickin' in the door." The slithery groove and sultry vocal will make you want to turn up the red lights and dance like no one's watching.
Waite goes for the gold on "If You Ever Get Lonely, a ballad so beautiful, it will stop you in your tracks. One of the best songs of Waite's career, it is as "hit single" as a song gets. (Producers of Showtime's Californication series should take note: this is the perfect song for an episode.)
The acoustic "Skyward" is another highlight: simple yet lush, it is both inspiring and life affirming. And "Better Off Gone" is immediately one of the best breakup songs of all time; full of motion and hope. Gonna let these horses run straight into the morning sun / I'm better off gone. Waite reminds us it's ok to live, love, lose—and, if needed, relocate.
John Waite—one of rock's rarest gems—is back and better than ever. Buy Rough & Tumble and be reminded what great rock music is supposed to sound like. And if you get the chance, see Waite live this time 'round if you can.
Genre: Rock-Country
Band: John Waite – Vocals
Luis Maldonado – Electric and Acoustic Guitar
Shane Fontayne – Electric and Acoustic Guitar, Acoustic and Baritone Guitar
Kyle Cook – Electric and Acoustic Guitar, Programming and Harmony Vocals
Tim Hogan – Low End David Santos – Bass Guitar
Mike Webb – Hammond B3 Organ
Billy Wilkes – Drums and Percussion
Fred Eltringham – Drums and Percussion
Rodger Carter – Drums and Percussion
Bobby Keys – Saxophone
Jennifer Paige – Background Vocals
Track Listing:
1. Rough & Tumble
2. Shadows of Love
3. Evil
4. If You Ever Get Lonely
5. Skyward
6. Sweet Rhode Island Red
7. Love's Goin' Out of Style
8. Better Off Gone
9. Further The Sky
10. Peace of Mind
11. Mr. Wonderful (Bonus Track)
12. Hanging Tree (Bonus Track)
Label: Frontiers Records
Online: http://johnwaitethegreatest.web-log.nl/johnwaitethegreatest/2010/12/rough-an-tumble-tracklisting-and-info.html
www.facebook.com/people/John-Waite/1383702065  
Hardrock Haven rating: 8/10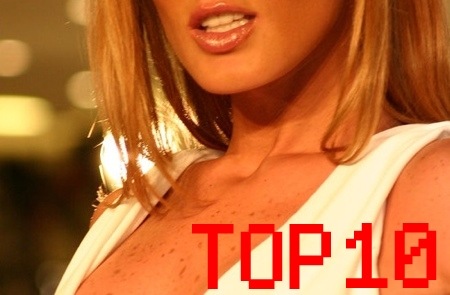 Every year, Hardrock Haven staffers compile their Top 10 best releases. Here's the writers' favorites from 2010:
Alex's Top 10 for 2010
Unruly Child – Worlds Collide
Accept – Blood of the Nations
Black Country Communion – S/T
Heaven Below – EP
Kyoji Yamamoto – The Life Album
Iron Maiden – The Final Frontier
Ratt – Infestation
Slash – S/T
Dimmu Borgir – Abrahadabra
Dio – Dio at Donington UK: Live 1983 & 1987
Alissa's Top 10 for 2010
Joe Satriani – Black Swans & Wormhole Wizards
John 5 – The Art of Malice
Ratt – Infestation
Kiko Loureiro – Fullblast
Hellsingland Underground – Madness & Grace
Outshine – Until We Are Dead
Gil Scott-Heron – I'm New Here
Seasick Steve – Songs for Elizabeth
Tesla – Alive in Europe
Igneous Human – Pyroclastic Storms
Chris' Top 10 for 2010
Murderdolls -Women and Children Last
Airbourne – No Guts, No Glory
Halestorm – Halestorm
Jeff Beck – Emotion and Commotion
Avenged Sevenfold – Nightmare
Magnetico – Magnetico
Threat Level – Leading The Vicious
Rob Zombie – Hellbilly Deluxe 2
Slash – Slash
Ratt – Infestation
Deb's Top 10 for 2010
Bret Michaels – Custom Built
Black Label Society – Order Of The Black

Dokken – Greatest Hits

Hinder – All American Nightmare

Halford – Halford IV

RATT – Infestation

Vince Neil – Tattoos & Tequila

Scorpions – Sting In The Tail

Heaven And Hell – Live In Europe
Overkill – Ironbound
Derric's Top 10 for 2010
De Van – Planet Botox
Hellsingland Underground – Madness and Grace
Keel – Streets of Rock and Roll
Darkwater – Where Stories End
Pretty Maids – Pandemonium
Mama Kin – In the City
Vendetta – Heretic Nation
Bombay Black – Love You to Death
Kamelot – Poetry for the Poisoned
Danzig – Deth Red Sabaoth
Erik's Top 10 for 2010
Accept – Blood of the Nations
Avenged Sevenfold – Nightmare
Pretty Maids – Pandemonium
Stone Sour – Audio Secrecy
Slash – Slash
Treat – Coup De Grace
Crazy Lixx – New Religion
Iron Maiden – Final Frontier
Spiritual Beggars – Return to Zero
Y&T – Facemelter
Franco's Top 10 for 2010
Poets of the Fall – Twilight Theater
Firewind – Days of Defiance
ReinXeed – Majestic
Avantasia – The Wicked Symphony
Vanden Plas – The Seraphic Clockwork
Gamma Ray – To the Metal
Dawn of Silence – Wicked Saint or Righteous Sinner
Allen/Lande – The Showdown
Royal Jester – The Night Is Young
Terry Brock – Diamond Blue
Joe's Top 10 for 2010
Debbie Ray – Artificial Misery
Unruly Child – Worlds Collide
Stratosphere – Fire Flight
Kiske-Sommerville –  Kiske-Sommerville
Brainstorm – Memorial Roots
Amorphis – Forging The Land Of A  Thousand Lakes
Neverland – Ophidia
Black Bone Child – Alligator
Iron Maiden – The Final Frontier
Eyes Set To Kill – Broken Frames
John K.'s Top 10 for 2010
Masterplan – Time to be King
Scorpions – Sting in the Tail
Erik Norlander – The Galactic Collective
Kamelot – Poetry for the Poisoned
Levi Werstler – Avalanche of Worms
Gamma Ray – To the Metal
Airbourne – No Guts, No Glory
Avantasia –  Angel of Babylon / The Wicked Symphony
Icarus Witch – Draw Down the Moon
Heaven & Hell – Live In Europe CD/DVD
John M.'s Top 10 for 2010
Murderdolls – Women and Children Last
John 5 – The Art of Malice
Paul Gilbert – Fuzz Universe
Brad Paisley – Hits Alive
Halestorm – Live in Philly
Ratt – Infestation
Megadeth – Rust In Peace: Live
Sin City Sinners – Exile On Fremont Street
Dokken – Greatest Hits 2
American Dog – Mean
Justin's Top 10 for 2010
Volbeat – Beyond Hell, Above Heaven
Y&T – Facemelter
Pretty Maids – Pandemonium
Line of Fire – Momentum
Orphaned Land – The Neverending Way of ORwarriOR
Allen-Lande – The Showdown
Angra – Aqua
James Labrie – A Static Impulse
Treat – Coup de Grace
Houston – Houston
Mark's Top 10 for 2010
Crazy Lixx – New Religion
Disciple – Horseshoes & Hand Grenades
Bullet for my Valentine -Fever
Demon Hunter – The World is a Thorn
Crashdiet – Generation Wild
Reckless Love – Reckless Love
Taking Dawn – Time to Burn
Pretty Maids – Pandemonium
My Darkest Days – My Darkest Days
The Scorpions -Sting in the Tail

Steve's Top 10 for 2010
Firewind – Days of Defiance
Bullet For My Valentine – Fever
Epica – Design Your Universe
Soilwork – Panic Broadcast
Disturbed – Aslyum
Joe Satriani – Black Swans & Wormhole Wizards
Threat Signal – Vigilance
Blind Guardian – At The Edge of Time
Yngwie Malmsteen - Relentless
Godsmack – Oracle
Ron's Top 10 for 2010
Ratt – Infestation
Unruly Child – Worlds Collide
Y&T – Facemelter
Scorpions – Sting in the Tail
Brian Wilson – Brian Wilson Reimagines Gershwin
Krokus – Hoodoo
Crazy Lixx – New Religion
Allen/Lande – The Showdown
Kamelot – Poetry for the Poisoned
Treat – Coup de Grace
Trevor's Top 10 for 2010
Imperial State Electric – Imperial State Electric
Ratt – Infestation
Enslaved – Axioma Ethica Odini
Armored Saint – La Raza
Jackdaw4 – The Eternal Struggle for Justice
Helloween – 7 Sinners
Riotgod – Riotgod
Brant Bjork – Gods and Goddesses
Danzig – Deth Red Sabaoth
Manegarm – Nattvasen
by Alex Barbieri
Staff Writer
Kyoji Yamamoto is one of the most popular and influential guitarists you probably never heard of. As the founding member of seminal Japanese bands BowWow and Vow Wow, Kyoji was one of the first guitarists to use the "touch" tapping technique. He is also the musician that Lars Ulrich of Metallica sought out after playing to 26,000 fans in Tokyo.
In between gigs, from his home in Japan, Kyoji graciously answered some questions about his brilliant new instrumental CD, The Life Album, having a few too many with Metallica, touring with KISS in Japan in their heyday and why, despite his many accomplishments, he remains so down to earth and approachable.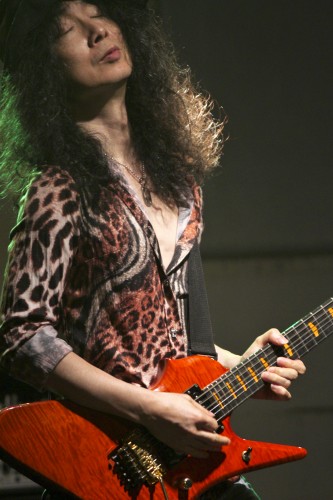 HRH: Kyoji, congratulations on The Life Album, an amazing collection of instrumental guitar songs. Tell us about making it: What inspired the songs? Where was it recorded? What are some of your proudest moments on it? Will it be released in the U.S.?
KYOJI YAMOMOTO: Thank you. As you can see from the title, I wanted to express one's life through music. I recorded it in my private studio. It took years to complete it, since I composed the songs, played all the instruments and mixed and mastered it myself. It is an instrumental album. I love dramatic and touching music. I'm sure you will understand it with your heart.
It is inspired by my family, friends and my own life. It is my life and could be your life, too. You can feel as if you are watching a movie of your life when you listen to it through. My proudest moments are tracks 7 through 10. ("Talking To Myself," "Deep Inside," "Sunset Horizon" and "Heavenly.") It is like a suite. I have received many emails from people saying that they couldn't stop shedding tears. The last song "Heavenly" is about one's death. Death's image is not good generally, but I thought there must be something like hope and I tried to express that.
I don't have a record deal for this album in the U.S. yet, but you can order it through the Internet at CD Japan.
HRH: You have been called the most famous guitarist in Japan, yet you are very approachable and down to earth. Why is that? What keeps you grounded in life?
KY: Whenever I see the rock stars who try to make themselves look bigger over others, I always think they should take it easy and relax. It's true that rock music has got an image of "Do what you want—who cares?!" But you should not get the meaning wrong. You must not hurt people for your freedom. You can do anything you like musically, but you are ordinary people before being musicians.
I think "The sense of balance" is one of the most important things in my life. I like to be a very natural and ordinary person off stage. I have experienced high tides and low tides many times, and I know how wonderful relationships with people can be. I think you should have a sense that we are all equal—beyond borders, religions and generations.
HRH: Your tone and playing is so emotional. Do you feel that you speak through your guitar and that music is the universal language?
KY: I think emotion—in other words, feeling—is the most important thing when you play music. I always try to make every single note "live." I don't think I have particular words to say by guitar, but I talk with my soul and squeeze my emotion out by playing. Those notes are literally LIVING! And there is no language barrier. It is absolutely universal.
HRH: Take us back to 1977. You're in BowWow, and opening for KISS in Japan in their heyday. What did you think of them? What were they like? Any crazy stories you share?
KY: We were the opening act for KISS in Kiss '77 and '78, as well. They were just fantastic. To be honest, before playing with them, I didn't think they were that good. But, I was totally knocked out by their performance on the very first night!! They were always more than great, always perfect!! Except one night when BowWow's drummer stumbled over a cable by accident and a big magnesium (flash pot) did not exploded (laughs).
They were always kind to us and permit us to use their P.A. system as loud as we like. I heard some interesting stories from their fans, but I shouldn't tell you (laughs). They had more than enough pleasure of everything, but they never lost the power once they got on stage. It was amazing!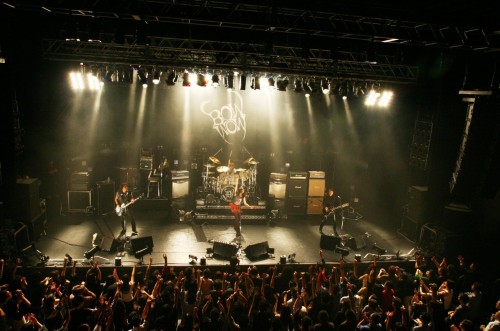 HRH: In an interview, you stated that BowWow at the Reading Festival in 1982 was the most exciting day of your life. Why was that? What other bands played on that bill?
KY: BowWow were just an opening act and it was our first time playing in the U.K. When we started to play, the audience was lying on the grass drinking beer. But, as the songs proceeded, the applause got louder and louder and they stood up. And at the end, it became like our own concert with 50,000 people.
We couldn't believe it, since we didn't think anyone knew who BowWow was, and we played just around noon. They kept calling us back on stage even as the next band set up their gear. Then I went back on stage, by order of the promoter, and did a "call and response" thing with the audience until they settled down. It was a most exciting day!
HRH: You have said that you love to jam with other musicians. Who have you met and played with over the years? What is your favorite style of music to jam to?
KY: One night at a jam in Roppongi, Tokyo, Japan, it was Zakk Wylde on vocals, Stevie Salas (George Clinton's band) and me on guitars, and the drummer and bassist from Zakk's band. We played great together!
I've also jammed with Carmine Appice, T.M Stevens (heavy metal funk bassist of Shocka Zooloo) and John Wetton (Asia). A jam with (Whitesnake bassist) Neil Murray just before he joined Vow Wow was awesome!
I also played with Uli Jon Roth for his Japanese tour. We played his songs, Hendrix songs, Scorpions songs and Japanese traditional songs together. Unforgettable memory!!!
In Japan, I've recently jammed with fusion musicians such as Kazumi Watanabe and Issei Noro (Casiopea). I like jamming any style of music as long as you can hear myself, you know what I mean? (Laughs).
HRH: In 2003, Lars Ulrich and Robert Trujillo of Metallica, after performing for thousands in Tokyo, jumped in a cab to a small club, and jammed with you until the early morning hours. Describe that night: What was the club like? What did you talk about? What songs did you play? What were you all drinking?
KY: I met Metallica back in the '80s. I was sitting in the dressing room of the Marquee Club in London. Suddenly, all the members of Metallica came in singing an old BowWow song! I was really surprised. They said they used to copy and play our songs and they knew about us very well.
The next time I met them was in 2004 when they toured in Japan. Lars asked his staff to find my phone number, and he called me to go out for a drink. We drank three bottles of wine at the bar on the top of the beautiful hotel in Shinjuku. Then went to the hotel where they were staying. I met the other members there and talked for a while and I suggested we go to the bar where we can jam.
Lars and Rob came with me. There were about 10 people drinking quietly. Then suddenly we started a jam session along the bass line that Rob started. We were so drunk. Metallica had a big concert the next day. It seemed like they were all right, but I was not (laughs).
HRH: Do you know Akira Takasaki of Loudness? What do you think of his playing? Have you ever played together? What is he up to these days?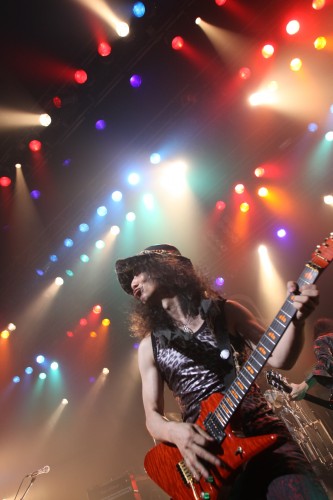 KY: Yes, I know him very well. Actually I knew him when he was in the band called Lazy before Loudness. He's got a great technique and his own sound. We have played together in some rock festivals. He still plays in Loudness and toured in Europe this summer.
HRH: Give us your first thought that comes to mind on the following names and words:
Guitar: A vital organ for me. When I was a kid, I was so stressed and sometimes became violent. But when I started playing guitar, all the bad feelings were gone. I think various emotions came out through my guitar. I'm thankful to my guitars.
Metal: Gives me a thrill and power. I like to stay calm, but sometimes I'm dying to need metal!
Japan: Beautiful country and beautiful people, but useless politicians.
United States: Power!
The Music Business: I don't want be involved so much. But, I need to be involved I guess.
Your Fans: Thanks for supporting me for so many years!! I love you all, really!
HRH: Do you have any thoughts on the passing of Ronnie James Dio?
KY: He was one of the best rock singers in the world. I heard his voice for the first time on Rainbow's first album. I was very impressed by his powerful, beautiful and dignified voice. I met him in an Indian restaurant in the U.K by coincidence. He was with his wife and he was very calm and tender. We lost an irreplaceable treasure.
HRH: Tell us something we don't know about Kyoji Yamamoto.
KY: I am known as a hard rock guitarist. Of course I love hard rock, but I love all good music and I've been making many different kinds of music you don't know about. I have introduced some and will introduce more of my works on my Facebook page. So, please check it out at http://www.facebook.com/kyoji.yamamoto.
HRH: Your son, Maoki, is also a musician. What instrument does he play? Is he following in your footsteps? Does he have a CD we can check out?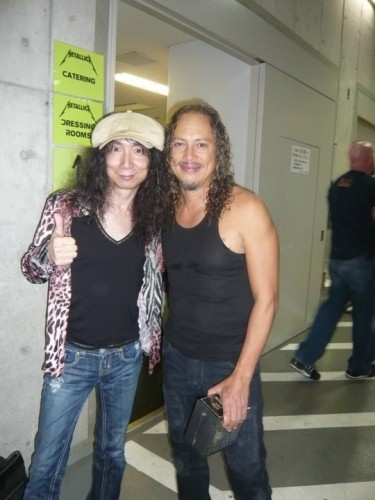 KY: He plays drums and keyboards. He is more interested in jazz fusion and modern classical stuff. He's still a high school boy and there is no CD released, however he played in my solo concert when he was 15. You can see it on YouTube.
HRH: Is there anything else you would like to say to your fans and the Hardrock Haven audience?
KY: Hi everybody! Probably most of you don't know me at all, but if you give me even three minutes to listen to my music, it would be more than a pleasure for me!! I'm sure you wouldn't regret it. Please just click the YouTube links below to hear "Alone" or "Mother Ocean."
HRH: Kyōji, arigatōgozaimasu. Thank you for taking the time to answer these questions. It has been an honor and a pleasure. All the best and please stay in touch!
KY: Do Itashimashite (You're welcome.) Thanks for having me on this wonderful website.
Friend Kyoji Yamomoto on Facebook at http://www.facebook.com/kyoji.yamamoto
Watch the video for "Alone" on YouTube: http://www.youtube.com/watch?v=TkkTnYAK9X8
Watch the live video for "Mother Ocean" on YouTube: http://www.youtube.com/watch?v=lrU116D9AT0.
Order The Life Album on CD Japan.
Order The Essential Kyoji Yamamoto (compilation album) on Amazon.
by Alex Barbieri
Staff Writer
Black 'N Blue is back! Lead singer Jaime St. James — aka "The Saint" — took time out from final mixing of their long-awaited new album to discuss the future of Black 'N Blue, as well as some choice memories from his 30-plus years singing in a long-haired rock 'n roll band. Direct from Los Angeles, say hi to Jaime St. James …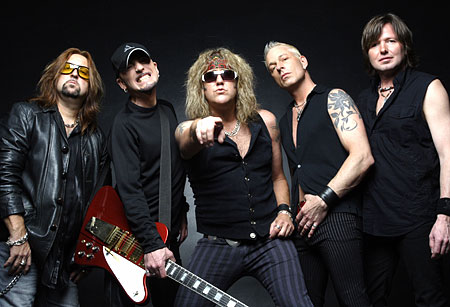 HRH: Jaime, I've been a long-time Black 'N Blue fan and there are a lot of us anticipating the new BNB album. Is Hell Yeah! finally finished? Why did it take so long and when will it be released?
JSJ: I did four years with Warrant; Jeff "Woop" Warner lost his studio; we changed record labels mid-stream and needed to record three new tunes for the new label … it goes on and on.
HRH: Is the new album in the classic Black 'N Blue style? What previous BNB album would you most compare it to? Can you give us some song titles to whet our appetites?
JSJ: It is classic Black 'N Blue. That's all we do! It's all the old records rolled into one, as I hear it. Songs like "Target," "Fools Bleed," "Monkey," "Angry Drunk Son Of A Bitch" and "Falling Down" to name a few are part of a great piece of work that we are very proud of.
HRH: I (almost) played at Rocklahoma back in 2008. The storm hit right before we were to start. But seeing BNB live earlier that day was one of the highlights of that weekend for me. Are you guys playing live in support of Hell Yeah!? Any shows confirmed yet?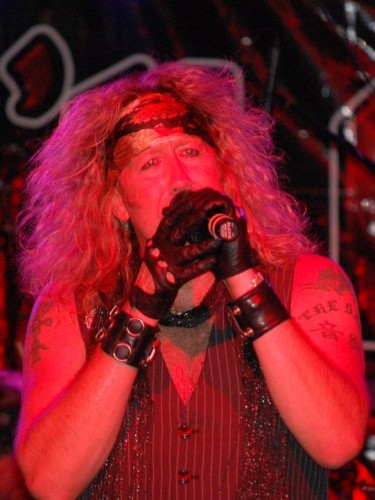 JSJ: Yes, we will be supporting the Hell Yeah! release. We have just confirmed shows in Denver at Casselman's and Club Red in Phoenix in March. We have some festival shows lined up too, but can't announce 'em yet.
HRH: Looking back at the '80s, what are some standout memories of the following periods:
HRH: Living with the band and playing clubs in Los Angeles in 1982 and 1983.
JSJ: Great time in my life. The Sunset Strip was on fire and we were part of the fuel. All of BNB and our crew lived in a house at 1538 Martel, just off Sunset Blvd. and we ruled! We trashed that place in honor of our greatness.
HRH: Recording your first album with Dieter Dierks in Germany.
JSJ: One minute, you're hanging at the Troubadour and the next you pack a bag for three months in Germany—it was our dream come true! Dieter was cool and helped us very much.
HRH: Writing and recording Without Love with Bruce Fairbairn in Vancouver.
JSJ: Don't forget Bob Rock! I still love that record and it should have made us huge. We recorded across the hall from Loverboy and that is why I sang most of the background vocals on" Lovin' Every Minute Of It," a Mutt Lang tune.
HRH: Writing and recording In Heat and Nasty Nasty with Gene Simmons.
JSJ: Love Gene. Most of the songs on those records were f'ing great … a few blew.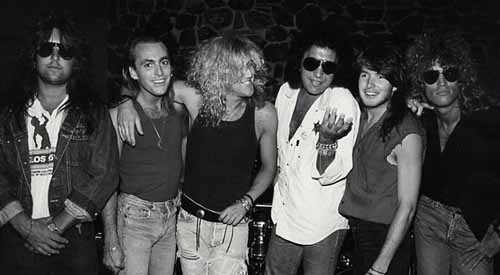 HRH: What was your favorite live gig of your musical career? Your favorite recorded song and vocal?
JSJ: Opening for KISS at Madison Square Garden. Favorite BNB song: "Strange Things." Favorite vocal: "Miss Mystery."
HRH: How did the nickname, "The Saint" come about?
JSJ: The guys just used to call me that—it came about naturally.
HRH: How do you feel about Tommy being a member of KISS? Is it weird seeing someone you grew up with in that position?
JSJ: I'm goddamn proud of him and he is excellent in KISS.
HRH: Is there any chance that BNB will tour with KISS in the future? Would Tommy do double duty in both bands?
JSJ: Book it! But chickens will blow watermelons out of there ass before that will happen!!
HRH: Black 'N Blue toured with Dio in the past. Can you share some memories of Ronnie and do you have any thoughts on his passing?
JSJ: Ronnie was a very nice man and an amazing singer. He is horribly missed.
HRH: Tell us something we don't know about Jaime St. James. What do you do besides sing in Black 'N Blue? If you could say something to the world, what would it be?
JSJ: I was born to play rock 'n roll and I do it. I have never taken a music lesson in my life, yet I have written some pretty cool tunes. I play drums and guitar well enough to write and I have been given a gift so I roll with it. I don't have any kids so when I die, this is what I leave behind—my songs.
HRH: Jaime, thank you for the interview and for all the happiness and great memories your music has created over the years. All the best and please stay in touch!
For more information on Jaime St. James and Black 'N Blue, go to http://www.jaimestjames.com/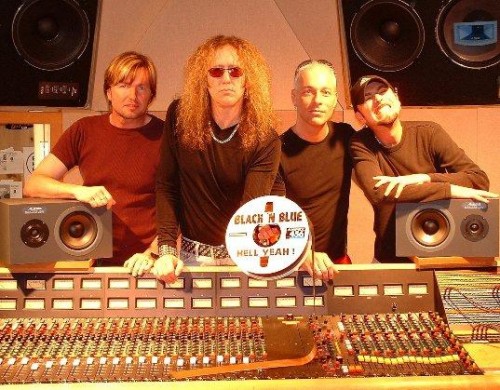 by Trevor Portz
Staff Writer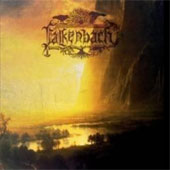 It seems that in the nearly 20 years(!) that Viking metal has been a recognized metal subgenre, essentially two Viking "tribes" have emerged. On one side, we have the more extreme-metal influenced groups that like to lace in folk melodies and what not, but are still more traditionally black metal-esque. Good examples would be Ensiferum, older Enslaved, and the [luckily] reformed Einherjer. On the other side are the more epic bands, most of which are focused on slow-paced, drawn-out tunes that oftentimes feel like (and occasionally are) traditional folk songs played electrically. Leaders here would be Moonsorrow, Thyrfing, and the sorely missed Otyg. Falling into the latter category, Germany's Falkenbach is back with its first album in 5 years, Tiurida. The question is: does it really stand up to its heathen brethren?
As with those of their ilk, Falkenbach's metal is mid-paced and epic. There is little concern for complex riffing or tempo changes, and most songs repeat their core riffs so often that one wonders how the musicians keep track of where they are in the song. This is not inherently a bad thing—most dance and pop music seems to thrive on repetition. Those songs, though, rarely stretch to the 7- or 8-minute mark, whereas most of the tracks here do. Perhaps not all would agree, but 8 minutes of slow repetition can be rather… well… boring. Compounded with the fact that each song follows the same trend, Tiurida does little to hold the listener's attention. Sure, the aforementioned Moonsorrow often far surpass the 8-minute mark, with songs breaking even the 20-minute barrier, but they grow and change steadily, feeling more like epic tales than endless repetition.
Now, it's unfair to deem Tiurida a bad record, especially based solely on its lack of diversity. Many bands have made careers out of musical sameness. When looked at from a more historical sense, these songs are probably much more akin to the folk music from which they are inspired than any blast-beat fueled neoclassical song about a dragonslayer. In fact, if one were to strip away the modern instrumentation and harsh vocals (fairly sparse here anyway), it's hard to imagine even an actual Viking finding it to be anything but authentic. So from that standpoint, Falkenbach are doing a bang-up job of keeping the history they espouse alive.
So sure, Tiurida is not as full-on exciting as Frost or In the Sign of the Raven, but it's likely it was never intended to be. As a pure piece of folky Viking metal (assuming there is such a thing), it's a clear victory. Maybe next time Falkenbach should throw in a blast beat, though, just for kicks.
Genre: Viking Metal
Band:
Vratyas Vakyas (everything)
+various session musicians
Track Listing:
1. Intro
2. …Where His Ravens Fly…
3. Time Between Dog and Wolf
4. Tanfana
5. Runes Shall You Know
6. In Flames
7. Sunnavend
Label: Napalm Records
Website: http://falkenbach.de
Hardrock Haven rating: 6/10
by Joe Mis
Staff Writer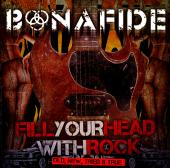 If imitation is the sincerest for of flattery then the boys in Bonafide certainly try to flatter AC/DC and Whitesnake. The Swedish quartet pays shameless homage to some of the great hard rock bands of the 1980s and is poised to release a 6 track EP to prove the point. Fill Your Head With Rock (Old, New, Tried & True) is indeed true to its title, containing three original songs lifted and edited from the band's previous albums and three classic covers.
Bonafide was born in Malmö (southern Sweden) back in 2006. Founded by vocalist/multi-instrumentalist Pontus Snibb (Jason & The Scorchers) and bassist Michael Nilsson, Bonafide took up the mantle of hard rock and filled out its lineups by adding guitarist Mikael Fässberg (Paul DiAnno) and drummer Sticky Bomb, later replaced by current drummer Niklas Matsson (Raging Slab, Backdraft). Approaching the music with a simple and direct manner, Bonafide released a self-titled debut album in 2007 and toured in support of many hard rock acts across Europe. They followed up with the 2009 release called Something's Dripping. The band has decided to release a few covers and edits for their fans, thus we have their upcoming EP, Fill Your Head With Rock (Old, New, Tried & True).
Bonafide's music is straight on blues-based rock, very much in the vein of AC/DC or Y&T. With minimal electronic trickery and maximum swagger and attitude, the music will bring the listener way back to early 80s and conjure up images of the great arena bands of the day. Their tunes are catchy and filled with big hooks, churning guitars and bubbling bass. Snibb's vocals are solid, at times recalling Brian Johnson, David Coverdale or Dave Meniketti. His guitar work blends nicely with the hot licks laid down by fellow guitarist Mikael Fässberg. The bottom end provided by Nilsson and Matsson is competent, although Nilsson seems content to just twang along on the bass (but then this IS '80's style rock and most bassists were strictly background then). Matsson's drums are solid, but he occasionally comes across as a bit too metronomic for the older style of music.
"Fill Your Head With Rock" is a great rock anthem – an arena rocker with a definite AC/DC groove and nicely packed with sing-along lyrics, slick guitars and great backing vocals. "No Doubt About It" comes across as more of a Y&T or Whitesnake track, again with lots of attitude, a bouncy rolling groove and great vocals. "Kick Me Out," apparently a B-Side from the band's second album, brings a little more GNR/Van Halen swagger to the table. Bonafide covers Humble Pie's "I Don't Need No Doctor," The Who's "I Can't Explain" and Rose Tattoo's "Nice Boys (Don't Play Rock'N'Roll)." All are solid covers, with Snibb's vocals at their best during the Humble Pie track, but their enthusiastic version of "Nice Boys" brings down the house. The original tracks are nicely recorded, but the engineering on the three cover tunes is a bit muddy, but perfectly acceptable.
If you like the hard rockin' '80s, than this release will be right up your alley. The cover tunes are well done and enjoyable, and the original songs have the classic sound with a few modern touches. If you are looking for something more original in the classic rock genre, you might do better picking up one of the band's full-length albums rather than this EP, but for fans of Bonafide it is highly recommended.
Fill Your Head With Rock will be released on January 28, 2011.
Genre: Hard Rock
Band:
Pontus Snibb (vocals, guitars)
Niklas Matsson (drums)
Michael Nilsson (bass)
Mikael Fässberg (guitars)
Track Listing:
1. Fill Your Head With Rock (Radio Edit)
2. No Doubt About It
3. Kick Me Out
4. I Don't Need No Doctor
5. I Can't Explain
6. Nice Boys (Don't Play Rock'N'Roll)
Also included are videos for "Hard Livin' Man" and "No Doubt About It"
Label: Black Lodge / Sound Pollution
Website: http://www.bonafiderocks.com/ , http://www.myspace.com/bonafiderocks
Hardrock Haven rating: 7/10
by Alissa Ordabai
Staff Writer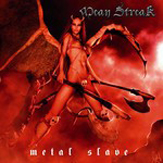 Impeccable instrumental virtuosity redeems this Swedish quintet's occasional overuse of the old power metal cliché, but by the time the album ends you can't escape the feeling that you've heard it all before. Manipulations of the old standards come easy to Mean Streak, but courage and desire to experiment are yet to be developed.
Racing, self-assured rhythm section, vocalist Andy La Guerin's operatic pretentions, neckbreak speed at which lead guitar delivers its virtuosic leads, and sleek, neatly prepared hooks introduce this record for what it is from the word go, and this streamlined metal-meets-Euro-pop routine will continue for the rest of the album.
Compositionally it's all very simple, maybe too simple, but standout guitar solos on occasion surprise you with sheer force of conviction, skill, and imagination. Where the songwriting falls short, the solos are there to lift the proceedings from their flat cycles. "Rock City" is one such highlight – a cool but simple song in need of individuality, but the guitar leads are a different bag of goods – daring, varicoloured, and surprisingly inventive.
To sum it all up, brilliant execution is Mean Steak's obviously clear forte, but what will come next after they exhaust the songwriting clichés of the genre they deal in, is another story.
Band:
Andy La Guerin – vocals
Peter Anderson – bass
Jonas Kallsback – drums
Yngve Frank – guitar
Track listing:
1. Whom the Gods Love Die Young
2. Battle Within
3. Eyes of a Stranger
4. The Seventh Sin
5. Raise Your Hands
6. Rock City
7. Sin City Lights
8. Carved in Stone
9. Metal Slave
10. Sinners and Saints
Online: www.myspace.com/meanstreaksweden
Label: Black Lodge / Sound Pollution
Genre: power metal, melodic rock
Hardrock Haven rating: 6/10
by Alissa Ordabai
Staff Writer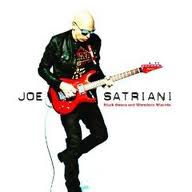 Relentless in his output of groundbreaking material throughout his 25-year career, Joe Satriani is taking his game a notch higher on his new release Black Swans and Wormhole Wizards. Satriani's formidable technique may have always been about conveying a sensation and serving a compositional purpose, but on this release the urgent intensity of his fretboard pyrotechnics often gives way to introspection, showing that virtuoso chops is just a means to achieving a higher aim. If anything, this new record is all about expanding his compositional latitude and experimenting with form.
Standout "Pyrrhic Victoria" showcases Satriani's constantly evolving compositional approach perhaps better than any other track with its contrasts and juxtapositions of ideas, narratives, textures, and moods. Snappy, instant-grip hard rock riffs, perfectly orchestrated ear candy interludes, impeccably phrased, raunchy solos, and the main theme which is never linear and keeps developing throughout the song would be enough for a lesser composer to base an entire album on, but Satriani puts it all on one single track.
But while such meticulously constructed pieces confirm Satriani as a remarkable composer, other tracks show that it's not all about rigor of purpose. The hauntingly cosmic "Dream Song" which transmits outer space signals down to Earth, and "The Golden Room" with its Arabic free-form extrapolations both show the deeply intuitive, numinous side to this record, and a mystical aspect to Satriani's gift which becomes more transparent with each passing year.
Big, but accessible ideas, a desire to embrace a constantly expanding scope of moods, styles and states of mind, as well as combination of self-discovery with brilliant entertainment again prove Satriani not only as a guitar giant, but a musical giant of vast musical intelligence. On Black Swans and Wormhole Wizards he upholds the highest standards of his craft, but also ventures into territories which demand nothing short of miraculous flights of imagination.
Musicians:
Joe Satriani – guitars, bass guitar, keyboards
Allen Whitman – bass guitar
Mike Keneally – keyboards
Jeff Campitelli – drums
Track Listing:
1. Premonition
2. Dream Song
3. Pyrrhic Victoria
4. Light Years Away
5. Solitude
6. Littleworth Lane
7. The Golden Room
8. Two Sides to Every Story
9. Wormhole Wizards
10. Wind in the Trees
11. God is Crying
Online: www.satriani.com
Label: Epic / RED
Hardrock Haven rating: 10/10
Biography
"My story begins in the womb way back in the early '60s and culminates to today where drumming is still one of the most important factors of my existence"
Prior to becoming a father in 1997 I lived & breathed drums! From elementary through high school it was rare for me not to have a pair of sticks handy. I started with the school orchestra in 3rd grade and graduated high school as part of a state champion drum line. Following high school I became a private drum instructor and marching band drum line instructor as well as marching with both a DCA & DCI drum corps. In 1987 I put my marching career behind me and became a full time set player and that's when everything changed!! Read more
Deb Rao
Staff Writer
It is has been a blockbuster year for Jackyl. I was able to catch the band in action this year in May on Memorial Day weekend in St. Louis and after all these years, Jackyl still put on a dynamic live show. Riding high on the current release, When Moonshine And Dynamite Collide, Jackyl has just released their second single from the album entitled, "Just Like A Negro."
"Just Like A Negro" features a special collaboration with Hall of Fame artist DMC from Run DMC. If that wasn't enough, DMC will be joining Jackyl onstage on their current Winter tour. Singer Jesse James Dupree is also the producer of Full Throttle Saloon, which airs on truTV, which kicked off on November 17th and airs every Wednesday. For more info on Jackyl visit www.jackyl.com.
In this exclusive interview for Hardrock Haven, Jesse James Dupree discusses the making of their current hit album When Moonshine And Dynamite Collide, working with DMC, and current winter tour which kicked off in Kansas City on Nov. 24 with a sold out performance.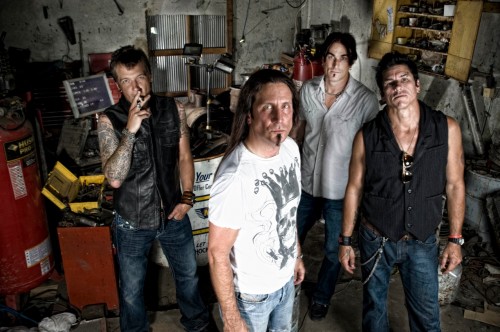 HRH: Jesse, Thank you for checking in with Hardrock Haven. Jackyl is kicking off their winter tour in Kansas on Nov. 24. I hear that DMC will be joining you onstage for the tour. How honored are you to have DMC perform with you?
JESSE: Yes, what an honor it is. He is in the Rock And Roll Hall of Fame and he has created so much of an opportunity for people in the hip-hop world. It is awesome to be playing with him.
HRH: Are you going to be performing a bunch of new songs off of your new album, When Moonshine And Dynamite Collide?
JESSE: Absolutely, we are going to be doing songs off of the new album, songs that everybody expects to hear and some surprises in there.
HRH: Awesome. How did this all transpire working with Darryl?
JESSE: He actually heard the track and called me and said,"Hey I want part of this." So we put it together and he has been out with us since August.
HRH: That is great. I saw the band in St. Louis in May. There seemed to be a whole new generation of fans at the concert.
Jesse; Yes, it is not only cool to see the fans that have come out to see us for the past 15 years but the people that bring their kids and younger people. I think there is resurgence in straight up rock and roll. I have found in the past couple of years. We have been loving every bit of it.
HRH: The new single is out, "Just Like A Negro." Would you say it refers back to the era of the blues? A lot of people don't realize that without the blues there would not be rock and roll.
JESSE: Yes, If you have seen the video between the private and public link there is over 32,000 plays in a couple of weeks time. It is great to have the response to the video, if you watch the video it explains the concept of the song. Check out the video here: http://www.youtube.com/watch?v=5TMO9A7uccw
HRH: It seems kind of deja' vu with you working with Darryl. In 1986, DMC worked with another rock artist Aerosmith in "Walk This Way." It was great the way the way hip-hop and metal combined. What are your thoughts on DMC and the collaboration with Aerosmith on "Walk This Way"?
JESSE: Darryl talks about how cool it was to work with Aerosmith. I think he is getting another whole new experience out of working with us because he loves the message in this song.
HRH: It has been eight years since your last release. Tell us about the writing process for "When Moonshine And Dynamite Collide." Was it done collectively or did you write the lyrics by yourself?
JESSE: A lot of the stuff I have been writing for a while. It just all come together organically. We played these songs live. We had a chance to road trip them. I think that really helped in the process of deciding in what goes on the record.
HRH: Do you have any favorite tracks on the album?
JESSE: I love one through twelve. I really love the title track when "Moonshine And Dynamite Collide." I think it is a great song.
HRH: How would you describe the sound on this album? It seems like you stick to your successful formula of southern blues-rock. Would you say it has your signature stamp on it?
JESSE: I think it sounds just like Jackyl. I don't know how much more like Jackyl it could sound.
HRH: You are in the second season of producing your own TV show Full Throttle Saloon on truTV?
JESSE: I have been very fortunate and diverse to do a lot of different things not only television but on the record business side of things. It is rewarding to be able to step outside of your box.
HRH: I heard that at one of your performance at Sturgis you jumped out of a cannon?
JESSE: I didn't jump out of the cannon; I was shot out of it!
HRH: That must have been an experience?
JESSE: It was one hell of an experience. It was the biggest adrenaline rush I ever had.
HRH: Over the past 20 years. How do you feel that Jackyl has evolved as a band?
JESSE: We have become comfortable in our own skin in what we are. We are a rock and roll band that is based on the fundamentals in which rock was created on.
HRH: Do you have any favorite bands of today that you listen to?
JESSE: I like a lot of the new stuff that is out now. The Shinedown record is a great record. Black Stone Cherry are good guys. My son Nigel Dupree is out there tearing it up.
HRH: Jackyl is currently out on the road. What are your touring plans for next year? Any European plans in the works?
JESSE: Right now we don't have any plans for Europe. I would love to have us booked over there.
HRH: What would you say the highlight of 2010 has been for you?
JESSE: Working with DMC was great. The debut of the TV show last Wednesday night. It comes on every Wednesday night on truTV. Having the new album out is the Top 3 things.
HRH: You have worked with a lot of great people over the years. What was it like working with Brian Johnson of AC/DC?
JESSE: As you can imagine it was a huge deal for us. AC/DC was such an influence on us. Not only being a fan but to be able to work with him was really cool.
HRH: Actually, you showcase your bluesy roots on the song Janis Joplin song Mercedes Benz.
JESSE: That was something that just kind of happened, I left it on the CD.
HRH: Any plans for a solo album in 2011?
JESSE: I don't know? Right now I am just focusing on here and now.
HRH: Jesse, Thank you for taking time out of your schedule for this interview. Anything else that you would like to say about the tour?
JESSE: It is something you got to see! C'mon out. I hope you all grab the album, enjoy learn the words and come out and get out and see the show.
JACKYL FALL TOUR DATES CONFIRMED:
11/24 in Kansas City, MO @ Midland Theatre.
11/25 in Louisville, KY @ Phoenix Hill.
11/26 in Traverse City, MI @ Ground Zero.
11/27 in Flint, MI @ Machine Shop.
12/2 in Council Bluffs, IA @ Whiskey.
12/3 in Green Bay,WI @ The Club at Tom, Dick, & Harry's.
12/4 in Libertyville, IL @ Austins.
12/10 in Cincinnati, OH @ Bogarts 96 Rock X-Mas Show.
12/5 in Tailgaters – Bolingbrook, IL
Alissa Ordabai
Staff Writer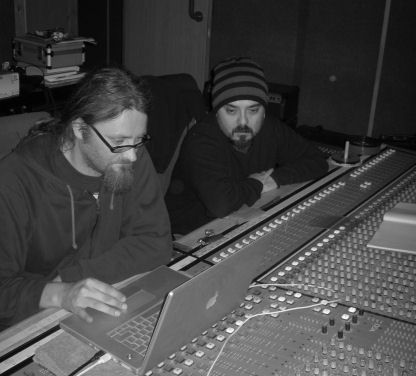 Something intriguing and unusual is brewing down in Oxford, UK, the town where, according to the classic, "clever men know all that there is to be knowed". Guitarist Karl Demata – best known for adding a raunchy hard-rock edge to sprawling soundscapes of UK prog-rockers Crippled Black Phoenix – is currently putting finishing touches to his first solo album. And this record is guaranteed to do more than get praise from classic rock and hard rock fans. It will also show that the new generation of European musicians can not only draw lessons from the early days of blues-rock and hard rock, but can also use this knowledge inventively to convey modern realities.
"I suppose the root of my music is what made me start playing guitar in the first place: the late Sixties – early Seventies stuff like Cream, Rory Gallagher, early Zep, early Purple, Mountain, the Allman Brothers," says Demata. "That's the stuff I grew up with even before teenage angst took over with its long musical detours. I suppose I am trying to recreate that sound and that attitude but with a more contemporary approach."
He goes on to explain how playing blues in pubs and clubs during his down-time from touring with Crippled Black Phoenix has over time turned into a recording project: "Me and Chris [Heilmann, bassist] have been jamming and playing together for years," Demata says. "Rather than hang out somewhere and get drunk, we'd go play in small venues and pubs, and jam on both acoustic and electric guitars to the tunes of Howlin Wolf or Elmore James all the way to more contemporary stuff. Then more recently I found some time to work more on songwriting, we tried a couple of original songs during local gigs and got some amazing feedback. Merijn [Royaards, drums] joined in and I also started working with playwright / novelist Chris Hood. We wrote most of the lyrics together."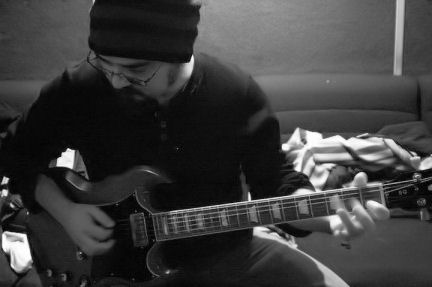 The unvarnished demo quality of the material – due to be released in spring 2011 – betrays its early blues influences with gritty assurance, right from the opener "Barefoot Walking Blues". On the one hand it rushes to expose Demata's Delta influences, but on the other hits you with a ballsy hard rock punch akin to that of early Cream and Taste.
But far from limiting himself with preconceived notions, Demata is making personal use of what has been received. While his songwriting can imitate his Sixties heroes perfectly, it can also take the tradition into an unchartered zone, as on another standout "Failing Design". Here the song structure is pure late Sixties Americana, but Demata's vision takes these multilayered transfigurations of the blues into the terrain of early hard rock. Hypnotic, shadowy glow of his slide work is part blues, part – dashed dreams of the West Coast psychedelia, part – insights from the same source Led Zeppelin were mining back in 1969.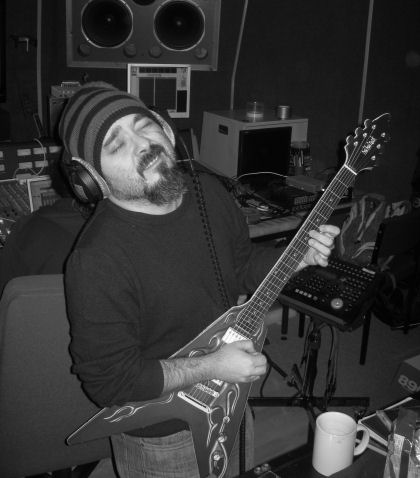 "I believe you should listen to the songs you are creating, as they will tell you what they are all about, rather than forcing them in one direction or another," Demata explains when asked about his approach. "I never had a preconceived idea of what a song should be about." This willingness to experiment has certainly produced the biggest highlight of the record – an eerie, haunted track called "Cross the Mountain", where Demata's etheral slide guitar floats over a hypnotic groove, showing how inspired reading of age-old patterns can create an independent reality beyond which there are no models or references. British blues personage Hugh Flint of John Mayall & the Bluesbreakers fame guests here on percussion – a symbolic endorsement for the newer generation to continue exploring the genre which Flint himself has given his entire career to developing.
The recording activity for this album has been sporadic – stop and start work at the snug, compact Warehouse Studio in Oxford which in the end, despite all the interruptions, resulted in a coherent, unified album about to undergo the final mixing stage. The studio's pressure-free atmosphere contributed to letting the music develop organically and allowed Demata to experiment with expanding his stylistic ground. Venturing into the territory of folk-rock balladry, he covers a little-known 1983 Dylan outtake "Blind Willie McTell", and then explores the genre further on original tracks "Never Come Around" and "The Day You Put Me Down". Those are moody, stripped-down story-songs – deceptively low-key – but chilly detachment of Demata's voice and his perfectly phrased, detailed guitar work manage to convey the special kind of heartache at the centre of this style.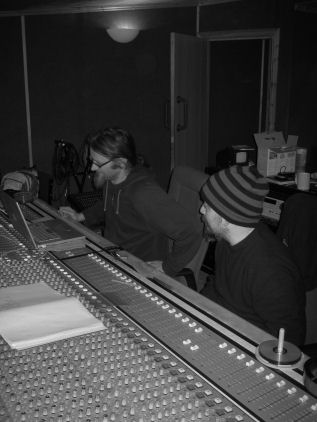 Unusual for the current British rock scene, but at the same time traditional – this is how this still unfinished record comes through, and Karl Demata knows all about being both. On the one hand this is a deeply personal, intelligent album where the form meets the substance, and on the other – it's full of genuine American grit and love for traditional American forms. "People tell me the album sounds very American," he says. "We'll see what that means exactly, if anything."
Whatever indeed this could mean in 2010, the "sounding American" remark has always been taken by European blues musicians as a compliment – an acknowledgement of musical knowledge, authenticity, and instrumental skill. But curiously, while displaying all three of these qualities, Demata's album also puts traditional American forms back into the context of contemporary life. It could be the muscular hard-rock bite that he adds to his material, or the ability to cut through formulas and clichés to put his own vision through his writing. Whatever it is, here is one convincing lesson in how to uphold the tradition, and at the same time stay true to your own realities.
Justin Gaines
Staff Writer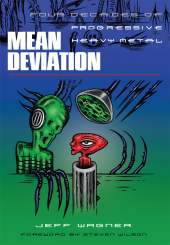 With Mean Deviation: Four Decades of Progressive Heavy Metal, former Metal Maniacs editor Jeff Wagner has penned the definitive analysis of progressive heavy metal in all its myriad forms. Starting with a look at early progressive artists like King Crimson, Black Sabbath and especially Rush, Wagner takes readers on a journey of progression that has some unexpected detours. Obviously, attention is paid to "the big three" of Fates Warning, Queensryche and Dream Theater, but equal emphasis is placed on the influential early works of Celtic Frost and Voivod. Wagner also devotes chapters to Watchtower's early "math metal," progressive thrash, innovations in the early Florida death metal scene, progression in the Swedish death metal scene, avant-garde Norwegian black metal offshoots, the Japanese progressive scene, the ProgPower and NEARfest events, and just about any kind of heavy metal where boundaries are being pushed to new extremes. Read more