by John Kindred
Staff Writer –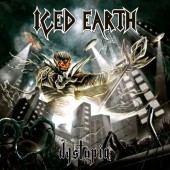 Iced Earth's 10th studio album Dystopia, although not a concept record per say, loosely is held together by the common thread of the calamity of a Dystopian society. The definition of dystopian, a creation of a nightmare world, is the exact opposite of a Utopian society. It's interesting in our culture, now as well as in the past that people clamor for the ideal of a Utopian society. Yet as the truth is unveiled to us daily, on the TV and internet, the revelation of the chaos of dystopian unrest is a part of the world we live in today. Although Schaffer visits this idea of dystopian-ism; from the aspect of fictional literature, classic sci-fi movies and dark musical opuses, it is apparent that the real world plays heavily into the conceptual presentations of Iced Earth.
Dystopia contains 10 songs that by titles alone recalls; classic sci-fi movies and TV shows, "Dark City," "Equilibrium" and "V," classic books "Anthem" by Ann Rand and times of unrest in the '60s "Days of Rage." It's obvious that Schaffer and the band put thought into the compositions that goes beyond just technical music. Musically Iced Earth has added new vocalist Stu Block to the ranks. Block takes the reigns from the recently departed Matt Barlow. Drummer Brent Smedley, bassist Freddie Vidales and guitarist Troy Steele round out the band and have provided Schaffer with a stable lineup for the last four or five years.
The music of Iced Earth will be familiar to fans. Stu Block doesn't travel to far from what fans are used to either. From a Halford like shrill-metallic-vocal to gut wrenching growls, what Block delivers meshes with the music flawlessly. This is power metal that is reminiscent of past Iced Earth releases. Heavy galloping rhythms, epic songs, edgy-over-the-top vocals, searing solos, Dystopia should be considered dangerous, like a stack of dynamite ready to explode from your speakers.
Again while not a concept record Orwellian themes abound and the band actually rekindles story lines from previous albums. "Tragedy and Triumph" revisits Something Wicked while "Set Abominae" returns to The Crucible of Man. "Anguish of Youth" features Stu Block mellow slightly and deliver and emotional vocal over a melodic arrangement. "End of Innocence" is another track where the band delivers a song driven by the drums and acoustic guitars that progresses into a heavy-melodic-opus. The rest of the music is a power house of power metal. Plenty of tasteful solos are provided by Schaffer and Seele. The rhythm section, drummer Smedley and bassist Vidales, provide a solid and heavy sound bed for the guitars and vocals to ride over the top of. Iced Earth has definitely set the bar high when it comes to the Power Metal genre. After 10 albums Schaffer and his gang still have plenty of gas left in the tank.
Is the Orwellian future here, today? Maybe it's time to wake up and smell the coffee or just continue to lay there drowning in the illusion of Utopia rising. Just something to think about.
Genre: Power Metal
Band:
Jon Schaffer (Rhythm and Lead Guitars, Backing Vocals)
Stu Block (Lead and Backing Vocals)
Brent Smedley (Drums)
Troy Seele (Lead Guitar)
Freddie Vidales (Bass Guitar)
Label: Century Media
Track Listing:
1. Dystopia
2. Anthem
3. Boiling Point
4. Anguish of Youth
5. V
6. Dark City
7. Equilibrium
8. Days of Rage
9. End of Innocence
10. Tragedy and Triumph
Web: http://www.icedearth.com/
Hardrock Haven: 9/10
by Marcel "Mars" Groeneveld
Staff Writer –
Tony Iommi promo tour (for his book) Iron man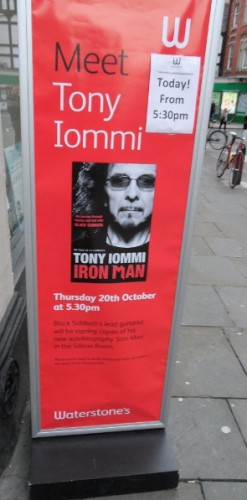 October 20, 2011 at Waterstone bookstore, Nottingham, United Kingdom.
Sometimes in life things just fall into place. On a trip to attend 2011′s Firefest Festival in Nottinghamd, U.K., you know the home of the legendary Robin Hood, Tony Iommi was also in town promoting and signing his new autobiography, Iron Man: My Journey through Heaven and Hell with Black Sabbath.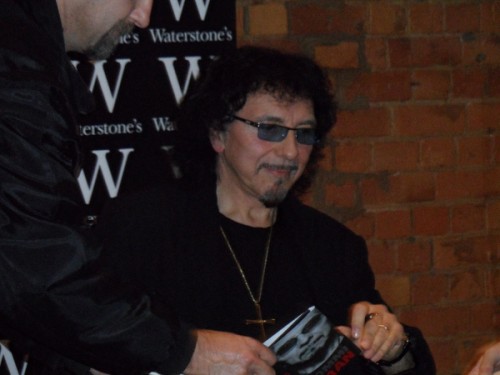 The book signing event was published on Iommi's website and not mentioned through major media outlets like the newspaper, billboards or television. Still over 300 loyal and crazed fans, who came from as far as Greece and Australia, made their way to the Waterstone's bookstore to meet and greet their Idol.
The opportunity to have their photo taken or memorabilia signed was slim because of time schedules. The great turnout of fans, produced smiling faces and some tears, as fans felt honored to spend at least one minute with one of the most influential guitarist rock has to offer.
Iron Man: My Journey through Heaven and Hell with Black Sabbath is the story told by Iommi the ups and downs to writer TJ Lammers and is available for purchase now. Read more
by Mark Allen
Staff Writer –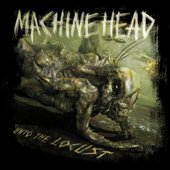 Make no mistake, the new Machine Head album, Unto the Locust is not only as good as the band's previous, Grammy-nominated release The Blackening, it's better. So much better, in fact, that the fans who once hailed The Blackening as Machine Head's magnum opus will now wonder if they were a tad bit hasty in their anointing.
Stripping The Blackening of its title like a heavyweight champ knocked out of the ring by an upstart newcomer is more than merited, as Unto the Locust retains everything that was right with its predecessor but corrects most of the errors. The result is a superior listening experience that is not only Machine Head's penultimate project, but arguably the premier heavy metal album of 2011. Forget the so-called big boys that came out earlier this year; this monstrous metal release will have Exodus beating a hasty exit out the door, In Flames spontaneously combusting with jealousy, and Trivium curled up in the corner like a beaten trollop.
As is their modus operandi, Machine Head continue to refuse to follow a particular formula. In fact, were you to ask the members of Machine Head about their formula, they would probably respond with a growled, "Fuck the formula." While clearly influenced by Bay Area thrash, the band has created a metal sound-scape steeped in complexity and interwoven with intricate melodies that embrace the big hook approach while studiously avoiding anything resembling overt commercialism or mainstream pandering, with the sole exception of "The Darkness Within," which, with its clean singing and more melodic delivery, could probably appeal to the Disturbed/Metallica crowd.
But even aside from that rather blatant hit single-seeking song, the accessibility quotient of this album is significantly higher than anything the band has released before. Repeat listens are not required to appreciate what this album has to offer, you pretty much know right off the bat that these are good tunes. And while most of the songs still run a little on the long side, there is a refreshing absence of the gratuitous ten-plus minute epics the band indulged in on past efforts, making Unto the Locust more palatable to ADD-afflicted metal heads.
Thankfully, the inclusion of accessibility did not require a sacrifice of intensity. The insane, seemingly inhuman drumming synchronizes sweetly with the supersonic speed of the guitars. Headbanging is not only permitted, it is impossible to resist as this gigantic juggernaut of metal pours in a crushing avalanche from the speakers. And while Machine Head is never afraid of unleashing growls, screams, and snarls, the vocals almost always remain intelligible, which make this all the more appealing, unless you're one of those metal mavericks who believe decipherable lyrics to be akin to blasphemy.
The songs range from the Iron Maiden-esque "Be Still and Know" to the Trivium-styled (but heavier) title track, to the neck-snapping aggression of "Pearls Before Swine" to the anthemic, clenched fist attitude of "Who We Are." The bonus tracks on the extended edition–covers of Judas Priest and Rush songs—make that the version worth grabbing, as they make an already cool album that much cooler.
With raging riffs as big as elephant balls and axe-work that blisters like first degree burns, Unto the Locust is a modern heavy metal thrash machine engineered to tear your damn head off, slam your ears, pummel your skull, and leave your senses splattered like a bug on a windshield. Prepare to be impressed.
Genre: Modern Heavy / Thrash Metal
Band:
Robb Flynn (lead vocals, rhythm guitar)
Adam Duce (bass guitar, backing vocals)
Phil Demmel (lead guitar)
Dave McClain (drums)
Track Listing:
1. I Am Hell (Sonata in C#)
2. Be Still and Know
3. Locust
4. This is the End
5. Darkness Within
6. Pearls Before the Swine
7. Who We Are
8. The Sentinel (Judas Priest cover/bonus track)
9. Witch Hunt (Rush cover/bonus track)
Webpage: www.machinehead1.com
Label: Roadrunner Records
Hardrock Haven rating: 8.6/10
by Deb Rao
Staff Writer –
Revisited Interview with Otep Shamaya from 2008
Archaic Revival comments: "One of the most exciting and brutally honest women performers in metal today is Otep Shamaya. Otep is not only a musician but also an accomplished poet and speaker. Her lyrics are razor sharp never afraid of taking on such controversial subjects as child abuse, domestic violence and politics."
Inspired by Nirvana, Otep's music is real and honest. In a day and age in the music industry that seems bombarded with pop rock princesses, it is refreshing to see a front woman take the term women in metal to a whole new level.
Otep is currently on tour in support of her latest album, The Ascension. Recorded after post Katrina, in the horror aftermath that Katrina left behind on the Gulf Coast, Otep has released one of her most inspiring albums to date. Otep paints an eclectic canvas of emotion as she channels in her emotional experiences into a sea of words filled with deep emotion.
Otep's live performances reflect the power and strength of an artists determined to make a difference in the music industry infused with raw power and razor sharp words that cut like a knife and make you think and feel the pain both at the same.
I recently had the opportunity to discuss in-depth the recording of The Ascension, Election 2008, and the devastated Gulf Coast with Otep Shamaya. Sit back and enjoy one of the most polished and intellectual women in rock view on some of the most important subject matters in the world today as Otep get ready for their huge homecoming show at the Key Club in Los Angeles on November 30th.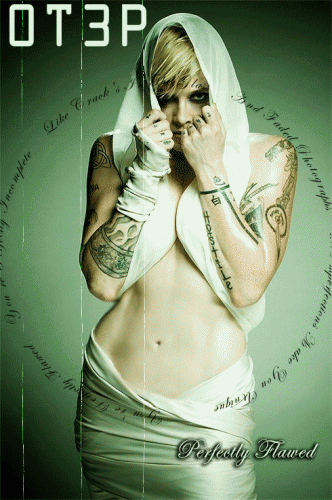 HRH: Otep, thank you so much for checking in with Hardrock Haven. Net. I know you are currently on the road in support of your new album, The Ascension. How is the tour going so far?
OTEP: It is going fantastically well. We were just in New York City the night of the election which I think is a bit apropos, considering that the attacks on 911 happened there and how much fear and pain and terror occurred and to be in New York City the night Barack Obama was elected President seems to take the direction of our nation in a much more positive way, in my opinion. Right a lot of wrongs that have gone on in the past eight years and to see the beauty and the love.
HRH: How inspiring was it as an artist to be there on election night and to see that dreams really can come true?
OTEP: Absolutely. I believe that Obama winning that election, we can mark that one down for all the outsiders. For anyone who has ever told us that our dream did not matter and they weren't good enough to make it or they weren't the right race or gender or the right height or the right weight or came from the right part of the country or the right part of town. You can chalk this one up for the outsiders.
HRH: Would you say that your new album, The Ascension is more of a political album than House of Secrets? I think it has many multi-layered facets to it. It shows that you are more than a new metal band. It showcases all of your different side, which is exciting. Do you agree?
OTEP: I wouldn't say it is more political. We have one song. One every record we have had a political song. We actually had two on the first album. We had "Battle Ready" and the song "Thots". On the second record we had," War Head" and on the third album we have," Confrontation". I have never been comfortable with the label nu-metal. That was something that allowed certain people to feel comfortable to categorize a lot of different styles of music. I consider it the fusion band. We have elements from metal to hard rock to grunge to hip hop, even blues and jazz as well. I know that maybe because it is loud and I do scream but I hope people don't over shadow some of the other things that we do. We try to come up with our own sort of category even thou I am not a fan of that like art core. That is more of our focus.
HRH: Tell us about the writing process for The Ascension. Would you say it is more of a collaborative that your first two albums? Are you the primary songwriter in the group?
OTEP: Yes, I will collaborate with anybody that I write a record with. I compose a lot. But I also try to welcome other artists in to offer their own meaning and their own thing on a particular message on the song we are trying to write together.
HRH: Also, what is so inspiring with The Ascension is that it was recorded post Katrina down in Louisiana. Tell us about that experience and how that affected the writing of the album. It must have been really a learning experience and life changing experience for you.
OTEP: Sure. I am from Los Angeles. We followed Katrina on the news; we saw the lack of reaction form the Bush administration. They completely neglected the victims of Hurricane Katrina all along the Gulf Coast. After awhile the news stopped covering it, I just assumed as most people did that people were being taking care of because in California we have natural disasters too. We have wildfires, mudslides and flooding. So when anything bad happens there, our government and the people rally together and they work to help other people out. When we landed in Louisiana, nothing had happened. There we bulldozers sitting out in the middle of a vast wasteland. There was no one in the city. I think there was one pharmacy that was still open like a Walgreen's and that was it. If you wanted to buy groceries you had to drive 45 minutes out of town. When you get there and actually see it, and you see boats under houses, you see entire blocks where there once were houses completely empty and all you see is empty foundation and cars overturned. Buildings with their windows completely blown out. You realize what these people were going through. Part of the reason we went there was to help the economy as well because our producer was there. We were inside this cafe people come up to us and they don't know whom we are, they think we are musicians. They say," We probably don't listen to your music unless it is country or western in which it is not but if you could please write a song about us. Don't let the world forgot about us. Because we are still hurting down here." Some people lost their families members. It was really eye opening, it was devastating. There was just so much pain and regret going on. It really gave a whole new spirit to the emotional energy that I tried to infuse on the record.
HRH: How is the music scene in New Orleans post Hurricane Katrina? I know rock and roll came from the blues. New Orleans has always been noted for being home of the blues. How are the musicians down there surviving? They must have been really devastated by this horrific event?
OTEP: Well they were. But that is one thing I can say that lived on was the musicians. We would go down to some of the nightlife area. Inside some of these clubs are musicians, some of them are blues some of them are jazz; some of them are just rocking out. A lot of these guys let audiences members who are musicians come up and jam, the spirit of that and music healing the mental health and emotional health of the people that survived it was so inspiring.
HRH: How did you come up with the title for your new album, The Ascension?
OTEP: Part of it is from being down there. Another part of it has to do is my hope for seeing our nation rise over the way the nation has been over the last eight years. A lot if it has to so with my own personal artistic philosophy that artists are suppose to evolve. A lot of it has to do with my own working class background where I believe that obstacles should be expected in life. I believe that through hard work you can overcome it.
HRH: Actually, would you say that Sharon Osbourne discovered you? She is a really strong figure in the music industry. Tell us about your initial meeting with Sharon. It must have been amazing.
OTEP: Well she definitely helped. There was already some talk in the Los Angeles scene about this new band that has come out of no-where. We had only down maybe three or four shows. We already had started to get a buzz and a fan base. It was really amazing. We just played at the Roxy. Backstage after the show was over, someone said to me Sharon is here to see you. I said I don't know anyone named Sharon. They said Sharon Osbourne. What could I say, I was speechless. They said Sharon wants to talk to you. I relently shuffled my way out the, I was a little bit shy. She hugged me and said," Otep, you are amazing and you are doing Ozzfest this year." I looked at her and said,"I don't have a record deal." Sharon said," We are going to make it happen." Luckily, we had a showcase with three different labels the next day. All of those labels knew of each other, so they all started the bidding war or what ever you want to call it. We did three different showcases and we got offers from one label, and I didn't really care for them. We did another one and they said we want to think about it. We did the last one for Capitol and they walked outside and got out their blackberry and came back inside and said Ok we would like to sign you guys. I was all for it. After looking at Capitol's rooster, I thought they really don't have any bands like us. But they have some incredibly artistic bands Pink Floyd, Radio Head, Led Zeppelin, The Beatles, so at least they would understand our artistic intentions. I thought that it was a good move for us as well.
HRH: Was it hard making the transitions from playing clubs to performing at Ozzfest in a large arena setting?
OTEP: We were only together about six months before we got signed. We got signed without a demo. We got signed after only four shows I believe. So going from transition to playing a club from playing to our first show of 50 people and our last show I think we had 250 people and then to go and playing to a stage of 15,000 people was a bit odd, exhilarating and at the same time I looked at that crowd and said this is my chance to conquer. I went out there with a feeling of self-victory in my heart and wanted to do everything that I can to impress them. Because nobody knew me, we didn't have a record out when de did Ozzfest. I wasn't. I would walk out their with a sense of I am going to give these people a taste of something new.
HRH: That is what Ozzfest is all about and you do a great job with it. Tell us about the current tour. What can the fans expect to see on this tour?
OTEP: The talent of bands on this tour is incredible. We have everyone from Sister Sin to Walls of Jericho and iLL Nino. Then you have a band like ours. You get a feast of al different sounds. We have an hour-long set. In-between songs, we do what we normally do which is poetry numbers. We are playing," Battle Ready," "Confrontation," "Breed," "Crooked Spoons," Home Grown" and "Ghost Flowers" plus a few other songs.
HRH: Have you ever thought about writing a band about your life story?
OTEP: It is so funny I get that a lot. I don't think my life story is that interesting. I do plan on writing probably another book of poetry. I have been putting together a book of illustrations of my own drawings.
HRH: Otep we want to thank you for giving Hardrock Haven the opportunity to discuss your new album and politics with you. We wish you the best of luck on tour.
OTEP: Thank you, I really appreciate it.
Visit Otep on the web: www.myspace.com/otep
by Justin Gaines
Staff Writer –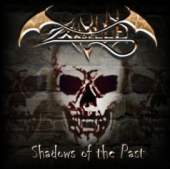 Long-running (and way too often overlooked) New York-based traditional/power metal outfit Zandelle is back with a new album, entitled Shadows of the Past. Actually, this isn't so much a new offering as it is a fresh look at some older Zandelle material dating to the band's earliest days. There are also some "odds and ends" to round out the collection.
Shadows of the Past features ten re-recorded versions of songs from the band's rare, self-released 1996 Zandelle EP and the equally hard to find 1998 full-length Shadows of Reality. Zandelle (and their predecessor band Gothic Knights) has always had a strong metal sound that was somewhere between traditional and power metal, but on those early releases the emphasis is definitely on the traditional side. It's thrashy, melodic, has a great sense of power and sticks pretty close to the standard heavy metal lyrical focus (darkness, doom warriors, evil, etc.) It's exactly what you want to hear when you're in the mood to raise your fist and bang your head, and Zandelle does this kind of thing very well.
If that wasn't enough, Shadows of the Past also features a trio of new/rare Zandelle songs, including the previously unreleased "Unleashed," the brand new song "Scream My Name" and a cover of Whitesnake's "Bad Boys," which seems like an odd choice for a band like Zandelle. They make it work though.
While straight-up remastered reissues of the EP and Shadows of Reality would have been preferable, it's still good to at least be able to hear these early Zandelle songs. Between that and the rarities, Shadows of the Past is a must-but release for serious Zandelle fans. If you're new to the band, you're probably going to be better off picking up one of their studio albums (Twilight on Humanity is a good starting point) before coming back to this collection.
Genre: Traditional Metal / Power Metal
Band:
James Corallo (b)
Joe Cardillo (d)
T.W. Durfy (g)
Anthony Maglio (g)
George Tsalikis (v)
Track Listing:
1. Ecstasy
2. Medieval Ways
3. Evil Entity
4. Angel
5. Darkness of the Night
6. Bringer of Doom
7. Soul of Darkness
8. Queen Witch
9. Crimson Rain
10. The Warrior
11. Unleashed
12. Scream My Name
13. Bad Boys (Whitesnake cover)
Label: Pure Steel
Website: www.zandelle.net
Hardrock Haven rating: 7.5/10
by Nikiforos Skoumas
Staff Writer –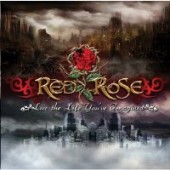 Live the Life You've Imagined is the debut album by Israeli melodic hard rock group Red Rose. The line up features singer Leve Laiter, guitarist Elnur Aliev, keyboardist Deion Kristen and bassist Elli Reeve. Red Rose's debut was produced by renowned Danish metal/hard rock producer Tommy Hansen.
The album has a strong epic, neo-classical feeling when it comes to the instrumental melodies which could lead one to labeling Red Rose a melodic metal band. However, the album brings to front a fair balance between guitars and keyboards, emphasizing the melodic aspects of both instruments effectively making the experience more intriguing while also bringing greater definition to the songwriting.
To their credit Red Rose arranges their music in such a way allowing all instruments to shine on each song. Beyond the expected melodic guitar lines and keyboards harmonies you also get a good deal of unconventional drumming, which alters itself along the song structure. For that matter, the rhythm section of Red Rose often enters metal territory with outbursts of double bass drumming and thick cymbals.
The dilemma of whether Red Rose is a hard rock or metal band, is rooted to the progressive nature of their songwriting. Typically, from the opening riff of each song up to its chorus, you find changes in tempos, in the mood of the vocals even the musical key of the composition is bound to change. Still the melodies provide the only consistency amongst arrangements which could be regarded as the glue that keeps the structures together. In addition, most songs have fairly memorable choruses which commonly manage to shine despite the various twists and turns of each composition.
"Voice of the Night" is probably the album's strongest moment sounding very much like Journey-gone-metal thanks to its subtle melodies, positive attitude and instrumental intermission/passage. "Tough to Love" opens as a straightforward riff-driven rocker yet developing into one of the most progressive songs of the album. "The Last Drop" is an epic ballad, melody-wise baring a strong neoclassical essence complemented ideally by Laiter's singing. "Name of the Stone" is the heroic hard rocker addressing war, personal struggles and the will to overcome hardships reminiscent of the earlier works of melodic hard rockers Ten.
It has to be addressed that with a total of eight songs the Red Rose debut is hardly a complete offering; having said that, it will take a fair amount of plays for the average melodic rock/hard rock fan to come to terms with the songs on Live the Life You've Imagined; far from the stereotypical melodic hard rock album indeed.
Genre: Melodic Hard Rock / Melodic Metal / Progressive Metal
Lineup:
Leve Laiter – Vocals
Elnur Aliev – Guitars
Deion Kristen – Keyboards
Eli Reeve – Bass
Track Listing:
01. Turn Back The Time
02. Name On The Stone
03. The Last Drop
04. Gone With The Sunrise
05. Live The Life You've Imagined
06. Dreamer
07. Tough To Love
08. When The Sun Goes Down
Label: Bakerteam Records
Hardrock Haven rating: 7/10
by Marcel "Mars" Groeneveld
Staff Writer –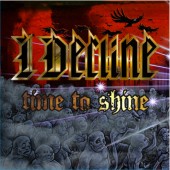 During their 12-year history, I Decline has provided support alongside Nick Oliveri (Queens of the Stone Age, Kyuss, Mondo Generator), Joe Preston's "Thrones" (Melvins, High On Fire, Sunn O))), Earth), Toxic Holocaust (Relapse), Holy Grail (Prosthetic), and Krum Bums (Century Media).
The band's first full-length compact disc Soundtrack for the Rest of Your Life was self-produced and released in 2000 on the band's own Black Rabbit Records. Several tracks would appear in the soundtrack and film The 5th Symphony Document, winning the prestigious Surfer Magazine Movie of the Year award in 2001. In 2002, the band released their sophomore release Ides of Riffdom through CD Baby and secured distribution with MeteorCity's All That's Heavy. This second release garnered numerous accolades within the Stoner Rock community.
The Chicago based I Decline comes with their third album titled Time To Shine and fair is fair, the production of this gem could match up to any major record labels release and then some.
The guitars are crunchy, heavy, with a big oomph and the rising of the thunder god is being witnessed here. Totally responsible for this is Pat McLaughlin on bass and John Doyle on drums who are also responsible for production duties together along with Grammy nominated producer Johnny K (involved with bands like 3 Doors Down, Disturbed, Sum 41, MG, etc.).
I Decline combines all the good what rock has to offer — great melodic hard driving, trashy punkish, leaning towards metal, stoner rock. Confused? Don't be, just take this baby for a spin and it all becomes clear. The massive guitar interplay between Mike Pesavento and especially the lead guitarist Dan Domiak is impressive and considered as ear candy. Musically the foundation is set. Into the mix comes Dustin Decline with his vocal talent, manipulating the melodies and stretching the vocals close to the limit.
If you are allergic or not used to head banging, the advice is not to buy this album because whiplash action might definitely occur!
Genre: Stoner Rock
Band:
Pat McLaughlin – Bass, Vocals
John "Dole" Doyle – Drums, Vocals, production
Mike "Pez" Pesavento – Guitar
Dustin Decline – Vocals, Percussion
Dan Dominiak – Lead Guitars
Track Listing:
1. Time To Shine
2. The Administration
3. Radiation Day
4. A New Nation
5. Grand Ruin
6. Karma
7. Your Name in Blood
8. Face of Death
9. Her Darkness
10. World Burning Down
11. Jericho
12. Rejoice, Lament
Label: Horns Raised Records
Website: http://www.i-decline.com
Download now available on I-Tunes.
Hardrock Haven rating: 7.8/10
Interviewed October 27th, 2011 at the Taft Theatre, Cincinnati, OH.
by Chris A.
Staff Writer –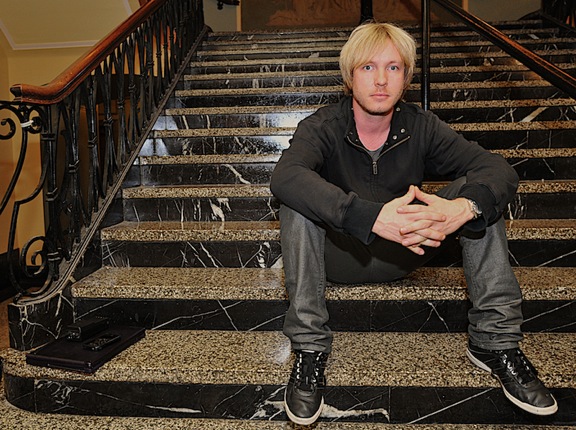 Hardrock Haven: Welcome to Cincinnati Kenny, it must be fun playing here since your singer Noah Hunt is a native and has a large cadre of friends and fans in and around the city.
Kenny Wayne Shepherd: Yeah absolutely, it's like when I got back to my home town. He's like an adopted member of my family down in Louisiana, so coming to Cincinnati is like coming home for me too.
HRH: Well you're into tonight headlining with Joe Walsh on the bill. How did this pairing happen?
KWS: Well Joe and I have been friends since I was 17. My first album came out and I was doing the "Hell Freezes Over" tour with the Eagles in Europe plus a few shows in the states. We became friends on the tour and have stayed in touch. We've jammed a few times in Los Angeles with other musicians. Since we've both got new albums out we thought it would be a good chance to go on the road together especially since we get along.
HRH: Okay, you've jammed with Joe Walsh, who would you like to perform with that you haven't yet?
KWS: Hmm, I don't know, I've played with just about everyone but Clapton and I would really like the opportunity to do that. Unfortunately every time they have done the Crossroads thing we've had prior commitments.
HRH: The Kenny Wayne Shepherd Band has a new album called "How I Go" so the logical question is how's it going for that disc?
KWS: It's going well and a lot of people believe its our best album to date and I'm really happy. I think it's certainly one of our best records. I'm very proud of the album, everyone's performance shows a lot of growth and maturity and that comes from having done this for 20 years.
HRH: I understand that your approach to this record was to really focus on crafting the song rather than try to put on a blues guitar shredding clinic.
KWS: I've just learned over the years after listening to my guitar heroes, Albert King, B.B. King, Albert Collins and even Stevie Ray, that a lot of the times it's the guys with the "less is more" approach that really resonated with me. I felt their music so much. I would hear a lick that I would like and I would want to learn it. It wasn't normally a flurry of notes, it was usually just a collection of powerful notes combined into a lick. I just didn't want to overdo it on this record I wanted to make sure that what I played for the songs was appropriate. I want the music to penetrate people in their soul with those notes.
HRH: Do you think it takes a level of experience and maturity as a guitarist to get to be able to capitalize musically on that "less is more" approach?
KWS: I think everyone who is young when they pick up a guitar wants to be fast. A lot of that is youth and a lot of what I am doing does come with maturity but there are a lot of guys out there who play fast like Steve Vai, Joe Satriani or even Joe Bonnamassa. Those guys aren't kids and they still play fast a lot of the time and they are really good at it, really technically talented. For me, it's like Albert King. Nothing that guy does is fast. He never plays anything fast, it's all just straight from the gut feeling. You know Hendrix is about as fast as a player, or Stevie Ray in his later days when his speed was picking up, that's about as fast as it gets for me. It's cool and it's fun to play fast but I feel like when I play with B.B. King he can play just one note and it says everything for him. That's more inspirational to me than seeing how many notes you can cram into a phrase.
HRH: You built your chops on the blues and in that genre you're well respected. Do you think you'll continue to explore more rock or alternative styles or stick primarily with the blues?
KWS: Well blues will be in everything I do and no matter how many times I branch out in different directions, I'll always return to the blues It's the foundation of what I do. In my heart, I love the blues and I could just play blues guitar all day long and be happy. As a musician, songwriter, composer and producer, taking the blues in different directions keeps things interesting to me. To throw a progression in that isn't typical of the blues to see what direction it takes the music and to see what ideas it generates, I find that interesting. Now, I could sit around and play a slow blues or a 1-4-5 blues shuffle all day long and it would be a lot of fun but as a writer I like to try different things. I also like to incorporate my rock influences because you know blues and rock were cut from the same mold.
HRH: You often are compared to Stevie Ray Vaughan but from a guitar playing and song writing perspective, what sets you apart from SRV?
KWS: If I had to place myself on a chart, I'd say I'm musically somewhere between Stevie Ray and Jimi Hendrix. I think my music has more of an edge to it that Stevie Ray Vaughan's music but it isn't quite as out there or not as psychedelic as Hendrix. But there are plenty of songs I've performed and recorded over the years that I don't think Steve Ray Vaughan would have recorded. "Blue on Black" is a perfect example, I can't say that I could see Stevie Ray doing that song, that's not to say he wouldn't like it but I don't know, as an artist I just don't think that is a song he would have done. My fourth album, "The Place You're In", the album I sung on, is a straight ahead rock record and I don't think it's a record that Stevie Ray would have done. So, you know, I feel like I'm in the middle ground between those two guys. I have a pretty significant rock background growing up listening to ZZ Top, Jimi Hendrix, Lynyrd Skynyrd, Almond Brothers, lots of southern rock bands and all of that stuff finds its way into your music, intentional or not simply because you absorb it.
HRH: Do you think people who describe you as an "SRV clone" have actually listened to your musical catalog?
KWS: You know man, it seems like everyone tries to fit you in to a box. Look at Stevie Ray, when he was around people were calling him a Hendrix clone. Listen to B.B. King's early stuff, it's all T. Bone Walker stuff because T. Bone was B.B.'s hero at the time. Everyone has their heroes and influences and that's not something I'm going to disregard. If it wasn't for Stevie Ray Vaughan I would probably not be doing what I'm doing. Kenny Wayne Shepherd might not even exist as a guitar player that's how significant he was to me on a personal level and on a musical level. So I have no problem, he's one of the greatest guitar players to pick up the instrument, so if people want to compare me to him or throw me in that category that's okay. There's a lot of people who would love to be mentioned in the same breath with him.
HRH: Today the tables are somewhat turned and now you're influencing a host of younger guitarist. Guys like up and coming blues/rock guitarist Scotty Bratcher. He's 23, plays a KWS signature Strat and lists you as one of his influences. How's that feel?
KWS: I think its great. It's hard for me to look at myself like that, I still revert back to that little kid with the guitar looking up at my heroes and just being a music and guitar enthusiast. It's hard for me to see myself on a pedestal but it's very complimentary and it has a big impact on me when people tell me my music influences them. You have a big responsibility when you are successful (in music). Music is a powerful thing and I try to take that responsibility and turn it into a positive thing.
HRH: Let me ask you about your rig, I understand you're using some gear from Pennsylvania based effects maker Pigntroix. How did you get hooked up with them and what's your impression of their gear?
KWS: Yes, I'm using one of their effects pedals in the studio, one of the guys at Pigtronix sent me one of their EP2 Envelope Phasers, it's a big unit and it gets these really crazy sounds. You can go like way far out there and get really trippy with it or you can get some very subtle effects. I used it on a song called "Anywhere The Wind Blows" with a couple chorus pedals and was able to get this great big monstrous sound. It's a really cool sounding pedal, it's the only pedal I have from Pigtronix but I am very impressed with it, impressed enough to use it on an album!
HRH: You've got a nice arsenal of gigging guitars. Are there any routine modifications you make to your guitars to make them your own?
KWS: Look, that's why my Kenny Wayne Shepherd Fender Strat signature model guitar is so ideal because the guitars are built the way I want. Now, if I bought a new guitar off the shelf I would to do it what have been done to the signature model. I would immediately put 6100 jumbo frets on it. I would put Graph Tech guitar labs saddles on it, I would probably put my signature series pickups in it because we worked a year and a half on them to get the right sound and I think they sound really good! Feeling and sound is most important in a guitar, if the frets aren't big enough you can always re-fret it and the graphite saddles are so important to reduce string breakage. Since I've been using those saddles if a string has broken it's because of a flaw in the string, they make a big difference.
HRH: Well hey Kenny, thank you very much for your time this evening, have a great show and enjoy Cincinnati. Any final thoughts for our readers?
KWS It was good meeting you and yes, I hope they will pick up a copy of my new record "How I Go" I think they'll like it.
Kenny Wayne Shepherd is currently on tour with Joe Walsh. For more information on Kenny Wayne Shepherd, visit his official website at http://www.kennywayneshepherd.net/.
by Nikiforos Skoumas
Staff Writer –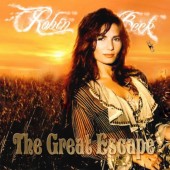 The Great Escape is the eighth studio album by female melodic rock queen Robin Beck and the fifth since her comeback as a recording artist in 2003. The Great Escape is essentially a musical triangle featuring Robin Beck on lead vocals, James Christian on bass and Swedish melodic rock authority Tommy Denander handling all guitars (having also contributed lead guitars on the latest House of Lords album Big Money).
With Christian's outfit, melodic hard rock powerhouse House of Lords putting out a genre highlight every two years it is easy for one to forget that James remains committed to supporting Robin on her solo works. And indeed besides a music visionary that is James and a great songwriter which is Denander, you don't need much else to craft a solid melodic rock/AOR album.
Though you would expect that Beck puts on a stellar vocal performance similar to her previous albums, one has to address that her vocal tone and range seem not to have changed over the past twenty years which is no small feat for any singer. The melodic rock heroine delivers the collection of songs found on The Great Escape with undeniable charisma, bringing to front those vibrant mid-range vocals that established her as a powerhouse in hard rock/glam metal in the late '80s.
The Great Escape is far-more guitar driven than what one would expect, since Denander makes his presence felt on each and every song with his trademark riffs and melodic soloing. The album opens on "The one" a classic-as-it-gets melodic rock composition that could have found home on any Robin's previous solo albums. Having mentioned above that the trio of Robin, James and Tony are more than enough to deliver a memorable album, The Great Escape actually holds an additional surprise for the lovers of the genre in track 4. "That all Depends" is a duet between Robin and the prince of AOR Joe Lynn Turner, an up tempo melodic rocker built on quick dialogues that bring to one's mind Meatloaf's chart-wrecking duets. There is one more duet to be found on the album, non other than the ballad "Till the End of Time" where Robin is joined by James in this slower tune, being probably the album's most romantic moment.
Overall, The Great Escape is a complete musical proposition by Robin and company that scores on both songwriting and performance, also featuring an admirable cast of musicians all protagonists of the contemporary melodic rock scene. Fans of Issa, and Alyson Avenue should definitely try The Great Escape.
Genre: Melodic Rock / AOR
Band:
Robin Beck- Lead & Backing Vocals
James Christian- Bass & Vocals
Tommy Denander – Guitars, Keyboards
Track List:
01. The One
02. Got Me Feelin Sexy
03. Inside Of Me
04. That All Depends
05. Baby I'm Not A Bitch
06. Everything Is Alright
07. The Great Escape
08. Don't Think He's Ever Coming Home
09. Cross My Heart
10. All The Rivers
11. Till The End Of Time
Hardrock Haven rating: 8/10
by Trevor Portz
Staff Writer –
October 22, 2011 at Club Nokia, Los Angeles, CA.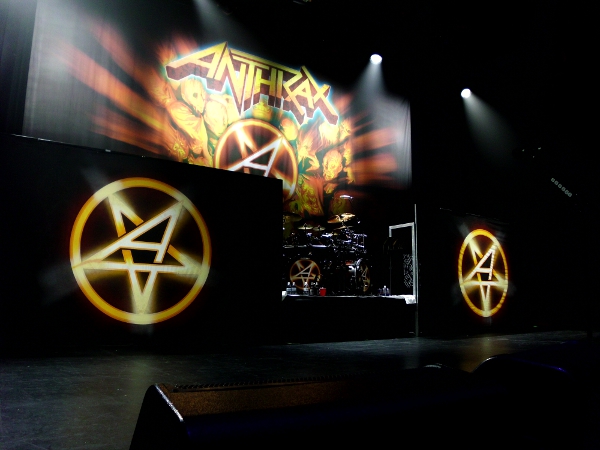 Riding the waves of praise and success both Anthrax and Testament have had with their most recent albums (Worship Music and The Formation of Damnation, respectively), it was a masterstroke for the bands to tour together. Throwing in a little Death Angel created a triple bill that feels something like a Big 4 spinoff tour. Thus, the crowd at Los Angeles' Club Nokia was understandably hyped to catch a triple dose of thrash royalty.
Due to L.A. traffic, the Death Angel portion of this review will be based solely on hearsay, but with that caveat, it appears they put on a great show and kicked things off with a bang.
After a quick set change, Testament took to the stage to a packed crowd with horns raised high. Opening with fan-favorite "The Preacher," it was almost immediately apparent what renewed life the band has been infused with in recent years. While they stuck mostly to the classics and new tracks, the audience was treated to a few oddities, such as the rarely played "Envy Life" from Practice What You Preach. The only bummer was that, with the exception of "D.N.R." and "3 Days in Darkness" from The Gathering, the band completely avoided two of its non-Skolnick (and heaviest) albums, Low and Demonic. While it does make some sense, especially since they weren't massive sellers for the band, it's a pity they tend to be ignored on the live front. Either way, though, Chuck and the gang played a brutal set of thrash classics, and more than satisfied the crowd's urge to mosh.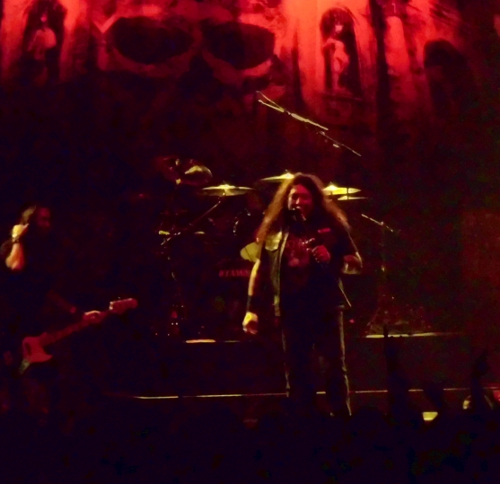 Another quick change (by metal standards), and it was time for Anthrax to hit the stage. Wasting no time, the band flew into "Earth on Hell" from Worship Music, showing that even 30 years down the road, they have not lost the gift of speed. Like their kinsmen in Testament, the members ran, jumped, and stomped as intensely as they did in the early days. It would seem thrash is immune to aging. Recently returned front man Joey Belladonna sounds stronger than ever, and truly seems to enjoy being back in the band that made him famous (or, conversely, in the band he helped make famous).
Seamlessly blending old and new tracks, the audience was treated to the expected standards ("Caught in a Mosh," "Antisocial," "Got the Time," and "Madhouse"), as well as a slew of songs from Worship Music. Following Testament's lead and almost entirely avoiding the non-Belladonna albums (minus the obligatory "Only" from Sound of White Noise), it was too bad the guys didn't throw in an obscure album track, whether from a Turbin, Belladonna, or Bush-fronted album. They did tackle Sepultura's "Refuse/Resist" before the final encore (perhaps as a nod to Andreas Kisser's brief tenure with band while Scott welcomed his first child), which was a nice surprise, but otherwise, the [relatively] short set-list shied away from any major surprises.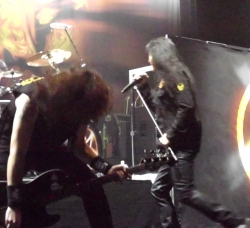 What was surprising, however, was the "tackling incident" that occurred midway through "Metal Thrashing Mad," (and is readily viewable on Youtube). An overly enthusiastic fan jumped on stage, and when security decided to—a bit over-zealously—take him down, Joey was inadvertently brought down hard as well. Frank Bello was (not surprisingly) visibly angry and confrontational, and Scott Ian made a point to trash the apparently blind security guard. But a few moments later, Joey was back on his feet, showing extreme class, but unnecessarily apologizing for the incident. He may have been sore for a few days, but seemed otherwise undamaged.
Similar to the Big 4 shows that have been happening over the last year or so, the biggest take away from this was that, as mentioned earlier, age doesn't seem to have affected these classic bands in any way. While newer extreme bands may be pushing the limits further than anyone though possible, no one can deny the impact Anthrax, Testament and Death Angel had on the metal world. It's comforting to know that they're still at the top of their game(s), and here's to hoping at least one of them can become the Rolling Stones of thrash.
Anthrax:
Joey Belladonna (v)
Scott Ian (g)
Rob Caggiano (g)
Frank Bello (b)
Charlie Benante (d)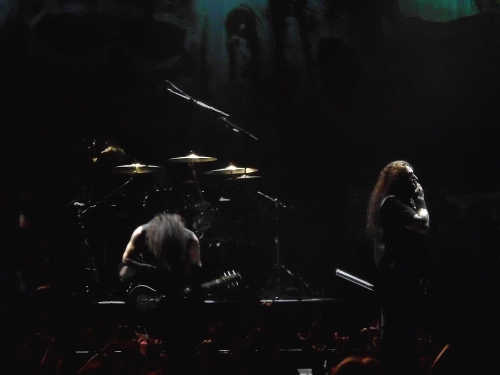 Testament:
Chuck Billy (v)
Eric Peterson (g)
Alex Skolnick (g)
Greg Christian (b)
John Tempesta (d)
Death Angel:
Mark Osegueda (v)
Rob Cavestany (g)
Ted Aguilar (g)
Damien Sisson (b)
Will Carroll (d)
Set Lists:
Anthrax:
1. Earth on Hell
2. Fight 'Em Till You Can't
3. Caught in a Mosh
4. Madhouse
5. Antisocial
6. I'm Alive
7. The Devil You Know
8. Indians
9. Got the Time
10. Hymn 1
11. In the End
12. Only
13. Efilnikufesin (N.F.L.)
14. Metal Thrashing Mad
15. Refuse/Resist (partial)
16. I Am The Law
Testament:
1. The Preacher
2. The New Order
3. The Persecuted Won't Forget
4. Envy Life
5. Over the Wall
6. Souls of Black
7. Into the Pit
8. Electric Crown
9. Henchmen Ride
10. More Than Meets the Eye
11. D.N.R. (Do Not Resuscitate)
12. 3 Days in Darkness
13. Disciples of the Watch
Death Angel:
1. I Chose the Sky
2. Evil Priest
3. Claws In So Deep
4. Relentless Revolution
5. Seemingly Endless Time
6. The Ultra-Violence
7. Thrown to the Wolves
Photos appear courtesy of Trevor Portz
by Joe Mis
Staff Writer –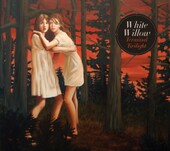 Norway's White Willow has recently released their sixth album -a progressive/folk rock effort entitled Terminal Twilight. If you are looking for something light, airy, and a bit different – this may be the album for you.
White Willow released their first album back in 1995, helping to revitalize the progressive rock genre in Scandinavia. After 4 more albums and a brief hiatus, White Willow is back. Terminal Twilight is full of acoustic instrumentation, lush atmospheric music, pastoral passages and haunting vocals while delivering a light and pleasant overall sound despite many Gothic overtones. This is not an album that emphasizes keyboards or guitars or vocals, but rather a release that blends everything equally and does not allow any one aspect of the music to dominate the other. The band blends progressive rock with some Gothic influences, a touch of symphonic rock and a lot of folk rock to come up with their unique style. The use of the flute and keyboards, coupled with a strong sense of melody and technically excellent performances make Terminal Twilight a fascinating listen.
The songs are long, winding and somewhat melancholy adventures with solid lyrics filled with vivid metaphors and lush images. There is nothing unduly heavy in any of the tracks, but a strong sense of melody is ever-present. Elements and influences from almost every musical genre can be heard somewhere on the album, and the blending of styles and instruments makes this CD a unique experience. Nicely recorded, White Willow's music is mysterious and ethereal, and the vocals of Sylvia Skjellestad are well suited to the music and delivered with grace and conviction. With simple arrangements on some tracks and complex layers on others, the listener is kept interested and alert by the varied tempos and time signatures. Each performer on the album does their job well, all contributing to a complete and unified whole. The only negative is the lack of a real high energy track – the entire tone of the album is slow and melancholy, but it would be nice to hear the band really cut loose.
Musical highlights include the rich imagery, layered keyboards and odd timing on "Hawks Circle the Mountain;" the beautifully done acoustic guitars and nice duet vocals on "Kansas Regrets;" the tidy keyboards and great bass/drum teamwork on "Red Leaves;" the soft rock beat, great bass and guitars, and wistful vocals on "Floor 67" – probably the most conventional "prog" song of the album; the entire amazing instrumental "Natasha of the Burning Woods;" and the fluid ebb and flow of the epic 13 minute "Searise."
If you are into progressive or folk rock, you may enjoy White Willow's work. Terminal Twilight is an interesting album filled with fine musicality, natural warmth and great performances. The folk rock nature of the release will not appeal to everyone, so if you are looking for heavy or dark, look elsewhere. If you want something a little different and on the softer side, Terminal Twilight might just be the thing. Be prepared to invest your time, as you need multiple listens to grasp the many layers of White Willow's music. Recommended for fans of the folk rock / art rock genres.
Genre: Progressive Rock
Band:
Sylvia Skjellestad (vocals)
Lars Fredrik Frøislie (keyboards)
Ketil Einarsen (flutes)
Jacob Holm-Lupo (guitars)
Ellen Andrea Wang (bass)
Mattias Olsson (drums)
Guest performer – Tim Bowness (vocals on "Kansas Regrets")
Track Listing:
1. Hawks Circle the Mountain
2. Snowswept
3. Kansas Regrets
4. Red Leaves
5. Floor 67
6. Natasha of the Burning Woods
7. Searise
8. A Rumour of Twilight
9. The Howling Wind (North American Bonus Track)
Label: The Laser's Edge Music
Website: http://www.whitewillow.info/
Hardrock Haven rating: 8/10
by Justin Gaines
Staff Writer –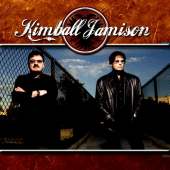 Leave it to the good people at Frontiers to come up with yet another match made in melodic rock heaven. This time around, they've paired former Survivor vocalist Jimi Jamison and former Toto frontman Bobby Kimball – two of the most memorable, most recognizable voices in melodic rock. Anyone who grew up listening to rock radio in the '80s knows the voices behind AOR staples like "Hold the Line," "I Can't Hold Back," "Rosanna" and "The Search is Over." Now the two singers have joined forces (alongside former Primal Fear bandmates Alex Beyrodt and Mat Sinner) for a project titled simply Kimball-Jamison.
Songwriting for this collaboration is provided by an interesting and impressive array of melodic rock veterans, including Richard Page (Mr. Mister), Jim Peterik (ex-Survivor, Pride of Lions), Randy Goodrum (Toto, Steve Perry), John Waite, Erik Martensson (Eclipse, WET) and Robert Sall (Work of Art). Bassist Mat Sinner handled the production, and both he and guitarist Alex Beyrodt show a surprising affinity for this kind of music given their power metal pedigrees.
On to the album, which is exactly what you'd expect from this combination of vocalists and songwriters. Kimball-Jamison is absolutely loaded with huge, anthemic AOR love songs, and while there's a somewhat modern (at least modern by AOR standards) feel here and there, most of these songs could have been taken off the best of the '80s arena rock albums. Both singers sound as good as ever, delivering the kind of soaring power, melody and emotion they're so well known for. The songwriters take advantage of each singer's strengths, knowing when to use each one and when to bring them together most effectively. Leadoff single "Worth Fighting For" is an obvious highlight, but there's not much of anything on Kimball-Jamison that you could call filler.
Sure, it's predictable, but in this case that's probably a virtue. When you see Bobby Kimball and Jimi Jamison on the marquee, you expect classic '80s style AOR, and Kimball-Jamison more than delivers. If you loved those classic Survivor and Toto albums in the '80s, you're going to love this album. It will also please fans of newer melodic rock bands like Pride of Lions, Work of Art, Lionville and WET. Honestly, it's hard to imagine any fan of AOR and melodic rock not completely loving Kimball-Jamison.
Edition Notes: The physical release of Kimball-Jamison comes in a digipack and includes a bonus DVD featuring a pair of video clips (for "Worth Fighting For" and "Can't Wait For Love") and a 30-minute "making of" documentary.
Genre: AOR / Melodic Rock
Band:
Bobby Kimball (v)
Jimi Jamison (v)
Alex Beyrodt (g)
Mat Sinner (b)
Jimmy Kresic (k)
Martin Schmidt (d)
Track Listing:
1. Worth Fighting For
2. Can't Wait For Love
3. Sailing Away
4. Chasing Euphoria
5. Find Another Way
6. Get Back in the Game
7. I Did Everything Wrong
8. Shadows of Love
9. Hearts Beat Again
10. We Gotta Believe
11. Kicking and Screaming
12. Your Photograph
Label: Frontiers
Hardrock Haven rating: 8.5/10
by Nikiforos Skoumas
Staff Writer –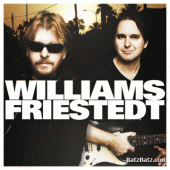 Williams-Friestedt is the collaboration between Toto vocalist Joseph Williams and melodic rock guitarist Peter Friestedt. With AOR/melodic rock duos being very much in the favor of the day, it is hardly surprising that such professionals decided to join forces. In addition, history has proven that you simply can not stop Toto members from being creative whether it comes to the band or solo endeavors.
Williams–Friestedt draws equally upon melodic rock and west-coast AOR, coming fairly close to the radio-friendly sound of Toto. Essentially one finds most elements of Toto's sound are integrated on this debut including; the discrete piano harmonies, the subtle rhythm section, and the jazzy chords, and never forgetting the melodic guitar lines. Left outside are unconventional grooves, passages and any hint of experimentation that Toto were keen to explore.
Clearly, as one would have guessed by the name of this synergy, the protagonist instrument is Joseph's vocals and Peter's guitar with the rhythm section moved backwards in the mix. The songs on this debut fall into two categories; the west-coast/jazzy AOR such as "Say Goodbye," "Sometimes You Win," "Stay With Me" and "Gotta Find it." And the direct melodic rockers "Swear Your Love," "Where to Touch You" and "One More Night," possibly the album's strongest moment, bringing to the fore-front intensity and a really forceful chorus. For that matter, this collection of songs captures Joseph in the best shape he has been of lately delivering the appropriate tone and attitude to each and every song, switching effortlessly between west-coast AOR vocals and melodic rock singing.
Overall, one finds that merely nine tracks are hardly enough for such a project, taking into account that this debut features compositions of standard length (mostly under four minutes). In addition the subtler moments evidently outnumber the rocking songs, so clearly "Williams Firestedt" might seem somewhat incomplete to those expecting pompous melodic rock with ambitious arrangements and thick production. Conclusively if you are a fan of Joseph's work with Toto or have enjoyed similar AOR projects namely Ramos-Hugo, Marcello-Vestry or Frederiksen-Denander, you should definitely try Joseph and Peter's new album.
Genre: AOR / Melodic Rock
Line Up:
Joseph Williams – Vocals
Peter Friestedt – Guitars, Keyboards
Track List:
1. Swear Your Love
2. Say Goodbye
3. Sometimes You Win
4. Where To Touch You
5. Going Home
6. Stay With Me
7. One More Night
8. Gotta Find It
9. Letter To God
Label: AOR Heaven
Hardrock Haven rating: 7.5/10
by Chris A.
Staff Writer –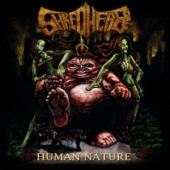 "The air is filled with thick black smoke…" are the opening lyrics of Human Nature by powerhouse Israeli metal band Shredhead. Damn right it is! And your head is going to explode when you hear this disc. If you love old school, take-no-prisoners thrash metal this album is going to kick your ass from the first cut to the last. There's very little known about Shredhead other than they are from Israel, their record, released in August 2011, is titled Human Nature, (English vocals) and that it's an absolutely brilliant first effort from a relatively obscure band.
With much of todays registering as "incredibly average" on the cool meter, Shredhead's Human Nature is anything but. When you press play you're assaulted by the opening cut, there's listening break-in period required. This goddamn record reaches out and will punch you in the face essentially taking you prisoner and forcing you to listen.
Frankly, who cares where a band is from or whose in it? if It's intense, if it's ferocious, and it sounds legitimate, most metal heads will give it a spin. Regarding Shredhead, for comparison sake, consider Anthrax meets Slayer, with a dose of Dave Mustaine attitude tossed in for good measure. Shredhead's formula for high-intensity thrash metal mixes blitzkrieg doses of machine gun fast, tone filled guitar riffs with explosive percussion superbly complimented by vocals that will that will have you going 80 miles per hour in a 35 mile zone.
From a musical perspective there's nothing groundbreaking but the presentation coupled with the ferocity of the tunes makes this one of those "must hear" jewels for metal heads. You'll be able to discern the musical influences of living in the Middle East courtesy of Shredhead guitarist Yotam Nagor. His lead licks often exude a kind of crazy cool Jewish folk music vibe, played on a guitar with the amp turned up to 11. It's different and it's cool. Hell, you never know, these guys may have recorded this in the back room of some Israeli college dorm or are perhaps members of some exotic heavy metal Kibbutz. Who knows. Who cares. The bottom line is these guys play incredibly brutal music that will leave your ears bleeding and the muscles in your jaw sore from gnashing your teeth from head-banging.
"Human Nature" the first cut of the album is typical of the ass-kicking, frenetic metal songs contained on an album that was written for battle. No doubt the Israeli military listens to Shredhead when they go into combat to kick the shit out of the terrorist types who screw with their citizens. How could you not dominate listening to this stuff?
Okay, Shredhead isn't a big-time, big-name act, but don't let that stop you from having a listen. Thankfully, they stream their entire disc via their Facebook and via their Bandcamp pages so you can test drive them before you buy the tunes. Hit their band page on Facebook. If you love fast, in-your-face, take-no-prisoners, ass-kicking metal, you're going to love this band.
Genre: Thrash Metal
Band:
Aharon Ragoza – vocals
Yotam Nago – guitar
Lee Lavy – bass
Roee Kahana -drums
Track Listing:
Human Nature
Dead Eyes
Ruffies
Death Row
Becoming The Animal
Blood On Thy Hands
Knife In A Gun Fight
New Order
Rise
Zombies (intro)
Zombie Attack
Label: Independent
Web: http://shredhead.bandcamp.com/ https://www.facebook.com/shredheadband
Hardrock Haven rating: 8.7/10
by Alissa Ordabai
Staff Writer –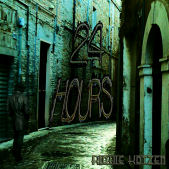 There was a time when Richie Kotzen was a teenage prodigy, and his strutting self-confidence spoke volumes of his natural musical gift, the hard work behind his astounding chops, and his youthful inexperience in exploring his inner realities. There was also a time in his later years when raw emotion took over, seeping entire albums in a disquieting, deeply personal heartache, making music a channel for exorcising personal demons.
A complex creative journey with its triumphs, detours, revelations, setbacks, and discoveries has now produced a new release. Brilliantly – and intriguingly – the new album portrays Kotzen in perfect inner equilibrium and in a stridently good mood which surfaces so vibrantly perhaps for the first time since his 1994 gem Mother Head's Family Reunion.
Kotzen's most self-assured album to date – and effortlessly so – 24 Hours is a seamless combination of deep-running emotion, an expanded vocal technique, and a newly discovered way of combining formidable virtuoso chops with non-obsessively vivid songwriting.
The opener's dizzyfying guitar fireworks at first nearly knock you out, but turn out to be a deceptive introduction, as tracks that follow are less about the technique and more about the songs and nuanced, surprisingly versatile singing.
Hypnotic, bitter-sweet hooks such as on standouts "Get It On" and "Bad Situation" show Kotzen making a new emphasis on diversifying his songwriting. He is also mining more classic rock styles than ever before with such unexpected highlights as the eerily quirky synth solo on "OMG (What's Your Name?)" – an inspired pay-off to '70s prog which wouldn't sound out of place on some of the best albums by Manfred Mann's Earth Band.
Add to this the high-voltage, stratosphere-bound guitar solo on "Love is Bind" which tips the hat both to Hendrix and to the 60s West Coast psychedelia, and vocal parts on "Bad Situation" which nod to Emotional Rescue-era Mick Jagger, and you see that a bolder, more experimental take on production, songwriting and ways to entertain your listener have been just some of Kotzen's priorities this time around.
Kotzen's old penchant for funk and soul is, naturally, also there. But the interpretations he gives to the styles of his childhood do not define him, no matter how often he goes back to the end of '60s and '70s vibe. It is his own vision, his unique approach to the guitar and his singing that make his music instantly recognizable, even when he is using an odd old standard as a songwriting prop.
And while on this album Kotzen's view on human condition remains far from rosy, he treats his fans to a mature, elegant, unexpectedly unified and even-handed album full of instrumental gems, gorgeous melodies, bouncy grooves and – as ever – moments that make you feel that we are all blessed and doomed at the same time. The album is a brilliant new stretch of a creative journey which proves that sincerity, perseverance and willingness to experiment always pay off, and are – in fact – the only way to continue growing as a musician.
Featuring:
August Kotzen
Jerry Cantrell
Track listing:
1. 24 Hours
2. Help Me
3. OMG (What's Your Name?)
4. Get It On
5. Love is Blind
6. Stop Me
7. Bad Situation
8. Don't Know Why
9. Tell Me That It's Easy
10. Twist of Fate
Label: Headroom Inc.
Online: www.richiekotzen.com
Hardrock Haven rating: 8/10
by Deb Rao
Staff Writer –
October 14, 2011 at Eastside Cannery in Las Vegas, N.V.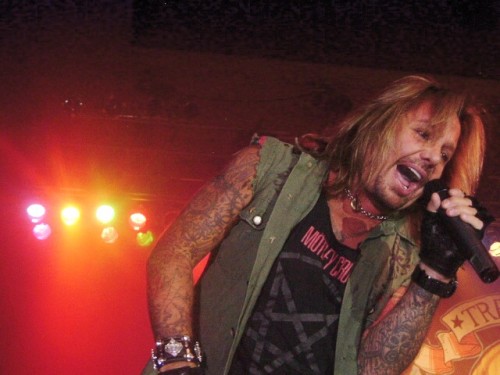 MOTLEY CRUE front man VINCE NEIL returned home to Vegas performing with his solo band in a sold out performance at the Eastside Cannery on October 14. Vince Neil gave an electrifying 60-minute performance to a packed house of metal fans that could not get enough of the Motley Crue hits.
Vince Neil opened the show with "Live Wire" then the band rolled into the heavy hitting "Dr. Feelgood." Vince Neil's touring line-up consisted of seasoned pro- musicians bassist Dana Strum and guitarist Jeff Blando, who are also members of Slaughter.
Earlier this summer, Motley Crue performed the first concert at the newly opened Red Rock Casino Amphitheater in Las Vegas with a sold out performance. Hardrock Haven correspondent Deb Rao had the opportunity to speak to Vince Neil about the sold out show tonight at the Eastside Cannery. Vince commented, "It's always great to come home to Vegas. I have been living here awhile now. There are so many things to do here on a given night and we are always happy when the fans choose to come to the show. Tonight we are going to play a lot of Motley Crue hits plus songs from my solo album I released last year Tattoos And Tequila."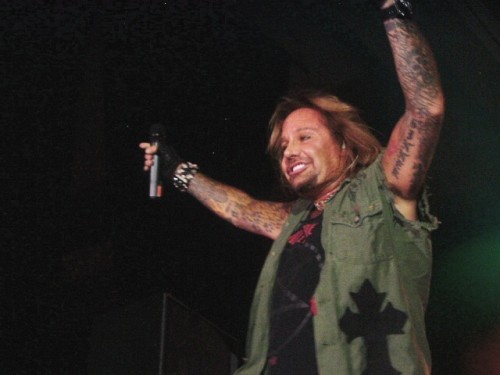 Highlight of the concert was the Vince Neil band performed a special riveting tribute to fallen musical soldiers, Ronnie James Dio and Jani Lane. The band performed a medley of songs during that segment which included "Heaven And Hell" and "Stairway To Heaven."
The excitement didn't stop there, as Vince Neil saved the best for last in a true metal assault as the band launched into the hard hitting Motley Crue hits including; "Kickstart My Heart,", "Girls, Girls, Girls" and "Wildside."
One of the greatest aspects of attending a solo Vince Neil show or Motley Crue show is that the hits remain timeless. It was also refreshing to hear new material from Vince as Tattoos And Tequila surely reigns as one of the top songs recorded by the Motley Crue singer. Good times and great music, Vince Neil is surely a dynamic performer who knows how to work the crowd and never disappoints in concert. After touring all summer with Motley Crue, Vince is back on the road again with solo dates this Fall. Be sure to pick up a copy of his tell all book Tattoos And Tequila.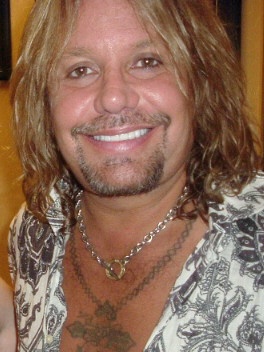 Vince Neil Set List:
Live Wire
Dr. Feelgood
Piece Of Your Action
Same Ol' Situation (S.O.S.)
Don't Go Away Mad (Just Go Away)
He's A Whore
Whole Lotta Love
Tribute Medley
Heaven And Hell
Stairway To Heaven
Kickstart My Heart
Girls Girls Girls
Wildside
For Vince Neil Tour dates visit www.myspace.com/vinceneil
Photos appear courtesy of Deb Rao
by Alissa Ordabai
Staff Writer —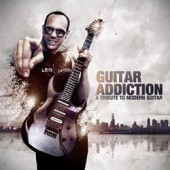 Over 60 up-and-coming (and mostly European) guitarists eager to prove their shred cred have contributed to this release, aided by such luminaries as Guthrie Govan, Christophe Godin, Stuart Hamm, Ron Thal "Bumblefoot, Michael Angelo Batio and drummer Atma Anur. The latter, of course, is the renowned percussionist whose propulsive grooves have in the past floated the ground-breaking extrapolations of such guitar heroes as Jason Becker, Marty Friedman, and Richie Kotzen.
The album presents 11 tracks of electric guitar extravaganza where players take turns blasting out ambitious and often deliberately over-the-top solos in the format of conventional – if not tiresome – compositions. This is, perhaps, the major downside of this record – the technical skill of many players is exceptional, while the songs themselves often merely serve as a rudimentary platform to support the almost jam-session-like exchanges of licks and solos.
Varying in skill, approach, and style, the younger players on this album at once illustrate the aspirations of today's junior European guitar scene and at the same time all of its shortcomings and complications. Often tipping their hat to the legendary shredders of the 80s – such as Becker, Friedman, Kotzen, and Greg Howe – many also show how the golden years of high-tech guitar remain unsurpassed to this day.
It could be the lack on truly great songs that prevents the often fabulous instrumentalists from really shining, or partly the demo quality of production. But if anything is made clear by this release it's that through good times and bad times shredders have always been there, while great songs are more scarce in this genre now than ever before.
For a committed guitar fan, however, this is an interesting summary of how some of the new players are developing and where they are heading. Technically all of them – without exception – are very competent, but when you hear some of them solo next to such veterans as Guthrie Govan, or next to such an impeccable musician as Stuart Hamm, it becomes achingly clear that nuanced finesse of timbre, deliberate precision of each phrase, an ability to think unconventionally and to truly surprise your listener will always remain a one-in-a-million skill.
It would, however, be unfair not to mention up-and-coming players who may not be household names just yet, but who truly stand out in their inspired phrasing and their willingness to think outside the box: Yann Armellino, Richard Hallebeek, Kermheat, Tommy Ermolli, Marcel Coenen, Franck Karmattitue, bassist Michael Manringon, and drummer Vincent Fabre.
Those names are to be watched. High-tech guitar these days is not completely confined to the well-known vets who have forged their careers 20 or so years ago. And truly great guitar solos cannot exist without great songs. Those three points – if anything – is what, perhaps, this release illustrates better than anything else.
Genre: Instrumental Shred
Contributing Artists:
Alberto Rigoni (Twinspirits, solo), Alex Ehrsam, Alfonso Roca, Atma Anur (drums on 5 tracks), Ayman, Aymeric Silvert, Benoit Pol, Brett Garsed, Charly Sahona (Venturia, solo), Christophe Godin, Cyril Achard, Daniele Gottardo, Dave Martone, David Valdes, Enrico Galetta, Eric Bricout, Fabrizio Leo, Franck Karmattitude, Gowy, Guitarsnake, Guthrie Govan, Jean Fontanille, Jeff Kollman (Cosmoquad, solo), Joe Stump, Joop Wolters, Karl KB, Kenny Serane, Kermheat, Lars Eric Mattson, Loran Saulus (Alive Inc), Manu Livertout, Marcel Coenen, Marco Sfogli, Martin Motnik, Mattias Eklundh (Freak Kitchen, olo), Michael Angelo Batio, Michael Manring, Mika "Mr. Fastfinger" Tyyskä, Milan Polak, Mistheria, Pat O'May, Patrick Amar (contest winner), Paul-Alain Fontaine (keyboards), Pierrejean Gaucher, Richard Hallebeek, Rob Balducci, Roland Gassin, Ron Thal "Bumblefoot" (Guns'n Roses, solo), Roo, Roland Grapow (Masterplan, Helloween), Sebastien Lanceau (Alive Inc), Stuart Hamm (Steve Vai, Joe Satriani, Frank Gambale..), Theodore Ziras, Thomas Bressel, Tommy Ermolli (Twinspirits, solo), Tristan Klein, Victor Lafuente, Vincent Fabre (drums on 3 tracks), Yann Armellino, Yannick Robert
Track listing:
1. Crossroads of Time (feat. Vincent Fabre, Alfonso Roca, Ayman, Christophe Godin, Daniele Gottardo & Joe Stump) 6:22
2. Junkie Foot (feat. Mika "Mr. Fastfinger" Tyyskä, Karl KB, Loran Saulus (Alive Inc), Paul-Alain Fontaine, Rob Balducci, Roo, Roland Grapow (Masterplan, Helloween) & Tyler (Alive Inc)) 7:01
3. Adrenaline Jam (feat. Enrico Galetta, Fabrizio Leo, Jean Fontanille, Kenny Serane, Paul-Alain Fontaine & Richard Hallebeek) 4:25
4. The End of the World (feat. Mika "Mr. Fastfinger" Tyyskä, Dave Martone & Milan Polak) 3:49
5. Mr Groove (feat. Jeff Kollman (Cosmoquad, solo), Lars Eric Mattson & Victor Lafuente) 4:37
6. Mind's Labyrinth (feat. Alberto Rigoni (Twinspirits, solo), David Valdes, Guitarsnake, Marco Sfogli, Thomas Bressel & Tommy Ermolli (Twinspirits, solo)) 6:31
7. FRP a Tribute To Mark (feat. Brett Garsed, Eric Bricout, Guthrie Govan, Patrick Amar & Paul-Alain Fontaine) 6:18
8. Mandarine (feat. Alex Ehrsam, Benoit Pol, Pierrejean Gaucher, Roland Gassin & Yannick Robert) 7:32
9. Frankly Speaking (feat. Christophe Godin, Cyril Achard, Gowy, Joop Wolters, Martin Motnik & Mattias Eklundh (Freak Kitchen, solo)) 9:20
10. Cacophusion (feat. Charly Sahona (Venturia, solo), Eric Bricout, Manu Livertout, Marcel Coenen, Ron Thal "Bumblefoot" (Guns'n Roses, solo) & Theodore Ziras) 6:14
11. Heavy Funky Party (feat. Stuart Hamm, Milan Polak, Michael Angelo Batio, Pat O'May, Yann Armellino, Tristan Klein & Kermheat)
Label: GuitarEuroMedia
Hardrock Haven rating: n/a
by Derric Miller
Staff Writer —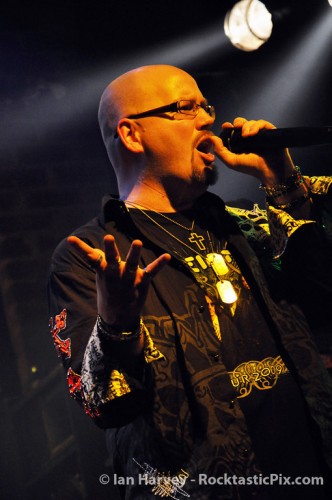 Michael Eden announced his departure from Eden's Curse … and then the shat hit the metaphorical fan. Because of the fallout, the lack of any public communication from the band itself, the negative and erroneous info being slung around the Internet, Eden is doing one, all-encompassing interview to put the final nail in the coffin and give you the exact truth about what happened. Why he left, if "money" was one of the reasons, his relationship with each band mate, what he has learned from the experience, why he is going to make a new Eden's Curse in America … and so much more. This two-hour interview covers everything from touring to in-fighting to the fact he absolutely wishes the band the best of luck in their search to find someone who can actually replace his voice and contributions to the legacy thus far.
Hardrock Haven has been a friend of the band since their inception; they even put an interview with Pamela Moore, Paul Logue and Michael Eden on the EP Condemned to Burn. There is a long history here, and that's why Eden came to Hardrock Haven — the only place on earth you will hear this interview.
Never one to hold back when he feels strongly about something, tune in now to hear the exclusive interview with Eden and why Eden's Curse is as far behind him as he can put it … but also straight ahead of him.
Part One

Part Two

Part Three
Part Four

*** If the embedded player doesn't populate click the links, to stream the interview in a stand alone player:
Part 1
Part 2
Part 3
Part 4
*** Disclaimer: The views and opinions expressed here by Michael Eden do not reflect the views or opinions of HardrockHaven.net and or our staff. The interview presented is for entertainment purposes only. — MGMT.
by Nikiforos Skoumas
Staff Writer –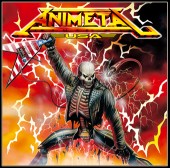 Formed in 1996 Japanese melodic metal band Animetal introduced a rather original concept within the genre; Animetal would deliver metal versions of popular anime themes songs while being big on stage theatrics, costumes and make-up. The group disbanded in 2006 following a total of nine studio albums and considerable success within their domestic market.
Today, a team of American musicians attempt to fill the gap left by the original Animetal band. These are, lead singer Michael Vescera (YJM Rising Force), bassist Rudy Sarzo (Ozzy, Dio, Whitesnake), drummer Scott Travis (Judas Priest, Racer X) and guitarist Chris Impellitteri (Impellitteri). It seems that this all-star line up regards the project as a priority in its agenda- much like the original line up they do dress up and have already tested the waters of the Japanese market having performed at this year's LoudPark festival on October 15th.
What differentiates Animetal USA from the original outfit is unexpectedly their unique sound, as each of the four musicians has more than established a performing style of his own, plus the fact that they re-write the lyrics of these classic Japanese songs in English. Therefore ninety five percent of the lyrics on the album are sung in English with occasional Japanese motto's making their appearance.
In terms of performance, Vescera chooses to sing rather high on most songs, often adding far too many words per musical line-which increases complexity for the listener. On the other hand, one happily finds that the musical basis of Animetal's debut is essentially an Impellitteri album. In fact the riffs, melodies and guitars seem to come out of Chris' latest studio album Wicked Maiden. In particular the guitarist holds nothing back on this all-star release, contributing a greater amount of guitar solos, scales and shredding than what found on his latest solo albums.
Truth be told, some songs are expected to have instant appeal to fans of neoclassical/power metal, while others demand that you are an enthusiast of anime-themes in order to appreciate. Still those that have followed the respective works of Michael Vescera and Chris Impellitteri will probably be able to connect with most of the songs featured on this debut.
Genre: Neo-classical Power Metal
Line up:
Mike Vescera – Vocals
Rudy Sarzo – Bass
Scott Travis – Drums
Chris Impellitteri – Guitar
Track Listing:
1.Space Battleship Yamato.
2.Gatchaman no Uta.
3.Mazinger Medley.
4.Makafushigi Adventure!
5.Zankokuna Tenshi no Thesis.
6.Ai wo Torimodose!!
7.Ganbare Dokaben.
8.Pegasus Gensou.
9.Ike! Tiger Mask.
10.Kinnikuman Go Fight.
11.Yuke Yuke Hyuma.
Hardrock Haven rating: 7.5/10
ANIMETALUSA – UCHUUSENKAN YAMATO from 921 Associates on Vimeo.
by Joe Mis
Staff Writer –
If you miss the glory days of the New Wave Of British Heavy Metal, you'll be in for a treat if you grab a copy of the debut full length release Angels of Mons from the UK's Agincourt. This long time quartet (together since 1991) is out to prove that old school still rules and they make a compelling argument.
After a promising start and the release of 2 EPs, Agincourt ran headlong into the rise of grunge / alternative and like so many fellow hard and heavy acts they were forced to disband as the music world changed out from under them. In the latter part of the 2000s, Agincourt was revived by 3 of its original members, and after a few personnel changes the band now consists of original vocalist / guitarist Richard E. Toy, original bassist Russ Weaver and new members Paul Anderson (guitars) and Steve Riley (drums). They hit the studio in 2009, and released Angels Of Mons earlier this year. Rather than trying to create a new sound Agincourt has put together a classic metal CD that could have hit in the late 80s or early 90s, but they've recorded it with modern techniques and equipment.
The music on the whole is classic metal, filled with big hooks and catchy riffs. Richard E. Toy's voice is solid and clear, and his guitars are very good as well. He plays well off of fellow guitarist Paul Anderson, and they combine to lay down some melodic rhythm lines and excellent solos. Russ Weaver and Steve Riley make a capable bottom end, neither one being too flashy and both handling the 80s sound flawlessly. The songs are well written numbers, fairly standard metal tracks. They are all melodic, well executed and well recorded, allowing each player to have his time in forefront. The only thing Agincourt needs to complete their repertoire is strong backing vocals. At times the song seems to call for a big growling chorus and all you get is Richard Toy's higher range voice (although very neatly double tracked and self-harmonizing). Some of the songs do sound a bit dated by today's standards, but considering the age of the band it is quite appropriate.
Musical highlights include: the great riffs, catchy chorus and superb vocals on "Edge of Paradise;" the hot guitar solos and great bass and drum teamwork on "Going Insane;" the totally upbeat groove of "Breakdown;" the slick intro, chugging rhythm line and blistering guitars on "Come With Me;" the entire power-ballad masterpiece of "This Life" – easily the finest track on the release; the nice guitar harmonies and old-school feel of "Queen Of The Night;" and the gritty tone and punchy chorus of the title track "Agincourt."
Any fan of the NWOBHM or old school metal will enjoy this release. While there is nothing here that pushes the envelope, Agincourt's Angels Of Mons is a pleasant journey down memory lane, a real "blast from the past" for children of the '80s. Since the album is well produced, it will also appeal to fans of modern melodic metal or guitar rock and may inspire them to look deeper into the past to explore the roots of modern rock.
Good things come to those who wait, and after two decades Agincourt should finally earn the recognition they deserve. Good music, excellent musicianship and top-notch performances make Angels Of Mons highly recommended.
Genre: Heavy Metal
Band:
Richard E. Toy (vocals, guitar)
Paul Anderson (guitar)
Russ Weaver (bass)
Steve Riley (drums)
Track Listing:
1. Edge of Paradise
2. Going Insane
3. Captured King
4. Breakdown
5. Come with Me
6. This Life
7. Fool No More
8. Queen of the Night
9. Promised Land
10. Agincourt
Label: Independent
Website: http://www.agincourtmusic.com/
Hardrock Haven rating: 8/10
by Justin Gaines
Staff Writer –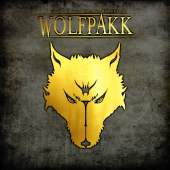 Wolfpakk is a new melodic metal project put together by vocalists Mark Sweeney and Michael Voss. That fact alone – that the voices of Crystal Ball and Mad Max/Casanova (respectively) are teaming up – would be reason for most fans of European style melodic metal to take notice. If that doesn't grab your attention though, check out the impressive list of guest vocalists that make an appearance on Wolfpakk's self-titled debut: Paul Di'Anno (ex-Iron Maiden), Tony Martin (ex-Black Sabbath), Jeff Scott Soto (Talisman), Rob Rock (Impelliteri), Mark Boals (Holy Force), Tim "Ripper" Owens (Charred Walls of the Damned), Paul Shortino (King Kobra), Mark Fox (ex-Shakra) and more. On the musician side, bassists Tony Franklin (ex-Blue Murder), Mat Sinner (Primal Fear, Sinner), Neil Murray (ex-Whitesnake) and guitarists Tommy Denander (Paul Stanley), Freddy Scherer (Gotthard), Torsten Koehne (Eden's Curse) all lend a hand.
Well, all the guest appearances in the world won't make up for a lack of quality songwriting, but fortunately Wolfpakk has one of the best songwriters in melodic rock and metal in Michael Voss. And Mark Sweeney is no slouch either. They've put together an album that takes advantage of each other's strengths and really captures that European melodic metal style and energy. It's got a decent sense of heaviness, but melody is the main focus. The guests provide backing vocals and the occasional lead, but Sweeny and Voss handle the lion's share of the vocals, with each taking roughly half of the songs on the album. This isn't a bad thing, as both turn in great performances, but it seems a shame to have this many high-caliber singers and not let them take a greater role.
Highlights of the Wolfpakk debut include the single hard-hitting but very catchy "Reptile's Kiss," the anthemic "Slam Down the Hammer" and the 10-minute symphonic epic "Wolfony," but there really isn't a dull moment to be found.
The star power alone ought to make Wolfpakk's debut a must-have release for most melodic metal fans. That it's a really good album is the icing on the cake. Fans of Sweeney and Voss's work in Crystal Ball, Casanova and Mad Max in particular will want to check this album out, but Wolfpakk will also appeal to fans of similar bands like Evidence One, Shakra, Chalice and Pink Cream 69.
Genre: Melodic Metal
Band:
Mark Sweeney (v)
Michael Voss (v)
Track Listing:
1. Sirens
2. Dark Horizons
3. Lost
4. Slam Down the Hammer
5. The Crow
6. Wolfpup
7. Let Me Die
8. Reptile's Kiss
9. Ride the Bullet
10. Wolfony
Label: AFM
Website: www.wolfpakk.net
Hardrock Haven rating: 8.25/10
by John Kindred
Staff Writer –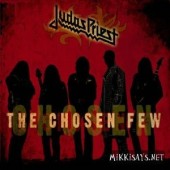 The Grandfathers of Metal are a quartet of egos molded into the guise of one of the most influential NWOBHM ever to grace the stage and are known to the world as Judas Priest. The band's longevity has spanned 40-plus years. That's four decades! Throughout the bands successful career, there has been dissension in the ranks, as members have left and were replaced, Judas Priest carried on.
The voice of the band is Rob Halford, although Tim "Ripper" Owens admirably captained the ship for a few years and albums. Priest has had a few drummers sit behind the kit and bash the skins over the years, but Scott Travis, who, since 1990, has elevated the metallic fury of the band to new heights. The guts of the band, bassist Ian Hill and guitarists Glenn Tipton and K.K. Downing, have kept the train on the tracks without derailment through these transitions.
In 2011, Judas Priest has called it quits, well, not really. With continued plans to records and release new music, the band has called it quits to the grueling rigors of the road when it comes to touring the world. With one final hurrah, the band plans to close out this portion of its career with the Epitaph World Tour. Dissension in the ranks reared its head once again, leading to longtime guitarist K.K. Downing retiring from the band and walking away from the group's final world tour. This created an opportunity for guitarist Richie Faulkner to join Priest.
With all that said, we now can jump ahead to the band's latest studio release titled The Chosen Few. This is an interesting compilation of songs that was not culled by the band or label but by the band's peers within the music industry. The compilation features 17 songs that appear in the chronological order, according to album release dates. With exception of the band's last four studio albums and 1981′s Point of Entry and '88′s Ram It Down, the rest of Judas Priest's albums are represented on the compilation.
This is not the first compilation release by Judas Priest. Besides the original albums that have been remastered and re-released, there are plenty of "greatest hits" packages out there. Fans ultimately are going to have to decide if they want to buy another one. It's best, really, to allow the artists who chose the track listing to provide a reason why they chose their selection of favorite Priest songs.
Here is a sampling of their commentary, which can be read, in full, in the liner notes in the CD booklet. The bands and artists that picked the track listing include: Joe Elliott (Def Leppard), Steve Vai, Kerry King (Slayer), Randy Blythe (Lamb Of God), Alice Cooper, Slash, Joe Satriani, Klaus Meine (Scorpions), Geezer Butler (Black Sabbath), Chris Jericho (Fozzy), David Coverdale (Whitesnake), James Hetfield (Metallica), Vinnie Paul (Hellyeah), Corey Taylor (Slipknot), Gene Simmons (Kiss), Lars Ulrich (Metalica) and Lemmy (Motorhead).
Comments:
GENE SIMMONS. KISS
"Priest has always meant one thing — take no prisoners. For decades, across one continent to the next, they have never wavered in their commitment to treating the Stage as Holy Ground. Do not tread lightly there. This is a place reserved for the few. The proud. The mighty. A toast then, to a band that has given its all to the fans. And the magic will continue when the next 15 year old puts on his first Priest record, pumps his fist in the air and is instantly transported to a land where only Metal Gods roam."
OZZY OSBOURNE
THE RIPPER
"This has always been one of my favorite Judas Priest songs…. I just want to know what the fuck that note is that Rob Halford hits in the beginning of the song. Fucking hell!! That note is probably just below what only dogs can hear."
KERRY KING, SLAYER
DELIVERING THE GOODS
"I could pick a dozen Judas Priest songs! Favorite band of all time. Picking one is far more difficult. Favorite album – Stained Class. Favorite song…being put on the spot I'd have to say Delivering The Goods off Hell Bent For Leather. Great song for all the reasons I like Priest. Killer riffs, killer lead into my favorite lead break they've ever done, straight into taking the song in a complete different direction. Awesome."
RANDY BLYTHE, LAMB OF GOD
THE GREEN MANALISHI (WITH THE TWO-PRONGED CROWN)
"While the true meaning of the lyrics to Fleetwood Mac's The Green Manalishi are apocryphal, the song has always seemed well, sinister to me. In the hands of The Metal Gods the tune becomes elevated to frightening. I still don't know exactly what the The Green Manalishi is or what it does with the
two – pronged crown, but after hearing Halford's snarling version, I sure as hell don't want to meet
it in a dark alley. Hail Priest!"
ALICE COOPER
LIVING AFTER MIDNIGHT
"For a metal band, Priest has always used tons of melody… when you have a singer as great as Rob Halford, you have to write great riffs WITH great melodies, you can't just have riffs. Living After Midnight is the perfect example. This is Judas Priest's most memorable anthem. This is every metal head's party song, because naturally…the party always starts after midnight. Actually I think Rob has been to most of those parties."
LARS ULRICH
BEYOND THE REALMS OF DEATH
"The blueprint for the epic rock ballad. Copied thousands of times, never eclipsed."
SLASH – SCREAMING FOR VENGEANCE
"Judas Priest have put out their fair share of great albums to be sure. But my all time favourite is Screaming For Vengeance. It was, and still is, one of the best metal records ever produced, and the title track is, in my humble opinion, still ahead of its time."
COREY TAYLOR, SLIPNOT
YOU'VE GOT ANOTHER THING COMING
"Judas Priest: the blueprint for the ultimate heavy metal band….."
Genre: NWOBHWM / Heavy Metal
Current Band Lineup:
Glenn Tipton (g)
Rob Halfornd (v)
Ian Hill (b)
Scott Travis (d)
Richie Faulkner (g)
Track Listi:
1. Diamonds And Rust (1977) – chosen by Joe Elliott (Def Leppard)
2. Dissident Aggressor (1977) – chosen by Steve Vai
3. Exciter (1978) – chosen by Accept
4. Beyond The Realms Of Death (1978) – chosen by Lars Ulrich (Metallica)
5. Delivering The Goods (1979) – chosen by Kerry King (Slayer)
6. The Green Manalishi (with the Two-Pronged Crown) (1979) – chosen by David Coverdale (Whitesnake) & Randy Blythe (Lamb of God)
7. The Ripper (1979) – chosen by Ozzy Osbourne
8. Victim Of Changes (1979) – chosen by James Hetfield (Metallica)
9. Breaking The Law (1980) – chosen by Lemmy (Motorhead)
10. Rapid Fire (1980) – chosen by Vinnie Paul (Pantera & Hell Yeah)
11. Grinder (1980) – chosen by Zakk Wylde (Black Label Society)
12. Living After Midnight (1980) – chosen by Alice Cooper & Geezer Butler (Black Sabbath)
13. Screaming For Vengeance (1982) – chosen by Slash (Guns n Roses)
14. You've Got Another Thing Coming (1982) – chosen by Klaus Meine (Scorpions) & Corey Taylor (Slipknot)
15. The Sentinel (1984) – chosen by Chris Jericho
16. Turbo Lover (1986) – chosen by Jonathan Davis (Korn)
17. Painkiller (1990) – chosen by Joe Satriani
Label: Legacy/Sony
Hardrock Haven rating: n/a
by Nikiforos Skoumas
Staff Writer –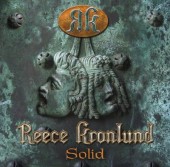 It has been four years since American singer David Reece made his comeback in the music industry by fronting Swedish melodic hard rock band Gypsy Rose on their second album Another World. Since then David launched his solo career with Universal Language having also reformed his late-'80s outfit Bangalore Choir subsequently releasing Cadence and re-issuing their debut.
In 2011 David joins forces once again with guitarist/producer Martin Kronlund the founder of Gypsy Rose; the man who got Reece back to making albums, their offering this time is Solid. Now, why this collaboration was not marketed as Gypsy Rose instead of Reece-Kronlund is anyone's guess. Never the less, Solid more than verifies that the musical chemistry between the singer and the guitarist remains intact.
Those familiar with Kronlund's work as a producer have probably come to expect thick-sounding albums, perfectly transparent on all instrumentation. Solid is no exception to the above paradigm, offering standard to up-tempo melodic hard rock songs that do justice to the reputation of the two rock-heroes.
The album opens on the fiery "My Angel Wears White" a song that is meant to contrast the opening song on Bangalore Choir's debut "Angel in Black," seemingly a dedication to the fans that have followed David's career since the '80s. Up next is "Samurai," possibly the album's strongest moment (despite being a common songwriting topic in hard rock), a narrative featuring rather unconventional lyrics, captivating the listener from its opening note. Then there is "Could This Be Madness" which easily stands as their most mature power-ballad to date, masterfully combining clean and distorted instrumentation into a convincing song.
From there onwards the album takes a substantial mood swing with "Animals and Cannibals" and "Paint the Mirror Black" being much more aggressive and provoking than what precedes them. And just when one thought Solid holds no more surprises, the AOR-drama of "I Remember You" kicks in. Reece's performance on this one is monumental and the arrangements (band and orchestra) are just magical.
Solid closes with the up-tempo power-hard rocker "The Dead Shall Walk the Earth" which makes direct reference to Gypsy Rose's "Final Call," closing the album in the most forceful way possible.
Thankfully things are very straightforward with this release; if you enjoy robust, dynamic but also mature melodic hard rock then Solid is totally recommended. Fans of Reece, Bangalore Choir, Gypsy Rose and Salute can not fail to enjoy Dave and Martin's new album.
Genre: Melodic Hard Rock/ Hard Rock
Line Up:
David Reece – Vocals (Accept, Bangalore Choir)
Martin Kronlund – Guitars (Gypsy Rose, Dogface)
Track list:
01. My Angel Wears White
02. Samurai
03. Could This Be Madness
04. Animals And Cannibals
05. Remember You
06. Paint The Mirror Black
07. I Would
08. Edge Of Heaven
09. Magic Puddin'
10. The Dead Shall Walk The Earth
Label website: Metal Heaven
Hardrock Haven rating: 8.5/10
by Nikiforos Skoumas
Staff Writer –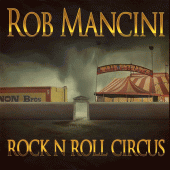 Rock'n'Roll Circus is the brand new debut album by German-Italian producer/guitarist Rob Mancini. Being active since the '90s as a recording artist in melodic hard rock, Mancini served in such bands as Hotwire and Crush. The musician has since resided in Ireland where he performs live time and time again.
2011 finds Rob ready to test the waters of the music industry with Rock'n'Roll Circus, not just his first solo album, but the songwriter's first attempt at guitar driven AOR. The guitarist and producer seems to be entirely responsible for the development of Rock'n'Roll Circus, having played most instruments, sung on all songs while also having composed and engineered the offering in its entirety.
Music-wise Rock'n'Roll Circus references directly such German AOR/melodic rock bands as Frontline and Shylock while Mancini's vocals sound like a mixture of Michael Bormann and John Sykes. It has to be clear that Rob's debut is big on guitars; the six-string riffs are thick, establishing a clear presence at the front of the mix. Never the less, Mancini positions himself primarily as a songwriter and as such understands the importance of delivering, first and foremost, catchy compositions with instant appeal. For that he chooses no to use more guitar parts than necessary, commonly compensating with keyboard harmonies which are just as big part of Rock'n'Roll Circus sound as the vocals and guitar. Having said that, rest assured that Rob delivers lengthy guitar solos and each and every song, his lead guitar work shines throughout Rock'n'Roll Circus.
Fans of melodic rock should definitely not judge this release by its plain cover as it very much holds its own in the competitive and ever expanding AOR world. Take "Edge of a Broken Heart," a song built on such infectious guitar melodies and vocal harmonies that should have hit the radio on a "dozen-times-a-day basis." "Stranger in Paradise" is the protestant melodic rocker having equal mainstream appeal as the previous track, followed by the sensationally dramatic "Too late to die." One also finds that Rob has not neglected to deliver a handful of hard rocking songs much like the title track and "Lay Down the Law."
Clearly albums such as this deserves the backing of leading labels of the genre and could have developed into an international highlight in 2011 melodic rock had it been supported by professional management. One can only imagine what greatness Mancini is capable of if given proper support and budget. Rock'n'Roll Circus is indeed the melodic rock underdog of the year.
Genre: AOR / Melodic Rock
Line-up:
Rob Mancini – Vocals, Guitars & Programming
Unlisted session musicians
Track Listing:
01. Carnival Of Fools
02. Rock 'N' Roll Circus
03. Edge Of A Broken Heart
04. Everytime You Cry
05. Running Up That Hill
06. Lay Down The Law
07. Weak As I Am
08. Stranger In Paradise
09. Too Late To Die
10. United We Stand
11. Time Stops For No One But You
12. Edge Of A Broken Heart (Radio Mix)
Hardrock Haven rating: 8/10