THE BUZZ IS GETTING LOUDER!
by Chris Danielson
Guest Writer —
SED RECORDS TO SHOWCASE UP AND COMING ROCK BANDS: HORNET, DAMN DICE & WESTERN SAND; THURSDAY 23RD FEBRUARY 2012, AT THE THE INTREPID FOX, SOHO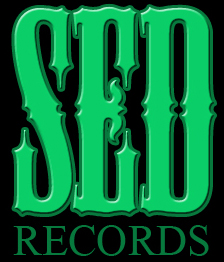 London based independent record label SED Records UK return once again with their free-entry rock nights at Soho's top rock venue, The Intrepid Fox, in full force on Thursday 23rd February 2012 to showcase the UK's best up and coming young rock bands. If you have previously been to an SED Records night you will know how fantastic the nights have been with hot young talent from all over the UK rocking the joint. There is a stellar line-up with three great bands. Headlining the night is SED Records signed hard rock outfit Hornet. All About The Rock said "Hornet are like are a shot in the arm – an injection that you're going to want on a regular basis" and as always main support comes in five-star rating this time from London's finest glam rock band Damn Dice and the Bournemouth based Western Sand who kick ass 70's style.
Headliners Hornet are currently taking the music industry by storm and are causing a huge stir in the rock 'n' roll honey pot! Rockindustry.co.uk who reviewed the young upstarts at their last show said "These boys are something special and there's just no stopping the buzz getting louder" and with London's Big In The Game Magazine recently saying; "In their time The Sex Pistols had revolutionized the music industry in a way never seen before. It is my belief that Hornet will do the same, all that's left is to see their influence spread. Need I say any more?" You know the Hornet boys are on to something big!
Glasswerk said; "It's Like witnessing Nirvana, The Sex Pistols and Black Flag and the crowd here is lucky enough to catch the band in intimate surroundings, clearly aware that they are witnessing something very special indeed. 'Outta Control', 'Second Hand Smoke' and 'Rock n Roll Riot' already sound like classics. The bands rise to super stardom depends on one thing – whether a major label has big enough balls to take on this rock leviathan."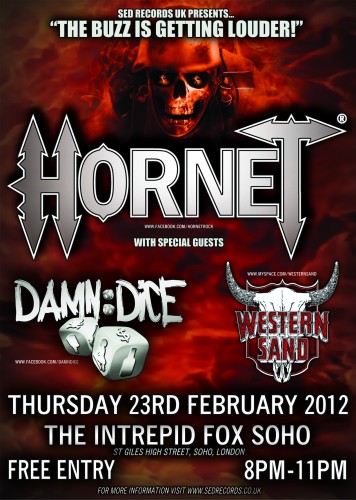 Main support comes from Damn Dice, who are an emerging new band from London who are fully equipped with a high energy, powerful and hard rock sound injected with an exciting stage presence that matches their glamorous image of four, long haired, sexy glam rockers who are dressed to kill. At the end of 2011 Damn Dice managed to scoop the main support slot with the legendary L.A Guns and supported them on a 17 day tour across the United Kingdom and Europe. Damn Dice focus on the lighter side of life, such as sex, partying and having a wild time and with no room for negativity Damn Dice perceive rock music as an expression of positive energy and these lads boldly sing "Life is a gamble. We play to win. Roll the damn dice, never lose" so whether you're into gambling or not I can guarantee that Damn Dice are a safe bet and will blast The Intrepid Fox away!
Opening the evening are the talented Western Sand, who are an exciting, no bullshit, balls-out-of-the-bath, four piece southern hard rock revival group hailing from, Bournemouth, Dorset. With high ambitions the guys from Western Sand intend on putting rock 'n' roll back on the map and after forming in 2008 Western Sand are becoming Dorset's most exciting new rock band, earning a strong reputation after performing countless shows around Bournemouth and Southampton. Relentless gigging has landed the band headline shows at The Joiners as well as supporting The Treatment, Jettblack, Voodoo Six and Heaven's Basement. So if you don't mind getting sand between your toes then make sure you catch these guys live in the city because they might just cause a sand storm…
The last two SED Records shows had rockers crammed into the venue like battery hens so make sure you get down to the venue early enough to avoid disappointment of not being able to get in! Doors will be opening at 8pm so make sure you get down to The Intrepid Fox in Soho on Thursday 23rd February 2012 it's an evening not to be missed!
Bands: Hornet, Damn Dice, Western Sand
Date: Thursday 23rd February 2012
Location: The Intrepid Fox, 15 St Giles High St, London WC2H 8LQ
Time: 8pm-11pm
Tickets: Free Entry
Check out full event details at: www.sedrecords.co.uk
Check the bands out at:
www.facebook.com/hornetrock
www.facebook.com/damndice
www.myspace.com/westernsand