by Nikiforos Skoumas
Staff Writer –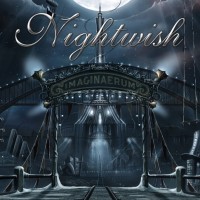 Back in 2007, when Nightwish introduced Anette Olzon as their new lead singer, a major part of the press came to label the move as the 'greatest risk in the band's career.' One feels that their new album Imaginaerum sets higher and harsher odds for Nightwish than ever before.
In a day and age where physical album sales decrease semester after semester, Nightwish put out an album that cost altogether no less than 400,000 Euros (that's well over half a million dollars). So the stakes are once again up for the Finnish symphonic band.
And being a band of that kind it is only natural that they should be investing on orchestral arrangements. For the task in hand, the quintet hired the London Symphony Orchestra, complemented by the 'London Metro Voices' choir (heard on such blockbusters as Lord of the Rings Trilogy and Pirates of the Caribbean).
These high profile collaborations not only reinforce the creative boundaries of the band but also set very strict rules as of how Holopainen's songs should be composed. Nightwish was built on intense, often up-tempo, rhythm section, thick guitars and extra melodic keyboard arrangements. In contrast to a classic Nightwish song where Tuomas would induce a multitude of keyboard harmonies through a variety of tempos, the new album features merely a couple of very simple core melodies per songs, dressed in the best way possible, leaving a lot to be desired.
One finds that the songs on Imaginaerum roughly fall in two categories: the 'soundtrack rockers' and the 'tales.' On the first category one lists the heavier songs like, "I Want My Tears Back," which lacks the drive of a powerful guitar melody or any instrumental improvisations or leads whatsoever (hence the term 'soundtrack') and the 'tales' are acoustic-symphonic songs for the biggest part which would no doubt tie nicely with a theatrical play.
Soundtracks and theatrical plays … well there is no secret that Nightwish intend to release a movie based on the album's concept later in the year; still that does not alter the fact that these high profile collaborations have actually compromised their songwriting as opposed to liberating their musical style.
The limited edition of the album is thick two-CD digipack featuring the original album and its instrumental counterpart along with a double poster.
Genre: Female Fronted Symphonic Metal
Line up:
Anette Olzon – vocals
Tuomas Holopainen – keyboards, piano
Emppu Vuorinen – guitars
Marco Hietala – bass, vocals (tracks 1, 3, 4, 5, 6, 9, 10, 11, 12 )
Jukka Nevalainen – drums, percussion
Track Listing:
1. Taikatalvi
2. Storytime
3. Ghost River
4. Slow, Love, Slow
5. I Want My Tears Back
6. Scaretale
7. Arabesque
8. Turn Loose The Mermaids
9. Rest Calm
10. The Crow, The Owl And The Dove
11. Last Ride Of The Day
12. Song Of Myself
13. Imaginaerum
Band website: http://www.nightwish.com/en/
Hardrockhaven rating: 6/10
by Justin Gaines
Staff Writer –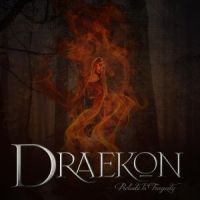 Prelude to Tragedy is the debut EP from Indiana-based progressive/power metal band Draekon. Indiana is hardly the first place you think of when it comes to progressive and power metal bands, let alone one this good, but they have produced a real gem in this band. Draekon may be new on the scene, but they have a sound and energy that can put several veteran bands to shame.
There's an interesting mix of sounds on Prelude to Tragedy. Above all, this is a progressive metal album, owing a great deal to the classic Fates Warning sound. It has a strong power metal vibe though, bringing to mind the darker tones and epic nature of bands like Evergrey, Kamelot and Symphony X. This helps keep the technicality – and there's a fair amount of that – in check and provides an emotional resonance that helps connect the listener with the songs. Draekon delivers a nice mix of heaviness and melody, atmosphere and progression. The guitar work is impressive, as are the rhythms (there's some really killer drumming here), and the keyboards help create an atmosphere that really matches the lyrical focus of the songs. The vocals are a key element as well. Chad Barnes has a very strong, very distinct, and very emotive voice that's just perfect for this kind of music.
With just five songs, Prelude to Tragedy only gives us a brief taste of what Draekon has to offer, but those five songs are more than enough to showcase a band with a lot of potential. If you're a fan of bands that walk the line between progressive and power metal, especially bands like Evergrey, Kamelot, Redemption, Suspyre and Symphony X, and are looking for something new, Draekon is a band that's well worth checking out.
Genre: Progressive Metal, Power Metal
Band:
Erik Sturgell (b)
Stanford Stivers (d)
Joshua Simpson (g)
Alec Biccum (k)
Chad Barnes (v)
Track Listing:
1. The Value of All
2. Darkness Falls
3. The Division
4. Wails of Anguish
5. Where Silence Stills the Soul
Label: None
Website: www.reverbnation.com/draekon
Hardrock Haven rating: 8.75/10
by Chris A.
Staff Writer –
A Sea of Blood: The 70,000 Tons Of Metal Day 2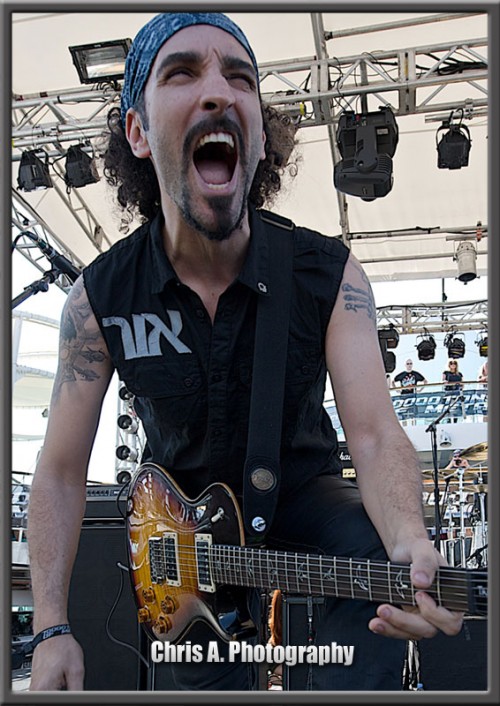 Steaming toward the southwest, with the coast of Cuba visible on the horizon, Day 2 of 70000 Tons of Metal resumed with abandon. For the next 18 hours, there would be a nonstop assault of metal on the ship's three stages, with 27 bands scheduled to perform. At 10 a.m., with temperatures approaching 80 degrees on the main pool stage, the first band of the day would be old-school thrashers Whiplash with Crowbar set to close the day's action at 4:15 a.m. the following day.
It was a day of head banging, drinking and running around the ship as the 2,000 fans went from venue to venue, navigating the narrow corridors with pits stops at the bar and casino. Catching all the bands was impossible, of course, but the atmosphere, beautiful weather and the utter variety of bands kept a smile on everyone's face. Day 2 was nothing short of kick ass.
Day No. 2 performers included: Whiplash, Megora, God Dethroned, Diamond Plate, Exciter, Spiency, Orphaned Land, Tankard, Suffocation, Pretty Maids, Atheist, Kamelot, Stradivarius, Amorphis, In Extremo, Therion, Kataklysm, Annihilator, Children of Bodom, Virgin Steele, Venom, Riot, Hammerfall, Pestilence, My Dying Bride, Dark Funeral and Crowbar.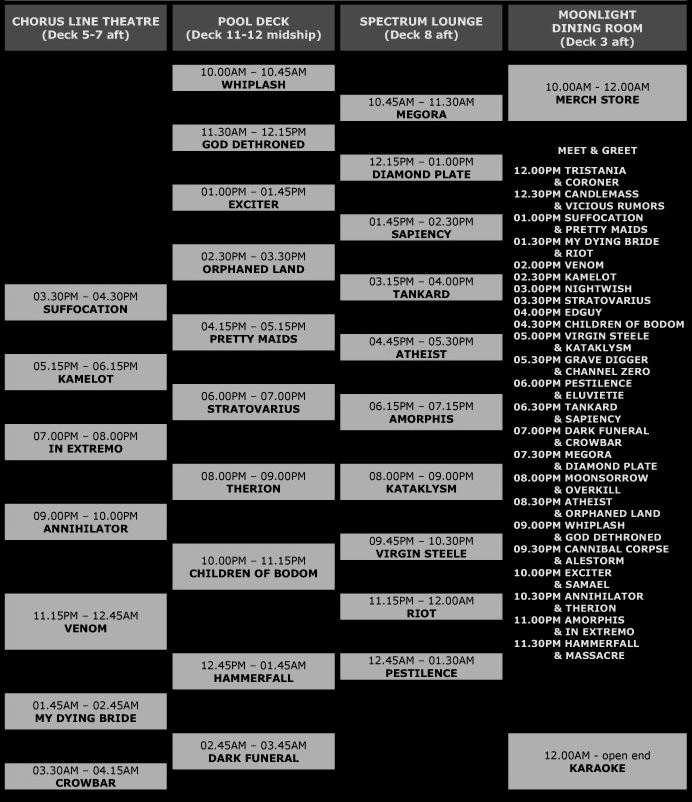 70,000 Tons of Metal Day 2 Photo Gallery
Photos Appear Courtesy of Chris A.
by Alissa Ordabai
Staff Writer –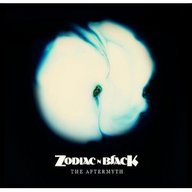 There are glimpses of earnest striving on this collection of demos, jams and half-baked ideas, which is, curiously, packaged and presented as a finished album. But a finished album it is not, with both material and production at their tadpole stages, and with the band dropping a heavy hint about how proud they are of the end result by withholding their surnames from the credits.
Speaking of pride, there is, however, plenty of it on this record – mostly in the late Sixties / early Seventies British rock heritage, with special reverence toward Led Zeppelin and Black Sabbath: the ostinato riffs, the quasi-mystical protracted instrumental extrapolations, and the deadpan seriousness with which the band is imitating the epic aspirations of the legendary visionaries.
Visionaries themselves they are not, and going for unsmiling mimicry of the British rock's glorious past ends up in predictable, heard-it-all-before, desperately retro renditions of the classic touchstones that are impossible to copy these days – even by the very people who created them, never mind the fans and the devotees. This is perhaps the greatest lesson of this release, proving the sad truism that you can't enter the same river twice.
What makes the axiom even more poignant is that the band has a knack for no-nonsense songwriting, and knows how to come up with propulsive grooves, tasteful guitar leads and inspired melodies. This could all come in handy when (and if) they decide to abandon the imitations and concentrate on becoming themselves. Which would hopefully result in another record of finished – this time – tunes with real professionals involved in the recording and mixing process. But prior to that a giant leap of faith is in order – faith that the band's own inner realities and their own experiences could be as valid as those of their mythical heroes who have roared 40 years ago about things this album is mumbling about.
Genre: Rock
Line-up:
Hank – bass
Luca – drums
Jim – guitars
Jad – vocals
Track Listing:
1. Bastinado
2. Necessary Evil
3. Only the Lonely
4. The Joke is on Us
5. Better off Dead
6. Seems Like Better Times
7. Who's the Fool (Part One)
8. Bad Pills
9. Making an Enemy
10. Lights on Blues
Label: STM Records
Online: http://www.myspace.com/zodiacnblack
Hardrock Haven rating: 5.5/10
by Alissa Ordabai
Staff Writer –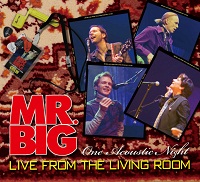 Few rock bands have ever managed to successfully convey the spirit of their songs in the unplugged live show scenario. Not for the lack of trying, but perhaps due to the intrinsic pitfalls which await anyone who tries to translate what has been written for the electric instruments into the acoustic format. But even among the success stories, not many know how to rework the material structurally for it not only to project in an acoustic setting, but say something new.
One such band is Mr. Big, which the legendary vets have again proven with plenty of panache on their new release Live from the Living Room. Recorded in Japan in January 2011, this brand-new record not only sets a fresh formula for the familiar songs, but channels a type of energy Mr. Big haven't tapped into before. A-grade instrumental skill, willingness to take risks, and a fundamental understanding of what works in rock music, all coincide to make this album sound almost like new material. Or at least there are as many surprises here as on any original studio album released by Mr. Big.
The crisp, twangy acoustic guitar on opener "Undertow" sets the atmosphere right off the bat, bringing to mind the rugged energy of Led Zeppelin III, but at the same time complimenting perfectly the fluid, poetic vocals. The guitar and the voice are juxtaposed in such an organic way but at the same time at such an unexpected, raw-edged angle that you barely recognize the song.
What follows – standouts "Still Ain't Enough" and "Around the World" – keeps bringing to mind Led Zeppelin's acoustic cuts, but sounds far from folky – this is pure rock, and rock at its most energetic, raucous best. The supercharged interaction between Paul Gilbert's spare leads and Billy Sheehan's rumbling, complex bass lines shines a new light in the legendary on-stage dynamics between the two virtuosos – this time sans Gilbert's neck-break fretboard pyrotechnics, but with chops just as accomplished, and the result – just as convincing.
But the best track of the album is "Take Cover" – an achingly lyrical rendition of the band's 1996 hit which in this version becomes a quasi-mystical trip, tapping into the vibe of Haight-Ashbury circa 1969. It is a very different song from the studio version – in spirit, in substance and in its message, showing that there have always been other things to this legendary band apart from their awe-inspiring chops and phenomenal experience – things that lie below the surface which have always touched their listeners the deepest.
Recorded in Japan, the album on its second half features a string quartet with arrangements by Takashi Miyazaki. This is where this album makes a U-turn, and the magic of a rock band reinventing its material in a daring, inspired way gives way to a conventional – if not pleasantly sweet – pop arrangement formula. Some of Mr. Big's authentic spark becomes lost in the process, replaced by a slightly bland – albeit tasteful – convention, somehow reminiscent of Eric Martin's "Mr. Vocalist" albums he was releasing in Japan over the past 5 years. It's a decidedly different atmosphere, influenced by the country this live CD was recorded in – nothing new or remarkable, but perhaps resonating well with the expectations of the Japanese audience.
As if to make up for the slope in the excitement level, on closing cut "Nobody Left to Blame" Gilbert and Sheehan plug in their instruments, and the result is a bawdy, rowdy rendition of "Nobody Left to Blame" where the Jimmy Page-inspired guitar becomes a conscious tribute to Gilbert's personal all-time hero.
To sum it up, the album is a rare proof to the fact that rock as a genre can be just as powerful, raw, and utterly hypnotising even without hundreds of watts of power, outboard effects, or the super-fast guitar wizardry. The heart of the genre remains in great riffs, the songwriting the spirit of discovery and re-discovery which expensive props or technological trickery have nothing to do with.
Genre: Rock, Hard Rock
Band:
Eric Martin – vocals
Paul Gilbert – guitar
Billy Sheehan – bass
Pat Torpey – percussion
Track Listing:
1. Undertow
2. Still Ain't Enough
3. As Far As I Can See
4. Voodoo Kiss
5. Take Cover
6. Around the World
7. Stranger in My Life
8. All the Way Up
9. To Be With You
10. Nobody Left to Blame
Online: http://www.mrbigsite.com/
Label: Frontiers Records
Hardrock Haven Rating: 8/10
by Nikiforos Skoumas
Staff Writer –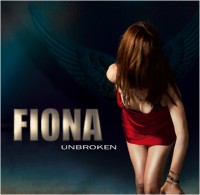 Though troubled the music industry may be, it has been well documented throughout the past decade that just about any musical comeback is possible. On this occasion the AOR community is very happy to welcome back '80s melodic rock heroine Fiona Flanagan.
Though most would be quick to reference Lita Ford or Robin Beck as the premier front women in '80s arena rock, Fiona put out four AOR studio albums from 1984 to 1992 and promoted the careers of such artists as Kip Winger, Reb Beach and Bobby Messano.
When interviewed by 'Classic Rock AOR' magazine, the singer was quick to point out that she did not come back to scene, she was actually brought back. When one is cornered by the House of Lords mastermind James Christian, Robin Beck and Swedish guitar hero Tommy Denander then that individual will succumb to making a first rate adult oriented rock album and Unbroken is it.
James Christian produced the album and co-wrote the music with Tommy while Robin performs vocal harmonies and duets with Fiona on the classic sounding power-ballad "This Heart." Lady Flanagan, for her part, writes the majority of the lyrics and brings to the picture former guitarist Bobby Messano who complements the album with his own guitar parts.
So we are looking at pretty much the same team that put together Robin's latest studio album The Great Escape; and though a great album that was, Unbroken proves an even more diverse AOR offering. You will find anything from up-tempo songs to ballads to groovy tunes and extra melodic rockers. In all fairness "Badge of Love," "Broken" and the opener "Love Along the Way" are as good as anything Fiona put out in her prime. There is, of course, the modern rocker "I've Released You" which seems out of place in the overall track list but that's just an exception.
Needless to say, Fiona retains an exceptional vocal and physical shape and seems to be enjoying her comeback while pushing the boundaries of her trademark sound and style. If you enjoyed the latest albums by Robin Beck and Issa you should definitely try Fiona's comeback album.
James, Robin and Tommy, keep it up! Please bring back Lee Aaron, Staffanie Borges and Lisa Dominique!
Genre: Melodic Rock, AOR
Line up:
Fiona Flanagan -lead vocals
Robin Beck -Backing vocals
Tommy Denander – Guitar
Bobby Messano -Guitar
James Christian -Bass
Jeff Batter – Keyboards
James Jamal -Drums
Track list:
01. Loved Along The Way
02. Broken
03. I've Released You
04. Shadows Of The Night
05. Badge Of Love
06. Wild One
07. This Heart (Duet with Robin Beck)
08. Get Yer Kix
09. Salt On My Wings
10. I Love You But Shut Up
11. Everything You Are
Website: www.fionarock.com
Hardrock Haven rating: 8/10
by Nikiforos Skoumas
Staff Writer –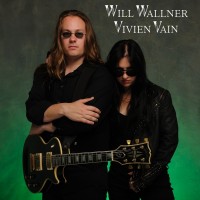 Coming on February 1st is the debut album of British guitarist Will Wallner and Croatian singer Vivien Vain. Having both relocated to the United States; Los Angeles, CA., in particular, they enjoyed some high profile rock acquaintances including Carmine Appice (Blue Murder, King Kobra) and Vinnie Appice (Dio, Black Sabbath).
Well the two drum legends share percussion duties on the Wallner & Vain album also featuring guest performances by bassist Jimmy Bain and Rudy Sarzo while keyboards are contributed by Tony Carey and Derek Sherinian; naturally Wallner handles all guitars and Vain all vocals.
The most obvious musical label one could attach to the project-band is female fronted metal-hard rock. In an attempt to further define their style, it would be fair to claim that Wallner & Vain play melodic hard rock which ties back to 1983-1984, hence substantially heavier and less friendly than its adult oriented counterpart.
Now, in terms of performance, as you would expect the masters deliver as always authentic '80s rock vibe while undertaking a rather complementary role, allowing the new blood to prove themselves which is what the Wallner & Vain project is all about. Vain seems vocally comfortable at mid-range and for that matter never stresses herself beyond her comfort zone, so one can only guess the extent of her vocal range. On the other hand this unforced vocal approach that Vivien brings to the table is actually very convincing, hence a more technical style would not sit well with the songwriting found on the album.
Now coming to guitarist Wallner, he proves an accomplished rock-metal guitarist without doubt. Will comes up with classic sounding riffs, memorable melodic guitar lines and inventive solos. Still it has to be clear that Will may reference John Sykes as his main influence but his style is fundamentally different to the guitar legend's trademark melodic, AOR shredding.
Overall what Will and Vivien have achieved with this debut is no small feat; A classic sounding hard rock album backed by half a dozen rock royalties. If you enjoy hard rock that originates to the early '80s then you should definitely check this album.
Genre: Hard Rock, Melodic Metal
Track Listing:
The Dream
Dreamstealer
Streets Of Rage
Fourteen Twenty Eight
All That I Want
Miles Ahead
Soul Monster
Rising
Indestructible
Line Up:
Vivien Vain – Vocals
Will Wallner – Guitar
Guests:
Carmine Appice – Drums on Tracks 3, 5, 9
Vinny Appice – Drums on Tracks 2, 3, 4, 6
Brian Tichy – Drums on Track 7
Tony Franklin – Bass on Tracks 3, 5, 7, 9
Rudy Sarzo – Bass on Tracks 4, 6
Jimmy Bain – Bass on Track 2
Tony Carey – Keys on Tracks 1, 2, 8, 9
Derek Sherinian – Keys on Track 7
Band website: http://www.wallnervain.com/
Hardrock Haven rating: 7.5/10
by Chris A.
Staff Writer –
Rocking the Boat: The 70,000 Tons of Metal Day One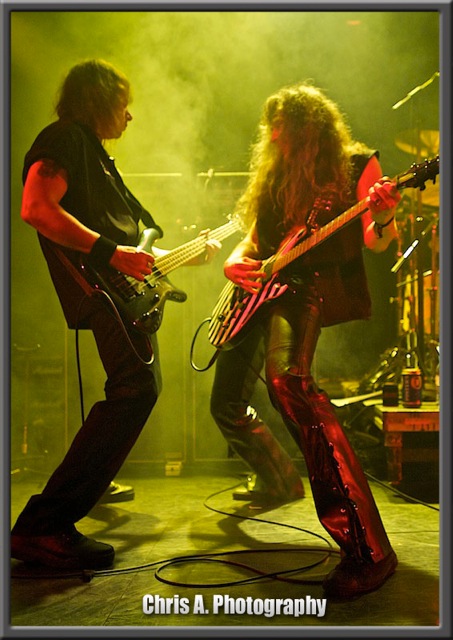 As the ship pushed away from its berth and headed into the Caribbean sea, amps were powered up, lights dimmed, and the heavy metal sailors started to fill the various on-board venues. By 6:30 p.m., the first bands kicked off the cruise.
With multiple artists performing on multiple stages, fans and photographers had to carefully review the schedule to catch their favorite bands. The main deck of the ship had been converted into an outdoor venue, while additional performance venues were set up for other bands on below decks.
Day No. 1 performers included: Alestorm, Grave Digger, Tristania, Coroner, Moonsorrow, Cannibal Corpse, Nightwish, Samael, Candlemass, Vicious Rumors, Edguy, Eluveitie, Channel Zero and Massacre. Day one music ended at 4 a.m. the following day.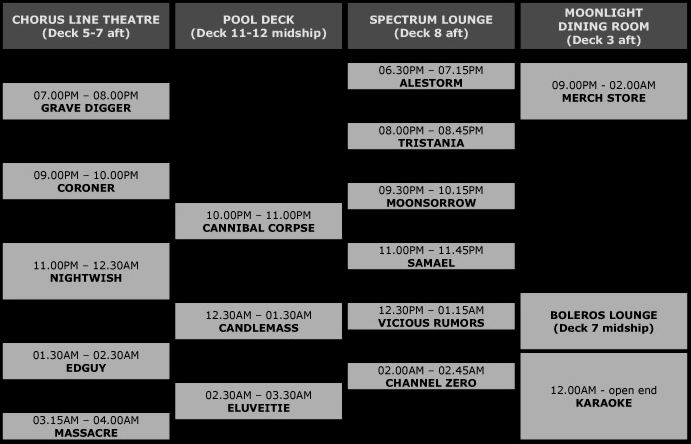 70,000 Tons of Metal Day 1 Photo Gallery
Photos Appear Courtesy of Chris A.
by Cameron Edney
Guest Staff Writer –
4ARM's Danny Tomb Talks about the new album, touring and much more.
Australian thrash metallers 4ARM have certainly done the hard yards to get to the point they're at today! Based in Melbourne the band formed almost seven years ago and built up a strong following on Australia's East Coast. During the past couple of years news and interest in 4ARM spread to all Australian states and people overseas started to sit up and take notice of this new breed of Australian Thrash Metal that had no intentions of sitting quietly in the background. Since forming 4ARM have released three studio albums and have had the pleasure of touring with some of heavy metal's finest artists including Testament and Destruction.
The band who are shaping up to have a very busy year recently announced that they were signing to Rising Records for overseas distribution of their killer new album and are currently putting touring plans together for fans both in Australia and abroad. 4ARM's new album 'Submission for Liberty' is the bands finest and heaviest work to date filled with blistering guitar riffs smashing drums and the amazing vocal abilities of front-man Danny Tomb. The new album was mixed by Matt Hyde and mastered by Ted Jensen who has done amazing work with heavy metal greats such as Slipknot, Machine head and Metallica. The bands amazing new artwork was designed by Brent Elliott White who has done some fantastic work with both Megadeth and Arch Enemy, so it seems that 4ARM are in very good company and on their way to bigger and better things!
I recently caught up with 4ARM's vocalist and rhythm guitarist Danny Tomb to discuss the band's new album, life on the road, future plans and much more! Here's what Danny had to say…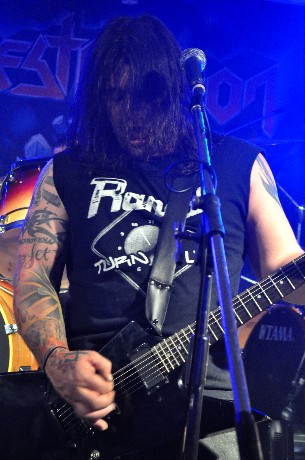 Hardrock Haven: Hey Danny, thanks for putting some time aside to speak with us today, how's everything going?
Danny Tomb: Hey Cameron; absolute pleasure, mate! Things are going well, I'm doing great. The boys and I are excited about the future at the moment!
Hardrock Haven: Great to hear man, let's talk firstly about the new album Submission for Liberty; it's set to be released this month and its unreal! You guys must be really happy with the outcome!
Danny Tomb: We are very pleased with this album. A lot of hard work went into these songs and creating an album we could be very proud and confident in. Mick and I spent nearly every day together for the better part of twelve months, bouncing ideas back and forth… if we both smiled then it was kept and we'd move on to the next section. One smile and one frown meant more work. We work very well together and have a kind of connection where we know exactly what each other is thinking and going to say, so much so that sometimes it can be a bit scary [laughs]!
Hardrock Haven: I remember back in August last year news of this album grabbed my attention, what do you hope metal fans will get out of the new album once listening to it?
Danny Tomb: I hope they get a sore neck! I hope they feel it the way we feel it. That they get inside our heads a little. I know they'll relate but I hope it allows people to dare to think for themselves. Most of all I hope that it encourages us all to unite as a people, one big Metal family to tear down those who place themselves above others!
Hardrock Haven: This is album number three for 4ARM, how does 'Submission for Liberty' differ from previous releases?
Danny Tomb: Submission is a very direct album, down-right relentless and very aggressive. We achieved what we set out to achieve as far as writing is concerned. We've grown so much over the years and learned a lot about how to crescendo music… how to drive things and push things, what works and doesn't work. There is an art to writing music -it's almost a science, it takes a while till you get it right…
Hardrock Haven: Let's talk a little about the songwriting; some of the tracks on the new album include 'Raise a Fist', 'Taken Down' and 'The Warning'… where did you draw inspiration from when it came time to write?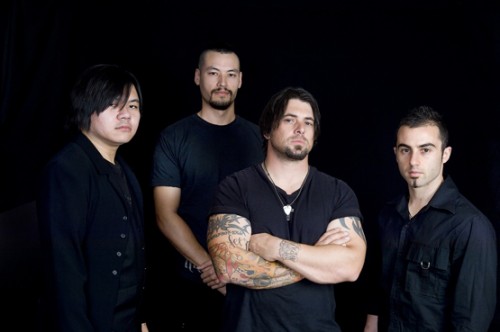 Danny Tomb: 'Taken Down' was written about that sick piece of shit that threw his daughter off the Westgate Bridge in Melbourne a few years ago, I won't mention his name only because it shouldn't even be remembered, he then tried to plead insanity for his crime, but it was found that he did it because of a custody battle with his ex wife, his other two children were in the car watching him while he did this, when he returned his eldest son said "Dad you have to go back and get her…. She can't swim". I looked at what was around me and how sickened I was, and am by the shit we are fed by our governments and media -the "correct" way to live our lives, the things we can and can't say or do, the cost of trying to live the way they say is the ideal way and everything in between. It's ridiculous and absolutely pathetic. We really are as free as they will allow us to be… we can't think for ourselves, even though people will tell you they can. Most people will babble shit that they have been fed or heard, or whatever is the mainstream thing at the time. Meanwhile the fat prick in the suit or in our case the bitch who has the personality of a stone sits back smiling at what they have achieved on our backs and how much they get you to spend, how much more you will work only to pay more tax and how 99% of us will waste away doing shit we hate to make somebody else rich just so we can try and keep a roof over heads -which is something that a lot of young families are having A LOT of trouble doing. All this to one day die of some shit disease that they themselves have antagonized with the results of mass produced foods and all the rest of it… There's plenty of inspiration right in our living rooms…Or as soon as we open our doors.
Hardrock Haven: Danny congratulations are in order also having recently signed to Rising Records for the overseas releases. That's fantastic news mate, what's this mean now for 4ARM… one step closer to taking over the world?
Danny Tomb: Thanks mate! We're very pleased about the signing. It certainly feels good to have a label understand or 'get' what it is you're trying to do. To have someone else believe in you and what you do is a very satisfying feeling. Though it also means that we've jumped out of a river of unsigned bands, into an ocean of signed bands! It means a hell of a lot of hard work, dedication and a 'never take no for an answer' attitude… Anything is possible isn't it? [Laughs] We're not afraid of hard work mate; anyone that knows us well will tell you that!
Hardrock Haven: Over the past twelve months or so the band name has been circulated quite a lot but you're certainly no new band on the scene, having started almost seven years ago, in your opinion how has the Australian metal scene changed since the band first formed?
Danny Tomb: To be honest mate I think if anything it has gotten a little stronger. I think mainly due to just more people doing things out there and really trying to do things for the scene. We're not the most populated nation in the world so you would assume naturally that the scene would struggle a little but over the past few years people are becoming passionate about metal again and that's just awesome! And the amount of bands out there at the moment is phenomenal …that adds to the scene in a big way.
Hardrock Haven: Tell us about the band name, where did that come from and what other names were you considering?
Danny Tomb: [Laughs] Actually the name really started out as a tongue-in-cheek kinda thing that ended up sticking really. When we first got together we always played everything so much faster than any of our recordings and without realizing it, our forearms would be so built up with lactic acid that we could barley move em by the end of a set. I remember it was thrown around 'we should call the band Forearm Dismobilizer.' We could never really work out what we wanted the band name to be, we just knew we wanted to play. Eventually 4ARM stuck but only after we found that it actually means to 'be prepared for war' …to for-arm yourself before battle…
Hardrock Haven: You put on a fantastic performance, for those metal fans that haven't had a chance to see you live yet, how would you best describe the band live?
Danny Tomb: Our music is very energetic, aggressive and fast paced. Our live performance really is the visual aspect of that. We basically feed off the music and let out what it makes us feel… we are all about impact and energy, we thrive on what we do and nothing will stand in our way while we are up there doing what we do, you're either with us or against us!
Hardrock Haven: With the new album hitting shelves in a few weeks, do you have any new dates locked in that you can share with us?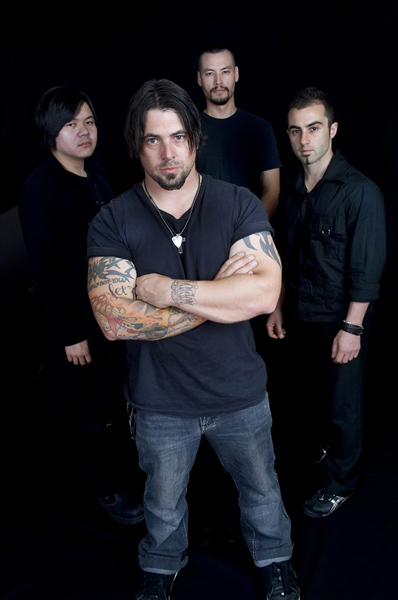 Danny Tomb: Dates are being locked in as we speak but I can't give any out just yet. I can tell you we are doing our very best to get to as many places as we can!
Hardrock Haven: Having been around for so many years now, whilst touring who's given you the best advice and what was it?
Danny Tomb: To be honest, we've never really been given any sound advice, aside from "never give up, keep pushing and work hard" etc. But pretty much everything up to this point has been trial and error for us…
Hardrock Haven: Mate we've hit the part of the interview where our readers find out more about the real you… what was the first concert you attended and how much of an impact did that have on you musically?
Danny Tomb: The Motley Crüe Dr. Feelgood tour was my first ever concert. I remember Metallica were touring with the Justice album at that time and I so wanted to go but wasn't allowed. My parents said "heck NO" to Metallica but yes to Motley… I'm sure it made sense to them in some way [Laughs]. I loved everything about that concert as far as an aspiring musician was concerned -the atmosphere, the crowd, the stage, hearing the first notes or beats, the whole thing was a rush and it was something that I just had to have for myself. Music is a long hard road of one-step-forward and ten-steps-back, but when the reward for your efforts comes in -whether it be someone who really appreciates what you do or a record deal or touring with a band you have loved your whole life, the satisfaction you get from that fuels the hunger and fire to do more. You know what they say, when you love something, there ain't much you wouldn't do for it…
Hardrock Haven: Growing up did you always want to be in a band or were your goals different?
Danny Tomb: Growing up ah the memories! I always wanted to play music; it was the only thing that I could find solace in and the only thing that made sense to me. I remember when I first started playing guitar, my parents both worked at that stage so during the day I would ditch school and go home and play for hours I think it was about six months before the school felt they should call my parents in for a meeting to see what was going on. I had a few other talents that I could have pursued and possibly become successful with but I always saw them as hobbies and just things that I could do well. Even though I was heavily encouraged to pursue them as a career and to not rely just on music, I just didn't listen …and still don't!
Hardrock Haven: Do you come from a musical family?
Danny Tomb: Actually my father was a great saxophone and clarinet player who did some really cool things back in the day. One of my sisters plays the violin, and my brother plays guitar, piano and is also a vocalist we actually used to play in a band together many years ago called 'Iniquity'. Mick [4ARM Drummer] was also in the band for a while. We released an album and an EP but it never really took off. I still enjoy some of the songs though, brings back good memories.
Hardrock Haven: Having been in the business for a few years now, there's no doubt you're always learning whether in the studio or on tour or learning the all important business side of the industry. What do you feel has been the most important lesson you've learned to date?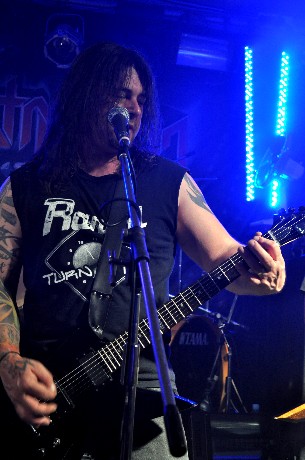 Danny Tomb: In this industry you never stop learning, there are a hell of a lot of sharks and liars -people who will piss in your pocket for God knows what reason. Believe me; some of the bullshit I have heard is just ridiculous. The most important lesson I've learnt thus far would be learning how to read people. It doesn't take long to figure out who is the real deal and who isn't. There's the 'hangers-on', I call them vultures, they're the type of people that only talk to you and pretend to want to know you because they think they can get something out of you. Then you have the industry wannabe's… these are the guys that promise you the world and deliver nothing but shit, just washed up has-beens trying to palm themselves off as the greatest and most powerful people in the industry. A lot of hard work goes into running a business and to really know who you're dealing with is a good lesson to learn and can save you a lot of time and effort with unnecessary shit.
Hardrock Haven: Just before we wrap it up as we mentioned the new album is out soon! What other immediate plans are in place for yourself and the band?
Danny Tomb: At this stage we are getting all our touring organized and locked in. We've a lot of dates coming both nationally and internationally.
Hardrock Haven: Mate, thanks again for your time and best of luck with the new album… do you have any last words for our readers?
Danny Tomb: Thank you to everyone out there that has ever taken the time to listen to our music we appreciate you all …see you all on the road soon!
Photos appear courtesy of Cameron Edney
by Chris A.
Staff Writer –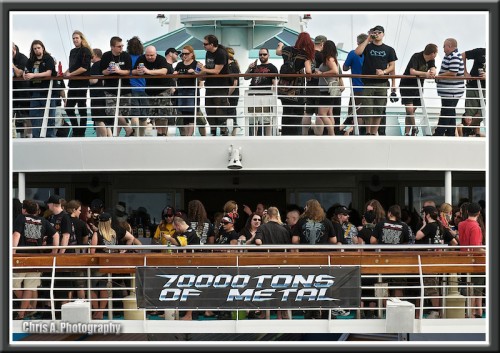 For the past five days, the Caribbean has been under a musical siege of epic proportions in the form of the second 70,000 Tons of Metal cruise. Forty-two Metal bands, representing an excellent cross-selection of metal genres, shared a luxury cruise liner with 2,000 hard-core metalheads on a voyage straight to Hell. Hell, Cayman Islands, that is.
With three up-close and personal stages and performances scheduled to be running nearly nonstop during sailing times, it was an accepted reality that seeing every band would be an impossibility for mere mortals. Read more
by John Kindred
Staff Writer –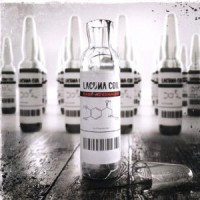 Merging a woman with a pretty face and a smooth silky voice, who wears tight black leather pants with raging, distorted guitars and heavy percussion doesn't really equate to "metal," yet this ongoing trend has manifested itself into this: Another formulated subgenre of metal. Using the term "metal" loosely, a majority of these bands performing within this subgenre find their compositions to be watered down in "heavy" doses of production that literally take the metallic right out of the music. You then combine that with a pop-rock vocalist, and well, come on, at what point is it metal? Evanescence, Nightwish, Within Temptation, Flyleaf, Epica, etc., all style their music to this format. In this game, originality was lost a long time ago. And yes, even Lacuna Coil falls into these convoluted pool of alleged "metal" bands.
The tone of the black and white album cover of Lacuna Coil's Dark Adrenaline appears, on the surface, to be a dark and heavy concept. The reality is that the music is commercial metal, which is written to appeal to the American radio format. It's polished and slick production pulls the heaviness from the songs that thickly are mired in layers of sound.
Produced Don Gilmore (Linkin Park, Bullet for My Valentine) Dark Adrenaline features 12 songs with various special editions that contain an additional bonus track, DVD and other collectible swag. Obviously, the production of the music is amazing. Guitars, bass, drums and vocals are clearly audible. The mix perfectly balances the instrumentation, with nothing overtly too loud. Guitar solos and vocals are easy to hear, sitting on top of the percussion and rhythmic structures of the music.
With that said, Lacuna Coil appear to be facing an identity crisis. It's a distraction that a female-fronted band also must feature the duality of a male lead vocalist. Yes, it's been all the rage for years now, and it's just about time someone said something about it. With the band strategically using Cristina Scabbia's feminine beauty as a selling point along with her voice for their Goth Metal operatic-style of music, how can the male counterpoint, found in the guise of Andrea Ferro, have an identity in the band? He is not a background singer, so they equally share the role.
Throughout the CD, they take turns singing during the verses and share the role in the choruses. This back-and-forth repertoire is reminiscent of the way the rap-metal band Linkin Park presents its vocals. Again, the CD was produced by Don Gilmore. Honestly, with the opening song, "Trip the Darkness," Andrea Ferro's voice is the first one heard, with Scabbia trailing behind. This begs the question, "Just whose band is this?"
What will you take away from Dark Adrenaline? There are no choruses that stick in your head, no hooks that you long to hear again and again. The music begins and ends. Following the same trajectory from start to finish. Little to no tempo changes give the album a stagnate vibe, making all the songs sound the same. As good as the production and performances are, there's nothing memorable. The album doesn't feel dark; it's not brooding and certainly not moody enough to be termed "Gothic."
Genre: Gothic Metal
Band:
Cristina Scabbia — vocals, primary lyricist
Andrea Ferro — vocals
Cristiano "Pizza" Migliore — guitar
Marco "Maus" Biazzi — guitar
Marco Coti Zelati — bass guitar, keyboards, primary composer
Cristiano "Criz" Mozzati — drums, percussion
Track Listing:
01. Trip The Darkness
02. Against You
03. Kill the Light
04. Give Me Something More
05. Upsidedown
06. End of Time
07. I Don't Believe in Tomorrow
08. Intoxicated
09. The Army Inside
10. Losing My Religion
11. Fire
12. My Spirit
Label: Century Media
Hardrock Haven rating: 7/10
by Mark Allen
Staff Writer –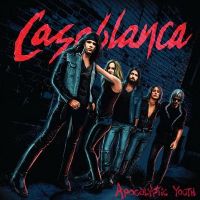 Hailing from Sweden (though the band does feature American guitarist Ryan Roxie of Alice Cooper/Electric Angels fame) and with knob-maestro Chris Laney at the production helm, it would have been enticingly easy for Casablanca to simply take the "monkey see, monkey do" route and copy the Swedish sleaze/glam sound being exported from that country on a regular basis. Instead, they have crafted their own sound that is pure melodic, '80s-influenced hard rock but without strict adherence to preconceived formulas.
Before anyone gets the wrong impression, while Casablanca might go slightly against the grain, they do so without ruffling the feathers of melodic rock fans. This is not an avant-garde album or eclectic exercise in experimentation; this is a melodic hard rock release with all the requisite bells and whistles, but with a unique edge that Casablanca can rightfully call their own. Their influences may be obvious, but they stamp them with their own identity rather than settle for slavish mimicry.
Apocalyptic Youth is a fun, energetic, lighthearted album. Not lighthearted in a poppy way—this isn't Miley Cyrus—but in its overall vibe and approach. Summertime rock, if you will. Despite an album title that sounds better suited to a Norwegian black metal band, there is nothing dark or dangerous about this release. The sonic characteristics are wide open, the guitars and drums given ample room to breathe and allow the melodies to dominate rather than focus on overt aggression. Casablanca want to rock you, but they don't feel the need to rock your face off.
In keeping with the band's mature sound, the guitar tone is warm and smooth, with rich, earthy textures. Ryan Roxie is not what you would call a shredder, but he has talent to spare, even if that talent does not manifest itself in flash and sizzle. The drummer is female, a rarity in the rock realm, and Josephine Forsman's authoritative skin-pounding perfectly complements Roxie's six-string skills and emphatically proves that a drum kit is not exclusively masculine domain.
The downside to all this uniqueness and maturity is that some of the songs come off as a little subdued, with choruses that sound restrained. And while restraint is not necessarily a bad word, it is likely that some melodic rock fans will wish the energy had been kicked up a notch or two. That said, the album does offer several high octane tracks as well, with "Deliberately Wasted" being the highlight. The song opens with a superlative hook and then the chorus takes that hook and makes it explode, powered by gang backing vocals into a powerhouse anthem. Elsewhere, "Love and Desperation" comfortably rides along on some catchy, pulsing rhythms, "Beast of Summer" channels the breezy mid-tempo excellence of prime Bon Jovi, and "Secret Agents of Lust" reeks so much of the '80s that you'll be digging your parachute pants and pastel shirts out of the closet while cranking up the Miami Vice soundtrack on cassette.
This album may not be a classic, but it's still pretty good and well-rounded enough to offer both the sing-along melodic hard rock anthems many fans demand as well as something a little more downplayed for those who find that big, loud, over-the-top style a bit wearisome. Probably not going to rate as one of those beloved albums you would grab if a zombie apocalypse broke out tomorrow and you could only take a dozen CD's with you to an island sanctuary, but until such a holocaust happens, most melodic rock fans should be happy to have this in their collection.
Genre: Melodic Hard Rock
Band:
Anders Ljung (vocals)
Ryan Roxie (guitars)
Erik Stenemo (guitars)
Mats Rubarth (bass)
Josephine Forsman (drums)
Track Listing
1. Apocalyptic Youth
2. Deliberately Wasted
3. Downtown
4. The Juggler
5. Rich Girl
6. Love and Desperation
7. Secret Agents of Lust
8. Beast of Summer
9. Last of the Rockstars
10. A Lifetime on the Run
Webpage: www.myspace.com/casablanca
Label: Rocket Songs
Hardrock Haven rating: 7/10
by Jonathan
Staff Writer –
January 26, 2012 at Midland Theater in Kansas City, MO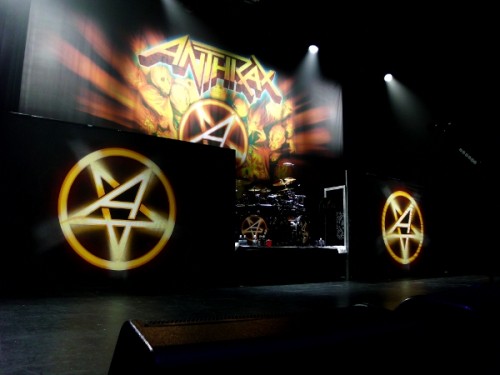 Anthrax live at the Midland theater in Kansas City, Missouri was a unique performance and definitely a night to remember. The audience welcomed the return of vocalist Joey Belladonna with open arms but unfortunately, Scott Ian one of the founding members of Anthrax was absent, so guitar players from both Testament and Death Angel stepped in.
Anthrax is back and as strong as ever. They opened the show with "Earth On Hell" and "Fight 'em 'Til You Can't," both tracks coming from their latest CD entitled Worship Music. Their set list included 13 songs total, 5 songs from their latest CD and 8 classics from their past. Old and tired? Not even close! This band has more fire and energy than most of the younger newer bands today.
The stage design was a direct reflection from the artwork on the Worship Music CD. Including the two bass drums, there were 5 inverted pentagrams surrounding the band. Unless it's a coincidence, considering a pentagram is a 5 pointed star it's actually quite brilliant. The sound was very good and all instruments were audible even when Charlie Benante's double bass drums kicked into high gear, all of the musicians are in fact at the top of their game; there are no weak links in this chain. Anthrax still has what it takes to continue being a standard setting, metal thrashing band for many years to come.
The night was a complete success due to the genuine camaraderie between fellow musicians. Music is not a sport nor is it a competition, like some unimaginative scripted reality TV shows would have us believe. Anthrax, Testament and Death Angel lead by example, they show what it means to work as a team when all involved share common goals. "The show must go on," is a common phrase in show business and what these three bands did together is something that should not go unrecognized. They did it to help out one of their own, they did it for metal, but more importantly they did it for the fans.
Set List:
1. Earth On Hell
2. Fight 'em Til You Can't
3. Caught In A Mosh
4. Antisocial
5. I'm Alive
6. The Devil You Know
7. Indians
8. In The End
9. Got The Time
10. Medusa
Encore:
11. Madhouse
12. Metal Thrashing Mad
13. I am The Law
by Nikiforos Skoumas
Staff Writer –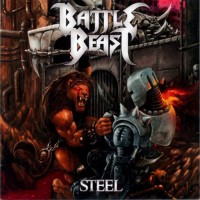 And just when you thought major labels no longer invest on newcomer acts, comes Battle Beast. The plainly titled Steel is their debut album, issued by Nuclear Blast in an attempt to increase their slice of the pie labeled as New Wave of Traditional Heavy Metal.
Battle Beast are a female-fronted metal group from Finland and though this kind of profile might sound all too familiar, Battle Beast, as mentioned above, sound nothing like the average Scandinavian female fronted band. At the same time, however it is important to note that Steel is not quite the stereotypical traditional metal release either.
The best way one finds to describe their music is a mixture of Lordi and Dream Evil; Battle Beast combine the commercial elements of the former (keyboards, melodic guitar lines, straightforward songwriting) with the attack of the latter (up-front rhythm section, high pitched vocals, and extensive shredding solos).
Clearly, the protagonist instrument on Steel is the guitar and obviously the lead vocals; Nitte Valo is capable of carrying the vocal melodies at the top of her range, yet her vibrato might come out as rather funny, depending on the listener's taste and orientation. At the same time one can not fail to give credit to the guitar partnership of Anton Kabanen and Jusso Soinio who deliver on every song, making each guitar solo a musical piece at its own right. The rhythm section of Eero Sipila and Pyry Vikki drives the main body of the song though but the performance is nothing out of the ordinary. Also very significant is the contribution of their keyboardist Janne Bjorkroth who dressed the songs with orchestral arrangements which reinforces the depth of the overall composition and performance.
Moving to the lyrical concept, well, between the cover artwork and the song titles you already have a pretty accurate picture of Battle Beast's direction; "Enter the Metal World", "Justice and Metal," "Steel," "Victory," "Stay Black" and the single "Show Me How to Die" say just about everything regarding this newcomer band. Yes, Steel lies at the heart of Metal cliché and can grow a bit tiring after consecutive plays, obviously not due to its technical aspects (the songs are very well arranged after all) but because of the repetition of certain motto's and words.
For fans of traditional heavy metal enjoying the current resurgence of the genre, Battle Beast is bound to give them another reason to smile this month. Steel is classic sounding heavy metal with no shame but with great production that should probably reach all international metal communities.
Genre: Heavy, Epic Metal
Line Up:
Nitte Valo – Vocals
Anton Kabanen – Guitar, Vocals
Pyry Vikki – Drums
Juuso Soinio – Guitar
Eero Sipila – Bass, Vocals
Janne Bjorkroth – Keyboards, Vocals
Track Listing:
01. Enter The Metal World
02. Armageddon Clan
03. The Band Of The Hawk
04. Justice And Metal
05. Steel
06. Die-Hard Warrior
07. Cyberspace
08. Show Me How To Die
09. Savage And Saint
10. Iron Hand
11. Victory
Band Website: http://www.hypeproductions.fi/battlebeast/
Label: Nuclear Blast
Hardrock haven rating: 7.5/10
by Joe Mis
Staff Writer –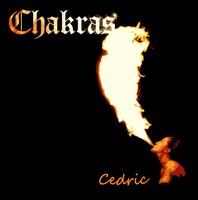 Cedric is the debut release from Cincinnati-based alternative/heavy/goth rockers Chakras. Formed and fronted by singer Andrea Simler DeGolier, Chakras blends elements of alternative rock, metal, gothic rock and a hint of classical into a unique and compelling sound. Chakras stands on its own musical merits and does not need to gain attention by playing the old "female-fronted metal band" card.
Formed the old fashioned way (classified ads and word of mouth), Chakras has gelled to produce a diverse and eclectic yet surprisingly cohesive sound free from many of the stereotypes of modern rock. In spiritualist terms, "chakras" are the energy centers throughout the human body – and these diverse centers combine to make a unique person in the same way that the members of Chakras have combined their varied musical tastes to create something new. Influences from almost every genre – hard rock, prog, gothic, folk and metal – are liberally sprinkled throughout the release. The band's lineup is as follows: lead vocalist Andrea Simler DeGolier, guitarist Jeff Conner, bassist Mary Beth Camp, drummer Steve Klosinski, and cellist / keyboardist Patrice Schlick.
The album kicks off with the very intense anti-war "999." This track displays both the strengths and weaknesses of Chakras as a band. The guitar work is brutal and totally "in-your-face" with a solid rhythm line behind it – technically outstanding performances. The song is well structured and features a great flowing chorus that contrasts nicely with grit of the verses, along with some fine guitar soloing. The track also reveals the band's tendency to over-manipulate Andrea Simler-DeGolier vocals. She has a strong, expressive voice which is too often blurred with the "singing through a megaphone" effect or masked by odd pans, echoes and artificial harmonies. She sounds best when singing without all of the gimmickry. "Split Lip" opens with some superb vocal harmonies (without the gimmicks), and has a bit of a punky, Joan Jett feel to it courtesy of some great Jeff Conner guitar riffs and a bouncing bass line by Mary Beth Camp. "Needle" opens as a mostly acoustic track that allows the cello of Patrice Schlick to contribute to the atmosphere, and then becomes an old school rocker. "Under God" is easily one of the strongest tracks on the album, almost full metal in tone. Great vocals, heavy riffs and a great Steve Klosinski drum line make this one a winner. "Julia" has bit of an old-school feel with an energetic bubbling bass line and high energy riffs, but it is marred by the overdone vocal mix.
The more power-ballad-like "Souvenir" starts the second half of the release. This bitter song shows the vast expressive range of the band, with soft and moody verses, a powerful chorus, great backing vocals and emotional performances by all members. "Cat Voices" is a moody bass and drum driven piece with a very slick lead break and grinding riffs. The murky "BDSM" has a very metal feel to the opening bars but seems to pick up a bit of a commercial vibe as the song progresses, and again, the manipulation of Andrea's voice is more distracting than enhancing. This track does feature some outstanding bass and cello teamwork. "First Footing" is another great track all around. Nicely done acoustic passages and simple chugging guitars give this one a rock radio-friendly feeling. It also allows the cello to be a real player, giving the song a slight mystical Evanescence-like tone. A big bass grove carries the eerie "Sex Parade," and the entire album, to a strong finish.
On the whole, Cedric is a solid album. Chakras is musically tight and immensely talented. The engineering is decent although a bit inconsistent, and the mix allows all of their diverse styles to be fully expressed. There are a few misses among the hits, but Chakras is a young band and they will only improve with experience. The music is brooding, complex and rich in instrumentation, and the lyrics biting with a touch of social commentary – not everyone's cup of tea – but all of it is delivered with fire and passion.
It is hard to recommend this release to fans of a single genre since there is so much in it, but it is safe to say that any fan of the heavier or darker sides of rock will find a good deal to enjoy. If you are into diversity in your music and enthusiasm in its delivery, then definitely pick this one up!
Genre: Hard Rock
Band:
Andrea Simler DeGolier (vocals)
Jeff Conner (guitar)
Mary Beth Camp (bass)
Steve Klosinski (drums)
Patrice Schlick (cello, keyboards)
Track Listing:
1. 999
2. Split Lip
3. Needle
4. Under God
5. Julia
6. Souvenir
7. Cat Voices
8. BDSM
9. First Footings
10. Sex Parade
Label: Independent
Website: http://chakrasband.com
Hardrock Haven rating: 7.5/10
by Alissa Ordabai
Staff Writer –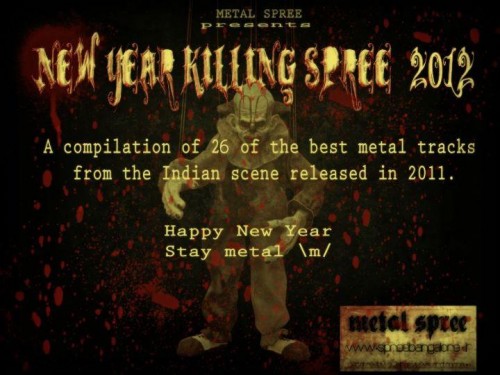 AA country with a vast and incredibly diverse cultural heritage, India – strangely enough – offers rather slim pickings when it comes to metal. Or at least this is what this compilation of 26 metal tracks is suggesting.
Ambitions and budgets range from demo quality renditions of 80s thrash to post-modernist exercises in combining everything that's ever existed in metal. But more often than not the imitations of what was in the charts 20 years ago sound tired and inorganic, and the attempts to mix and match them with something else – be it with symphonic metal or rap-metal – come through as empty recitations aimed at proving some sort of metal literacy as opposed to conveying inner realities.
There are, however, exceptions on this record – bands which succeed in mixing thrash, death, power groove, or whatever else, to such a convincing and finely balanced effect that you immediately connect with the genuine feeling behind the accomplished chops. Halahkuh, Grimmortal, Vile Impalement, Deafen, Dark Octaves of Sin, Crystal and the Witches, and Dead Calm Chaos are all to be named as the ones making an effort in the originality department and trying to think outside the box.
It is unfortunate that India's richly variegated traditional music is making little impact on the bands featured in this compilation. Grimmortal is one outfit which successfully taps into the country's musical heritage and for that stands out a mile from the rest of the record's offerings.
Other bands – such as Provissk, Plague Throat, and Azure Delusion – receive kudos for exactly the opposite, i.e. direct borrowings – in mood and in sound – from the likes of Lamb of God, Napalm Death, or mid-80s Metallica. They may borrow and even directly recite, but do it in such a studious, powerfully laconic way, that you instantly realize that here inner matches the outer, otherwise none of it would work. And when imitation reaches this level of competence, there is a hope that the next step for those bands will be something truly original.
Genre: Metal
Track Listing:
1. Bestial Murder – Slaughtered for Sanctity
2. Arihant – Why So Serious
3. Blurred Haze – Hope
4. Arcane Deception – Arcane Deception
5. Mutiny in March – Without the Second
6. Dark Desolation – Futile Dogma
7. Exalt – Kill with Me
8. Forsaken – Unsterblich
9. Slain – Here & Beyond
10. Azure Delusion – Apocalypse
11. Aughad – Desgtroying the Creator
12. 1883 AD – Who Will Kill
13. Verses – Threshold
14. Provissk – Bounded to the Sacred
15. Scarface – Salvation Denied
16. Crystal and The Witches – Alter of Hipocrites (sic).
17. Exiled Sanity – Redesigning Humans – I [The Uprise]
18. Dead Calm Chaos – The Ladder
19. Dark Octaves of Sin – Blasphemy
20. Deafen – Fate of Misery
21. Plague Throat – Present Chaos
22. Vile Impalement – Cremated Remains
23. Intoxicate – Give Me Mercy
24. Halahkuh – Sacrilege
25. Grimmortal – Resistance
26. Dream Diabolic – Necromenser
Online: http://spreebangalore.in/?p=590
Label: Metal Spree
Hardrock Haven rating: 6.5/10
by Nikiforos Skoumas
Staff Writer –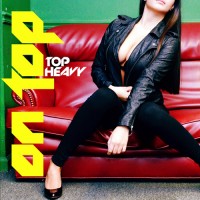 Top Heavy is the brand debut album by American sleaze-glam-metal band On Top. Lets get this out of the way before moving to the heart of the matter; what many young bands do not get quite right on their debuts is often the concept of the cover artwork. Well, as you can see, On Top have chosen spot-on cover work that should definitely turn almost any guy's head to their debut album Top Heavy.
So with an album cover that scores so well, one only hopes that the music proves just as exciting. On Top are actually a power-trio featuring singer and bassist Jaron Gulino, drummer Danni Piselli and guitarist Alex Kulick. On the band photo Alex appears with a flashy red BC Rich strat while Jaron boasts an even flashier purplish-pink bass of the same brand. For experienced fans the above could only mean one thing… Glam/Sleaze metal!!!
Indeed, though not quite as you would expect. On Top actually play a raw, riff-driven version of glam-sleaze which has more in common with the underground glam metal of the early '80s as opposed to the commercial AOR-ish glam metal that rocked the charts from 1985 and onwards. In an attempt to dig deeper into their style, allow one to take you back to 1981, historically the final year of NWOBHM which triggered the well documented metal reaction in the United States. Imagine the riffs of early Motley Crue combined with the intense drum work of early Dokken plus Diamond Head-inspired lyrical themes.
So technically you can expect speeding riffs which harmonize masterfully with the bass and vocals and up-beat rhythm section. The vocals are definitely an area of improvement as Jaron fares very well on the sleazy-rock 'n roll singing but seems to struggle on the more melodic vocal lines. Other wise the guitar parts are very well developed, taking into account that On Top are in-your-face sleaze metal, and the solos surprisingly melodic and technical.
Most importantly, the songs-writing on Top Heavy is straight to the point, opening riff, main body, verse and chorus which combined with the thick and clean production make this debut a very enjoyable trip back to early '80s glam-sleaze. There is definitely potential here, plus, they know how to draw your attention to their product.
Genre: Heavy Metal / Sleaze Metal
Line Up:
Jaron Gulino – Vocals/Bass
Danny Piselli – Drums
Alex Kulick – Guitar/Vocals
Track List:
1. Top Heavy
2. Into The Night
3. Sleepless
4. Sick and Tired
5. Another Night Of Sleaze
6. Die High
7. Fire Down Below
8. Hot N Wet
9. Success And Excess
10. Up to No Good
11. Too Much
Label: Horror Pain Gore Death Productions
Website: http://ontop.bandcamp.com/
Hardrock Haven rating: 7.5/10
by Mark Allen
Staff Writer –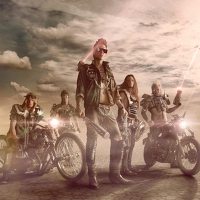 Those of us lucky enough to grow up amidst the excess of the '80s fondly recall when Aqua Net and spandex ruled the metal world, when bands like Poison, Stryper, and Trixter could be found in every record shop and bands like Nirvana, Soundgarden, and Stone Temple Pilots had not yet crawled out of the underground to change—some might say ruin—the hard rock landscape forever.
Well, if the rise of grunge shattered your soul, the latest album from Blessed By A Broken Heart (abbreviated by fans to BBABH) might just be the healing touch you need. Feel the Power is an ear-candy overload of kick ass hair-metal with all the screaming guitars, massive hooks, mega-choruses, and stacked harmonies you could ask for. This album is a shred-metal smorgasbord. Guitarist Shred Sean (probably not his birth name, but it has a ring to it) plays with the melodic ferocity of Chris Impellitteri and he absolutely smokes the six-string on this release.
BBABH's debut (All is Fair in Love and War) was pretty much straight up metalcore. On their sophomore effort (Pedal to the Metal) they mixed this metalcore foundation with cheesy glam trappings to create a new sub-genre dubbed glam-core. Now they have naturally progressed into a full-fledged glam-metal force. The only hint of their metalcore roots is the occasional scream, but they only happen on a few songs and never more than a few seconds. Frankly, the band would be wise to jettison this component altogether; the metalcore market is going to have no interest in the slick '80s metal BBABH has embraced and the glam-metal gurus loathe harsh screams, however minimal, mucking up their music.
What was old is now new again and the last several years have seen a major rise in retro glam/sleaze metal, mainly from outside the U.S. We have been treated to some awesome albums from the likes of Crashdiet, Steel Panther, and Dynazty, and BBABH can stand right alongside them. Granted, with song titles like "Shut Up and Rock," "Rockin' All Night," and "Skate or Die," you pretty much know before you even press Play that the lyrics are about as deep as a cat's water dish, but that is by design, the band deliberately recreating the party-hearty clichés of yesteryear. These guys are a Christian band, but you would never glean that from the songs; this album is all about fun, not faith. There's nothing offensive, but anyone seeking spiritual enlightenment will be more disappointed than a nymphomaniac taking home a eunuch.
Song-wise, BBABH vary between heavy hitters like "Deathwish" (the darkest track on the album), pop-metal anthems like "Shut Up and Rock" (Keel would have killed for this tune), and tender power ballads like "I've Got You" (Firehouse would have made this a smash hit). What they all have in common are fiery guitars, humongous hooks, and gigantic backing vocals that are more stacked than a Jugs magazine centerfold. If you love gang vocals shouting "Whoa!" and "Yeah!" then you'll be more impressed than the Pope running into Jesus at KFC and swapping confessional vignettes over a bucket of extra-crispy.
This is hair-metal heaven, this is shred-metal Shangri-la, this is glam-metal glory, this is pop-metal paradise. It is everything we adored about the hairspray-and-hell-raising '80s given sonic reincarnation in the modern age. It is Reckless Love meets Taking Dawn, it's Steel Panther sans the sleaze, it's Wig Wam with better guitars…what more do you need to know? Blessed By A Broken Heart is bringing serious muscle to the glam metal game. Do yourself a favor and feel the power.
Genre: Melodic Hard Rock, Hair Metal, Glam Metal
Band:
Tony Gambino (lead vocals)
Shred Sean (lead guitar)
Tyler Hoare (bass guitar, backing vocals)
Slater (drums, backing vocals)
Sam Ryder (rhythm guitar, backing vocals)
Guest Musician:
Dallas Taylor (Maylene and the Sons of Disaster) (vocals on "Shut Up and Rock")
Track Listing
1. Deathwish
2. Shut Up and Rock
3. Love Nightmare
4. Forever
5. Thunder Dome
6. Holdin' Back for Nothin'
7. I've Got You
8. Rockin' All Night
9. Scream It Like You Mean It
10. Skate or Die
11. Innocent Blood
12. Sleepless Nights
Label: Tooth & Nail Records
Webpage: www.facebook.com/blessedbyabrokenheart
Hardrock Haven rating: 9/10
by Justin Gaines
Staff Writer –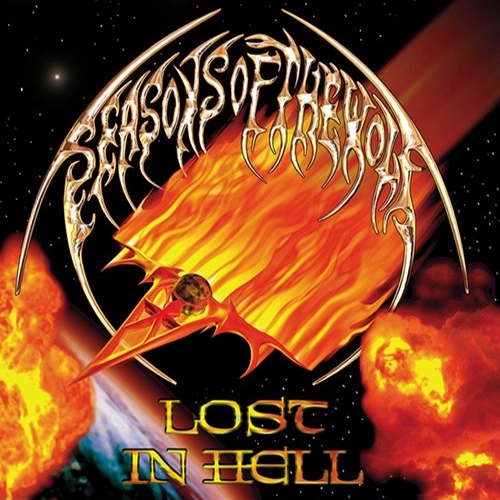 We've all seen the recent trend of traditional metal revival bands emerge in the past few years. There's even a catchy moniker – NWOTM – to describe bands like White Wizzard, Holy Grail, Enforcer and the like. But before those bands came forward to put old school metal back on the map, there were bands who toiled in the underground and never once lost sight of the classic heavy metal sound. One of those bands is Florida-based Seasons of the Wolf, who has been delivering their own unique brand of traditional metal since 1989.
Originally released in 1999, Lost in Hell was Season of the Wolf's second album, and is arguably their best release to date. More than just a study in Iron Maiden and Judas Priest worship, Lost in Hell was an extremely creative album. It still falls in traditional metal territory, but there are some progressive and even Gothic metal touches that make the album that much more memorable. Killer guitar work, prominent atmospheric keyboards and wailing vocals help make Lost in Hell an album that brings to mind the best of Helstar, Lizzy Borden and Crimson Glory.
More than a decade since it was originally released, Germany's Pure Steel label has reissued Lost in Hell with some sweet bonus material. The catch? It's a vinyl-only reissue. But if you're a vinyl collector and a traditional metal fan, this is a reissue to go crazy over. It's a double-LP reissue in a gatefold cover and limited to 333 numbered copies. The reissue also features three bonus tracks – a live version of "Land of the Dead" and the studio songs "Nostradamus 1999" and "Bloodlust." It's a great looking and great sounding reissue of an already terrific heavy metal album.
The rest of us will have to settle for the CD or MP3 version of the album, both of which are available directly from the band. Either way, if you're a fan of high quality traditional heavy metal and haven't yet discovered Seasons of the Wolf, Lost in Hell makes a great introduction.
Genre: Heavy Metal
Band:
Wes Waddell (v)
Barry Waddell (g)
Chris Whitford (b)
Wayne Hoefle (d)
Dennis Ristow (k)
Track Listing:
1. Lost in Hell
2. SOS
3. Interstellar
4. Voodoo Master
5. Initiation
6. One Land One King
7. Abandoned City
8. Communion
9. Witchfinder
10. A Face in the Mist
11. Vengeance
12. Land of the Dead (live)
13. Nostradamus 1999
14. Bloodlust
Label: Pure Steel
Website: www.seasonsofthewolf.com
Hardrock Haven rating: 8.75/10
by Justin Gaines
Staff Writer –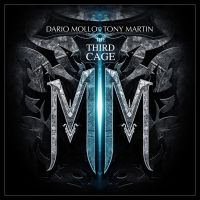 It took a full decade, but guitarist Dario Mollo and vocalist Tony Martin have finally delivered another collaboration under the Cage moniker. Their third release together, the appropriately titled The Third Cage, once again finds the Italian guitar maestro handling guitar, bass, songwriting and production, and the former Black Sabbath front-man on vocals and lyric writing.
Despite the ten-year gap between Cage releases, neither Mollo nor Martin has been idle. Mollo has been active in his Voodoo Hill project with Glenn Hughes and Elektric Zoo with Graham Bonnett, and Martin has contributed to a host of rock and metal projects. Here they pick up right where The Cage 2 left off, with a powerful mix of hard rock and heavy metal that's a halfway point between the bluesier hard rock Mollo does so well and the classic heavy metal found on Martin's albums with Black Sabbath.
The Third Cage is a very solid album, though it is a bit uneven at times. On one hand, there are songs like "Wicked World," "Wardance" and "Oh My Soul" that totally bring to mind the heavy riffs and of course amazing vocals of those Sabbath albums. On the other hand, some of the more in your face rock songs like "Cirque du Freak," "Don't Know What It Is About You" and "Can't Stay Here" are notable for either ridiculous lyrics or just plain awful singing. Fortunately the stronger songs well outnumber the weaker ones, but after a decade apart you'd think the songs that made it to the album would all be at a high quality level.
Uneven as the album is, if you enjoyed the first two Cage releases, chances are you'll find The Third Cage worth picking up. For dedicated Tony Martin fans, it goes without saying that The Third Cage is a must-have album. He's not perfect here, but more often than not he sounds absolutely dynamite. For everyone else – if you like hard-hitting melodic rock with first-rate guitar work and powerful vocals, there's a lot to like about The Third Cage.
Genre: Hard Rock, Heavy Metal, Melodic Rock
Band:
Dario Mollo (g) (b) (k)
Tony Martin (v)
Roberto Gualdi (d)
Dario Patti (k)
Brian War (k)
Track Listing:
1. Wicked World
2. Cirque du Freak
3. Oh My Soul
4. One of the Few
5. Still In Love With You
6. Can't Stay Here
7. Wardance
8. Don't Know What It Is About You
9. Blind Fury
10. Violet Moon
Label: Frontiers
Website: www.dariomollo.com
Hardrock Haven rating: 7.5/10
by Justin Gaines
Staff Writer –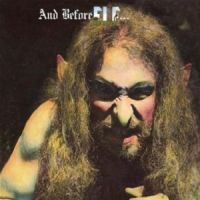 One of the more interesting chapters in the early history of the late Ronnie James Dio's storied career, and the one that is perhaps least in line with the epic heavy metal Dio was so well known for, was the band Elf. Elf – previously known as The Elves and The Electric Elves – played a strange but oddly compelling mix of blues, honky-tonk and boogieing rock n' roll. Think of a Led Zeppelin/Creedence Clearwater Revival hybrid. Elf released a handful of albums in the '70s before Dio joined Rainbow, but there were several early recordings that have never seen the light of day…until now.
The collection And Before Elf…There Were Elves features a dozen previously unreleased recordings, both live and studio material, including some covers. It doesn't include the official Elves singles, which is a bit disappointing, but there's still plenty to enjoy here. The material is a bit rough, but given the source material that's understandable. The songs have been remastered, but you can still hear some hissing and similar defects.
And Before Elf…There Were Elves kicks off with "You Shook Me," a cover of the Willie Dixon blues song that Led Zeppelin had also taken on at about the same time. It's a fun version, and one that sets the tone for the rest of the album. The collection rambles back and forth between upbeat honky-tonk rockers and pure blues worship. There's not much here that would hint at the kind of heavy metal Dio would go on to create, but there are moments on "Smile For Me Lady" and "Driftin'" that are Rainbow-esque musically. The studio tracks are the more interesting songs on this release, but it's the live material, particularly the closing cover of Chuck Berry's "Little Queenie" (with a bit of "Johnny B. Goode" thrown in) that are the most fun.
Obviously a collection like And Before Elf…There Were Elves, and indeed any Elf material, is not for casual Dio fans or those only interested in the man's heavy metal career. For serious Dio disciples though, this is a must-have release, and one that showcases the early work and creative output of a lost icon.
Genre: Rock
Band:
Ronnie James Dio (v) (b)
Gary Driscoll (d)
Doug Thaler (k)
David "Rock" Feinstein (g)
Nick Pantas (g)
Track Listing:
1. You Shook Me
2. Stay With Me
3. Four Day Creep
4. Buckingham Blues
5. Wakeup Sunshine
6. Driftin'
7. Smile For Me Lady
8. You Felt the Same Way
9. Simple Man
10. Drown Me in the River
11. Cold Ramona
12. Little Queenie
Label: Niji
Hardrock Haven rating: 8/10
by Alissa Ordabai
Staff Writer –
Best known for being a member of the British prog-rock outfit Crippled Black Phoenix, Karl Demata has also recently been receiving acclaim as a solo artist following the release of his début album Cross the Mountain. The classic-rock-inspired record released in 2011 got the attention of the UK guitar magazines and webzines with its ruggedly elegant, tasteful mixture of blues, country and rock – a melting pot of genres Demata delivers with earnestness of a seasoned pro. Unsentimental and going below the surface, this record shines a different light on his musical personality which so far has been mostly known for the edgy dysphoria his guitar parts were adding to the brooding, complex sound of his main band.
Curious about the inspiration behind Demata's solo record, Hardrock Haven caught up with him in London just before Christmas to talk about his solo release, the influences and the personal journey behind it, as well as more general subjects, such as the nature of musicianship in general and the visceral versus the cerebral in popular music.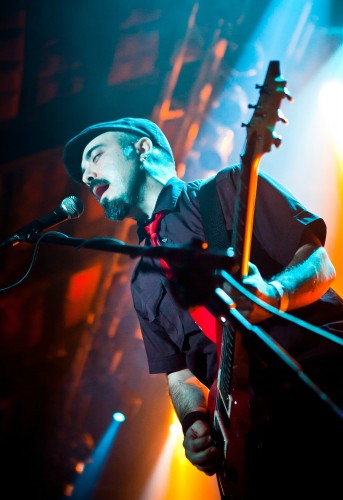 Hardrock Haven: Your debut album is such an unusual record for 2011. Especially for Britain where this style of music is not getting too much exposure these days.
Karl Demata: The fact is that it's a blues record, but it's not blues. I have always thought that releasing another CD with 10-12 songs that sound like covers of 12-bar blues sounding like either Muddy Waters or Stevie Ray Vaughan just doesn't make sense anymore. I don't think it ever made sense. For one, I was not born in Chicago or in Mississippi, so I cannot pretend to be a blues-man. But then I cannot pretend my playing and taste were not influenced by that. That's what shapes my songwriting more than anything else. I don't know how to define it. It's blues-rock and classic rock with a strong accent on blues guitar playing. And that's probably my cop-out. (Laughs).
HRH: Over how long have you been working on this record? Have you been storing ideas over a number of years?
KD: There are a couple of songs that were written some time ago, but we are not talking huge amount of time. Probably one year or two years before I went into the studio. But most of it – I would say 80 per cent – was conceived, put together and arranged in 2 or 3 months before we went into the studio. I just knew that I had enough material in store. When the studio is booked you are faced with a deadline and you start thinking of how you are going to develop the songs and give them the final touches. If I don't have the deadline and the pending doom, then I just let things go and never finish things. At least that is how it is with me. As for material, I always I tend to write a lot after tours, like now, for example. Usually you get a bit depressed after a tour and writing music also has a therapeutic effect. But after some time you have to go through the painful process of throwing some things away, and polishing things that you think are good enough to stand the test of time and good enough to be arranged and worked on with other musicians.
HRH: Are you happy with the way this record has turned out?
KD: I am very happy with the way this record has turned out. Although I would have liked to have a bigger budget for recording. Especially stylistically I'm very happy with that, because it's something I've always felt but never articulated. I always wanted to do something like that, but without it being another blues album. I just don't feel the need to buy one, let alone make one. Of course, you know, I'm always up to listening to blues guitar players.
HRH: Who were your influences when you were growing up?
KD: We had a guitar around the house when I was very young, and playing the guitar was like play-time. But I remember one night staying at home and on late-night TV they were re-running the Woodstock movie. I think I was 11. And there were 2 or 3 elements that were really impressive for an 11 year-old mind. Part of it was the image of Hendrix and Santana, and Johnny Winter, and Leslie West, and Alvin Lee. The whole "iconic" element of it. And then, of course, there was the sound and the vibe, and the feeling that those things transcend daily life, daily troubles and worries, and that this is something that you can get into to find a shelter from all that, especially when you are a teenager and going through some troubled times, like everyone at that age, I suppose. You have something to rely on, and it's like having a safety net.
So that was kind of the beginning and for a while I stood within those grounds – late 60s – early 70s blues-rock, and then dug deeper into what I liked and not liked. Taking into consideration that I wasn't even a teenager yet at the time. But I remember really dedicating hours and hours to playing the guitar trying to sound like whoever it was I liked that particular week – be it Hendrix, or Johnny Winter, or Alvin Lee. And then, of course, you find out that there is more to it – people who are maybe not as famous, but more influential – people like Peter Green, Mike Bloomfield, Rory Gallagher. In a way those became my heroes. When you are a teenager and everybody talks about Eric Clapton or Jimi Hendrix, you have your own thing like Peter Green, who nobody knows anything about.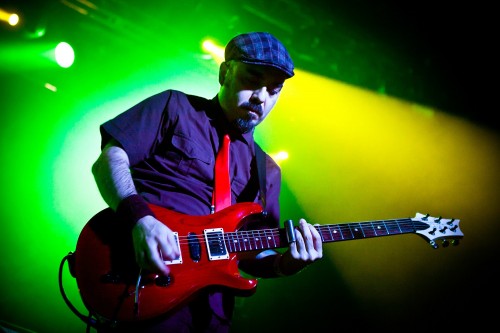 HRH: What is it about Peter Green that struck you?
KD: There are a lot of things in music that don't strike you at the first glance, and you can't put your finger on it and explain why you are drawn to somebody, but that's because there are a lot of things in music which are – for the lack of a better world – subliminal. Things that are not in your face, but between the lines. And when you listen to people like Peter Green, or, for example, Rory Gallagher – another good example – you hear that there is an ethic behind it all that transcends technique, sound and all that.
HRH: More sincerity?
KD: Exactly. You can tell it's a guy with his own demons and his own issues and somebody you can relate to. It seems more accessible on the personal level. Not to talk bad about other guitar players, but it strikes you as something more honest. You just feel that they are more human rather than trying to be rock stars.
HRH: Because those are two people who've never had huge international success.
KD: Yes, but that goes to show that what is popular is not necessarily the best. Success does not really come into question when I think about what to buy or what to listen to. It never has, even when I was a teenager. I never thought that I should listen to AC / DC because all of my friends were. Of course, I enjoy listening to AC / DC, but I was just drawn to something that seemed to be safer in a way that there was more humanity there. Less of a rock stars and more of a persons.
HRH: Someone who doesn't intimidate his audience?
KD: Yes, that's part of it. Peter Green, for example, when you read his interviews you see that he is a very tormented soul and extremely talented, but at the same time not interested in being in the spotlight. And that strikes me as something very honest. While other people strive to be in the spotlight and then maybe one day they realise that it's not really curing their demons. There are a lot of people in music who are filling a void in their personality. And they think that by becoming famous and being in the spotlight that thirst will be satisfied. And a lot of times it is not. And then you get into issues like drugs, suicide and destructive behaviour. While there are other people who realise from the very beginning that music is not about me being centre stage and having fans and groupies and all that. Which is nice, but is a by-product, and not the goal. That strikes you as being more pure. That's the thing I really struggled with – should I perceive myself as a guitar player or should I perceive myself as a musician?
HRH: So who are you – a guitar player or a musician?
KD: I think the answer is in the CD. It's very easy to fall in the temptation of being commercial. And then you find out that you are not playing the music anymore, you are playing the guitar. To put it in a simple way, you are doing your exercises and maintaining your technique. I always felt that there is a very dangerous side in that attitude. There are a lot of great guitar players who from a player's point of view are fantastic and extremely proficient, and then their music just leaves you cold, there is nothing to it. It's not something you want to listen to when you are in a specific mood. If you play guitar and want to be inspired for your studies, getting involved in a specific technique – then yes. But the truth is that this is something separate. For a long time on instinctual level I even thought that those two things were detrimental to each other. That the more proficient technically you are, the less of a musician you are. You are in a way shutting down a part of your brain.
HRH: But isn't exceptional technique something that allows you express your inner realities to the full?
KD: In theory.
HRH: Whereas rudimentary technique limits your ability to express yourself to the full extent?
KD: In theory it is true. But how rarely it happens in real life. I can't really think of many.
HRH: Jeff Beck.
KD: I don't know. People who come in mind are Charlie Parker and John Coltrane.
HRH: Oh, so we are talking about non-guitarists now.
KD: Yes, musicians in general.
HRH: But those two musicians had extreme self-discipline not to get carried away by their instrument.
KD: Yes, and it's the hardest thing to do.
HRH: It takes maturity.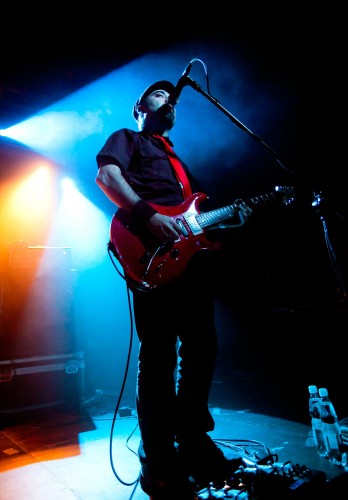 KD: Yes, it takes maturity, exactly. It takes artistic integrity. You should always keep in mind that technique is good and it's great to have it, but you should also safeguard part of your time and space for something that's much more instinctual. Something that doesn't involve much thinking or going, "Oh, what key am I in?" or "What kind of chords are we playing?", chord changes, structures, and all that. You have to be able to close your eyes and you shut your brain and react in a more instinctual way.
HRH: But this is also a matter of temperament. Introvert – extravert, etc.
KD: I'm sure it depends on that as well. I am sure there is a big element of disposition, maybe?
HRH: Some players just have to be THAT flamboyant and THAT flashy because that's who they are, that's how they feel inside: "I want to go all out and just rip." And for them it's expressing their true inner self.
KD: Is it?
HRH: For some people – yes. Some people genuinely want to be really fast, and really let it rip, and that's their innate character that they feel needs to be expressed.
KD: I don't look down on it and I don't disrespect it. Anybody who's reached that level needs to be praised for it. There are no questions about it. But personally I always had a feeling… And I can tell through my experience as a musician that there are periods when I was giving so much credit to technical aspects while forgetting the larger picture. I was not really playing the music anymore, I was playing the guitar. Which is the difference I was referring to.
HRH: Which is like the Olympics. Like a sport.
KD: Exactly. And again, this is craftsmanship. And to a certain extent I think that certain people should be de-mystified a little bit. If you have the physical ability, and the time, and patience, and the motivation, you CAN become a very proficient instrumentalist. Becoming a musician in a larger sense of the word is an art. I don't like to use the word, but for the lack of a better one… There is no short-cut, this is not something you can achieve through studying 10 hours a day. It's a little bit more complex, a little bit like soul-searching.
HRH: And it involves more pain too.
KD: I think it involves living a life – which unfortunately means pain as well, amongst other things. I think it was Chet Atkins who said, when asked how one can become a better guitar player, "You have to be somebody to have something to say." And that "something to say" comes not only through guitar players you study and admire, but from the books you read, the relationships you have, the life you live, the places you visit, and all that. You see, there is no "how-to" book for that. It's more complex, you are more by yourself, in the dark. And you have to find your way out of there. Again, if you don't live, all the time you spend in the bedroom playing scales won't give you much to say. As I said, it's all nice and dandy and it's great to see when you are a guitar player.
HRH: It's good entertainment.
KD: It's good entertainment, exactly. But I think you should always aim at something more. If people take your music just as entertainment it's fine, there is nothing wrong with that. There is something noble about being just a craftsman. But I think it's also human trying to transcend things, not strive for more.
HRH: That's interesting. We've just talked about how people release music to prove something to their audiences, or to prove something to themselves, or to entertain, but what was the purpose of this release?
KD: The purpose was to in a way tell a music story elaborating on some key points in my taste and in my life. So there are a lot of songs which may be quite flashy from a guitar point of view, but – as I said before – it's almost like a by-product. There are things I have been listening to for a long time and they are now part of my instinct as a musician. And I decided to combine those things in a way that I would like, making a record I would myself like to listen to.
You have to ask yourself the question: If I had to buy a record that stands in the middle of a lot of things that I've liked through the years, how would that record sound? And that's basically it. To a certain extent, I even had to limit myself because I listen to lots of kind of music – acoustic music, jazz. And while recording it, I had other songs that were hinting in other directions. But then it is nice to give an impression of being a versatile musician and at the same time the impression of playing what you know and what you feel, what you feel at home with. But it will be good to avoid being seen as schizophrenic. (Laughs). I could do fifteen kinds of music in fifteens songs but I'd rather work on another project or another band and explore other things I like. This time I decided to limit the scope to what is a safe ground and natural for me personally, which is blues-rock, and give it hopefully a more contemporary sound. But you can tell that there are hints to other directions and there are hints to something that is more intimate-sounding, maybe even psychedelic or introspective.
But another element is the fact that I wanted to release an album of songs as opposed to an album of guitar extrapolations. I just tried to give a slightly different perspective on each song. Almost like looking at the same thing at a slightly different angle. Some of those songs are very easy, straightforward rocking tunes because I like that too, I like 3-chord stuff. But there are things that are a little bit more complex, hinting at something else. And most importantly I felt that this is something that I had to put down and then look back at it and judge it with some distance in time. I really like the way some parts came out, and I would like to expand and experiment further in some aspects of it.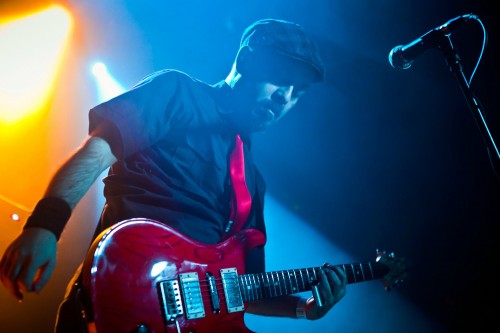 HRH: You know how records, when you put them out, say something about yourself and your life, but then they take a different life of their own?
KD: Yes. That is totally true.
HRH: And they become interpreted by listeners in all sorts of ways and they become something else in the minds of other people.
KD: But at that point the record is not you anymore, it's something that has a life of its own.
HRH: But this record is a part of a tradition, and for our American readers, who have never met you, this record will be the indication of how blues and blues-rock are being played in Europe in 2011.
KD: (Laughs). I really don't know. I really don't know what people will make of it, and to a certain extent I don't care.
HRH: So you are not speaking on behalf of the European blues community?
KD: Definitely not. (Laughs). I don't think this record belongs into any specific category. If I say "rock-blues", I say so because I don't know any other record that sounds like that and it is an all-encompassing definition. But the songs and the albums do take a life of their own, and the duty of a musician, as opposed to a duty of a guitar player, is exactly to recognise the value of that. If you are going into a recording studio or form a band, and you think, "Oh, this band should sound like a bit of this, and a bit of that, and a dash of that," then you are shooting yourself in the foot before you've started. You have to see how you interact with the material personally, how you interact with other people in the band, and letting things go by their own accord. There are always two ways of approaching music, one is rational and the other one is more instinctual. And we need more of that. You just need more people saying: "Look, that's what came out, if you like it – you like it, if you don't like it – you don't like it." There are way too many products that follow trends. This is very contemptuous. I like to think that people will at some point get more and more tune with that and would be able discern between what is "manufactured" from what really the result of a true creative process. This might be a utopian view but I think that at some level people can tell if you deal with a pre-conceived manufactured product, artist or band. So that's basically it.
So as I said before, I had to limit myself to a certain extent in the scope of sound I wanted to cover. And, of course, that has left me with a lot of things I would like to expand in the future.
HRH: Do you have another solo record in mind?
KD: Well, I have a lot of things in mind. (Laughs). Yes, ideally I would like to do another record within the same format.
HRH: In the same genre?
KD: I would like to develop that, to go deeper into the aspects of the first CD that I really like and to try to tackle some specific areas.
HRH: What would those be?
KD: There are 3 or 4 songs there that to me kind of like stand out. One is, of course, "Cross the Mountain".
HRH: It has amazing slide work and great hints towards psychedelia.
KD: Yes, exactly. And yet it is very down-to-earth and doesn't sound something that is a "guitar-player" kind of song.
HRH: But yet it is very guitar-oriented. Was the slidework on this track a technical challenge for you?
KD: I wouldn't say it was a challenge. "Challenge" has negative connotations. It was more of a developing process. Going through the process of releasing a record is a really invaluable experience. Only after you can tell what are the weak parts, and what are the stronger parts, and what you could have done better. So I wouldn't say it was a challenge. I would definitely put a much more positive. Any music project I get involved in – and I tend to get involved in a lot of them – are also ways of expanding my ear. Maybe your technique as well. Which, again, is a by-product. Mainly it is about understanding better some specific kinds of music, even down to tuning your ear better at different levels. For example there are some songs where I now notice some notes out of tune. You hear things back, and your ear meanwhile has been developing and growing, and you notice, "Oh, that's a bit flat." I couldn't tell in the studio, but now I can. It's an instinctive will to progress and to improve. Also technically, but most importantly as an all-around musician.
HRH: Tell us about the other project you are in – the British prog-rock band Crippled Black Phoenix.
KD: Prog-ish. (Smiles). People say we are "post-rock", but I don't know what that means, so whatever. (Laughs). Recently I was thinking it must have something to do with post-modernism. I don't know if it does, and if people think we are post-rock, and if post-rock has something to do with post-modernism, then we are definitely not a post-rock band. I don't see any post-modern aspects in CBP music. Our music is very heavy and very full of direct links to the way we are and the way we see things. It's not an exercise in style.
HRH: Sitting there without interacting with each other.
KD: Exactly. I think Crippled Black Phoenix are very heavy, very demanding band to listen to.
HRH: My next question is not targeted at your place in Crippled Black Phoenix, but is a more general one. Would you say that being in a band to any musician is ultimately a compromise to an extent where being yourself and being in a band becomes a contradiction in terms?
KD: If you are leading a band then you have all the freedom you want short of appearing to be schizophrenic. But I would not say that playing in a band implies that you are not being yourself.
HRH: Let's put it that way: "You are not able to realise yourself to the full extent when you play in a band."
KD: I would say that you focus your creativity in one direction. But this could be just as fulfilling as having your own band or playing acoustic stuff by yourself, which is maybe probably the maximum amount of freedom you can get – just you yourself and your guitar. So I don't think you have to necessarily have to shut down parts of yourself when you are in a band, but you kind of know that the band has an identity and a backbone, and you have to bring your goods to the table in accordance with that. I see all of bands I play with – and this probably also applies to the future projects – as different frameworks for saying whatever I want to say. But you are still saying what you want to say, you just use a different medium.
HRH: Looking back on your singing on this record, are you happy with the way your singing comes through?
KD: I know that my voice in general needed more care and attention. That last bit of the recording and was done in a rush. There are a few songs where I think that the vocals are were they should be, but I'm not too fussed about it. Because it's something to work on the next time. Because if you feel that something is pertinent, then you have nothing else to say. And also you think, "Well, it doesn't matter. It doesn't matter if this note is a bit out of tune, or that a line I sang is not sang with the proper feel". Basically, it's a snapshot, it's an image of me and a bunch of guys going into the studio in that specific time. I know that I am very demanding and analytical when it comes to the production side. But I also know and also hear that sometimes you have to leave things as they are because that's what keeps things real. If everything is polished and everything is exactly where it is supposed to be then it's not you anymore. Each one of us has our own little thing, we all see the word differently from one another, and you have to recognise that that's actually a part of who you are.
HRH: From the perspective of having worked in this industry as a PR person, before deciding to dedicate all of your time to music, what is your take on the state of the record industry at the moment?
KD: I can talk about it, but I am not an expert to gauge what's happening in the music industry. I am not involved in that. I just have a feeling that the music industry crisis – digital downloading and all that – shows the very short-sighted attitude on the part of the industry. I just feel that no-one was prepared for any of that. And everybody started to act – possibly in a wrong way – when it was too late.
HRH: Both musicians and the executives.
KD: Exactly. What is amazing when you think about it, is that people in big record companies who are paid a lot of money are supposed to be on top of their game. And they just didn't see that coming at all.
HRH: I think it also exposes the nepotism at the heart of the record industry. So there was no real vision and dubious levels of competence.
KD: New generation are used to getting things quick and for free. I think that – again – maybe it's a utopian hope, but I think that people are already, or will eventually understand the difference between…
HRH: …Selling a product as opposed to expressing who you are?
KD: Yeah, and that's where people will say, "I really like this band, I really respect what they are doing…"
HRH: "And I'll pay for it."
KD: Yeah, maybe they will download it, but they will pay to see the show, and then probably buy the CD to have an autograph, and they will want to shake your hand, or buy a T-shirt and feel like part of the band while supporting it financially as well.
HRH: What we see right now is profound disrespect from the listening public toward musicians.
KD: But isn't it the other way around as well? (Laughs).
HRH: Absolutely. It's like, "Oh, who started it?" Musicians started it. Labels started it.
KD: They almost got what they deserved in a way.
HRH: Yes. They were shoving product without any soul or meaning down our throats for decades, and that's how people lose respect and stop having any qualms about stealing from them.
KD: Exactly. And, you know, I think maybe it won't be too bad if things go back to the basics where the emphasis is for people will come out to see live shows. I would say this is a more egalitarian and politically correct way of doing things.
HRH: Ha-ha! "You want money – you go on the road!".
KD: Exactly. (Laughs). And isn't it what music is about?
HRH: Not necessarily. For someone who is recording in the studio something very complex and very layered, and who is very intimidated about the stage or having anything to do with touring and the nightmare that comes with it, they are heading for hard times.
KD: That's true. But let's say that for the vast majority of people it's not that hard.
HRH: Especially in rock'n'roll.
KD: Yes, in rock and pop. This will diminish the gap between the artist and the audience. Having bands touring and making a living by playing live. Or even playing in their back yards or in a pub down the road. I think there's something profoundly more respectable and more honest in one-to-one relationship with your audience. At the end of the day, there's is an intrinsic limit in the mass-produced products. You make a CD and you print 10 thousand copies. But when they are coming to a show, they will have a much more intense and a much more complete idea of what's it all about.
HRH: Those are the roots of your first solo record. It started with you jamming with your friends in local pubs and clubs, didn't it?
KD: Yes. I think there is a big value to that. I don't do that any more because I don't have time. But I will never get tired of just jamming with friends down the pub. There is a very silly way of putting it: "Do you want to go out and have a drink and talk with your friends, or do you want to go out, have a drink and play? And maybe even have a bit of money from that?" You know? (Laughs). And still talk with your friends and still have a good time. So yeah, to me it's not even a question. It's something that should be the natural environment for any musician. Even the very famous ones, even the very respected ones, we SHOULD all walk down the road and join the jam session on a Friday night. For one, you almost destroy the divide between the public persona and the fan, and you become a person in a pub enjoying a few songs and having a good time. It can only be a good thing. A good thing to you, your soul, and your friends, and your social life. I'm just hoping that with all the changes in politics this will not go out of the window and they will not start taxing or putting their hands into live music – rock sessions and folk sessions, and all that. Because it's invaluable. Even if you want see this from a very cold music-industry point of view and in terms of future profits, that's the best ground for developing next generations of musicians. . So yeah – support live music, support local live music. If it's good. (Laughs). If it's not good – don't.
HRH: Say a few words about your plans for the near future.
KD: I'm writing other material now, and at some point I'll see where it fits best. Ideally I'd like to do another CD like 'Cross The Mountain' but I'm also very attracted by the idea of recording something more intimate – more acoustic-sounding. Either totally solo, or with very sparse and basic bass, drums and acoustic instruments. So eventually I might end up working on two solo CDs.
HRH: Tracy Chapman-ish kind of stuff?
KD: I don't know what it's going to sound like because the direction of my so many influences. Listening back to my other recordings, they sound vaguely Americana, and sometimes vaguely country, but there is always a different twist to it. So we are not going to be miles away from American singers-songwriters. I'd like to do something in that vein. And on a practical level I would really like to have an option of going on tour with just my acoustic guitar.
HRH: In England?
KD: All over the world.
HRH: The States?
KD: Yeah. In fact, I used to do that, a long time ago. Until 5 or 6 years ago I used to do a lot of acoustic shows – blues, stuff like that, that's where the slide guitar comes from. But then I went into other bands and projects and lost touch with that a little bit. So I think it would be a good time – whenever I have time – to revisit that. To write a bunch of original songs, maybe a couple of covers and do something like that. So that's number two. There is also another project which is a collaboration with other musicians from other countries and bands. Too early to say though.
HRH: Have you been asked?
KD: Yeah, we've been talking. It might be a studio-only collaboration. We'll see
HRH: Heavy music?
KD: Not heavy. I don't like to use the word prog, but…
HRH: Older generation – newer generation?
KD: Older generation. Something a little bit more involved technically.
HRH: Keyboard players?
KD: Yeah.
HRH: Jon Lord? (Laughs).
KD: (Laughs). Not THAT famous! Again, I'd like something that will push me a bit into more complex textures It is still too early to say, but then again, I am writing stuff, and at some point I will get back to it and see what can be arranged. Ideally it will be with three other musicians and start exchanging ideas.
HRH: You don't have to be in the same studio these days to begin working on stuff.
KD: Exactly. At some point we can say, "Enough material, let's record it and see what happens."
HRH: Good luck with it all. We are looking forward to all of your collaborations and all of your other projects. And thank you for your time.
KD: Thank you.
Photos appear courtesy of Kara Rokita
by Deb Rao
Staff Writer –
January 23, 2012 at House of Blues in Las Vegas, NV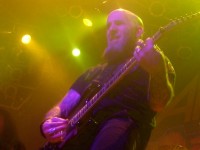 The second leg of the Anthrax/Testament Tour kicked off on Sunday, Jan. 23 in Las Vegas at the House of Blues. What better way to end a long day of NFL football playoffs then with a little headbanging from what promises to be one of the hottest tours of the new year.
It was my first time at the House Of Blues in Las Vegas and tonight's show was sold out. I arrived at the venue just in time for Testament at 7:15 P.M. Let the mosh pits begin shall we? Chuck Billy got the crowd warmed up for Anthrax. He appeared to be in a really good mood announcing that The Giants beat San Francisco as the band opened with "The Preacher." Chuck encouraged the mayhem to begin as Testament performed "Into The Pit." Other highlights of the shortened set included "Over The Wall." It was exciting to see guitarist Alex Sholnick perform with Testament. Last time I saw him perform was with Trans Siberian Orchestra two years ago. Quite the heavy metal difference.
Anticipation filled the air, as Anthrax was about to take the stage. It was my first time seeing them with Joey Belladonna and what a magical head banging thrashing night transpired. Opening with new tracks "Earth On Hell", and "Fight' Em Till You Can't", Anthrax destroyed with their heavy metal assault. The new music was performed with perfection. Joey Belladonna embraced the audience captivating with every word. Guitarist Scott Ian unleashed the brutal riffs on "Caught In A Mosh" and the punk rock song "Antisocial."
The audience was in their moshing glory singing along to every song on "Indians." New single" I'm Alive" was ever so ferocious performed live. Perhaps the most touching moment occurred when Joey Belladonna dedicated the song" In The End" to two of the greatest human beings to walk the planet, Dimebag and Ronnie James Dio. "Got The Time" sizzled with its quirky punk sway. Anthrax returned to the stage for three encores and Joey Belladonna thanked the audience for a great start to the tour and screamed," Metal is not dead." From the look upon the audiences faces, Anthrax came to Vegas to destroy and perform some of the best new metal the band has ever written, Be sure to check out Anthrax/Testament/Death Angel coming to a city near you! For tour dates visit www.anthrax.com.
Thanks to Julie Arkenstone and Heidi Ellen Robinson-Fitzgerald for letting Hardrock Haven cover opening night of the tour in Vegas.
Anthrax Set List:
Earth On Hell
Fight' Em Till You Can't
Caught In A Mosh
Antisocial
I'm Alive
The Devil You Know
Indians
In The End
Got The Time
N.F.L
Encore
Madhouse
Metal Thrashing Mad
I Am The Law
Photos Appear Courtesy of Deb Rao
by Justin Gaines
Staff Writer –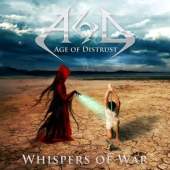 The 6-song EP Whispers of War is the debut release from Ohio-based metal band Age of Distrust. The band plays high speed, high aggression, heavy metal with one foot in the thrash metal sound and the other in the traditional metal domain. Throw in some melodic death metal elements and you've got a very interesting overall sound.
It's hard to peg Age of Distrust's sound exactly. They've got the speed and intensity of modern thrash bands like Warbringer and Havok, but have the kind of melodic focus and sense of power that fans of Iced Earth and Sanctuary will recognize. The vocals are split between a dynamic clean style and a harsher, death metal style brought in for emphasis. The band handles this really well, avoiding the kind of formulaic approach that a lot of modern bands take with that kind of vocal combination.
Whispers of War is a really well put-together collection of songs. The songs are speedy enough to get you banging your head, but there's enough melody to make sure they stay with you after the disc stops spinning. The musicianship is tight, the vocals are strong, and the production job is surprisingly good for a self-released album. American bands seem to do this kind of power thrash hybrid better than most, and like Imagika, Witches Mark and Fallen Angel, Age of Distrust is one of the more promising bands the scene has to offer.
With just six songs, Whispers of War gives you just enough material to satisfy your curiosity about the band, and definitely leaves you hungry for more from this promising young band. If you're a fan of the power/thrash sound, and don't mind (or better yet, prefer) the occasional death metal vocal line, Age of Distrust is well worth checking out. Hopefully they won't keep us waiting too long for a full-length follow-up to this EP.
Genre: Power Metal / Thrash Metal
Band:
Jacob Davis (g) (v)
Kurt Miller (g) (v)
Matt Harper (v) (b)
Jon Dayton (d)
Track Listing:
1. Retribution
2. Chains of Oppression
3. Age of Distrust
4. Frozen Infinity
5. Execution
6. Trinity
Website: www.myspace.com/ageofdistrust
Hardrock Haven rating: 8.25/10